1st for performance...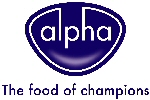 Farewell to the Alpha Agility Challenge
After a successful five years within Agility Alpha Feeds will not be continuing its sponsorship of The Alpha Agility Challenge in 2013.

May we thank everyone at Alpha Feeds for their support over the last five years and also all the Show Secretaries, Judges, Officials, Clubs and of course competitors who have supported the competition in previous years.
---
The Alpha Agility Agility Challenge Final 2012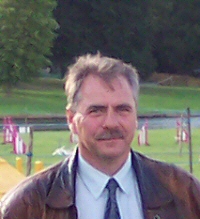 The 2012 final was held at the Three Counties Showground on Sunday, 30 September 2012 and it was judged by Charlie Wyatt. This is his report.
When I left home to fulfil my appointment to judge the Alpha Final, I fully expected to get drenched. All the weather reports said it was going to rain that day. Even though it was very dull with some dark clouds right above us, surprisingly, the rain stayed away. The sun even made an appearance about lunchtime - not for long but just long enough for the ring party and me to enjoy our lunch.
The Warm Up
A lot of the public were watching the morning classes before the Final in the afternoon. I had set some pretty straight forward courses as the classes were Grade 3 -5. The Autumn show at Malvern is like the Town & Country shows you used to get at Stoneleigh, and, despite it being a dull day, it was packed. A lot of people around the ring in the morning, with the prospect of even more for the afternoons Final, made it a daunting experience for someone who had not run in this environment before. So easy courses to build the confidence were the order of the day. I was very pleased with the way these first classes ran with a lot of clear rounds. I also saw some very good handler and dog combinations which made me think that the Final would be a very close competition.
The Final
The ring was situation right in the middle of the showground in the larger main arena. By the time we had set the course and were ready to start, I estimated that several hundred people were watching.
Again, the course was flowing with nothing too tricky. The first obstacle was a jump which lead straight onto the A-frame. After the A-frame, a right turn onto three jumps in a semi circle which lead into a tunnel which was under the A-frame. The exit of the tunnel was pointing straight at a set of six weaves. This first part of the course is where I thought the final would be won or lost. A number of dogs, after completing the A frame, made for the weaves which were about 10 to 12 paces away. A couple of dogs actually entered the weaves, obviously resulting in an elimination, most were called off, but a lot of time was wasted in this area. On the other hand, a lot of dogs negotiated this area brilliantly, wasting no time at all.
The first dog to run had a very nice clear round which threw down the gauntlet to the rest of the field. With nearly 40 dogs still to go, everyone had to go for it. The lead changed quite a few times during the first 20 or so dogs but, near the end, Fiona Vaughan and Lynwood Mac at St. Kenelms (Mac) put in a storming run to take the lead in 30.00 seconds. With only a few more dogs to go, I thought it would have to be something special to beat that run. Halfway through Ray Lambert's round, I remember thinking, if this dog keeps going like this, it will certainly give Fiona a run for her money. Ray didn't waste any time anywhere on the course, but unfortunately, his dog just missed the down on the dog walk. Ray recorded a time of 29.79, but I suppose you could argue that if he had got the contact on the dog walk, his time might have been a fraction slower, but it was a great run all the same.
Fiona hung on to the lead for a well deserved Alpha Challenge Final win. Ray, unfortunately didn't make the top places with his 5 faults, but I do know that he, as well as Fiona and a lot of other good dogs that I judged, will certainly progress up the grades and compete in many more Finals in the years to come. I wish everyone the very best of luck, and a big thank you to all the competitors for their kind comments about my courses, and for making my judging appointment a very pleasurable one.
Organiser Graham Taylor added, 'I think many will say that this is the best Alpha Agility Final yet with even to the weather co-operating. To have the first dog to run go clear really set the bar high.'
There are lots of photos of the final at http://www.photoboxgallery.com/alphaagility and I would also like to thank Alpha for giving me the opportunity to judge their Final, and to their fabulous band of helpers.
Without doubt it would not have run so smoothly without them. Thank you all very much.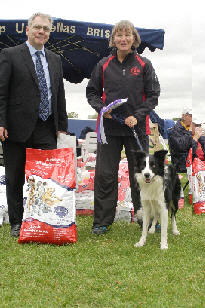 Final results
| | | | |
| --- | --- | --- | --- |
| Place | Handler / Dog | Time | Faults |
| 1 | Fiona Vaughan with Lynwood Mac at St. Kenelms | 30.00 | C |
| 2 | Anna Westland with Flow Breean Easy | 31.10 | C |
| 3 | Emma Haines with Diagemtas Dexter | 31.65 | C |
| 4 | Steve Swankie with Abersoch Sweep the Board | 32.90 | C |
| 5 | Alan Dormann with Harsett Flax | 33.35 | C |
| 6 | Jo Bird with Endless Possibilities | 33.37 | C |
| 7 | Wendy Campbell with Larchshadow Sol Invictus | 34.22 | C |
| 8 | Ros Donovan with The Little Leprechaun | 34.28 | C |
| 9 | Bridget Fletcher with Batfink What a Little Bee | 34.44 | C |
| 10 | Nicola Barber with Pi Chart Laddie | 34.89 | C |
---
News & Results...
Heat 9
Pembrokeshire By The Pond Agility Show
14 - 16 August 2012
The last heat of the 2012 Alpha Agility Challenge was held last month at Pembrokeshire By The Pond. In traditional Welsh weather over 150 partnerships battled for the final five qualifying places and that last Alpha Wild Card.
Congratulations to those below and indeed all the 2012 qualifiers. We look forward to seeing you all the Malvern Autumn Show Grand Final in a few weeks time.
Qualifiers
Joe Upsall with Rajjinka Illusion

Angela Rogers with Pix a Mix

Margaret Harral with Bekwey Wistful Dream

Mags Hayden–Smith with Tricky Little Puzzle

Michelle Coles with Willow Whipper Snapper
Wildcard
---
Heat 8 -
Herefordshire County Fair Agility Show
5 August 2012
A number of breeds took the five qualifying places with a delighted Georgie Lott winning the penultimate Alpha Agility Challenge qualifier, beating the rest of the field with her Old English Sheepdog Osckey Binoskey.
Judge Roberta Powell chose Alan Dormann's magnificent Golden Retriever Harsett Tamer as her Alpha Wildcard.
With the final qualifying heat at Pembrokeshire by the Pond next week, this years competition has certainly attracted the rising stars of the agility world and invitations to the 2012 final of the Alpha Agility Challenge will be sent out soon.
Qualifiers
Georgie Lott with Osckey Binoskey

Carol Robertson with Tag Master Catch me If Can

Anna Tornbull with Full on Freya

Sandy Cundy with Desert Rose

Sue Baigent with Jumping Jax's Jezzabel
Wildcard
---
Heat 7
Caerphilly & District 25th Anniversary Year Open Agility Show
21 to 22 July 2012
More than 300 rising stars enjoyed the Welsh sunshine in their quest for a qualifying place in this year's challenge.
Tracey Hunt's Hungarian Vizsla won a part; Anne-Marie Waugh managed to get two dogs into places and Welsh Dragon Caerphilly member Emma found time to win the second part of the qualifier.
The Malvern Autumn Show on Sunday, 30 September is going to see some very stiff competition for this year's final.
Qualifiers
Emma Haines with Dragemtas Dexter

Elaine List with Two Cheeky By Far

Helen Lawson with Callawen Jingle All The Way

Alan Dorman with Harsett Flax

Alan Ballinger with Waggerland Duster

Tracy Hunt with Katalin Nusa

Anne Marie Waugh with Passim Key Incident

Anne Marie Waugh with Passim Summer Breeze

Mary Elliot with Sparkling Bailey Mixer

Wendy Campbell with Larchshadow Sol Invictus

Wildcards
Jason Bartram with Tessie Trouble

Kim Learing with Samok Trail Sequel
---
Heat 6
Chipping Norton Open Agility Show -
10 June 2012
Agility's rising stars came from far and wide to Chipping Norton's Alpha Agility Challenge heat with our winners coming from Kent, Sussex, Norfolk and Hertfordshire.
Troy Hedger's course certainly found favour with the qualifiers who all completed the course in less than 30 seconds which must bode well for them at the Final to be held on Sunday, 30 September at The Malvern Autumn Show.
Qualifiers
Jo Sullivan with Alfredo Frog

Jo Bird with Endless Possibilities

Mary Cleverley with No Tears Bugsie

Corrine McLavy with Silent Bob

Angie Edwards with Dunnellon Got Ta Be Spot On
Wildcard
---
Heat 5
Large Dogs Grade 1- 3 - PADS Agility Show
2-4 June 2012
Just half a second separated the three winning rising stars of Agility winners in The Alpha Agility Challenge at the PADS Jubilee Show at Catton Hall on the banks of the Trent earlier in the month.
With some experienced handlers in the line up competition was fierce for the five qualifying places and The Alpha Wildcard went, in judge Mary Sims words, to 'a great partnership who had just a little hiccup.'
Congratulations goes to Nicola Barber with Pi Chart Laddie for winning the heat, and also Lesley Hill with Shatton Topsy Turvey who was delighted to be runner up in the heat.
We will be looking forward to welcoming you to the final.
Qualifiers
Nicola Barber with Pi Chart Laddie

Lesley Hill with Shatton Topsy Turvey

Emma Gamble with Little Jack Spratt

Bridget Fletcher with Batfrink What a Little Bee

Ann Deakin with Bailstails What a Little Star
Wildcard
---
Heat 4
The Belvoir Castle Steam Festival - 19 - 20 May 2012
The Belvoir Castle Steam Festival was the recent backdrop to finding more rising stars of Agility.
Congratulations go to Emma Conlisk with her young dog, Borderpride Just a Cracker who beat the 2nd place dog by more than five seconds. With a Grade 7 dog already in the family, this partnership will be one of the more experienced ones when it comes to the final in September at the Malvern Autumn Show.
Qualifiers
Emma Conlisk with Borderpride Just a Cracker

Eileen Ainsworth with A Jilly Tea

Jess Dutton with Quest Galore Five Dolla More

Kate Dexter with Gee-Jays Mistie Morning

Jacky Motts with Rosmarinus Silver Charm
Alpha Wildcard
---
Heat 3
Beacon Agility DTC - 12 - 13 May 2012
The third heat of this year's Alpha Agility Challenge proved to be one of the best in the competition's history. Congratulations to Fiona Vaughan with her young dog Lynwood Mac who is definitely going to be one to watch at this year's Malvern final on Sunday 30 September.
The Alpha Wildcard was very valuable to Dex Star Chance and Deena Freeman. Nearly half a second faster than the eventual winner, the five faults cost this rising star a traditional qualifying place and the Alpha Wildcard award will surely mean this one will not be an underdog at the final.
With the competition moving towards its half way point, this year's Alpha Agility Challenge is lining up for a real Olympic test!! Don't forget to check out the Alpha Feeds Website for more information about the competition and final information coming soon.
Qualifiers
Fiona Vaughan with Lynwood Mac at St. Kenelms

Louise Moore with Moffatdale Dazlin Beech

Catherine Emery with Mearleteaser Madness

Sara Purton with Lunatic on Legs

Stephanie Barratt with Rhapsodys Red Inferno
Alpha Wildcard
---
Heat 2
Lincoln Agility Enthusiasts - 21 - 22 April 2012
Lincolnshire's mud did not discourage the rising stars of Agility a few weekends ago when judge Jayne Widess found her five qualifiers at the LAE show on 21-22 April. They came from Yorkshire, Suffolk, Nottinghamshire and The West Midlands. Fittingly, her winner Bele of the Beach, handled by Sally Jervis, is based in Lincolnshire. Jayne's Alpha Wildcard went to Flow Breean Easy handled by a very delighted Anya Vestland.
With less than two and a half seconds between the five qualifiers, Bele of the Beach's 30.681 seconds clear round was clearly impressive in the conditions. No doubt Sally hopes to recreate her success on Sunday, 30 September at The Alpha Agility Challenge Final at Malvern.
Qualifiers
Sally Jervis with Bele of the Beach

Ray Lambert with Comebyandaway Sky Blue Boy

Graham Meader with Lady Gemini

Paul Jobbins with Solid as a Rock

Richard Spencer with Much Maligned Mudball
Alpha Widcard
---
Heat 1
Easter Egg'gility - 7-9 April 2012
The first heat of the 2012 Challenge, held at Bretford DTS Easter 'Egg'gility' Show on 7 April 2012, drew competitors from far and wide for judge Colin Hyland's excellent course.
There were five qualifiers who came from Surrey, Hampshire, Buckinghamshire and the West Midlands but the first 2012 winner came from leafy Gloucestershire. Aberscoch Sweep The Board, handled by Steve Swankie, beat the 2nd placed dog by less than 200th of a second. Colin awarded his Alpha Wildcard to The Little Leprechaun, handled by Ros Donovon.
Organiser Graham Taylor said: 'It was a great heat and we are looking to an exciting few months of competition. We are delighted to have performance dog food experts, Alpha Feeds sponsoring the Alpha Agility Challenge once again throughout the year.'
With eight more heats to run, it looks like the 2012 final will be one to remember.
Qualifiers
Steve Swankie with Abersoch Sweep The Board

Debbie Coles with Molly Muppett

Vicky Hutton with Brecks Little Saint

Glenda Cutler with Snowball Billy

Kelly Hebden with Morgans Outlaw
* All clear rounds
Alpha Wildcard
Alpha Agility Challenge 2 Medley Grove Leamington Spa CV31 2GA. M. 07831 548911 rover.pro@outlook.com
Alpha Agility Challenge TSM Ltd, 1 Doncaster Rd, Guinness, Scunthorpe DN15 8TG Tel: 01724 784600. Website: http://www.alphafeeds.com/news/index.php
---
Alpha Feeds Continues to Support Agility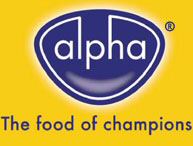 Nottinghamshire-based Alpha Feeds Ltd get 2012 off to a great start by proudly presenting an Agility competition for Large dogs Grades 1–3, using current Kennel Club rules and regulations. Competitors will have nine opportunities to qualify for one of the final places and will receive an invitation to compete at the Grand Final on Sunday, 30 September 2012 at the Malvern Autumn Show (Malvern WR13 6NW), kindly judged by Charlie Wyatt.
Unique to this competition is The Alpha Wildcard. Each heat judge has the opportunity to award one Alpha Wildcard Invitation to the final for that one great dog that miss the qualifying places.
Ryck Turner, CEO of Alpha Feeds said that he was delighted that Alpha was continuing to support the active dog community in such an innovative way and he looked forward to meeting competitors at the forthcoming heats.
First published April 2012