News and results...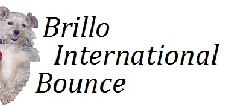 The Brillo International Bounce was launched in 2013 by Graham Taylor as a competition exclusively for Small and Medium dogs. It was named after a small dog he used to have - and yes, his KC name was Brillo Pad.
Agria to Sponsor 2017 Brillo Bounce
Agria Pet Insurance and Country Shows Agility are delighted to announce support for the Agria Brillo Bounce competitions in addition to their support for a full programme for Large dogs.
The Agria Brillo Bounce competitions are specifically for Small and Medium dogs. Heats will take place across the country throughout the 2017 season and culminate in the finals, due to be held at the British Agility Championships in Bedfordshire in October. From each of the 12 qualifiers at each size, the top three at each dog size will receive an invitation to attend the Final.
Each final will consist of two untimed rounds - one Agility and one Jumping - for each size of dog with the maximum course time specified. All double clears will go forward to the Final. In the event of no double clears at either size, a maximum of ten dogs with the minimum combined faults will be selected. All double clears will compete in the final round which will be a jumping round against the clock to find the 2017 Agria Brillo Bounce winner at each size.
Classes will be judged using current Kennel Club rules, and each host venue has chosen which grades are included for each size of Agria Brillo Bounce qualifier. All will run at standard heights.
Alastair Cook, Head of Sales and Marketing at Agria Pet Insurance, said, 'We're delighted to continue our involvement in Agility again in 2017, and particularly enjoy our support of Brillo Bounce for small and medium-sized dogs. We wish all the dogs and handlers taking part in 2017 the very best of luck, and cannot wait for the excitement of the finals!'
The 2017 qualifying heats will be held at the following shows:-
April 2017
May 2017
Severnside Open Agility Show - Somerset

Hatton Festival Open Agility Show - Warwickshire

High Peak Open Agility Show - Greater Manchester
June 2017
Wye Valley Premier Agility Show - Monmouthshire

Oswestry Open Agility Show - Shropshire

Golden Valley Open Agility Show - Worcestershire

Dogs Unleashed Open Agility Show - Derbyshire
July 2017
Just Dogs Live Open Agility Show - Cambridgshire

Rugby Championship Agility Show - Staffordshire
August 2017
September 2017
October 2017
For more information about Agria Pet Insurance and Agria agility, visit www.agriapet.co.uk and www.agriapet.co.uk/agility/.
Brillo International Bounce, 2 Medley Grove Leamington Spa, Warks. CV31 2GA. Tel. 01926 315335. Email: rover.pro@virgin.net