News and results...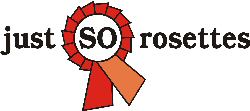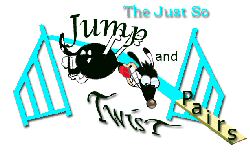 The Just So Jump & Twist Pairs is a new competition for all heights, Small, Medium and Large and the results will be combined. One dog will complete an Agility course and the other dog a Jumping course. There will be a baton change in the box. The top three pairs from each heat will qualify for the final which will be announced at a later date.

Final Report
Following ten exciting heats held at shows across various parts of the country, the final of The Just So Jump and Twist pairs took place at Tag Summer Show in Uttoxeter.
It was a beautiful evening and our lovely judge, Alan Mitchell, who also designed our fab logo, set a brilliant course with just the right amount of challenges to make it an exciting final to both run and watch.
The Smalls went first, followed by the one Medium pair. There were a few oohs and aahs a, one by one, they were all faulted except for Selena Bray and Katie Hemming who put in our first double clear.
And so on to the Large. In this height there were at least three husband and wife pairs hoping to prove they had a great partnership in agility, too! Helen and Colin Veal set a great time to beat when they stormed into the lead with foot perfect runs by both dogs and handlers. There were some exciting runs as handlers pushed hard knowing they had to go both clear and fast. There were a few unlucky poles and refusals and then Belinda Zorab and Alison Haigh gave us our third double clear, not quite fast enough to beat the leaders, but putting them into well deserved 2nd place, with Selena and Katie taking 3rd.
The winners this year won a Jewlnick collar for each of their dogs and the top three pairs won a framed picture of their dogs in the final, kindly donated by the super talented Ian Watts. The exciting news for next year is that the winners of the 2015 Final will receive £200, generously donated by Jewlnick.
Thank you
Our thanks go to our very generous sponsors Just So Rosettes and Jewlnick for their continued support, all the shows who hosted heats this year and to the competitors who have taken part in this class with such enthusiasm. Miranda and Moira have received such fantastic feedback from so many people and say it has definitely been worth all the hard work.
Good luck to everyone in the heats this year, enjoy!!
Four new shows will be hosting heats for the 2014-2015 competition, starting with Southam show on 13 September 2014. And so the roller coaster starts all over again!
Southam - 14 September 2014
TAG Easter - April
Shrewsbury
Worcester - 16 May
Pads
Bitz 'n Bobz - 6 June
Milton Keynes - 27-28 June
Wellingborough
Derbyshire
TAG Summer Show
---
Heat 1
Tag Easter Show
23 to 26 August 2013
Pete Daniels had the unenviable task of setting the courses for the first heat and did an amazing job! Both courses had an element of difficulty but still managed to be fast and flowing.
Organiser Moira Bowden said with relief, ' I can sleep easier now we have had the first heat. it was so well received and went without a hitch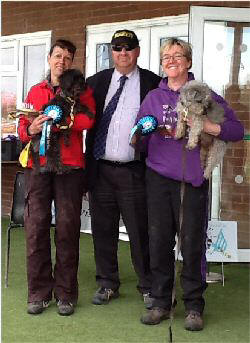 The winners were:-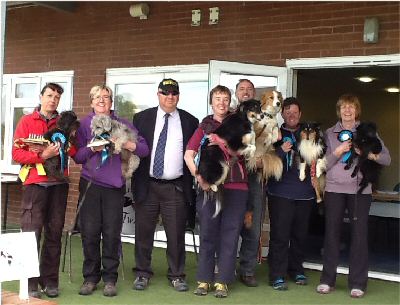 The other two qualifiers were:-
Janet Melville with Mylickle Diamond Deeba & Simon Melville with Mylickle Crystal Katy

Miranda Frankham with Lirren Talent Night & Moira Bowden with Truly Blinkin' Scrumptious
Many thanks once again to our generous sponsors Jewlnick Leather and Just So Rosettes.
---
Just Jump & Twist Heats
The clubs who will be hosting the heats for the Just So Jump and Twist Pairs 2014 have been announced. They include:-
Tag Easter
Shrewsbury DTC
Pads
Dartford DTC
Chipping Norton
Golden Valley
Wellingborough DTC
Barking Mad
Derbyshire TBC
Tag Summer Show
---
New Pairs Qualifier Announced
Moira Bowden and Miranda Frankham are delighted to announce an exciting new Pairs qualifier for 2014. The Just So Jump & Twist Pairs will be for all heights - Small, Medium and Large - and the results will be combined.
Moira said, 'We have been extremely lucky to have two fantastic sponsors on board. Sandra and Owen from Just So Rosettes are sponsoring the rosettes for all the heats and the final. Julie and Nick from Jewlnick are sponsoring our beautiful trophies for the heats. The winners of the Final will win a coveted Jewlnick collar. A massive thank you to them all. We are really excited and hope this new class will be fun for both handlers and their dogs.
F

our heats have already been confirmed and Moira and Miranda are looking for a further five clubs to host heats. If your club is interested please contact Moira by email inthedoghouse55@hotmail.com There will be another announcement as soon as all the heats are confirmed.