Have a heart...
There are many national and local charities - large and small - which benefit from the generosity of agility people. Thousands of pounds are raised by agility clubs and individuals around the country via demonstrations, sponsored walks and other events. What have you or your club done today?
---
Now established as part of Cool Agility for the Hot 100 show, the funds from this years charity draw will go to the RSPCA Worcester, specifically to help the many dogs that this particular branch seems to have to care for.
Event organiser Graham Taylor said, 'RSPCA regional organiser Geraldine Haines is always on the lookout for active households and the dogs that settle in agility homes never return. Agility elders may remember one of them, my dog Bomber Bates from the RSPCA. That's before Dave Ray grew silver hair! Worcester RSPCA found our current dog Geronimo.'
This year's festive Fundraiser will make a small contribution towards continuing the branch's good work. With your help, they hope to raise the RSPCA profile within the Agility community and, at the same time, generate some essential funding.
The draw will take place at tea time on Monday, 28 December 2009 which will start the winner's 2010 off with a bang.
As ever Graham Taylor hope to entice your support with some rather nice goodies. To start us off the following has already been donated:-
A Johnson's sweatshirt, kindly donated by Beacon ADTC

A bottle of Dow's Finest Reserve Port, kindly donated by Sainsbury's Leamington Spa

Free entry for one dog to the Chipping Norton Summer Show including complimentary camping

A bottle of Champagne

An Alpha fleece, kindly donated by Alpha Feeds

A caravan spot at Stoneleigh Park Country Festival 2010

20 rosettes of your choice, kindly donated by Norton Rosettes
A photo package, kindly donated by www.studiofx.co.uk
All contributions to the prize fund are welcome. The prize fund is expected to grow as we build up towards the festive season. All the gathered goodies will be listed on Agilitynet.
If you are unable to attend the Cool event and want to be included in the draw, please print your name and a contact telephone number on a £5 note and hand your contribution to Graham Taylor. Alternatively please send a cheque payable to RSPCA Worcester to RSPCA Festive Fund Raiser, 2 Medley Grove, Leamington Spa, CV31 2GA. Please do not send cash through the post. Email rover.pro@outlook.com
See the Agilitynet Show Schedule page for more information.
---
Weaving for Charity
A huge thank you to all who took part in the Charity Weave Challenge at Suffolk Five Rivers show on the weekend. You managed to raise £97.50 which has been donated to SANDS (Stillbirth and Neo-natal Death Society) which has helped my daughter immensely over the past couple of weeks after her little boy died at birth. Another £97.50 went to the Asthma Society which continues to work on finding a solution to this sometimes debilitating condition. Thank you all very much and hope you had a great weekend.
Jan Lockwood (5 Rivers Agility Club)
---

On Top of the World
On Sunday, 20 September at 6AM, Peter van Dongen stood on the 'Roof of Africa', or on the summit of Mount Kilimanjaro, in Tanzania, Africa. This trek was in memory of his father, and in aid of the British Heart Foundation,
He said, 'This was, by far, the hardest expedition-style Trek I've ever done. It was a case of 'mind over matter' when it came to the last few hours, as it was cold, dark and very very tough. Still, together with some very good new friends, I made it! It was an amazing moment, never to be forgotten. Thanks for all your support so far.'
If you feel that you still want to contribute to the BHF, please feel free to do so. If not, you can always sponsor me forhis next trek, in April 2019, to China, to walk (part of) the Great Wall, for Cancer Research UK. Details will follow at some stage.
Pete will be doing an evening presentation about the Kilimanjaro Trek, in November, and every sponsor will automatically be invited some day soon.
---
Andy's Arctic Trek
From 15-21 March next year Andy Brown is doing a fund raising trip to the Arctic Circle to raise funds for Battersea Dogs & Cats Home. He is hoping to reach a target of £3250 which is the cost of feeding 50 dogs for one day.
He flies from London to Oslo and then transfers to Alta where his dog-sledding journey begins. Over the next six days and nights, they cover approx 250km in minus 35 degree temperatures, carrying all our supplies on our sledges.
Andy said, 'Please help Battersea keep up their good work with a little or as much as you can afford. You can either catch up with me at a show or you can donate on line by going to my web page www.justgiving.com/andy-brown
---
Dartmoor April Show Refunds - Great News!
There's a big thank you due to all those who didn't claim refunds after the cancellation of the Dartmoor April show. The Devon Air Ambulance and the Cinnamon Trust have each received a cheque for £750 solely due to your generosity.
Janet said, 'Thank you for your generosity with your donation, but also for the understanding way you accepted the cancellation and helped in the aftermath. P.S. Next year's spring show will be on Sunday, 25 April. Hope to see you there. Fingers crossed, we're planning on having good weather!
Source: Janet (04/08/09)
---

Dog Vegas Unclaimed Refunds Go to Good Causes
The deadline for claiming the refunds was the Easter Dog Vegas show. A total of £555.74 was left unclaimed. This amount has been split equally between the two charities below.
| | | |
| --- | --- | --- |
| Charity | Donation | More information |
| Rotherham Dog Rescue | £277.87 | http://www.rotherham-dog-rescue.co.uk/inf_03.htm |
| Many Tears Dog Rescue | £277.87 | http://www.freewebscom/manytearsrescue/dogslookingforhomes.htm |
---
Carl Gets on His Bike

On 24 May of this year. Carl Stretton is riding - on a tandem with a blind friend - from Cherbourg to Paris with a team of RAF, ex-RAF and military colleagues to commemorate the 65th anniversary of the D-Day landings and raise money for Help for Heroes, who run the Headley Court Hospice for wounded servicemen returning from Iraq and Afghanistan.
They are cycling 80 miles a day for five days, visiting the beaches, war graves and memorials to D-Day, finishing up at the Arc de Triomphe and laying a wreath at the Cenotaph.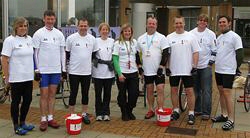 Unlike many events of this nature, where a large share of the proceeds go to tour operators they have raised all their own funds, thus ensuring that all donations go to the charity.
Godmanchester DTC have offered to let Carl run a Pay on the Day class at their show on 9-10 May with the proceeds going to the total.
Carl said, 'When I did the Land's End to John O'Groats ride for MacMillan in 2007, I found this to be a good way to generate donations while giving something in return. I was touched by the generosity of Agility folk – both with their time and their money.'
If you would like to donate, just go to the JustGiving web site www.JustGiving.com/bandofbicyclists.
---

Kelpie Muster Raises Money for Charity
A Kelpie Muster was held on 28-29 March 2009. It was a weekend of fun and games for Kelpies and their companions.
The weather on the Saturday was cold and overcast with some rain, which did not manage to dampen our spirits. On waking on the Sunday to brilliant sunshine one wondered why it was so cold during the night. Looking out of the caravan window answered that question as there was frost still on the ground. The few people who camped in tents deserve a medal for putting up with the cold.
The venue at Bryn Vyrnwy Caravan Park, near Oswestry was very spacious with plenty of room for walking our dogs and letting them all have a good run round together. There was also a river along side the site which was accessible for the dogs further on in one of the fields.
We all had a wonderful week-end with sessions of agility training, an introduction to tracking, Kelpie Games and photo sessions. We gathered together on the Saturday evening for a BBQ and socialising. We also held two raffles over the weekend with goodies donated by the people attending and also a book on Kelpies donated from the Noonbarra Kelpie Stud in Australia.
Altogether the monies collected over the weekend amounted to £449 which has been donated to Kelpie Welfare. Max, our wonderful photographer, is also donating £51 to bring the total to £500
All too soon the weekend was over and everyone was saying their goodbyes and might we be doing this again next year.
Yes, yes, yes we are. The venue is already booked for the 27-28 March 2010. Should you be interested in finding out more please ring Diane Clark on tel. 01352 750293
---
More Neolithic Dog Sport

My name is Jenny Simmons and I compete at Grade 1 agility in the south east with my two Rottweilers- yes, not you usual agility dogs- and also run them at Extreme 2-dog Cani-X. We ran at Crufts this year and came 5th.
I am going to be doing the Neolithic Cani-X Half Marathon six miles across Salisbury Plain on 3 May. I are doing this with my dogs in aid of the Help for Heroes charity which helps to rehabilitate troops injured on tours of duty. Let's hope there are not too many bunnies on the course, eek!
If any doggie people would like to sponsor us my just giving site is http://www.justgiving.com/jenny_neolithic_canix. Anyone in the local area who would like to come along and cheer us on would be greatly appreciated!
---
DIG IT Fun Day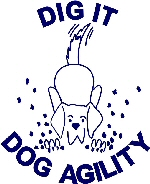 DIG IT DTC is holding their annual open day on Saturday, 9 May 2009 from 10am – 4pm. This is a fun day for anyone to come along to see what we do at the club. There are some fun competitions open to members and non-members alike. Give them a go you may win a rosette or a prize. In between the fun classes, come and try out the equipment under the trained eye of one of our instructors to see if any of activities suits you and your dog.
At 12noon the newly formed DIG IT Dogs Display Team will be performing, showing off the club's many talents.
The rough timetable for the day is as follows:-
10am - Ghost Agility – run a course without the aid of words, guide your dog around the course through body language only

11am - Novice Agility for non-members and club members who don't usually compete. Equipment will all be set at low training heights

12noon - Display

12.30pm - Party games including the fastest Bonio eating competition. Can you beat a Labrador? Also fun races and pass the parcel

1pm - Send away snooker challenge. Gain as many points as possible in one minute by sending your dog around the equipment without leaving the handling box yourself

2pm - Doggy puissance - Olympia for dogs, using the solid wall

3pm - Clever dogs agility & flyball combined

4pm - BBQ
Also throughout the day there will be a tennis ball lottery, fastest weaves and temptation alley so enter at any time.
Class entries will be donated to Oldies Club (Oldies Club) who rehome dogs over seven years of age. One of our club members is a foster carer for them and will have her dogs in attendance on the day
DIG IT train at Dubthorn Lane, Betchton, Sandbach, Cheshire CW11 4TA.
For more general info about the club visit the website at DIG IT DOGS HOME PAGE. For more info on the open day please ring Lydia, club owner, on 01270 585600 or mobile: 07841 828301 or Claire, events co-ordinator, on mobile: 07816 354007.
---
Skydiving for Charity

Lucy King is completing a tandem skydive jump, raising funds for Canine Partners for Independence on 26 June at Netheravon Army Group, near Salisbury. She has only flown once before, and is slightly petrified of heights, so this is sure to be a fantastic, yet terrifying experience! She has paid for the tandem jump out of her own money, as most charity jumps actually use your sponsorship money to pay for the jump. She felt that this was unfair, so 100% of the money she raises will go directly to the charity.

Lucy is also hoping to get the skydive will be videoed so there should be some amusing footage available, too!

Canine Partners is quite local to Lucy, and she picked them because she feels that they are an up-and-coming charity who deserve more recognition. Each dog that they train costs approximately £20,000 over it's lifetime, including training, buying the puppy and all the after care that the partnership are given. They currently have about 120 partnerships across the country, with the dogs helping to not only provide companionship, but also enabling their partner to become more independent and able to spend time without carers.

It's all for a worthwhile cause, so even if you can only spare a few pennies, please donate if you can. You can donate in a variety of ways: On-line at w

ww.justgiving.com/lucyking or email pawsforsuccess@hotmail.co.uk for details for sending cheques.
---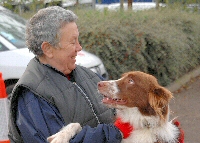 Rena with one of her beloved red collies...
Running in Memory of Rena Dragonetti

This is a picture of me and one of Rena's dogs Tiki in 2001 who was always fantastically behaved for me and won me plenty of prizes!

My name is Lara Kenny and I run Kai (Kai Corumba). I'm sure you will have met me at some point in the agility world! Many years ago my mum (Deborah Kenny) and I had the pleasure of meeting Rena Dragonetti and her husband Derek whilst training at North Downs DTC. After that, Rena and Derek always tried to help us get more involved in Agility. Whether it was letting us pitch our tent in their 'garden' at DIN or lending me a dog to run in juniors, they were always on hand!

Unfortunately, just over two years ago, the agility world lost our beloved Rena to cancer. Rena Dragonetti touched so many peoples' lives and in her memory I'm going to be running the Cancer Research Race for Life in July.

If you would like to donate some money in memory of Rena, then you'll find the address along with this text where you can sponsor me. A friend of mine who will also be running with me! No amount is too small so please just give whatever money you can spare and please don't ever forget what a remarkable woman Rena Dragonetti was.

Link: http://www.raceforlifesponsorme.org/laraandtash <http://www.raceforlifesponsorme.org/laraandtash>
---

Message from Lisa Jordan
My darling sister - who some of you may remember has come to some shows with me - has lost her 30 year battle with cancer, her daughters Kerrie (24) and Kayleigh (21) are doing a midnight walk to raise much needed funds for the hospice who took such great care of Karen.
If you'd like to support Kerrie Edwards, it's really easy. Just go to the fundraising page and click 'Donate now'. It's totally secure and you can leave a message with your donation too. http://www.justgiving.com/kerrieedwards1
---
Valgrays Fundraising for BC Rescue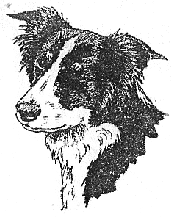 Please save Aluminium items for Valgrays Border Collie Rescue funds. Would folk be prepared to save any of these items please:
Take away trays, food trays, containers, milk bottle tops, drink cans, some beer cans, aluminium foil etc in fact anything that is aluminium? TEST cans with a magnet - if magnet sticks to can its NO good for us.
There is a (tiny) symbol on aluminium cans. It is a circle with arrows on it and inside circle it says 'alum' - these are the ones we need and a magnet won't stick to it.
Cans that have a (tiny) triangular symbol with 'steel' written inside are NOT suitable (and they are magnetic).
IMPORTANT: Cans that are of NO known use as they are steel are: Food/soup tin cans, Pepsi, 7Up, Tango, Tesco Imported Lager (blue can) 1664 & Carling lager (white can). Sweet wrappers, dog treat pouches, chocolate wrappers are NO use. They are actually plastic although they look like foil.
Please thoroughly wash all cans - dishwasher will do it - and squash all items down as flat as possible, store them in a bag or box and then pass them to Valgrays directly or to Val Philips who can be found at her Renault Trafic Van at agility shows or Marian O'Donnell at her Cherry Red Nissan Primera M654 - but sometimes travels with Val at agility shows).
Old mobile phones can also help fund Valgrays Border Collie Rescue, too. Valgrays can now turn mobile phones into valuable funding. If you have a mobile phone that you no longer use - preferably working - but doesn't have to be - please donate it to Valgrays. Marian or Val could collect at agility shows as above. www.valgraysbcrescue.webs.com
---
Dundee Fun Shows All for a Good Cause
Dundee Alsatian & Training Club are holding two fun agility shows for Riding for The Disabled. The first is for Large Dogs" on the 22 February 2009, closing date 6 February at The Brae Riding School. The Small/Medium Dogs on the 21 March 2009 at The Brae Riding School.
Contact the club for more information.
---
Kelpies Muster for Charity
A Kelpie Muster is being held on 28th and 29th March 2009 at Bryn Vyrnwy Caravan Park, near Oswestry. It will be a weekend of fun and games for Kelpies and their companions. There is even a BBQ on Saturday night – bring your own drinks and food for the grill.
Agility training sessions and possibly some Working trials and HTM training. There are still some places available.
There is also camping available, one/two or more nights.
All profits to go to Kelpie Rescue.
Should you be interested in finding out more please contact: Diane Clark on tel. 01352 750293
---
Kilimanjaro Trek 2009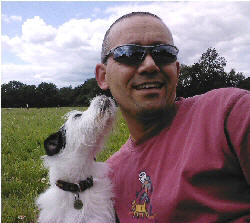 Over the last three years, agility team vet Peter van Dongen has done three charity treks, first in the Norwegian Arctic, doing a week long Husky Trek, then in Namibia, Africa, doing a week long Desert Trek and last year in Peru, doing a week long Andean Mountain Trek, eventually leading up to Machu Picchu.
He enjoyed these very different treks so much, whilst at the same time managing to raise money for charity -The Blue Cross, Dogs Trust and RAIN respectively - that he has decided to do yet another one! He's done cold. He's done hot. He's gone up. This time he is going up even higher!
He is doing a week long trek in Tanzania (Africa) attempting to climb Mount Kilimanjaro! Mount Kilimanjaro, or 'Kili is the highest mountain in Africa, and the highest free standing mountain in the world! This year he is raising money for The British Heart Foundation (BHF). He chose the BHF because his dad died of heart disease at 60 years of age, and he'd like to try and help to prevent others suffering the same fate.
Once again, it will not be a holiday but a physical and mental challenge, for which Pete will be in training over the many months before the trip. The entire trek takes place between 1,000m and nearly 6,000m altitude and altitude sickness is a serious possibility. Temperatures will range from +35*C to -10*C! It promises to be an interesting and rewarding, but at the same time difficult challenge.
The British Heart Foundation is the nation's heart charity. Every day they save lives, through pioneering research, providing vital information to help people reduce their own heart health risks, campaigning for change and supporting and caring for heart patients.
Pete has funded the entire trip himself, so every penny raised in sponsorship money goes completely to the charity! He is asking everyone to help, by sending a cheque for as little or as much as you feel able to donate. Every little bit helps, of course. Please send cheques, payable to British Heart Foundation, to: Pete van Dongen, 25 Tolsey Mead, Borough Green, Kent TN15 8EQ, Great Britain.
---
Cool Yule Prize Draw

The 2007 Festive Fundraiser winner, Martin Field was at Cool Agility on the 28 December to draw the the winning £5 from the bucket. Miraculously the winner Diana Muirhead (of Quiddich Quaffle fame) was there to collect her winnings. She needed most of her Chipping Norton club member vehicles to carry away the spoils. In her shock Diana left her New Years Eve Champagne behind but, needless to say, swift instructions were received that it was not to be drunk and would be collected!
12 months of goodies to enjoy
A bottle of champagne

2 night caravan spot for Crufts 2009, donated by Sue Love

Alpha Feeds goodies, donated by Bob Scott

Easter 'egg'gility 2009 one dog entry free for all three days, donated by Bretford DTS

Nutritional therapy session with the institute for optimum nutrition, donated by Virginia Harry

A pair of entry tickets to Belvoir Castle's May Steam Festival, donated by the Belvoir Estate.

John Burns dog food, donated by John Burns Ltd

Caravan spot at 2009 Holkham Country Fair, donated by Holkham Estate

Cases of Pow Wow Active, Pow Wow Original, Gravy Toppers & Pet Bakery, donated by JAM Pet Foods

Derbyshire summer show 2009 camping and one dog entry fee, donated by Derbyshire DAC

Burgess Supadog food, donated by Bob Scott

Dashin' dogs August 2009 camping and one dog entry fee, donated by Emma & Nigel Davies

A pair of tickets with car parking at one of Live Promotions 4 x 4 shows, donated by Jason Lunn of Live Promotions

Invitation to visit the Many Tears Rescue Centre and £20 for the fuel tank to get there.

Cool Agility 2009 one dog entry fee, donated by Cool Agility
The finally cash tally for the Many Tears Rescue Centre was £301.20p.
Graham Taylor said, 'Many thanks to one and all for your generosity. We are most grateful for your continued support and we have already started collecting prizes for the 2009 Festive Fundraiser.'
---
Valgray's Raffle Painting Draw
The Valgrays Border Collie Rescue winning raffle painting has now completed. Elaine Cousins won the 2008 Valgrays Painting Raffle (ticket number 527) draw done 18 October at East Grinstead Championship Obedience Show.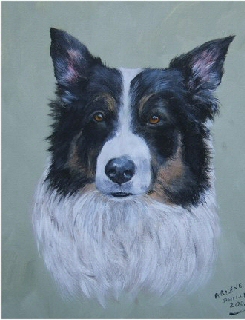 Altogether 962 tickets were sold which has helped Valgrays big time. Thank you to all those who supported this raffle by selling and buying tickets! Huge thanks must also go to Arlene Phillips who so very generously offered to do this painting with all ticket monies going to Valgrays. You can view Arlene's work here: http://www.k9-paintings.co.uk
Val Philips said, 'We are now proud to show here the finished painting. The subject is Elaine's Billy who has done well in competitive obedience. Elaine supplied Arlene with a photo and Arlene has produced this fantastic painting from the photo. Thanks again to Arlene for donating her time to Valgrays Rescue. Please consider Arlene if you would like a painting done of your dogs.'
---
Sheila's No Hair Day
It all began one day when Richard and Sheila Partridge were having their usual early morning discussion about who is going to get up first and make the tea. In Richards own words, here is what happened.
Remembering that it was Children in Need Day, I told her that I would donate 20p to C in N if she made it, followed by what I thought was a safe bet, specifically that I would up it to £100 if she shaved her head! Sheila, bless her heart, quickly told me to get the tea whilst she considered.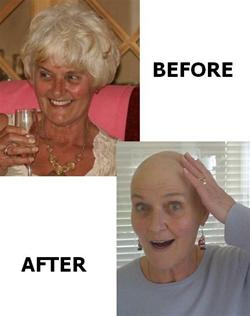 After some thought and several giggles by the Saturday evening she had made up her mind to do the deed, and what's more, to go all out for sponsorship for not one but three charities
Children in Need, where it started
Alzheimers which she holds close to her heart having lost her Mother earlier this year to that disease
Cancer Research
Her target was £3000.00 to be divided equally.
Sheila has went all out to publicise this. The local paper carried a report and she had an interview on Tuesday with local BBC radio in Brighton. So far it looks as if she is about half way there.
The deed was done at the hairdressers on Wednesday, 17 December at midday. The patient survived the operation and is now lying in a darkened room, wondering if she has only lost her hair, or has she completely lost her marbles as well.
Our son has set up a donation line via a website, www.justgiving.com/sheilas_bad_hair_day where donations can be made to all the charities, with the added advantage that you can also get the tax back through Gift Aid.
---
Many Tears Festive Fundraiser

The Many Tears Festive Prize Fund continues to grow a pace with much generosity from organisations and individuals alike. Check out the listings below:-
A pair of entry tickets to Belvoir Castle's May Steam Festival, kindly donated by the Belvoir estate

An invitation to visit the Many Tears Rescue Centre and £20 for the fuel to get there

Cool Agility 2009 One dog entry free kindly donated by Cool Agility

10 cases of Powwow Active, Powwow original, Gravy Toppers and The Pet Bakery, kindly donated by JAM Pet foods

A complimentary caravan spot and one dog entry at Derbyshire's summer show 2009 kindly donated by Derbyshire DAC

One dog entry for each day of Easter 'Egg'gility kindly donated by Bretford Dog Training Society

A pair of tickets with complimentary car parking to one of Live Promotions 4 x 4 Shows, kindly donated by Jason Lunn of Live Promotions.

Bottle of champagne
A week's free camping at Dashin' Dogs as well as free entries for one dog for the whole week at their August show 2009 (non-transferable), kindly donated by Emma & Nigel Davis.
1 hour nutritional therapy appointment plus a half hour follow-up, either in person, by post, or by phone, or a combination of all three from a qualified nutritional therapist with the Institute for Optimum Nutrition, kindly donated by Virginia Harry
Caravan pitch for two nights, just 5 minutes from the NEC, for any time whilst Crufts (March 2009), kindly donated by Sue Love
Some Alpha Feeds goodies
A caravan pitch at Holkham County Fair 2009
3 x 2kg John Burns Dog Food and John Burns' Guide to Natural Health, kindly donated by Burns Pet Nutrition Ltd, Carmarthenshire.
All sorts of gifts have been received and the prize fund is believed to be worth several hundred pounds of agility goodies all for one lucky winner to enjoy through 2009.
Many tears is a well known, dog rescue organisation based in south Wales. Sylvia, founder of many tears recently said 'I am very grateful for the generosity of the agility community and rest assured every penny raised will be put to good use'. Never one to miss a chance she also said, 'Please encourage all those looking for a new dog in 2009 to consider a many tears rescue'.
The last date for Christmas posting is not far away so you need to act now to be part of this unique draw.
if you are not attending cool agility all you have to do is send a cheque for £5 payable to many tears with your phone number on it to Festive fundraiser, 2 Medley Grove, Leamington Spa CC31 2GA. About 4.00pm on Sunday, 28 December one lucky winner will get a phone call which will start 2009 off with a real bang.
On behalf of all the animals many tears helps thank you for your generous support.
---
Crufts 2009 Car Stickers
Thus far we have collected £58.50 for the KC Charitable Trust.
They're here! If you have qualified for Crufts 2009 in any discipline - agility, flyball, obedience or breed you can get a car sticker by sending a SAE to Agilitynet, 38 Northolme Road, London N5 2UU.
They're free but if you want to make a small contribution to the Kennel Club Charitable Trust it would be appreciated.
BTW the stickers are 5 1/2in x 5 1/2in so you need a good sized envelope.
---
Running for Canine Cancer Research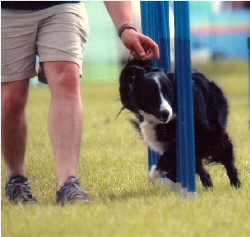 On the 14th December, the Sunday after the Rugby Christmas show, Karen Horsler is running the 100th Anniversary Hastings Marathon in memory of Ben, her 12 year old collie whom they lost to bone cancer in September.
She is running for the AHT Oncology Research Group, an independent registered charity which is working on identifying, predicting and developing treatments for cancers in dogs.
If you want any more information, or feel like donating either see her at the Rugby show. She is the white transit van with the pink paw prints so easy to spot or contact her directly on website
www.aht.org.uk/sam
---
Charity Fun Day Thank You

Ian Dobison and Clare Stainton of Dogs Home Wanderers Agility would like to thank everyone who attended their fun agility show. All the proceeds have gone to Penine Pen Animal Rescue, a very small charity based in Oldham. A total of £807.00 was raised.
Ian said, 'We would like to give a special thanks to Taryntimers for donating the timing, and Showtime for donating the processing. We would also like to give a personal thanks to Ian and Susan Mallabar, Carolyn Baker, Tracy Meakin and to everyone else who helped out on the day.'
---
Many Tears Festive Fund Raiser


Graham Taylor, event organiser, invites you to join his Eve of New Year efforts to raise some much needed funds from amongst the agility community for Many Tears Animal Rescue.
Based in South Wales, this small charity has many Agility connections. With your help, he hopes to raise the Many Tears profile within the Agility community as well as some much needed funds to aid the great job it does across the country.
They have gathered some rather nice goodies to attract your support and a draw will be done at Cool Agility for The Hot Hundred on Sunday, 28 December 2008. See show diary on Agilitynet for details. Entries close mid-November if not already full.
Our gathered goodies so far include:-
One dog entry for each day of Easter 'Egg'gility kindly donated by Bretford Dog Training Society

A pair of tickets with complimentary car parking to one of Live Promotions 4 x 4 Shows, kindly donated by Jason Lunn of Live Promotions.

Bottle of champagne
A week's free camping at Dashin' Dogs as well as free entries for one dog for the whole week at their August show 2009 (non-transferable), kindly donated by Emma & Nigel Davis.
1 hour nutritional therapy appointment plus a half hour follow-up, either in person, by post, or by phone, or a combination of all three from a qualified nutritional therapist with the Institute for Optimum Nutrition, kindly donated by Virginia Harry
Caravan pitch for two nights, just 5 minutes from the NEC, for any time whilst Crufts (March 2009), kindly donated by Sue Love
Some Alpha Feeds goodies
A caravan pitch at Holkham County Fair 2009
3 x 2kg John Burns Dog Food and John Burns' Guide to Natural Health, kindly donated by Burns Pet Nutrition Ltd, Carmarthenshire.
To take part in the draw, wherever you live, please print your name and a contact telephone number on a £5 note or write a cheque, payable to Many Tears, to be entered in the draw and send to:- Many Tears Festive Fund Raiser, 2 Medley Grove, Leamington Spa CV31 2GA or hand to Graham Taylor at any time. Please do not send cash through the post
All the gathered goodies will be listed here on www.Agiilitynet.com. The prize fund is expected to grow as we build towards the Festive Season.
Graham Taylor said, 'We welcome all offers to add to the prize fund and don't forget you can add your Many Tears Fundraiser cheque to your Cool Agility entry envelope. On behalf of all the animals helped by the Many Tears Animal Rescue thank you for your valuable support.'
---
UKA Charity Show Raises Money for Thai Rescue Organisation
UK Agility is pleased to announce that from the UKA charity show in August, the Frog Racing night at UKA Staverton and the Snakes and Ladders game at the week show they have been able to donate £2,801 to the Soi Dog Foundation in Thailand. Below is a letter received from John Dalley, Vice President of the foundation.
Soi Dog Foundation would like to thank everybody who contributed to the UK Agility charity event. The foundation which is a legally registered charity in Thailand, is run by UK ex-pats John and Gill Dalley who was recently named an Asian of the Year. She was the first non Asian to receive this honour, See http://www.youtube.com/watch?v=s225UClTFhY for Singapore-made TV documentary).

Together with other supporters the foundation is run entirely at our own expense, but we need to raise approximately 500,000 Thai Baht per month (approximately 8,000 UK pounds), to cover the overheads which includes employing 12 local staff including vets and nurses and other workers, purchasing over three tons of pet food each month, as well as all the drugs and land rent for the shelter etc..

It is only with the help of supporters like yourselves that we can continue to help the unwanted stray dogs in this region of Thailand. The money raised by your event will go directly to helping our sterilization programme, which in September saw animal number 20,000 sterilized. It will also help with our treatment programme, which sees dogs brought in almost daily suffering from cruelty and neglect. Last month with the cooperation of The Worldwide Veterinary Service we had 3 UK vets operating on Koh Lanta where there are no vets, and population control has previously been throwing unwanted dogs with weights attached into the sea. Other UK vets are currently helping us on Phi Phi Island where there is a similar problem with cats, and we now hold regular clinics in Kao Lak where previously there was massive poisoning.

Through your assistance we are able to educate and change the attitude of local people here, and hopefully seriously reduce the suffering of the region's animals.

John Dalley

Greg and Laura Derrett got involved with the Soi Dog Foundation when they were in Thailand and helped save this dog at Kata Beach. She was badly injured and couldn't be caught. They spent a few hours gaining her trust, capturing her and getting her to the rescue kennel. She has since recovered and been re-homed. It was then that they realised that the Foundation needed money to continue their work and when they decided to do some fundraising for the Thai charity.
---
On Yer Bike Again

Janine Harvey is taking a 30-mile cycling challenge for charity and is asking for your help in raising loadsa money.... again. On Sunday, 13 July she is cycling from Handcross to Hove on the Capital to Coast Charity Cycle Challenge. It's going to be 30 hard cycling miles, but it will be worth it to raise funds for the four charities that Capital to Coast supports: Norwood, Down's Syndrome Association, Southern FM's Help a Local Child and Sparks. Together these four worthy charities do fantastic work to help the lives of babies, children and adults with disabilities, and Janine really wants to help them.
She said, 'This will be my 6th and final year of doing this ride - getting too old for this lark! Over the last five years, with your fantastic support, I have raised in the region of £5,000. It would be brilliant to make this the year that I raise my highest amount, and I really hope that I can do this, but I can only do it with you!
PLEASE help me make a difference by sponsoring me to take part in this great event. Your gift will be hugely appreciated and make a difference to those in need. To make a donation:
Send me a cheque made payable to Norwood - Capital to Coast - Norwood being the organising charity.
Click on Janine's fundraising page www.justgiving.com/janineharvey2008
Throw your cash at her!
Janine Harvey
---
Charity Stamp Appeal
Hearing Dogs for Deaf People would be grateful for the support of the agility community for their Stamp & Postcard Appeal. The postmark is not required and ideally the stamps should have a border of about quarter of an inch round them.
Picture postcards used or unused, should have the stamp and address details left intact as the dealer has a special method of deleting addresses thus ensuring privacy.
Any support you can give us would be appreciated.
Stamps and postcards should be sent to Mrs Anne Bernard, Tremorden, Donaldson's Brae, Kilcreggan G84 0JB.
Brenda Crowther
---

SBT Sponsored Walk
Debbie Stewart and her two staffies Tilly and Cassie are taking part in a sponsored walk this weekend in aid of Staffie Rescue. The staffie has been given a lot of bad press and but doggy people will realise this is mostly down to irresponsible owners. If you have met a true staffie yourself, you will know they have a wonderful people friendly nature!
Many of the dogs that end up in rescue are not in the greatest state of health. Many are old, have been abused, with nutritional deficiencies or skin complaints and some are even battle scarred. It is for such dogs as these that Rescue needs to raise funds to cover their immediate costs, to get the right help and ultimately the right home so they can progress to a happier life. 90% of the re-homes are to recently bereaved families and people who know the character and the quirks of the breed. That knowledge and experience gives the rescued dog the head start they deserve and very much accounts for the success of Staffie Rescue.
The rally has been held for the past 16 years where Rescue Supporters are known to gather from all over the world. If you would like to give your support please sponsor us and let us know by email weimleague@homecall.co.uk , I will then let the organisers know how much we intend to raise. I will then give details of how to send a cheque or I can collect from you at the next show.
---
Peter's Uphill Battle for Charity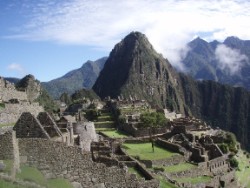 It's now only four weeks till Peter van Dongen goes to Peru for his Charity Trek in the Andes, walking, over six days, up to Machu Picchu!
Pete says, 'I'm getting quite excited and am ready for my adventure. If you have sponsored me already, I'm sorry to bother you again! Thanks!
'If you haven't sponsored me yet, please take a few minutes out of your busy schedule to help me raise some money for RAIN. At the moment I'm nearly at £2,000, but I would like to raise a little bit more. If you can afford say £5 or £10, please go on-line (see link below) and follow the instructions, or send me a cheque, payable to RAIN (see address below). All the sponsorship money collected goes entirely to my chosen charity!
If you don't want to do it for me, do it for some unfortunate pets, needing help. If you don't want to do it for pets, do it to help me in doing something which means a lot to me personally.
If you just don't want to do it, that's okay too, but you'll miss out on an entertaining post trek evening talk and photoshow!;
To sponsor Pete's trek, see www.justgiving.com/perutrek3
---
Bottesford Gala for Charity

The Bottesford Gala Agility Show will take place in Bottesford, Nottinghamshire on the first Bank Holiday in May (5 May). It is the 30th Anniversary of the village gala, a charity event organised by The Vale of Belvoir Lions Club raising money for many charities at home and abroad.
This is the first year that they are having a dog agility competition in a separate arena as last year the agility demo proved so popular. The organisers have received sponsorship for classes from doggie related businesses including Karen Perry Animal Therapy, OBDN's Dog Training & Agility Club, Belvoir Boarding Kennels & Cattery and Barking Mad Home from Home Pet Care. Also supporting the event is CSJ Dog Food. The equipment is being supplied by Adams Agility. All helpers/organizers of the agility are just volunteers.
The show will be low key and relaxed, ideal for beginners. Dogs do not need to be KC registered to enter, but should be sufficiently trained and a member of an agility training club. Prizes consist of trophies, rosettes and there will be some doggy goodies to give away too. All agility handlers shall have parking next to the arena. All in all, it should be a nice relaxing day of dog agility for anyone not going to the Vyne. Places are still available, especially for Small/Medium dogs
There will also be doggy stalls among many other trade stands, plus many other attractions in the main arena including dancing displays, crowning of the May Queen, parade of floats, Bar-B-Q, & lots of kids entertainment. In the main arena, there will be events from 10.30am – 4pm with games and events for children and adults, parade of floats, Tug of War competition, lots of stalls selling nice goods, a bar & food. Further activities take place inside the village hall.
Last year over 3000 visitors attended so presumably this year will be bigger and better.
---
Collecting for the Homeless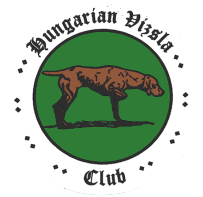 Liz Stedman will be collecting any unwanted collars, leads, plastic bowls and rucksacks etc. at Shuttleworth on Sturday, 29 March, assuming the damaged ground doesn't cause another cancellation. The Hungarian Vizsla Club is collecting these items to pass on to homeless folk who have dog. Liz can deliver any donations at the Vizsla show on Sunday.
If you do not know Liz, you can leave your donations at the secretary's tent.
---
Support Amelia Derbyshire's Run for Charity
Amelia Derbyshire is running the London Marathon on 13 April for a local charity, Iain Rennie Hospice at Home. It is a hospice who relies heavily on donations to fund its' team of nurses dedicated to caring for the terminally ill, allowing patients to stay at home with their families. She has been training hard over the last few months and is hoping to run the 26.2 miles in four hours or under four hours.
Hopefully the training will come in handy keeping up with her two Labradors Bert and Ernie this season!
You can sponsor Amelia through the following web link www.justgiving.com/amelias-marathon
---
Thank You from Newton Heath
Newton Heath DT raised £560 at the Pay on the Pay classes at their show on Saturday, 23 February which will be shared between Blackburn Hospice who looked after Sharon Hardman and Bleakholt Animal Sanctuary in memory of Bill Wilde, two of their members who passed away in December and January and will be sadly missed.
---
Have You Got Your Crufts Car Sticker Yet?
There are only a few weeks left until Crufts but there is still time for you to apply for your free Car sticker from the Kennel Club if you have qualified in any discipline - agility (of course, obedience, breed, YKC etc.
Just send a sae envelope at least 6 inches square to Ellen Rocco, 38 Northolme Road, London N5 2UU.
If you would like to make a small contribution to the Kennel Club Charitable Trust - it is completely optional - you are very welcome to include a small donation. Thus far Agilitynet readers have give more than £120 to the charity.
---
New Charity Working for the Benefit of Border Collies
Granted formal charity status at the end of 2007, the Freedom of Spirit Trust for Border Collies (FoSTBC) has been set up to promote a better understand of the breed and so prevent the current plight of so many Border Collies who, through no fault of their own, find themselves in already overcrowded rescue organisations or facing destruction. FoSTBC aims to give people the understanding and skills that are needed to create a happy and well balanced dog. It is not a rescue kennels but it does take in needy, old, infirm dogs or those in need of rehabilitation and a healing time. Throughout each year, FoSTBC will hold seminars and workshops to educate people about the Border Collie, both in working and companion homes. It will provide information and support to people who already own a Border Collie or are thinking of getting one.
FoSTBC has five ambassador dogs – Dart, Loch, Megan, Mossie and Tosha who will be at our seminars and events, visit hospitals and schools, and are available for media work to demonstrate the very best of the Border Collie both in breeding and behaviour.
FoSTBC is delighted to announce that Dame Ellen MacArthur, DBE has become our Patron. Dame Ellen says, 'From being a small child, I have always loved Border Collies. The more time I spend with them, the more I realise I have much to learn from them. They are the most loyal creatures and interacting with them makes me feel incredibly close to nature. Sailing is about working with nature and the elements, not fighting them, and being in the countryside with Floss, my rescue Border Collie, gives me a similar feeling – one of freedom and feeling alive! I feel great compassion towards animals who, reliant on us for their well being, get misunderstood along the way. But FoSTBC is not just about helping those dogs in need, but also about educating people to understand them, so that fewer mishaps take place along the way. I am both honoured and excited to be the Patron of FoSTBC and look forward to helping to promote the work to give Border Collies the freedom of spirit they so deserve.'
Founder and Chief Executive, Barbara Sykes, MBIPDT, is dedicated to the future of the Border Collie. She says 'Border Collies are a breed of integrity, loyalty and great freedom of spirit and this is far more important than any trophies or medals they can earn for their owners. Our ancestors worked hard to give us a loyal and true working partner and it is my belief that to ensure we preserve this heritage for generations to come, we must eliminate the great divide between the farmer's dog and the companion. Opinions vary greatly about the breed but there is only one Border Collie. As well as a love of the breed, I have a great respect for it and if I can bring people just a little closer to the heart and soul of a collie then I will consider some of the love given to me by my dogs as being repaid.'
For more information, visit www.fostbc.org.uk
---
Peter's Peru Trek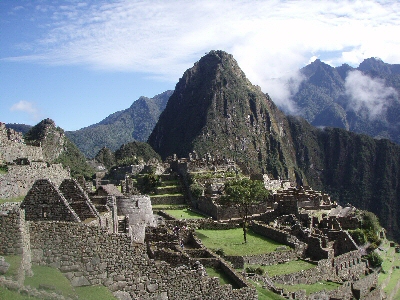 Over the last two years vet Peter van Dongen has done two charity treks - first in Norway, doing a week long 'Husky Trek' Arctic Dog Sledding Challenge, and then in Namibia, Africa, doing a Desert Walking Trek Challenge. He enjoyed both very different treks so much that he's decided to do another on whilst at the same time managing to raise money for charity - The Blue Cross and Dogs Trust respectively. He's done dold and he's done hot. This time he is going up!
Peter is going to do a week long trek in the Peruvian Andes, trekking up to Machu Picchu, the Lost City of the Incas. This year He is raising money for Rescued Animals In Need (RAIN.) Again, it will not be a holiday but a physical and mental challenge, for which he will be in training over the many months before the trip. During the trip he will hopefully see lots of beautiful landscapes, amongst which tropical forests, scrubs and high mountain passes. The entire trek takes place between 2,500m and 4,000m altitude and altitude sickness is a real possibility. It promises to be an interesting and rewarding, but at the same time difficult challenge.
RAIN is a local and relatively small animal charity in the South-East, so local to Pete's veterinary surgery. The main aim of RAIN is to rescue, rehabilitate and re-home animals, and to provide any help that is needed in terms of general care and veterinary treatment. They work mainly with cats, dogs, and small pets such as rabbits, guinea pigs and hamsters that all need new homes for one reason or another. The charity also has contacts with welfare organisations dealing with wild animals, birds, and other animals. They help in the following ways:-
Finding new homes

Fostering

Providing veterinary care

Neutering programmes

Working with local animal protection agencies, giving talks to local groups on animal care.
For further information about RAIN, please go to their website at www.rain.org.uk

Pete said, 'As a vet I am very much involved with the care and treatment of pets each and every day of my working life. I already work closely with several animal charities on a daily basis and find raising money for them a worthwhile cause. I already support RAIN but thought they could do with a bit of extra help. In fact, to a relatively small charity such as RAIN, a small amount of money is a great deal!'
'This trip to Peru seems a real challenge, whilst being wonderful in every way. But I would also like to raise a lot of money for RAIN in the process. I have funded the entire trip myself, so every penny raised in sponsorship money goes completely to the charity!'
If you would like to help, by sending donating as little or as much as you feel able to give, please send cheques, payable to RAIN, to: Pete van Dongen, 25 Tolsey Mead, Borough Green, Kent TN15 8EQ, Great Britain. Every little bit helps. Alternatively, you can donate money on-line, at www.justgiving.com/perutrek3 This has the added benefit that it's easy, quick and safe! You can also donate some money whenever you see Pete in the next few months. Please dig deep and help me to help RAIN.
After the event I will write a full report about my experience, as usual, with photos of course. I will also invite all sponsors to a post trek evening talk and photo show. Let's hope we can all help RAIN to continue to care for as many pets as possible for a long time to come!
---
Thanks for the Donation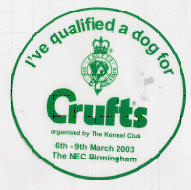 On behalf of the Trustees of the Kennel Club Trust, I wish to thank Agilitynet for its kind donation of £127.50 in support of the Trust, raised from the people who requested 'I've Qualified for Crufts' car stickers. As you know, The KC Charitable Trust is dedicated to improving the health and welfare of dogs and their capability to improve the lives of human beings. Your continued support is greatly appreciated.
As with previous donations, the name Agilitynet will appear in the Kennel Gazette in the list of those who have kindly donated to the KC Charitable Trust, and also on the web site.
Source: Cas Oakes, Charitable Trust Administrator (17/01/08)
---
Thanks for a Cool Yule

Hot sausage rolls, mince pies, Christmas cake and agility all on one day? What else do you need to have? Excellent venue, good weather, organised happy atmosphere? Cool Agility had it all. Cheers Graham for a great end to the year, to all those who donated to the prize draw and Agilitynet for publicising this event. Many of us know how much happiness rescue dogs can give so it's our pleasure to give something back.
Source: Martin
---