Have a heart...
There are many national and local charities - large and small - which benefit from the generosity of agility people. Thousands of pounds are raised by agility clubs and individuals around the country via demonstrations, sponsored walks and other events. What have you or your club done today?
---
Success for Festive Fundraiser at Cool Agility 2010

Having awarded some 60 bottles of bubbly, rosettes and Alpha party bags this year we also managed to raise £275 for this year's good cause. As Christmas cake, mince pies and hot drinks disappeared with gusto, young Tom Shaw drew out our 2010 Festive Fundraiser winner Elaine Hartnett's crisp £5 note.
Elaine's choice of beneficiary is German Shorthaired Pointer Rescue, run by Sarah Hadley.
Delighted Sarah, who runs GSP Rescue (SW) with a host of unpaid volunteers, welcomed the much needed funds as the organisation is a donation-reliant, non-profit making breed rescue that rehomes German Shorthaired Pointers throughout the UK. It was originally set up in the late 1990s. Over the last three years, the organisation has found new homes for over 230 dogs.
GSP Rescue (SW) has expanded in recent years, and whilst still primarily involved in helping find new homes for surrendered UK dogs, theynow regularly assist dogs from Ireland and several other EU countries. The vast majority of these dogs are strays, many of which require veterinary treatment. GSP Rescue (SW) assists as required in arranging and funding the transport to the UK for these dogs and also pays any veterinary bills incurred, and then ultimately finding them new homes.
More information about GSP Rescue (SW) including updates and photographs of dogs in their new homes can be found on our website www.gsprescuesw.co.uk
Once again thanks to everyone for your generous support.
---

Peter van Dongen is on the Move Again
Yes, it's that time again to tell you about Peter van Dongen's next charity adventure! He's now done five consecutive charity treks and rasied £5000 for five different charities including:-
Husky trekking in the Norwegian Arctic

Crossing the Namibian desert

Reaching the Peruvian Machu Picchu

Climbing Mount Kilimanjaro

Walking along the Great Wall of China
Pete said, 'I was going to skip a year, when my friend Andy asked me if I wanted to join him on a little walk in July. Stupidly, I said yes!'
So what next?
They're Trailwalker UK 2011, a 100km (62m!) walk over the South Downs of England in 30hours. This is the equivalent of doing 2.5 marathons and climbing both Ben Nevis and Snowdon. They have set themselves the slightly tougher challenge of doing it within 24 hours, or one day. They are walking as a team of four - one of 500 teams - called Team ADEPT. This walk is organised by the British Gurkhas and originally started as a military training exercise. They are raising money for Oxfam and The Gurkha Welfare Fund. The Team will walk 10 sections of 10km at a time, and walk through the night during the weekend of 16-17 July 2011.
Please, if you can spare some money, donate today, preferably on-line at www.justgiving.com/trailwalker2011. It will be greatly appreciated.
---
Festive Fundraiser 2010

Established now as part of Cool Agility for the Hot 100 show, this year funds will go to the winner's choice of charity so this year more than ever you really do need to be in it to win it for your favourite cause.
As ever Graham Taylor and his team are gathering some rather nice goodies to attract your support with the draw to be held on Tuesday, 28 December 2010. The prize fund will grow as we build up towards the festive season and all the gathered goodies will be listed on Agilitynet.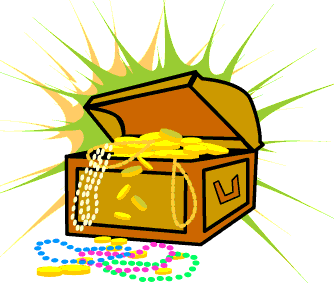 Thus far prizes include:-
Winner and guest tickets to Malvern Autumn Show, kindly donated by The Three Counties Agricultural Society

A Johnson's Polo Shirt, kindly donated by Beacon ADTC

£30 off your crystal awards for your show trophies, kindly donated by Premier Agility Services

20 rosettes of the winner's choice, kindly donated by Norton Rosettes

15kg Bag Alpha Dog Food kindly donated by Alpha Feeds

An hour's one to one Agility training session at Corley Dog Training Ltd with Martin Reid, kindly donated by Martin Reid

Bags of Kelties, Ocean Bites and Training Treats, kindly donated by Burns Pet Nutrition

A very large tin of Quality Street kindly donated by Asda Stores Leamington Spa

A caravan spot at Easter'Egg show 2011, kindly donated by Bretford DTS

A bottle of Champagne

An Alpha bowl

A seven night caravan pitch at Pembrokeshire by The Pond 2011

One night at a bed & breakfast for two people in the historic Lincolnshire town of Stamford, by kind permission of Jodi Hope.

Invitation from the duke of Rutland to visit Belvoir Castle
Donation to the prize fund are welcome so please send an email with your contribution to Graham Taylor.
If you are unable to attend the Cool Agility event (entries close mid-November) but still want to take part in the draw, please print your name and a contact telephone number on a £5 note and hand your contribution to Graham Taylor. Alternatively please send a cheque payable to GV Agility to Festive Fund Raiser, 2 Medley Grove, Leamington Spa, CV31 2GA. He will convert your £5 cheque to the winner's choice of charity. Please do not send cash through the post.
Cool Agility for the Hot 100 will take place on 28 December at Moreton Morrell, Warks. See the Agilitynet Show Diary for more information.
---
Greyhound Charity Benefits from Agility Show
It was another great fund-raiser for Greyhound Gap thanks to Tailwaggers show in Alsager on 7 November 2010. They raised an amazing £466.35!
Greyhound Gap volunteer said, A massive thank you for all the agility folk for their on-going support. Looking forward to seeing you all at the December show. If you have any cake orders, please email me infopoundforahound@me.com and I will make sure I put some to one side for you.
For more information visit www.poundforahound.co.uk
---
Northcote Charity Agility Shows

The three unaffiliated agility shows held for the first time this year on Sundays in June, July and September at Spilsby in Lincolnshire, raised nearly £1,000 for the Northcote Heavy Horse Centre.
Organiser Zoe Dalby said, 'The shows were great fun. Everyone enjoyed the relaxed and friendly atmosphere - just like the "good old days" of agility competitions. Congratulations to everyone who took home trophies and rosettes and to those who didn't but had fun trying - you'll have more opportunities next year.'
Northcote is hoping to hold even more shows in 2011 so if you would like to receive a schedule, please contact Zoe Dalby, (Show Secretary) by email on zoedalby5209@hotmail.co.uk sp she can l include you on the schedule mailing list.
---
DINAS Charity Stall

Thank you to everybody who supported the charity stall at DIN with donations or sales. The total raised was a fantastic £410! Amazing!
This will be paid out to the following organisations:-
East Anglian Air Ambulance because. I work for Sainsbury's and this is their Charity Partner for 2010 - 2011. I had lots of ex-stock and books from their charity shop for sale.

East Anglian Staffordshire Bull Terrier Rescue because I homecheck and assess for them and our Bosun came through them.

The Grove Sanctuary Felixstowe which is like a local Cinnamon Trust

The Blue Cross Felixstowe who just had a reprieve on closure.
Organiser Sandra Mitchell said, 'I have got two collapsible B & Q boxes that someone no doubt would like back. Unfortunately I never got a name of the person. They donated lovely books in them though! Please email me on sandra.mitchell@btinternet.com and I will take them to next shows.'

---
Fundraising Appeal at The Summer Show
The Summer Show Organisers would like to ask all competitors at the Summer Show if they could donate any good quality items to their raffle as we we would like to raise funds for the Pakistan Flood appeal as well as a worthy independent rescue centre. They would also like all their competitors to suggest a worthy animal rescue centre to whom they could donate a percentage of the funds raised from the raffle.
You can hand in your donations to the Secretary's marquee where they will also compile a list of suggested dog charities. A draw for the winning charity will be made at the show.
---
Charity Book and 'Tut' Stall at Dogs in Need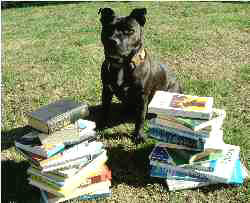 Sandra Mitchell will be running a small rescue stall at Dogs in Need, mainly selling books, fresh liver cake, and various other items of 'tut' for various charities to be confirmed.
She said, 'I would be grateful for any donations. If you are anything like me, when we changed the caravan 61 books came out of the old van, all adding to husbands poor rate of ''miles to the gallon!'
Two of the charities will definitely be the East Anglian Air Ambulance and East Anglian Staffordshire Bull Terrier Club. In fact, the picture is dog above is of Bosun, taken in November 2005 as a young adult stray, complete with baggage. Since then he has been featured in Shooting Times and Country Life Magazine for his 'gun dog' work and can put in a credible agility round when he wants!
Suggestions for other beneficiaries are welcome. Email Sandra Mitchell at sandra.mitchell@btinternet.co.uk
---
Travis Leads the Redgates Demo at St. Elizabeth's

Last weekend, Redgates Agility Club were proud to provide an Agility and Obedience demonstration at the Summer Fayre, organised by the St. Elizabeth's Centre. St. Elizabeth's is a home / school for people who suffer from Epilepsy and other similar problems. Approximately 25 dogs took part in the demonstration on the afternoon of Saturday, 26 June. They were especially proud to take part as Tim and Clare Griffith's deaf and epileptic dog Travis had been adopted by St Elizabeth's as their mascot.
Travis, almost seven years old, came from Battersea Dogs & Cats Home when he was six months old. His previous owners had no idea he was deaf when they bought him from a pet shop in Epsom, Surrey for £800. Tim and Clare were aware of it and went ahead anyway.
Tim works Travis works in Grade 3 while Clare works him in Obedience. He has done better at agility and has had a number of placings including a 13th at the Godmanchester Show.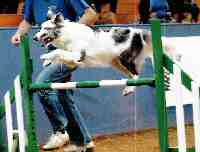 The Epilepsy has developed since was was adopted. He is on medication, but about nine months ago, Tim and Clare decided to reduce his doses as he seemed very drowsy most of the time. He now has considerably more energy and the fits are not more frequent or more serious.
Video clips of Travis and the other Redgates Dogs at the demonstration can be seen at: http://www.redgatesagility.co.uk/latest.html
St. Elizabeth's is in the village of Perry Green, not far from Bishops Stortford in East Hertfordshire. If you would like to know more about their work, you can visit their website: http://www.stelizabeths.org.uk/
---
Pete's China 2010 Story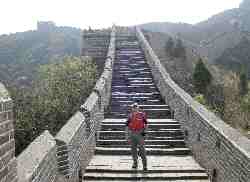 Vet Peter van Dongen finished his 5th Charity Challenge Trek a few weeks ago. Having previously done a Husky Sledding Trek in the Arctic, a Desert Trek in Namibia, an Andean Trek in Peru, climbing up to Machu Picchu and an ascent to the summit of Mount Kilimanjaro in Tanzania, this year he walked the Great Wall of China, one of the most iconic historical structures in the world! It turned out to be a challenging and rewarding trip.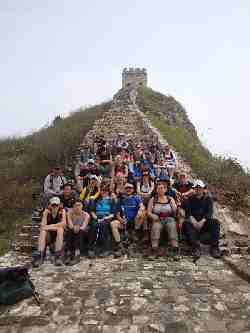 This time he chose the charity Cancer Research UK, the world's leading charity dedicated to beating cancer through research. One in three of us will get cancer at some point, so continued support is essential! Please see www.cancerresearchuk.org for further details. Pete did this trek in memory of my mum, who died of cancer five years ago. He managed to raise £2,335 for CR UK.
Pete trekked for five days, mostly on, but also near, the Great Wall of China, doing about 50 miles in three different sections in total, out of the total length of the Wall of 4000 miles. Some parts of the Wall were totally dilapidated. Others beautifully restored and picture perfect. The views were amazing, the steps huge and many. The inclines were unbelievable. The weather hot, the people were welcoming and the food was fantastic!
He also visited a primary school and its children, which was entertaining as well as humbling.
He camped for three nights and stayed in hotels the others and, at the end of the trek, he visited Beijing. This huge city is bustling to say the least! He saw Tiananmen Square, the Forbidden City and the Hutongs, the narrow streets in the Old City. All in all, the trip was yet another fantastic experience which will stay with me for a very long time!
Donations are still welcome, so please visit www.justgiving.com/chinatrek5 or send a cheque, payable to Cancer Research UK, to Pete van Dongen, c/o Pennard Veterinary Group, 5 Eardley Road, Sevenoaks, Kent TN13 1XY.
---
George is Cycling for the British Heart Foundation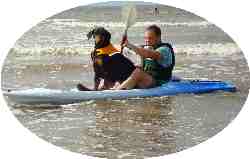 On the Saturday, 26 June George Humphreys will be cycling the South Downs Way off-road in aid of the British Heart Foundation. Last time he raised money for them was in 1984 when he did the London Marathon in memory of his grand dad.
Some may know him and his Doberman from the shows. Bono is the dobe who loves his cuddles from all. Unfortunately he won't be with George on this outing, but he has taken time out to sponsor him. He's hoping to raise as much as he can.
George said, 'This challenge won't be easy. Some years completion is down as low as 40%. I am determined to complete the ride and hopefully be at the Watford show on the Sunday to collect!'
This link gives details of the challenge and a piccy of George and Bono doing Cani X at Crufts.
---
Hare 'n Hounds Easter Show Refunds

All the refunds have been made to competitors from the lost Saturday at the Easter show.
The unclaimed entries are being donated to charity. This means the amount of £1062.01 will be spilt between the five small doggie charities that are supported by Hare 'n Hounds throughout the year.
Chris Hare said, 'A lot of competitors have emailed and written to me to thank us for the Easter show and to say they are happy to donate their fees to the charities, which is lovely.'

So with the raffles etc., we have held at the Hare 'n Hounds shows in the last year the grand total of of money raised including raffles (£1210) is £2272.01 which is incredible. We dearly thank everyone on behalf of the charities for their kindness.

---


The Tiny T's 2009
Trent Park Moonwalks for Charity
On Saturday, 15 May 2010 at approximately 11pm, members of Trent Park DAC will be setting off on a 26 mile walk round the streets of London, taking part in the annual Playtex Moonwalk in aid of Breast Cancer. This is the second or third year some of the girls have taken part but the first year a male has dared to join. So think of Keith Williams on the night as conditions of taking part are to wear a brightly decorated bra and pink hat. What was he thinking!
The Trent Park Team (aka The Tiny T's) has been training hard since the beginning of the year so dogs have enjoyed some extra walks. TPDAC Members taking part are:-
Nikki Williams
Ann Eddington
Chris Mancini
Corrin Cervi
And... Keith Williams
Two other members who are not walking but have joined the hundreds of volunteers manning check points etc. are Debs Cuckston and Jan Pond.
Keith said, 'We all know someone affected by breast cancer so please make my embarrassment worthwhile and donate at our fund raising page on www.walkthewalkfundraising.org/tiny_ts
---
Karen, Prince & Duke Are Running for Cancer Research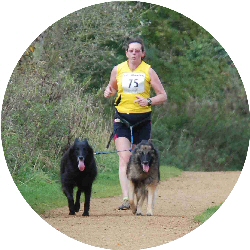 As many people are aware several key members of the Tuffley Agility Club have recently been affected by Cancer. In particular one trainer has been diagnosed with terminal pancreatic cancer. It is for this reason that Karen Roberts, a member of Tuffley AC has decided to run the Neolithic CaniX Half Marathon in aid of Cancer Research.
The race is on the 2 May 2010 and she is running with her two dogs - both Belgian Shepherds - Groenendael Prince (Ebontide Othiz AW(S), JW and Tervueren Duke (Norlyght Seventh Duke.)
For those who don't know, CaniX is cross country running with dogs. Her usual race distance is 5km.
Karen's on-line sponsorship page is http://www.justgiving.com/Karen-Roberts3
---
Lorna's London Marathon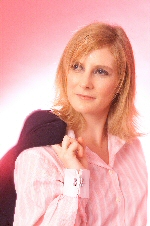 Lorna Winter, Senior Brand Manager - PRO PLAN is running the Virgin London Marathon for Hearing Dogs for Deaf People on 25 April 2010. This is her first ever marathon. Prior to last summer she had never run unless trying to catch a train or bus!. However, those that know her well, know she likes a challenge - and this is certainly one of the biggest she's undertaken.
Lorna said, 'I am absolutely delighted to be running for a fantastic charity - Hearing Dogs for Deaf People. Hearing Dogs for Deaf People trains dogs to alert their deaf owners to sounds such as the telephone, doorbell or smoke alarm. Most dogs are selected from rescue centres, giving unwanted dogs useful and happy lives to the benefit of deaf people. Hearing Dogs for Deaf People receive no government funding so rely totally on donations from the public - hence why this event is so important for them and for me. For more details on the great work that they do, please visit their website at www.hearingdogs.org.uk.
With just a month to go, here are some little highlights from her training blog so far...
November 2009... Having done a few 10ks in not a very fast time the previous few months, I decided to plunge headlong in and go for a half marathon - surely it can't be much worse than a 10k I thought. Well, it was - much worse than I was expecting! However, I made it through with only a short distance walked near the end. I hit a really tough point at mile 10 where I felt like my legs were going to fall off which carried on until around mile 11.5. Then, my body got used to the pain. I managed to shut it out and hence managed to finish in one piece! The weather was absolutely atrocious - very heavy rain and strong winds, but it did stop about half way around, so by the time I crossed the finish line (2 hour 30 minutes later) I was mostly dry. The time I did it in gave me hope I may still make the marathon in 5hr or under which is my target. Lots of training still to do though!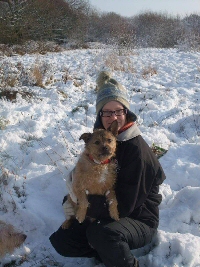 December 2009... Bought some new trainers as I realised current ones were getting worn and were a little too small. Got a great buy so hopefully no more bruised toes! I did a couple of 10ks this month, and managed to get a personal best so the training seemed to be paying off. I was ill for a couple of weeks over Christmas - any athletes worst nightmare, as they are constantly worried about falling behind on training. However, Peggy, my trusty little 4-legged friend has been keeping me company on some of my runs.
January 2010... So into the new year and training has progressed as well as I had hoped. The snow made outdoor running interesting, but I started to hit the higher mileage half way through the month. I booked a half marathon for end of February (Sussex Beacon in Brighton) and was looking forward to improving my time to under 2 hr 30 minutes.
My bruised toe is finally starting to heal, but I'm told this is normal and to expect various loss of toenails whilst doing long runs. Hmmm, not a pleasant thought, but ho hum, it's all for a good cause and definately worth it!
February 2010.....Well, it's been a tough but rewarding month. Gradually have been building my long runs up so now doing a half marathon length run as a minimum every week! I have kept to the training plan as much as possible, but sadly Peggy is no longer able to come out on the long runs with me as they are a bit too long for her now. However she does still come out with me on my shorter weekday runs where possible.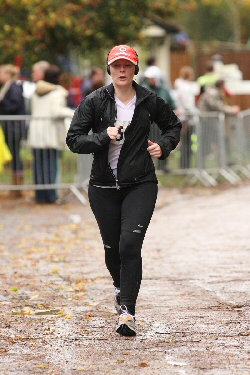 I did my official half marathon down at Brighton on the 21st February. I was really looking forward to it, as its a fairly flat run, and all my training has been on hills, so was very interested to see what sort of pace I could achieve on the flat. However - and this seems to be a recurring theme for me - the weather was utterly awful! Gale force winds, rain and even sleet/hail towards the end. It made for a very gruelling run, but despite a stop for a toilet break - and that's never happened to me before - I still managed to complete it in 2hours 25 minutes. If you take away the toilet break its 2 hours 22 minutes - which is a whopping 8 minutes off my best half marathon time. Considering the weather was awful, I managed to hit a great pace and this has really encouraged me to know that I might actually pull this full marathon thing off without collapsing half way around.
March 2010... - Went to the Hearing Dogs Day and met some wonderful people and their amazing dogs as well as some of the lovely new puppies that will be getting trained. Really brings it home how much these dogs can help people.
So how is training going? Still on track despite having to fit working at Crufts around it all, but it's so nice to have the sun out again! It makes running all that much easier. Slow build up to around 18 miles over next three weeks, then looking forward to my 'tapering' down.....albeit it's still a 2 hour run the first week! I remember when a short run was only 20 minutes. Gone are the days when I can fit a run in my lunch hour - 20 minutes now is just a warm up.
Did my longest run yet of 14 miles. Weather was surprisingly warm, which made it a nice run, albeit a bit hot and sweaty! Legs seemed to hold up well and even managed to go faster in the last two miles in order to hit my timing. Legs today are also surprisingly good - all that stretching must be paying off.
Motiviation is hard now - short runs being around an hour long in the week are getting harder to fit in, and knowing I will eventually be running for around five hours on the day is still a very scary thought!
So how on earth do I find the time to still do agility with my dog? I hear you all asking. Well, we do make it to club training most weeks, but I have had to jig around the training plan a little to fit in my longer weekly training runs as they all seem to be scheduled on the same night as agility training!. The interesting one is going to be the Easter Celebration Competition in April as that's my last long run - targeted at 3 hour 30 minutes. Some how I have to find the time to do that over the weekend when Peggy is entered into the show for both days. I'm sure I'll find a way somehow!
Lorna finished saying, 'I would like to say a huge thank you to everyone who has sponsored me so far - your support means a lot, and its all going towards a great cause. Don't forget anyone can come along and watch me run. I will be wearing some fluffy ears and a tail so you wont be able to miss me.
As I'm running for a charity through a golden bond place, I have quite a challenging target to reach with my fundraising, so please, however small it may seem, all donations are greatly appreciated. You can find my donation page at: http://www.justgiving.com/LornaVirginMarathon. Please remember all donations go direct to Hearing Dogs for Deaf People, and as they are not government funded, they rely on kind people like you to support them in their work.
---
Walking the Wall for Cancer Research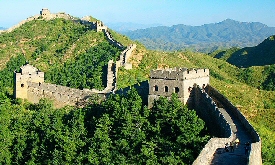 Only four more weeks until well known agility vet Peter van Dongen goes to China to walk some 80km, near and mostly on The Great Wall of China, for Cancer Research UK. Up to now he has collected £1375 in sponsorship money but would really love to reach his goal of raising at least £2.5K for CR UK.
If you haven't already sponsored him, please help me by donating a small amount of money, preferably via his charity web site Any amount will do, even the smallest!
He said, 'You all know cancer is still one of the biggest killers in the UK, and worldwide, and any money raised will help to try and prevent as many deaths as possible in the future, as well as enhance treatment methods. Perhaps you can dedicate your donation to a lost loved one? Personally I am doing this trek in memory of my mum who died of cancer five years ago.'

He continued, 'I am getting rather fit again in preparation, have bought all extras I need for my trek, and am looking forward to my next adventure. Can't wait to see the wall, the mountains, and the people, eat grilled scorpions on a skewer, taste snake broth, communicate with Chinese children using hands and feet, and finally see Pandas in Beijing.'
All sponsors will get an invite to his 'China Trek Talk' afterwards. For those who don't already know, he is doing a talk about my last adventure, climbing Mount Kilimanjaro, on Friday, 30 April, at the Otford Village Memorial Hall, Otford, Kent TN14 5PQ from 7pm for 7.30pm. Tickets cost £5, and are available from Jan on tel. 01732 455354 or June on tel. 01959 533364. All welcome!
---
Swimming for Marie Curie Cancer Research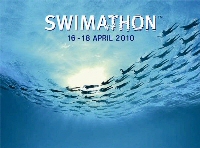 Rachel Williams and Nicky Harrall are taking part in a national Swimathon on 17 April. Each one is ewimming 2.5km in aid of Marie Curie Cancer Care. The money they raise will help Marie Curie Cancer Care provide care and support to people with cancer and other terminal illnesses. So many people are unfortunately effected by cancer or related illnesses, Marie Curie really provides support during the difficult times.
Nicky said, 'Lots and lots of people take part in the Swimathon every year over the same weekend. We are doing it as we both unfortunately know people affected by cancer and terminal illness. We are 51% of the way to our target.'
Their sponsor form is online at
http://my.artezglobal.com/personalPage.aspx?SID=286781
---
Racingredd Girlies Race 4 Life

Several of the Racingredd girls - Wendy Clay, Vicki Warwick, Penny Bambridge, Margaret Kyriakou, Julie Hutton and Norma Willcoxson so far- are doing the Race4Life in aid of Cancer Research. If you can spare a penny or two, please feel free to sponsor them.
http://www.raceforlifesponsorme.org/theracingreddgirlies2
If there is anyone in the Peterborough area, please feel to join them. They will be walking, not jogging, if that helps! The date is Wednesday, 30 June at 7.30pm at Ferry Meadows, Peterborough (Cambs.)
---
Bryson's Fundraising Show
Ian Dobison and Clare Stainton would like to thank everyone who came along to our Dogs Home Wanderers Charity Fun Day on the 12 December 2009. They raised £627.38 for Pennine Pen Animal Rescue. We would like to give an extra special thank you to Susan Mallabar for processing the entries, Taryntimers for providing the timing and to Carolyn Baker, Tracy Meakin and everyone else who pitched in to judge, scribe, help out in the cafe etc.
There will be another Charity Fun Day on the 27 February 2010. The proceeds of this day will be going to another charity they support - Brysons Animal Refuge. The closing date for this is 31 January, but they will take entries on the day.
Brysons Animal Refuge in Gateshead was started in 1947 and has been committed to helping all animals ever since. Clare and Ian have had the pleasure of working closely with them for a few years now and two of our dogs are from Brysons. The staff and volunteers are all very dedicated and caring and they ensure every animal is very well looked after and goes to the right home.
As with every animal rescue they rely on kind donations from the public. However, although they are a very well established animal charity, they are now finding things really hard financially - in fact, so hard that if they don't get some extra financial support soon they will have to close.
Ian urged, 'We are all trying to do our bit to raise funds, so please support our fun day or help Brysons directly, if you can. You can download a show schedule from Agilitynet.'
For more information, visit www.brysons.org.uk
---
DFS Crufts Car Stickers Return

The 2010 DFS Crufts car stickers are back and can be yours provided that you have qualified for Crufts next year in either agility, obedience, HTM or breed for next year. You can even have one if you have qualified for a YKC event - even if you don't have a car!
Just send a SAE to Agilitynet, 38 Northolme Road, London N5 2UU. The envelope must be at least 6in x 6in or else the sticker won't fit.
The stickers are provided by the Kennel Club free of charge, but if you feel that you want to support the research and good work the Kennel Club Charitable Trust is doing you can enclose a donation with your envelope. Please make the cheque out to the Kennel Club Charitable Trust, not Agilitynet.
Thank yu for your support.
---
Cool on the Draw!

More than 300 agility partygoers warmed up the atmosphere Cool Festive Fundraiser 2009 with champagne, Christmas cake and an Alpha party bag recently. Congratulations go to Jane James who was very surprised to win this year's Festive Fundraiser treats.
The organisers would like to thank everyone for the efforts in raising £330 for the RSPCA (Worcester branch), which has starting their 2010 fundraising off in great style.
Geraldine Haynes, fundraising officer, was delighted with the contribution saying, 'A big thank you to everyone who entered the draw and to all that contributed to this wonderful draw and Alpha for supporting the event .'
---
Pete's China Trek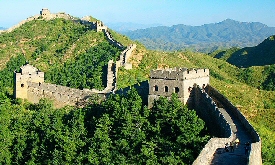 Over the last four years, vet Peter van Dongen has done four charity treks, first in Norway, doing a week long Husky Trek Arctic Dog Sledding Challenge, then in Namibia, doing a Desert Walking Trek Challenge, followed by an Andean Trek in Peru, ending up at the amazing Machu Picchu, and, recently, Climbing Mount Kilimanjaro in Tanzania. He enjoyed all these very different treks so much, whilst at the same time managing to raise money for charity - The Blue Cross, Dogs Trust, 'R.A.I.N.' and The British Heart Foundation respectively.
Pete has decided to do yet another one! He's done cold. He's done hot. He'd gone up - and reached the top. This time he's going long! He is doing a week long trek, in April 2010, near and on The Great Wall of China!
This year he has chosen to raise money for Cancer Research UK - in memory of his mum who died of cancer five years ago.
As usual, it will not be a holiday but a physical and mental challenge, for which he will be in training over the few months before the trip. During the trip, he will hopefully see lots of beautiful landscapes, as well as get to meet the Chinese people. He will stay in Chinese homes as well as in tents on the way. He will try and add a few days at the end, to go and see Pandas, preferably in the wild.
Cancer Research UK is the world's leading independent organisation dedicated to cancer research. They support research into all aspects of cancer through the work of more than 4,250 scientists, doctors and nurses. Over the past 10 years alone, thousands of lives have been saved through earlier detection and improved treatments. But, much work remains to be done if they are to achieve their aim of beating cancer.
Most of you will know, or have known, someone battling cancer, or perhaps you yourself have been affected by cancer. You will know how much it can affect someone's life, and that of the people around them, and you will understand how important it is to try and do something about this horrible condition.
Pete has funded the entire trip himself, so every penny raised in sponsorship money goes completely to the charity! He is asking each and everyone of you to help, by sending him a cheque for as little or as much as you feel able to donate. Every little bit helps of course. Please send cheques, payable to Cancer Research UK, to: Pete van Dongen, 25 Tolsey Mead, Borough Green, Kent TN15 8EQ, Great Britain. Alternatively, you can donate money on-line, at www.justgiving.com/chinatrek5 This has the added benefit that it's easy, quick and safe!
You can also donate some money whenever you see me in the next few months.
Please dig deep and help me to help Cancer Research UK!!!
After the event I will write a full report about my experience, as usual, with photos of course. I will also invite all sponsors to a post trek evening talk and photo show. Let's hope we can all help 'Cancer Research UK' to continue to try and help as many people with cancer as possible.
THANK YOU!
Pete van Dongen
---
Calling All Working Cocker Handlers and Owners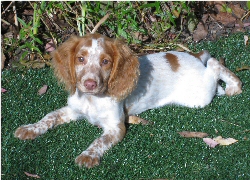 After a competition on their Forum, Working Cocker Pro Health, a non-profit organisation, have printed a calendar of members' dogs, many of which are agility dogs.
One of the winners was Jayne Anderson's Cocker Reah who has been selected to feature as Miss January. She submitted some photos of her puppy to the competition and was lucky enough to win as were some other agility handlers!
Jayne said, 'Reah is my first working cocker. Until I started looking into the breed, I wasn't aware of the potential health issues and tests that were recommended for breeding. After spending a lot of time looking for a working cocker breeder who did the tests I came across the Working Cocker Pro Health site and was lucky enough to get my puppy from one of the breeders.'

'The society is completely not-for-profit and is trying to promote healthy breeding of the working cocker, both to owners and breeders but also to the general public to keep this fantastic breed in top condition.'

In light of the great work they are doing I hope that the agility community gets behind them and buys a calendar or two as all the profits are going towards their work in 2010 promoting good health. Considering what we ask of our agility dogs it's nice to know that there are people working out there to breed the healthiest dog possible!'
Working Cocker Pro Health, is a fairly new organisation with three main goals, all of which are trying to promote a continued healthy breed:-
To raise awareness of the Health Issues in the Working Cocker

To support & promote breeders who initiate the recommended tests

To promote public awareness of these health issues
The 2010 charity calendar for sale at http://www.workingcockerhealthscreendirectory.com
---
Running for Hearing Dogs for Deaf People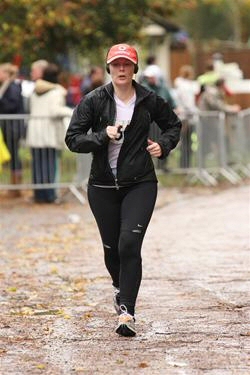 Lorna Winter, handler and Senior Brand Manager - PRO PLAN is running the London Marathon in April next year in aid of Hearing Dogs for Deaf People
She said, ' Now - you are also all probably aware that running is quite new for me and a few of you may be chuckling loudly at the sheer thought of me running 26.2 miles... and you would be right to chuckle. However, as I do love a challenge and I love working with animals. You may well understand my madness when you hear that I am running in aid of Hearing Dogs for Deaf.'
Lorna has already done a few 10k runs and a half marathon, so her training is on schedule. The only part left is the fundraising!
To learn more about the charity and her marathon quest, visit Lorna's page at www.justgiving.com/LornaVirginMarathon. She's counting on your to feel sorry enough for her to donate a little something to her cause. All the money goes directly to Hearing Dogs for Deaf who rely totally on donations from the public and are not government funded so every penny helps.
She has set a challenging target of £1,800 to reach and would really appreciate your support in helping her reach that.
---
Pound for a Hound Charity
Agility people - and not just those competing with Greyhounds - have been supporting Greyhound Gap which rescues sighthounds and their crosses that would otherwise be put to sleep, providing them with foster and permanent homes all over the country.
They use commercial kennels as a stopgap between rescue and new homes, costing them between £2000 - £2500 per month. This huge monthly cost has encouraged the charity to look for alternatives. A commercial mortgage on their own property would cost far less and mean that the hounds would get even better care. The downside to this is the £100,000 deposit needed! Not to be put off the charity recently launched a 'Pound for a Hound' campaign, aiming to get 100,000 people to donate just £1. So far they have raised nearly £17,000 towards this target.
Louise Mallett and some other members of Staffs Agility Club members have already run fundraisers at the KC International Agility Festival and Dashin' Dogs and contributed nearly £1000 to the pot.
Louise is hoping that the agility community will get behind their latest fundraiser called Pound for a Hound. All you have to do is contribute £1 to put a photo of something really important to you - it could be your dog - on their photo collage. Just log on to www.poundforahound.co.uk, pay your £1 and send in your photo and caption. The image will then be put onto the website where you can view it. When they reach our target of £100,000, the collage will be printed and displayed in the Greyhound Gap kennels as a tribute to everyone who supported the great cause. So far over 400 images have been contributed, ranging from a pile of chocolate to a baby scan and of course many gorgeous dogs.
Celebrities such as Joanna Lumley, Griff Rhys Jones and greyhound lover Jilly Cooper are supporting the project. You will have to visit the web site and view the collage to find their photos!
---
---