Have a heart...
There are many national and local charities - large and small - which benefit from the generosity of agility people. Thousands of pounds are raised by agility clubs and individuals around the country via demonstrations, sponsored walks and other events. What have you or your club done today?
Peter van Dongen Is Off Again on Another Adventure for Charity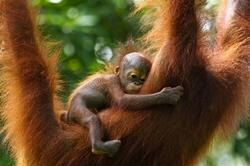 There's no stopping the man! This time he is off to Borneo, to do a Jungle Trek, walking the Headhunter's Trail, exploring bat infested caves, doing some caving (claustrophobia notwithstanding!), visiting wildlife parks with Proboscis monkeys, Hornbills and Pygmy elephants, climbing Mount Kinabalu ('Öbecause it's there!'), and seeing Orang Utans in the famous Sepilok Orang Utan orphanage! Oh, and dealing with creepy crawlies, which freaks him out a bit.
This time his chosen charity is The Cure Parkinson's Trust in support of his former boss and colleague John Dickson, who was struck with this debilitative neurological disease a year or so before retiring as a vet. The charity is actively searching for a cure for this disease, which affects millions of people all over the world.
Please have a look at his website www.justgiving.com/borneo2012 and donate some money to this worthy cause. Perhaps see it as an early Christmas present, or as a premature birthday present for Pete. It's his big one on 3 January!
---
Wyre Cake Stall for Greyhound Gap
Huge thanks to Wyre AC for letting us have a charity cake stall for Greyhound Gap at their show. Despite big weather (mud!) challenges we had a great time and generous agility folk once again bought lots of cake. We raised £637 - absolutely brilliant - and took us to over £10,000 for Greyhound Gap since we started doing the stall just over two years ago!
See you all at TAG in October.
---
DINAS Charity Stall
Sandra Mitchell is holding a charity 'tut' stall at the Dogs in Need Agility Show again this year. It was very successful last year, raising over £420 split between East Anglian Air Ambulance, East Anglian Staffordshire Bull Terrier (Rescue section), Blue Cross at Felixstowe and the Grove Sanctuary at Felixstowe.
Beneficiaries this year will be the Blue Cross at Felixstowe, East Anglian Staffordshire Bull Terrier Club (Rescue Division) and Ormiston Children's & Families Trust, the local Sainsburys' charity. As Sandra works for Sainsbury's, she gets given some old stock from the store so this is a little spin off to help secure future funding! She is also looking for books, doggy stuff and anything that might sell to people living out of a caravan for the week. Anything really! She will also be selling liver cake and pilchard cake.
Competitors are welcome to nominate other organisations would be welcome.
And thank you to Sainsbury's who kindly sponsor a class at DINAS.
Thank you

to everyone who supported the charity rescue stall at DIN by purchasing or donating items or manning the stall. It was fun to do, very sociable and raised £620! This has been sent to the nominated charities, Ormiston Children's Centre, The Blue Cross and East Anglian Staffordshire Bull Terrier Club for their continuing rescue and education programme. A cheque for £25 has also been sent to Rescue Remedies, nominated by competitor Jo Berry. Collecting for next year already underway, see you next year!

Sandra
---

Supporting Morgans Rescue
For those of you who keep an eye on the Rescue Me pages of Agilitynet, will know about Morgans Rescue - Donna Cain, Nigel Staines and Morgan Staines. They do a fantastic job, having re-homed over 400 dogs over the past six years, many into successful agility homes.
James Amor said, 'As a thank you to Morgans Rescue for finding my fantastic rescue doggy Neila, Iíll be running the Grizedale Forest Cani-X event in October 2011 with her. Through a combination of sponsorship, raffles, quizzes and other activities Iím aiming to raise £500 - hopefully more - to help Morgans Rescue build an outdoor run and puppy kennels for their future rescuees.'

'I've put a fundraising website together where you can donate online. It also has my address if you'd prefer to donate that way: http://www.freckleton-dog-watch.org/morgansrescue.

I realise that economic times are difficult, but would really appreciate anything you can give, no matter how small, to help support such a fantastic cause. Please help make a difference, Thank you!
---

Agility Girls Are Raising Money for Cancer Research
Several agility girls have decided to run 10k for Cancer Research. on 19 June in Northampton.
Mary Ann Nester said, 'I've been chasing my dogs round agility courses for years so I reckon fitness won't be too much of a problem! And I keep bumping into other agility girlies who have entered the Race from other parts of the country. She is running on 19 June in Northampton. Her page is http://www.raceforlifesponsorme.org/maryannnester0307
Other competitors who are running include Ruth Bates, a veterinary nurse at the PDSA in Northampton who runs Cavies http://www.raceforlifesponsorme.org/ruthbates2506 and the Racingredd Girlies Vicki Warwick and Wendy Clay who is best known for her world class dog Scout. If she can run a half as fast as Scout, she will be first over the line http://www.raceforlifesponsorme.org/theracingreddgirlies3
If there are any other agility handlers out there who are running the Race for Life, get in touch. Put on your trainers, step forward and be counted.
---

Raising funds for Battersea Dogs & Cats Home
Melissa Isaacs has four dogs, three of which have come from Battersea Dogs home and the fourth is a rescue, too. They all do agility or are, at least, in training!
In March she is embarking on a 5 day, 200km dog dog sled trek in the Arctic Circle to raise funds for the wonderful Battersea Dogs & Cats Home.
She said, 'I would like to give something back to the Home. It wont be easy with an average temperature of -25c and up to 60km trekking per day, but with your help I'm sure we will make it! Battersea Dogs and Cats Home made a difference to our home so please help me make a difference to theirs!'
If you would like to donate please go to her Just Giving page click here.
---

Kenny is Running for Rainbows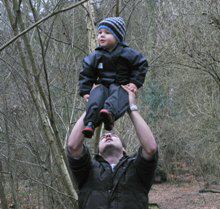 Kenny Spottiswoode, publisher of Agility Zone magazine, is running the Edinburgh Marathon in May 2011 on behalf of Rainbows Hospice for Children.
He said, 'I have set myself the ambitious goal of running the full 26 miles. Rainbows is a charity that offers a place for life-limited children and their families to go for the support that they cannot get anywhere else. This is my time to do a little bit more - and your chance to do a little bit, too.

Please help by supporting me on this journey. Let the Tesco slogan pop into your head now because 'every little helps'. Give what you can, please'

You can contribute to Kenny's run by going to http://www.justgiving.com/Kenny-Spottiswoode