Have a heart...
There are many national and local charities - large and small - which benefit from the generosity of agility people. Thousands of pounds are raised by agility clubs and individuals around the country via demonstrations, sponsored walks and other events. What have you or your club done today?
---
| | | | |
| --- | --- | --- | --- |
| | | | |
Footsteps 4 Oliver's Show Success
Thank you to all who came and supported our charity agility show in aid of my nephew Oliver Osborne who has cerebral palsy and is unable to walk. There is an operation available, but this is not funded by the NHS. We are trying to raise £60,000 so that he can have this operation and hopefully be able to walk.
As his Auntie, I wanted to do my bit to help. I compete and train regularly in the growing sport of dog agility so a Charity Dog agility Show was an ideal solution for fund raising.
We had 150 dogs competing for the many prizes that had been kindly donated. As well as the competition we had a cake stall, raffle and tombola. Haywards Heath & District Canine Society kindly allowed us to use their dog agility equipment. Lots of help was required on the day. All members of Haywards Heath & District Canine society did their fair share plus a few relatives that were also roped in! Judges Pete Heffer and Michelle Ward braved the cold weather to judge the dogs for us. Millie Osborne (Olivers' sister) Did a great job of giving out the prizes to the winners.
The day was a great success and we managed to raise an amazing £2070.
Oliver's story can be found on his website or his just giving page. If you would like any other information, please contact me on 07941 157315.
Wendy Osborne
---
Captain Jack's Fundraising Success for Canine Epilepsy

Captain Jack's AHT Canine Epilepsy Research is almost halfway to their target for 2014 already!
Lucie Corrie is presenting £4129.69 to the AHT Canine Epilepsy Research Fund at Olympia on Sunday, 22 December! If you are there on Sunday - watch out for her post on FB re the timing of the presentation.
Please come along to the AHT Stand to support this fantastic cause. You can donate directly or on-line. Every pound helps!
---

Vote for Toastie
Cocker Spaniel Toastie is one of the six finalists for the Pets as Therapy Dog of the Year 2013-14. When she is not doing agility, she visits children's hospices, nursing homes for adults affected by dementia, and she also participates in the therapy of children with phobias. Toastie is currently in training to be one of a few special Stroke Rehab Dogs.
Toastie and her handler Elaine Cole enjoy agility and compete at Medium G1-3 level. They go to three agility clubs and, whenever they have a moment to spare, they practice in their postcard-size garden! So far, their best result has been winning a 6th place rosette at their final show of the year!
Elaine said, 'At 56, I'm not exactly at the peak of my fitness (to say the least), but Toastie puts me through my paces in the ring, and it's the best exercise ever! We started competing this year, and after many embarrassing eliminations, in our very last show, Toastie won a rosette!'
For two years up until recently, Toastie was helping in the psychotherapy of a little girl with a severe dog phobia. After so many sessions with little or no progress, Elaine wondered if this darling little girl (Alyssa) would ever be free of her fear of dogs. The psychotherapist said it was the worst case of dog phobia he had ever encountered. Finally, after three years of therapy - Alyssa was with the psychologist for ten months before Toastie was introduced - they made a breakthrough. This summer, Alyssa ran Toastie around a 'have a go' agility course at a local fete. Alyssa's mother and Elaine were in tears watching her delight at sending Toastie over jumps and through tunnels and weaves. Elaine says she had never been so proud in her life! No wonder Alyssa's family nominated Toastie for Pets as Therapy Dog of the year.
Please spare10 seconds to vote for Toastie by clicking on the link below. It only takes 10 seconds by clicking the link below, then click Vote for Toastie, then click 'send'.
www.yours.co.uk/PATDogs
All votes very much appreciated indeed.
---

Agility Wheels for Pauline
Those of you in the South may be familiar with Pauline Angus who can be found most weekends at agility shows. She was born with the rare congenital condition known as arthrogryposis which affects the muscles and bones of the limbs. In Pauline's case, the condition rendered her a permanent wheelchair user.
Unfortunately. the mobility scheme will only fund either a chair or a vehicle not both. Her current wheelchair was funded by her parents many years ago, and has seen better days, mainly because of her lifestyle! It also has its restrictions> There is a company which makes 4 x 4 wheelchairs that can be adapted to operate via a chin plate, as Paulines condition means this is the only way she can operate her chair. The only downside is the cost... £12,000!
The purchase of the 4x4 chair would allow her to the things that most of us take for granted.
Enjoy winter walks in the snow

Access walks in the woods & fields in all weathers

Allow access to the beach (which is nearby) all year round

Agility training in the Indoor Riding School, during the winter months
Karen Fuller met Pauline six years ago when she contacted Karen about agility classes for her GSD, Brennan. That was the start of a journey that would see them learn from both their mistakes and successes. Brennan taught them a lot, including how versatile Pauline's wheelchair could be. It was such a shame he could not compete as he was amazing, but being a big GSD, he only ever jumped Medium height jumps. After retiring Bren from agility, Pauline found another hobby for him, tracking, which often involves being out in muddy fields.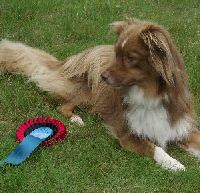 Not to be left out, her Chihuahua, Tyson also dabbled for a bit of fun. Pauline hoped to compete with her collie Jet but sadly he has had several health problems. To start with, he had OCD. Once recovered from that operation, he then starting fitting. His epilepsy can be quite bad and the drugs often make him a little drowsy, so they have to be careful that he is okay as he is a typical collie and will jump regardless of how he feels - and is not always in his best interests to do so. Jet does train most weeks if he is well and competes at UKA and mainly Anysize at KC. Pauline is hoping a change in meds will enable him to compete on a more regular basis.
Dash is the new kid on the block a Mini Aussie with a maxi attitude, not the easiest dog to train, because he has quite a few opinions of his own on how things should be done. Such a willing little dog who is very clever and will always put a smile on your face. He has really started to shine with his training and competing, and had his first clear round this year.
Pauline's 'can do' attitude would put most of us to shame. She never says she can't. She will just work out a way that she can. Pauline has no use of her hands and operates her wheelchair by a chinplate. How she does it no one knows, but she is a demon at reverse turns. Karen can often be found shouting at her to put her turbo on! That is something that can also be included on the new chair!
Pauline also camps at shows and has often had to reduce her runs due to the short life of her battery. She's then has to scratch the agility runs so she has enough charge to walk her dogs. With her, they really do come first. Sometimes karen will run the dogs if this happens and also if the ground is too rough for Pauline's chair, but Pauline is always in charge of training them, and it is obvious when you see me try and run them. The are most certainly a product of Pauline's training.
Karen said, 'One conversation I had with Pauline sees to sums up her attitude. She asked me a question regarding removing her dogs lead in the ring. Her carers undertake all hand tasks, so removing the lead is something she cannot do. She asked if her carer could remove the dog's lead after she has set them up in a wait? My answer was that technically this could be seen as double handling, but I doubt very much if a Judge would mark this as I would assume an allowance would be made because she couldn't do it herself. Pauline does not expect any allowances, so each exercise we train with her dogs includes a set up routine, so her dogs can go into the ring without a lead. This is not easy with a manic Collie and a willful Aussie but, for Pauline, it is important that she does not seek any special treatment. This is just the way she is, about everything.'

'Her biggest challenge is caused by her dogs' devotion to her. While they will work away from her in the training environment, quite often this becomes an issue at shows, as they feel they must be with her. Karen says it is amazing to watch the dogs interact with Pauline. As a puppy, Jet the Collie soon worked out just where to position his ball, under her footplate so he can play tuggy with her, and Dash will often jump on her lap and sit on her shoulders to have a cuddle.
Pauline's overwhelming desire to keep her dogs active means they have all had a go at most dog activities and her daily walks in all weathers, often include stories of being her being rescued, when her wheelchair has become stuck, as it cannot cope with mud, snow etc. In the winter, her frustration at being restricted means that she often cannot get out for several days if it snows, and, when the ground becomes muddy, she is restricted to the local park with the 'he only wants to play' brigade of dog walkers.'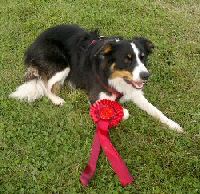 How you can help?
Raising the £12,000 is a massive challenge, but however long it takes, Pauline will rise to it.
Please help make this a reality for her. If everyone who reads this article gives just £3.00 - the cost of entering an agility class - then it would really make a huge contribution to making Pauline's dream come true.
If any show secretaries would like to fundraise by offering to run a Pay on the Day, or indeed any businesses who would like to sponsor Pauline's chair, that would be amazing. There have have already had some great offers for an on-line auction. If there is anyone who would like to contribute items for the auction, please email Karen Fuller.
So next time you look out of the window, and it is tipping down with rain and walking the dogs seems like a chore, please remember Pauline who would like nothing more than to get out with her dogs and have some fun with them in it. Please don't close this page and sympathise. Donations can be made via the website. Just a few pounds from lots of people would help make a huge difference to Pauline and her dogs.
If you would like to have any fundraising ideas or items for the auction, please email.
Update (18 February)
Since we put Pauline's story on FB and Agilitynet last year, the response from people has been amazing, and are now a 1/3 of the way to our target.

Easter Celebration have been kind enough to allow us a stand the show, so we are now desperately seeking help from people or doggy companies for items to raffle. Pauline and her dogs will be around on the stand over the weekend, and they would love to meet you. We are so grateful to the people, Companies and agility clubs who have already donated, so if you have any ideas or even if you could run a fun class at a show, please let me know. agilitywheels.webs.com Karen Fuller
More fundraising...
From Andrea Russ...
How would you like to help change someone life? please read all about my friend Pauline and her wish for a better wheelchair to help her to enjoy her dogs even more than she does now. All we ask is for a small donation. Every £1 will help.

I will be competing in the Chichester Team Triathlon next year (July) along with my brother and his other half. My brother will be doing the swim, I will do the 10k run and Kay the 40k bike ride. We will be doing it to raise money for Pauline, so I will be asking for sponsors in due course. Pauline I may need to borrow the wheelchair!

Please help if you can it would mean so very much.
---

Sports Relief Goes Walkies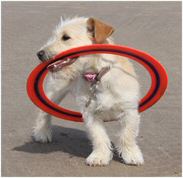 The BBC is currently casting a brand new game show called Sport Relief Goes Walkies. The concept of the show is for dogs to compete as a duo with their owner/trainer against other doggie duos in a fun and upbeat competition. They will compete in a range of games all set in an amazing studio environment. It's for a great cause and will be a lot of fun for those who take part so we'd really appreciate it if you could circulate our information to anybody who you feel may be interested in applying.
They are looking for both professional and non-professional dogs with a range of skills. This could include dogs who work professionally in an industry such as the Military or Police force, or it could be a 'domestic' pet dog that enjoys taking part in agility courses with its owner.
If you would like to take part or want more information about this event, download this flyer.
To apply:
Age limit: Applicants must be 16 years of age and over.
Application form: Download and complete the Sport Relief Goes Walkies Application Form (Word, 167KB).
Email: SportReliefGoesWalkies@bbc.co.uk
Write:
Sport Relief Goes Walkies
BBC Media Centre, MC5 D5
201 Wood Lane
London W12 7TQ
Closing date: 16 December 2013
---

Footsteps 4 Oliver Charity Show
Wendy Osborne is organising a charity agility show to raise money for her nephew Oliver Osborne who has cerebral palsy and requires an operation that is not available on the NHS to enable him to walk. The show will be called Footsteps 4 Oliver will be held in December near Lewes, East Sussex. Schedule is now available on-line.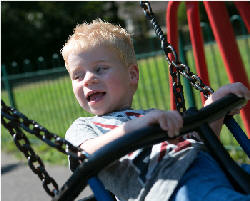 This is Oliver's story...
Oliver was born in January 2011. He was 11 weeks premature and weighed 2lbs 12 when he was born. He spent several weeks in hospital. By the time we got to Christmas, it had become very apparent to us that there was a problem as he couldn't move, play, sit up or do anything other children could do.
In the April of 2012 we were giving the utterly devastating news that Oliver has Cerebral Palsy and may never walk.
Life has been a rollercoaster since then, full of appointments, tears, fun, laughter, hard work and fear. In the 15 months since we found out the bad news,Oliver can now sit unaided (albeit slightly wobbly sometimes), crawl on his hands and knees and pull himself up to standing against a sofa. This is a major achievement for him.
All of this he has done with smiles and determination. Oliver is one of the happiest children, and people who meet him fall in love with him. However you can now see how much he wants to join in and play and be like other children. All he wants to do is play on a scooter and bike just like his big sister. Life can be so frustrating for him.
There is an operation available both in this country and in The States called SDR. It is a life changing operation that will enable him to walk. We need to raise £60,000 - either in the UK or failing that The States - to pay for the operation, the associated physiotherapy and a specialised trike that will strengthen his legs to prepare him for the operation.
If you can in any way, help with fundraising by doing or helping to organise events and spread the word for us to achieve our goal we would be forever grateful. Any little bit helps. Either go to www.justgiving.com/footsteps4oliver or www.footsteps4oliver.co.uk
---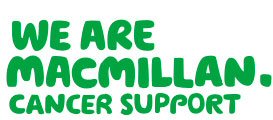 Sponsor Carol for MacMillan Cancer Support
Please show your support for Carol Lynch who is recovering from breast cancer, and who has qualified for the Arden Grange Agility Final at the Summer Open Agility show on Saturday, 24 August 2013, by sponsoring her. She is competing with Meg, her Collie, to raise money for MacMillan Breakthrough Breast Cancer and MacMillan Cancer Support.
The sponsorship form will be in the Secretary's marquee.
---
Be a Life Shaver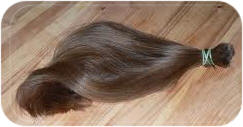 Come on agility community, we are again raising more money for Macmillan. Most of us have been touched in some way or another by cancer, be it personally or with family or friends. After a year of the Three baldies and Mike Douglas raising approx. £1,200.00 for this great cause, we are going again.
The three boys - Simon Chandler, Paul Moore and Steve Treamer - are going for their annual haircut with Lorna Peachey, but the main event this year will be Gary 'the Ponytail' Doyle who will be losing the ponytail. It is very precious to him, having had it for over 20 years. In fact, his two sons have never seen him without it.
So dig deep, we will be out with the buckets at KCI and DINAS collecting, and at some point over DINAS the boys hair and the Ponytail will be removed.
If you are not at either of these events you can donate on line at http://www.justgiving.com/GARYDOYLE. Please give generously to such worthy cause. Thank you in advance for your kind generosity
Sara Bennett and the fund raising crew (especially Gary Doyle's ponytail, who would like to be liberated for ever!
---

Run Walk or Jog for Charity at DINAS

Thank you...


Well done, folks. Give yourselves a massive pat on the back. This is our two year total - £5,564/09. So humbled by you all. Hope this will go some way to supporting those who most need it.

Ann
Stop press... Sorry folks the running vests for Dogs in Need are stuck on a boat in China so will not be available for our fun run next week. Please can you bring your own - prizes for the best decorated and original ones ones! You can make a vest easily by cutting sleeves off an old t shirt - not long now!


Photo: Ian Watts Photography

I have just queued to give Alan Bray a hug after winning the Champ final at Rugby with his wife's dog Tayla. I had to wait quite a while. It was an emotional moment for many reasons. The last time I queued amongst these same people to give Alan a hug was at Jayne's funeral.
We lost our brightest star last year despite her never ending determination and bravery to compete and win the biggest competition of her life. Alan and Hayley's bravery and determination to carry on mirror that of Jayne's. That win on Saturday will be one of those moments we will remember forever.
We talk about her often. She would like that. We love to remember her. We don't and won't forget her.
Last August, along with Fran Graham who continues his battle, she led the troops in the first ever fun run/walk at Dogs In Need. It was an amazing afternoon! The level of participation and support was outstanding! You have raised over £3000 for Macmillan! Everyone wanted to get involved – whether running, walking or just cheering us all on!
We are determined to carry on raising funds again this year. Jayne and Alan, along with their family, were supported by the amazing work that Macmillan do and they gained much comfort at a most difficult time. This year we are going to do Jayne proud again!
The DINAS fun run/walk will take place at 6pm on Thursday at this year's show. You will be able to enter online. T-shirts will also be available. For the less 'brave,' we have added a 3k run/walk this year, too! To download an entry form, click here.
If you don't want to take part, you can still donate on our page at www.justgiving.com/dogsinneedagility or you can text JAYN62 and your amount e.g. JAYN62 £5
Sadly, this is not just about Jayne.
We are aware that there are many others within the Agility community who are being affected by this disgusting disease. It affects young and old. It doesn't care. It destroys life and brings anguish and despair not only to its victims but loved ones and their families, too. The on-going work to find a cure continues.
Please Run Walk or Jog at DINAS this year and do your bit for Macmillan. Unfortunately the odds are you may well need their support one day, too.
MSU Jayne.
Photograph of Alan Bray taken by Ian Watts at Rugby Champ Show 2013
---

Close Shave for Charity
Sheila Partridge has very bravely had her head shaved to raise money for Valgrays Border Collie Rescue. In her own words, she told Agilitynet...
As you know, the economic downturn has resulted in many dogs being given up for re-homing. As a result of this rescue centres are experiencing crisis levels due to lack of funds and space to house these dogs.

Having been involved with agility for a number of years, we have come to know the 'Valgrays' charity stand at many of the shows and, indeed, our little Papillon Bandit was the first 'Valgrays' dog we had. Then, three years ago, my husband, Richard, was looking for another agility dog as he'd had to retire Murphy, the original Irish Twerphound), due to ill health.

Well, as you all know, Val always takes a dog or two that need new homes, and it was at a show that Richard saw Alfie, Irish Twerphound Mk II) in the back of Val's van. He looked at Richard with his doleful eyes and that's when Richard hatched a plan to get me to pass Val's van. I did and the rest is history.

As a direct result of this, we have come to learn more about 'Valgrays' and the wonderful work Val does! 'Valgrays' is a very small, registered rescue run almost entirely by Val Philips. She has a very large heart and creates miracles with the dogs that come into her care, often physically and mentally battered, as well as those abandoned dogs and dogs on the brink of being PTS through no fault of their own other than being born! Val works tirelessly, giving of her time and energy to train, retrain, and help these dogs become confident, happy and healthy, that they will be 'adoptable'.

My intention is not to embarrass Val, but her work for these animals is to be applauded and I wanted to do something to help her continue her valuable work soooooo I decided I'd have my head shaved and ask for sponsorship.

This only leaves me to say, if you would like to sponsor me this is the link:- https://mydonate.bt.com/fundraisers/sheilapartridge2009 With your help, Val will be able to help more dogs in need!
Please can as many of you as possible help her to raise a huge amount and make this all worthwhile for her. You can donate via www.valgraysbcrescue.org.uk and click on the PayPal link, please state that your donation is for Sheila's head shave.
---
Donate Pet Food for Romania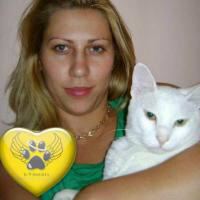 Wendy Webb is organising a Pet Food Drive for her friend Alexandra Sarau in Romania who rescues stray dogs, cats and animals that have been dumped, beaten, generally mis-treated and in a sorry state.
Alexandra looks after these animals herself until they can be re-homed. She has relatively no help or regular funding. She also pays all vets bills herself and arranges for animals to be spayed/castrated, wormed and any other medical treatments they require.
Wendy is meeting Alexandra's UK contact on her way to Dog Vegas Show, August Bank Holiday and would love to be able to drop off a caravan load of stuff for onward transport to Romania. She is not asking for regular funds, just a one off tin of dog food or anything you can afford to give would be a wonderful gesture to help.
Alexandra will basically accept anything related to animals but the things she mostly needs are:
Dog and Cat food, wet or dry, puppy/kitten or adult
Toys
Treats
Flea/tick treatment
Worming tablets
Metal bowls
Grooming items
Collars, leads, harnesses
Beds
Antibacterial wipes, handwash
Disposable gloves, disposable face masks
Or anything else you can think of pet related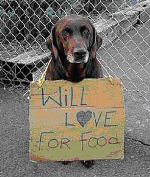 You could even send her a couple of bits for herself like toiletries or choccies!
Wendy will at Colchester DAC Agility Show on 20-21 July 2013. You can either drop something off to her ring party on 20 July or at her caravan with the blue fence with the poster attached. A naughty Jack Russell will probably bark at you!
Wendy said, 'Please, please, please help and give whatever you can. It will all be greatly appreciated. So next time you go shopping for your special pet, please think of us and add one more tin of food to your basket.'
For any further details, you can PM Wendy on Facebook or email wendyruth_99@yahoo.co.uk or you can search for Alexandra's Animals on Facebook.
Download poster
Update...

This is what you contributed to Alexandra's rescue at the Colchester DAC show. Thank you to all who donated so generously.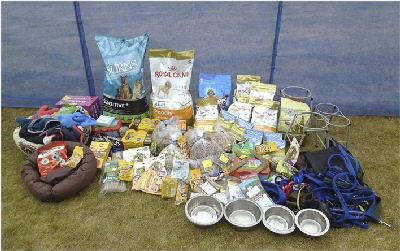 For anyone who wants to add any donations to the Pet Food Drive, Wendy will be at the Redgates Agility Show on 3-4 August 2013.
Just one final reminder...
This will be the last one, I promise - of the Pet Food Drive I'm organising for Alexandra's Animals in Romania. I will be doing one final collection at Redgates this weekend. If you have anything please come and see me or ask <B>Tim Griffiths</B> (very nicely) if he would keep it in the secretary's tent for me to collect. I have had a great response already and will be posting pictures of the final collection soon. A huge thank you to everyone who has already donated, You have made lots of poorly animals very happy!
---

Epping Green Walk for Cancer Research
On Sunday, 19 May 2013, Epping Green Agility Club held a sponsored dog walk to raise money for Breast Cancer Research as two of their members are currently undergoing treatment for the disease. We walked for ten kilometres from the car park at the Gunpowder Park in Waltham Abbey to Enfield Lock and back. The weather was lovely and all 13 dogs (and their handlers) were perfectly behaved!
A total of £300 was raised.
---

New Look Crufts Stickers are Here
Just in.... 2014 I've qualified a Dog for Crufts Window Stickers. If you've qualified a dog in agility, breed or obedience etc. you are eligible for a Crufts car sticker to let everyone know.
They're free from Agilitynet though we do ask, ever so politely, for a voluntary contribution to the very worthy Kennel Club Charitable Trust. It's doesn't matter how much. Every little bit helps. Just send a cheque or cash and we will pool it with other donations and send it off the the KC.
To obtain your sticker or stickers for your team, just send a SAE at least 4in/10cm x 4in/10cm along with your donation to Ellen Rocco, Crufts Stickers, 38 Northolme Road, London N5 2UU.
Many thanks and good luck to all.
---
Captain Jack's UKA Charity League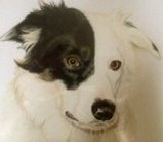 UKA and Captain Jack's are pleased to announce the launch of a series of individual leagues for all levels and heights with an overall Top Performer of the Year plus a Team League.
Background
In order to recognise and reward consistency in performance across all levels and classes within UKA, a new league has been introduced. The Captain Jack's UKA Top Performer League will allow handler and dog partnerships to accumulate their results throughout the season creating a league table with top performing dogs recognised and rewarded at the end of the year.
The winners will hold the Title for a year and will win a prize trophy to keep, sponsored by Captain Jack's.
The Captain Jack's UKA Top Performer League will run for individuals as well as for Teams. Prizes for 1st will be awarded at the end of the year for:-
Each height and level
Overall team
Plus an overall UKA Top Performer of the Year, across all heights and levels
About the Charity
Lucie Hinchley explained, 'The Jack Sparrow Foundation Charity was inspired by Sparrow, our incredibly special young collie who struggled with epilepsy for two years before we sadly had to say goodbye. Sparrow was our dog of hope – such a happy character who through the hardest times still managed to make us smile.'

'Living with a dog with severe epilepsy completely changed our lives – for the worse and yet also in a good way as we learned so much from him (hard to write when we have lost such an amazing friend). It is a condition where hope is such a strong feeling so we want to be positive about epilepsy – positive we can make changes for the better. '
The charity aims to raise awareness and funds to support dogs with epilepsy and with the ultimate aim of eradicating this condition.
Please click here for the Captain Jacks UKA Individual league rules and FAQs
Please click here for the Captain Jacks UKA Team league rules and FAQs
Please click here for the Entry Form
For more information visit http://www.ukagility.com/League.aspx"
---

Crufts Car Stickers Last Call
There are only four car stickers left so if you have qualified for 2013 Crufts and would like one for you, your partner or children or team mate, send a large SAE (C5 or at least 5 1/2 in x 140mm square to Agilitynet and we will send to you for your car, front window or notebook etc. We won't be getting any more in so when they're gone, they're gone.
Thank you to everyone who has sent a voluntary contribution for the Kennel Club Charitable Trust. Thus far we have raised more than £31 for this worthy cause.
Send your SAE to: Agilitynet., 38 Northolme Road, London N5 2UU.
---

Jayne Bray Charity Show
Gill Zuczkowska and Lesley Wilks are organising a charity show in memory of their very dear friend Jayne Bray who sadly lost her battle with cancer in October 2012. The show will be held at Greenacres, Catesby Road, Staverton, Daventry NN11 6JP on 7 April 2013 and based on KC rules and regs.
Jayne spent her last days at Willen Hospice where nothing was too much trouble for the staff and volunteers there. They made her stay as comfortable and pain free as possible whilst also caring for the needs of her relatives and friends. All profit from the show will go to helping other patients needing similar hospice care at Willen.
The show will be limited to 430 runs (130 dogs + Any Size + Judges.)
Download schedule from the Show Diary
---
RVAC Show Donation to Valgray
This year Rother Valley Agility Club (Sussex) donated £200 from their show profits to Valgrays Rescue and £50 from the sale of home made tuggies to Portsmouth Greyhound rescue. #
Heidi Jenkinson, Chair of RVAC, said 'Many thanks to all the competitors that give us their support each year. Planning for next year has started. The date will 8 September 2013 at the same venue as this year.'