The Internet has come into its own whether it be in times of crisis such as the spring floods or foot and mouth crisis or just the everyday cut and thrust of agility life. The Net is a fast and efficient way of keeping people informed about the little changes as well as the big ones. We can't be everywhere at once and so we rely on your input (and goodwill) to keep Agilitynet up to date so email us your show news as and when...
Please remind your show secretary to keep sending those updates to us and to include the name of the show, date(s), venue and other relevant details.
NOVEMBER 2013

Dogs Unleashed Returns to the KC Agility Calendar
Dogs Unleashed is pleased to announce that they will be holding a Kennel Club licensed agility show at next years event.
The event sees qualifying heats of the Drontal Agility Challenge and Brillo International Bounce added to a great weekend of Agility. They are also delighted to welcome Paws Trading who will be supporting classes over the weekend with lots of goodies. Agility camping will be provided close to the ring and a schedule will be out in the New Year 2014.
Dogs Unleashed is an exciting, fun filled and informative day out for the whole family and attracts thousands of visitors. It is held in the heart of the Peak District on Bakewell showground on 28th and 29th June 2014.
For more information, contact: Country Shows Agility 2 Medley Grove Leamington Spa CV31 2GA 01926 315335 / 07831 548911. Email rover.pro@virgin.net
Source: Like Taylor (04 December 2013)
---

Hatton Agility Festival Launched
The Hatton Agility Festival will take place at Hatton Country World, Warwickshire for the first time in 2014, on the Saturday 10th and Sunday 11th May. This fantastic venue is offering more than just an Agility show and is set to become a great weekend away.
There will be hosting four qualifiers - all held on suitable ground for Agility competitions.
1 x Dog Vegas Large 1-3 qualifier, supported by First Place Processing

1 x heat of the 2014 Drontal Agility Challenge

2 x heats of the Brillo International Bounce competition for Small and Medium handlers, which was a great success in 2013.
Located in the beautiful Warwickshire countryside, Hatton is a great venue for this new event. Within walking distance of the site are Hatton Shopping Village, the Grand Union Canal Towpath and the Hatton Arms.
Hatton Shopping Village is housed in a cluster of Victorian farmyard buildings and offers around the 25 retailers with gifts, jewellery, antiques and furnishings you will not find on the high street. Why not bring the children who can enjoy the fabulous Hatton Farmyard attraction, one of Britain's largest centres. More information at www.hattonworld.com
Interested in earning some pocket money?
Why not get a group of you together and run a ring for the weekend, offering you a great camping discount and a cheque at the end of the weekend! We'll even give you a shopping budget! Drop us an email for more information.
Schedules out soon.
For more information, contact: Country Shows Agility 2 Medley Grove Leamington Spa CV31 2GA 01926 315335 / 07831 548911. Email: rover.pro@virgin.net
Source: CSA (04 December 2013)
---
NOVEMBER 2013

New Springtime UKA Show Announced
UK Agility is pleased to announce a new show for the South East to be held at Bentley Country Park near Lewes, East Sussex. Springtime UKA will be held on the 29-30 March 2014 and will be hosting two qualifiers, specifically, the Clean Run Challenge and Split Pairs, sponsored by Emma Elliott Photography.
There will be camping available at this beautiful venue in the heart of the Sussex countryside. Bentley Country Park have kindly offered discounted entry ticket which will be available from the secretary's tent. Sadly dogs cannot go into the park due to a zoo Licence. However, there is a lovely mapped stroll over neighbouring fields so everyone can have fun.
Be sure to book early to ensure you have your camping.
Source: Kim Pennells (25 November 2014)
---
IFCS Team Selected for 2014

The FAB Committee is pleased to announce that following the IFCS Qualifiers held at the 2013 FAB Shows, a team has been formed to represent the UK at the IFCS World Championships in the Netherlands on 7-11 May 2014.
This prestigious IFCS competition will now have the added benefit of being annual rather than bi-annual with Qualifiers held at FAB Shows every year. It has lots of events which include four as a team, specifically - Agility, Jumping, Snooker and Gamblers. Unlike other associations, there are Individual medals available for each of these Team events. There is also the Biathlon which is combined Agility and Jumping so there is plenty to go for. It is an amazing competition!
There are nine FAB shows in 2014 with qualifiers at five of them plus a North of England IFCS Qualifiers Day.
Maxi dogs
Abigail Doxford with Smooth Criminal (Oggy)

Angela Williams with Nedlo Jitterbug (Tif)

Pat Brown with Nedlo Sheez a Diva (Diva)

Dawn Weaver with Lotus the Promise of Speed (Lotus)
Midi Dogs
Kim Kraushar with Shock of Tollcarne (Bubtee)

Tracy Runyeard with Top Devonairs in a Tizz (Tizzy)

Dawn Weaver with Ag.Ch. It's Easy with a Beezy (Breezer)
Mini Dogs
Rhoda Burdett with Chandling Ebony Charge (Brodie)

Lian Knight with Licosateria Mai Rising Son (Sonic)

Mark Douglas with Danfrebek Star Blossom at Starsofmars (Blossom)

Abigail Doxford with Annervalley Cassie (Wiggy)
Toy Dogs
Matthew Burdett with Mountland Made in Heaven (Bracken)

Tracy Ryan with Abbicher Dreaming (Tink)

Kaylee Rowsell with Misty Dream (Tommy)

Lian Knight with Blenmerrow Sizzling Star (Sizzle)
Team Logistics - Mike Shaw
The 2015 IFCS Championships - Qualifiers at 2014 FAB Shows - will take place in Italy in April/May 2015 with the date and venue yet to be confirmed.
Source: Christina at FAB (22 November 2014)
---
Brillo Bounce Invites...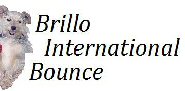 The organisers of the Brillo International Bounce competition are seeking a total of 15 Agility hosts to hold 2014 qualifying heats for Small and Medium dogs.
Graham Taylor said, 'We already have five confirmed hosts and we hope your club will wish to join them for the 2014 competitions.'
Hosts are welcome to use any existing Agility / Jumping class at their show for these heats - no matter what grade. The final will then be a mixture of abilities through Grades 1 – 7 run at each size.
The three top handlers from each qualifier (Small & Medium) will be invited to attend the Final to be held at Blenheim ATC Agility Show Weekend at West Midlands Showground, Shrewsbury on Saturday, 6 September 2014.
The Brillo International Bounce Final will consist of two rounds (1 x Agility and 1 x Jumping) for each size of dog which will not be timed (max course time specified) and the best dogs including all double clears will go forward to the final scoring round. All double clears will compete in the final round which will be a jumping round against the clock to find the winner at each size of dog.
At the final each size of dog competition will enjoy £50 of prize money and commemorative rosettes to the winners.
For more details, contact Graham Taylor 2 Medley Grove Leamington Spa CV31 2GA . Ring m. 07831 548911 or email rover.pro@virgin.net
Source: Graham Taylor (14 November 2013)
---

Important Kennel Club Olympia Changes
From 2014 the Olympia Semi-Finals for all five competitions will take place at The Kennel Club International Agility Festival which is held in the Midlands annually in August. In future Novice G3-5 and Large G6-7 will be known as Quarter-Finals to reflect the fact that there is a Semi-Final at Olympia for these competitions.
There is a change of grading for ABCs, Smalls and Mediums, which will not affect any handlers who have qualified or have entered show on schedules released by clubs under the previous regulations at the time of the publication of these rules.
The specified height of flyball hurdles has been lowered to encourage the smaller breeds this will not affect the 2013 final at Crufts 2014 which will be on the 2013 height.
All events must be judged under the appropriate Kennel Club regulations H & H(1) in force at the time of the event. Competitors entering any competition will be deemed to have agreed to abide by these regulations.
Source: Dave Ray (07 November 2013)
---
IFCS News

IFCS have announced that the World Championships will now be held annually instead of bi-annually and that the event will be far more prestigious so qualifiers will be held at FAB shows every year. They have also announced that from 2014 each handler may only compete with one dog per height. Team members can take two dogs provided they fall into different heights and both have qualified.
The IFCS World Championships have lots of events and dogs will be able to compete in all four team events (Agility, Jumping, Snooker and Gamblers.) Unlike other associations, there are also individual medals available for each of these team events. There is also the Biathlon event which is combined Agility and Jumping so there is plenty to go for. It is an amazing event.
Next year, the 2014 IFCS will be held The Netherlands in May. Team members will be announced soon from those who qualified at 2013 FAB shows. IFCS 2015 will be in Italy in April or May. Qualifiers will be held at some of the 2014 FAB Shows. Keep an eye on Agilitynet , ISS and www.dawnweaveragility.com for the confirmed dates
Source: Christina at Dawn Weaver Agility (06 November 2013)
---
Clevedon 15 December Show Update
Clevedon Agility Show Society has received far more entries than anticipated. Restrictions at the venue, however, mean the number of rings cannot be increased. There will still be three reasonably sized, fenced off rings and three additional judges have been appointed. There will no lunch breaks.
The order of judging will be approximately:-
0800 – 1000 - All G1 & 2 all sizes
1000 - 1300 - All G6 & 7 all sizes
1300 – 2000 - All G3,4,5 all sizes
Final details will be available for download with the ring plan.
Show organiser Mike Bacon said, 'We appreciate that this will not suit some people so if anyone wishes to withdraw their entry they are able to until 8th November and will receives a full refund.'
To withdraw your entries, contact ISS by using http://www.ishowservices.com/ or email Show Secretary Claire Bacon on bclaire57@hotmail.co.uk
Source: Mike Bacon (04 November 2013)
---

Championship Agility Status 2014 & 2015
The Kennel Club has announced that the Welsh Kennel Club has been awarded Championship agility status for Small, Medium and Large dogs from 2014 onwards, joining both Championship Breed and Obedience events. The Championship Agility classes will be on Saturday 16 August 2014 at the Builth Wells Showground and will be judged by Hilary Bowden. The venue has excellent caravan and camping facilities on a permanent site which should make it a fantastic show.
In addition, from 2015 onwards, the Scottish Border Collie Club has been awarded Small and Medium Agility Championship status to add to its existing large dog Championship status. This takes the total number of Championship agility show societies to 26 for Large dogs and 25 for Small and Medium dogs.
Kathryn Symns, Kennel Club Canine Activities Executive said: 'We are delighted for both the Welsh Kennel Club and the Scottish Border Collie Club and wish them both every success.'
Any society interested in applying for future Championship Agility Status should submit a presentation for consideration by the Activities Sub-Committee. Please note you should also submit your intended show date, it will be necessary to select a date that does not coincide with another Championship agility show.
Applications should include details of the society's committee structure and show management team, as well as providing information on the proposed show venue stating the facilities available for judges, competitors, dogs and spectators.
Presentations should be submitted to Joanna Nosalik, Canine Activities Department, The Kennel Club, 1-5 Clarges Street, Piccadilly, W1J 8AB or by email: cat@thekennelclub.org.uk.
Source: Kennel Club Press Office (01 November 2013)
---
OCTOBER 2013

Pet Passport Necessary for Travel to Republic of Ireland
The Kennel Club would like to remind all dog owners that, under UK law, any dog travelling between the UK and the Republic of Ireland must have a pet passport.
For the avoidance of any doubt, Northern Ireland is part of the UK and anyone wishing to cross the border between Northern Ireland and the Republic of Ireland with their dog must have a pet passport by law.
The Kennel Club has been informed that the UK has been stepping up its checks on dogs travelling to/from the Republic of Ireland and anyone who does not have a pet passport risks being prevented entry with their dog into the UK and could even face court proceedings. Anyone planning on exhibiting their dogs at shows in the UK, including Crufts, should ensure that their dog's pet passport is up to date in advance.
In addition to a pet passport, it is a legal requirement for a dog entering the UK from the Republic of Ireland to have been vaccinated against rabies at least twenty one days before travel, and be microchipped.
For further information on the Pet Travel Scheme, please visit www.gov.uk/take-pet-abroad.
Source: Kennel Club Press Office (17 September 2013)
---
SEPTEMBER 2013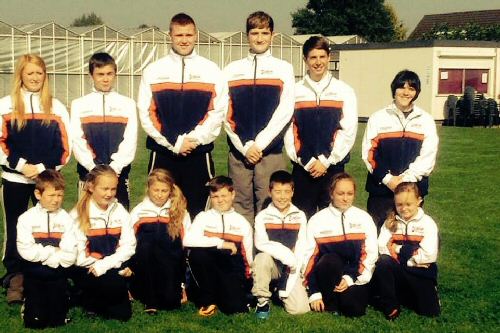 Agility for Juniors European Cup
The Junior GB Team, organised by Anthony Clarke, has left for 2013 Agility for Juniors European Cup in Bemmel, Holland this weekend. This is the first time at GB will be represented at this competition. Held under FCI rules, it will be judged by Carl De Rouck.
Selected from try outs that took place on 28 April 2013, the Juniors chosen to represent Great Britain include:
Jack Biddle with Bailey
Gio-Gio Botto with Bambi
Cameron Bunce with Jay & Lia
Amy Challis with Woody
Sam Chapman with Pace
Jess Clarehugh with Cara
Daniel Croxford with Bess
Richard Davies with Jet
Belle Howlett with Leia
Ffion Hughes with Lowri
Lucas Irwin-Burns with Boo
Tom Paterson with DJ
Hannah Payne with Cola
Good luck to all.
Source: Ant Clarke (25/09/13)
---


Agility Regulation Changes Made by Kennel Club
The Kennel Club has made changes to the current Agility Regulations, which will come into effect on 1 January 2014.
The General Committee has approved an amendment to Regulation H(1)4.b. (Marked Running Orders Championship Class) to remove competitors' addresses from Championship catalogues. As personal details can be located through other means, this information in the Championship catalogues has been deemed unnecessary.
Regulation H(1)4.b. (Marked Running Orders Championship Class) has been changed to the following:
TO


b. Championship Agility Class - An alphabetical index containing the names and addresses of competitors (unless withheld by competitors), the number and name of each exhibit and the number of the Championship Agility Class in which it is entered, giving a separate line to the name of each competitor, and the full particulars of the exhibit as given on the entry form completed by the competitor.

The General Committee has also approved the amendment of Regulation H(1)(C)2. to permit Listed Status clubs to take part in agility matches
Regulation H(1)(C)2. has been changed to the following:
TO


Only registered Clubs, Societies Dog Training Clubs and Listed Status Agility Clubs may hold Agility Matches. (Addition underlined)
Source: The Kennel Club (22/09/13)
---

Olympia Finalists Announced
This year's finalists of the prestigious Kennel Club Olympia Agility Stakes finals have been announced.
The country's most talented agility dogs and handlers have been competing in qualifying heats at agility shows across the country in an attempt to gain a place in the finals that take place from 18-22 December 2013, as part of the London International Horse Show.
The Kennel Club Olympia Agility Stakes are held in association with GWF Nutrition's Joint Aid for Dogs and will see dogs and their owners compete in five finals, in the small, medium, large, novice and ABC (Anything But Collies) categories. There will also be two semi-finals, for the novice and large dogs categories, which will see 36 dogs in each category whittled down to ten who will go on to compete in the grand final. For medium, small and ABC dogs, ten dogs for each category have already qualified for the Olympia final.
Caroline Kisko, Kennel Club Secretary said: 'Olympia is one of the most important showcase events for agility in the UK. The atmosphere is always fantastic with it being so close to Christmas and the competitors look forward to competing here every year. We would like to congratulate all of the finalists and look forward to what is set to be another exciting year for the event.'
Judging the 2013 Kennel Club Olympia Agility Stakes will be Bill Glover.
List of Competitors
Not in Running Order

The Kennel Club Olympia ABC Agility Stakes Finals

Wednesday, 18 December 2013

Name

Dog

Breed

Penny Harrison

Claret And Blue

Cross

Stewart Lovatt

Cories Blade

Kelpie

Amy Creaser

Gary's Gift

Bearded Collie

Victoria Lyons

Jamedemi Molly Andromeda

Labrador

Nigel Staines

Morgans Assassin

Kelpie

Michelle Griffiths

Minka Phoenix Jazz

BSD

Fiona Morrison

Ruchanroo Rhymenreason

Vizsla

Karen Young

Rock Melody

Bearded Collie

Vicky Tough

Gaveloch Cadrona Law

Labrador

Joanne Sullivan

Alfredo Frog

Cross
The Kennel Club Olympia Medium Agility Stakes Finals

Thursday, 19 December 2013

Name

Dog

Breed

Natasha Wise

Ag.Ch. Raeannes Flipping Heck

BC

Heather McLean

Ag.Ch. Morgans Chance Navigator

WSD

Jacqui Tarn

Midnight Of Merle Kracker

WSD

Nancy Hudson

Obay Tiz Zensational

Sheltie

Rob Evans

Giftnell Ali's One Freta Of Berkano

BC

Julie AShton

Master Dumbledore

Cocker Spaniel

Amanda Hampson

Ag.Ch. Shoredancer Sea Jade

NSDTR

Angela Williams

Withersfarm Perfect Ten

BC

Sian Illingworth

Ag.Ch. Falconmoor Shadow Dancer

BC

Denise Wilkinson

Ag.Ch. Meisterwerk Jexie Jangles

BC
The Kennel Club Olympia Small Agility Stakes Finals

Friday, 20 December 2013

Handler

Dog

Breed

Jeanette Tandy

Ag.Ch. Wee Betsy Boo

Cross

Neil Harding

Kyvallack Dare To Dream

Working Cocker

Rosie Cavill

Fieldspy Leana

Cocker Spaniel

Selena Bray

Shanandi One and Only

Min Poodle

Claire Arend

Daimonic Expelliarmus

Working Cocker

Amy Lawson

Ag.Ch. Millieon To One

Sheltie

Daniel Croxford

Bogshole Bess Beauty

Cross

Marc Wingate-Wynne

Ag.Ch. Vanitonia Mr Big

Toy Poodle

Clive Foden

Mohnesee's Miss Chief Awg

Sheltie

Zoe Councell

Jessie Blackjack

Cocker Spaniel

Mandy-Su Sarti

Stonebridge Black Magic

Patterdale
The Kennel Club Olympia Large 6/7 Agility Stakes Finals

Saturday, 21 December 2013

Handler

Dog

Breed

Laura Chudleigh

Borderpaws Dark Prince

BC

Lee Windeatt

Darleyfalls Pipistrelle

BC

Linda Hutchinson

Ag.Ch. Darleyfalls Dark Secret

BC

Charlotte Harding

Rujaff Red Hot Scandel

BC

Lauren Langman

Devongem Can't Stopp'er

BC

Roger Teasdale

Petnat By Jingo

Cross

Lorna Peachey

Fueled for Life by Diesel

BC

Alison Roets

Eostre of Berkano

BC

Andy Sandercock

Nedlo What a Whirl

BC

Lucy Osborne

Ag.Ch. Ben Bombastic Mr Fantastic

WSD

Jo Thorpe

Kyp Me Ghosted

BC

Sarah Kitching

Sherebridge Icon

BC

Mark Laker

Devongem Crystal Method

BC

Anthony Clarke

Nedlo Step On the Gas

BC

Claire Arend

Delanor Golden Snitch

BC

Amanda Ellerton

Dragondaze Intogear

BC

Abigail Doxford

Smooth Criminal

WSD

Ian Jackson

Darleyfalls at Midnight

BC

Dave Munnings

Devongem Mister Bossman

BC

Natalie Mitchell

Streak of Chaos

WSD

Alan Bray

Upanova Dior Mine

BC

Pat Brown

Nedlo Strictly This Izit

BC

Greg Derrett

Devongem Rehab Sproglett

BC

Chris Cole

Mr Farenheit

BC

Toni Dawkins

Coires Cute

BC

Jess Clarehugh

Lynwood Cara Fuzzy Logic

BC

Helen Davey- Smith

Nedlo Nellie Bean

BC

Joanne Tristram

Cascades Itsy Blitzy

Cross

Will Rolfe

Ag.Ch. Nedlo Black Magic

BC

Alan Wildman

Chikaramor Born Performer

BC

Sharon Banks

Canen Cerys

BC

Tracy Bennett

Raeannes Star Attraction

BC

Jacqui Tarn

Ag.Ch. Morgans Halloween Kracker

WSD

Fran Walton

Darleyfalls Moon Dance

BC

Simon Peachey

Rosmarinus Rum Twister

BC

Norman Stokoe

Highfield Magpie

BC
The Kennel Club Olympia Novice Agility Stakes Finals
Sunday, 22 December 2013
| | | |
| --- | --- | --- |
| Handler | Dog | Breed |
| Dan Shaw | Devongem Did It Again | BC |
| Tim Stanbrook | Kaleai Murphy's Legacy | BC |
| Duncan Caton | Alys Bach | WSD |
| Sharon Banks | Dreamchart Sky's The Limit | BC |
| Jenny Kimber | Raeannes Falcon | BC |
| Sarah Osborne | Scream If You Wanna Go Faster | WSD |
| Sarah Smith | Oki Doki Oakley | WSD |
| Naarah Cuddy | Sheltysham Séance | BC |
| Emma Haines | Diagemtas Dexter | BC |
| Gwen Johnston | Cories Black Toast | BC |
| SueHarriott | Sunwine Baby Belle | WSD |
| Joanne Tristram | Darleyfalls Dr Dangerous | BC |
| Jeff Walton | Comebyanaway To Infinity | BC |
| Louise Raine | Silver Starlight | BC |
| Janet Thompson | Borderpaws Dark Wish | BC |
| Trev Shelswell | Aviary Bright Ember | BC |
| Ashley Carter | Tom Tom Navigator | ? |
| Sarah Bacon | Canen Diamond | BC |
| Lauren Langman | Darleyfalls Free Flo | BC |
| Shannon Springford | Shansdream Angels Delite | |
| Ellie Casson | Little Miss Dynamo | WSD |
| PaulineVerity | Fizzwich Cuckoo | WSD |
| Rebecca White | Wiccaweys Racing Rags | WSD |
| Nicky Holden | Rosmarinus Smoke And Water | BC |
| Kim Hunt | Flare For Life | WSD |
| Tom Rooney | Magnificent Mighty Atom | BC |
| Claire Rosendale | Gempaws Gem 'N I | BC |
| Millie Clark | Senor Brown Paw | WSD |
| Anna Braley | Mirky Day at Guildermore | BC |
| Sue Choux | Bryning Gold Rushed | BC |
| Shirley Fawkes | Molly Monster Inc | |
| Christine Russell | Galway Romany Ruby | GSD |
| Vicki Cooper | Go Kai Kai Go | WSD |
| Kathrin Tasker | Holy Moley | Lurcher |
| Holly Thompson | Delanor Special Edition | BC |
| Carolyn Davies | Ollie The Spollie | Cross |
| | | |
Source: The Kennel Club Press Office (19/09/13)
---

About Research into Dog Jumping Conducted at KCI Festival
Around 120 dogs participated in a research study, conducted at the Kennel Club International Agility Festival, which aims to get a clearer picture on how agility dogs jump.
The research, which recorded high-speed videos of dogs jumping recorded by members of the Kennel Club Dog Health Group's Activities Health and Welfare Sub Group, was undertaken and facilitated by a large team, including Gary Doyle (University of East London), Dr Jacqueline Boyd (Nottingham Trent University), Dr Anne Pullen (Nottingham Trent University), Becky Gibson (Kennel Club Charitable Trust sponsored summer student), vet Rachel Mowbray, chiropractor Emma Fretwell, Natasha Wise and Steve Croxford.
This was one of a number of data gathering exercises conducted by the group during the International Agility Festival weekend.
Why do it?


Whilst there are a few scientific studies that have examined how dogs jump and have started to build an information base, there is much that is still not known.
One area that has raised debate is jump heights. To properly address this debate, it is important to know how dogs are jumping. The effects of changes in heights can then be assessed on the analysis of data. It is hoped that when completed, this study will provide the Activities Health and Welfare Sub Group with a clear idea about what further research is necessary to inform decisions about, for example, appropriate jump heights for all dogs, and guidelines for best practice in training and conditioning dogs taking part in agility competitions.
What was done?


Approximately 120 dogs of all heights and grades took part, one of the largest number of agility dogs ever used for a data gathering exercise of this type. Dogs were asked to complete a line of 3 jumps at a spacing of 3.6m (KC minimum distance), a line of 3 jumps at a spacing of 4m (FCI minimum distance for small dogs) and a line of 3 jumps at a spacing of 5m (FCI minimum distance for medium and large dogs). This was done at their own pace and the handler reset the dogs after each set of 3 jumps.
As the dogs jumped they were filmed by high speed cameras. These cameras were recording at 240 frames per second, meaning every second they took 240 separate pictures. As a normal video camera (in sports mode) will work at 50 frames per second, the amount of information is nearly 5 times greater. This is the kind of equipment needed to capture such fast moving dogs.
What happens now?

Over the next few months, the data from the video recording needs to be analysed frame-by-frame, for all dogs, for each set of jumps using Dartfish, a computer-based video analysis. As the study was fortunate enough to capture data from so many dogs, this is going to be a rather time consuming process.
What will be examined?


A number of factors such as speed of jumping, angles of take-off and landing and differences between the 3 jump spacing.
What will this achieve?


This will contribute to the understanding of how dogs jump and how jump spacing affects these factors. The Kennel Club will publish what it finds to the agility community, as well as to other locomotion scientists at conferences and through journal articles aimed at both scientific and applied audiences.

The information will also contribute to ongoing discussions about jump heights, distances between jumps and other agility related issues.
What was not done?

Dogs who took part jumped at the heights they would use in competition. A reasonable question is why we did not alter the jump heights and examine the effects. It is rare that a dog is trained to jump more than one height and hence jumping an unfamiliar height would influence their jumping pattern. Handlers were also advised to tackle the set up as they would in training/competition and no repeat of attempts was allowed in order to obtain data as representative of 'normal' conditions as possible and to avoid habituation of dogs to the study set up.
What happens next?


The data analysis part now starts, for which the videos will be edited and analysed. Preliminary data will be presented to the Kennel Club Dog Health Group's Activities Health and Welfare Sub Group at its next meeting in December and all subsequent data/outputs will be made available publicly as soon as practically possible.
The Kennel Club would like to thank all those who participated in the study.
Source: The Kennel Club Press Office (12/09/13)
---
The Wraxall Show is Born
Clifton & Severnside Agility Clubs would like to announce that our annual show will be moving from Lansdown Racecourse to the Wraxall Show Ground (North Somerset) so from now on, the Lansdown show will be known as the Wraxall show. It will still be held on the last weekend in June 2014 and all classes and qualifiers remain unchanged.
Some of you may be familiar with the new venue as this is where Severnside holds their May Bank holiday show in conjunction with an agricultural show. The new Wraxall show will be the sole event happening on this site on the weekend of 28-29 June 2014, so there will be no gun shots or crowds that occur at the agricultural show in May.
Source: Sorcha Price (06/09/13)
---
New Pairs Qualifier Announced
Moira Bowden and Miranda Frankham are delighted to announce an exciting new pairs qualifier for 2014, The Just So Jump & Twist Pairs. It will be for all heights - Small, Medium and Large - and the results will be combined. One dog will complete an agility course and the other dog a jumping course. There will be a baton change in the box. The top three pairs from each heat will qualify for the final which will be announced at a later date.
Moira said, 'We have been extremely lucky to have two fantastic sponsors on board. Sandra and Owen from Just So rosettes are sponsoring the rosettes for all the heats and the final. Julie and Nick from Jewlnick are sponsoring our beautiful trophies for the heats. The winners of the Final will win a coveted Jewlnick collar. A massive thank you to them all. We are really excited and hope this new class will be fun for both handlers and their dogs.
F

our heats have already been confirmed and Moira and Miranda are looking for a further five clubs to host heats. If your club is interested please contact Moira by email inthedoghouse55@hotmail.com There will be another announcement as soon as all the heats are confirmed.
Source: Moira Bowden (02/09/13)