More from the people who support agility
Win Two Tickets to Love Dogs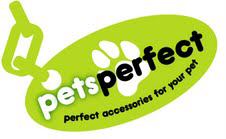 Pets Perfect has two pairs of tickets for the Love Pets Show to give away. The show will be held at in Peterborough at the East of England Showground on the weekend of 29-30 October 2011.
For a chance to enter the competition to win the tickets, all you need to do is figure out the anagrams below. The first clue is that they are all breeds of dog!
Once you have decoded the words, email the answers direct to Sophie at Pets Perfect at info@petsperfect.co.uk. The deadline is Friday, 21 October as the show is the week after!
| | |
| --- | --- |
| Scrambled Breed | Make your guess |
| 1. drug honey (9) | |
| 2. log entered river (6, 9) | |
| 3. surf flings robe (8, 7) | |
| 4. sea haven (8) | |
| 5. Nadine mind dot (6, 7) | |
| 6. fluid rhino show (5, 9) | |
| 7. is richest rotter (8, 7) | |
| 8. nan funded owl (12) | |
| 9. pickles cornea (6, 7) | |
| 10. liana sat (8) | |
---


Discover Dogs Ticket Give-Away
Xtra Dog, in conjunction with The Kennel Club, is thrilled to be able to offer 6 pairs of tickets to give away for this year's Discover Dogs at Earls Court November 12-13. All you have to do is answer the simple question on their web site and you may be one of the lucky ones.
---
The Kennel Club Reveals Britain's Most Pup-lar Businesses

The Kennel Club has announced the winners of its annual Open for Dogs competition. The competition, now in its fourth year, operates entirely on the views of the public and aims to break down barriers for man's best friend by encouraging more businesses to be dog friendly. Amongst the winners was an agiity holiday destination Laverock Holiday Cottages, owned by Mandy and Marcus Bainbridge.
Winners of the 2011 competition include:-
Somewhere on the High Street
Metro Bank, providing friendly banking experience for all, including dog owners by supplying water bowls, dog biscuits and dog bandanas to customers. https://www.metrobankonline.co.uk
Somewhere to Sleep
Low Nest Farm, Keswick, Cumbria, a B&B providing fantastic amenities for dog-owning visitors, including an exercise field, heated kennels and a 'canine crèche'. http://www.dogfriendlylakedistrict.co.uk
Somewhere to Drink
The Jolly Cricketers, Seer Green, Buckinghamshire, a Michelin guide-featured village pub that offers water to dogs as well as local homemade dog biscuits to raise money for Stokenchurch Dog Rescue. http://www.thejollycricketers.co.uk
Somewhere to Eat
Highdown Tearooms, Goring, West Sussex, a tearoom set in the heart of hundred of dog walking routes, this business offers water and dog biscuits to canine customers as well as selling a variety of leads, collars and other dog products. http://www.highdowntearooms.co.uk
Somewhere to Visit
Remus Memorial Horse Sanctuary, Ingatestone, Essex, a Popular horse sanctuary that puts on events for dogs, such as fun dog shows, and offers water and biscuits to dogs.http://www.remussanctuary.org
Somewhere to Work
Pet ID from Pet Works, Hurstpierpoint, West Sussex allows its employees to bring their dogs to work to promote a calm and productive environment. http://www.pet-works.net
Somewhere to Holiday
Laverock Holiday Cottages, Egglestone, County Durham, Popular holiday cottages that strongly cater to dog-owning customers. The business has a 120ft indoor dog agility arena to promote health and wellbeing by customers exercising with their dogs. http://www.freewebs.com/comebyanaway
Care Home
Sunrise of Chorleywood, Chorleywood, Hertfordshire, a successful care home that encourages friends and family of residents to bring in their dogs on visits to keep the bond between humans and canines strong and to enhance the sense of residents' dignity.

http://www.sunrise-care.co.uk/find-a-sunrise/south-east/chorleywood

Special recognition
Royvdon Dog Hotel, South Wales for its boarding establishment. Dogs are given bespoke luxury suites with décor ranging from the grandiose in the Presidential Suite to the twee in the Country Retreat. Also the Royal Hospital for Neuro Disability for their dog friendly policy. The dogs give support and comfort to the patients.
The value of an Open for Dogs policy is supported by research released today by the Kennel Club that shows that dog owners are more likely to splash the cash than cat owners and those who own neither, leading businesses to court the 'hound pound.'
The research has shown that dog owners are almost twice as likely as those without a dog to regularly visit their local shops and stores, with a quarter saying that they regularly frequent them and half saying that they would use them even more if their dog could go too. And it is not only businesses that benefit from dog owner's generosity – it is also their friends - as dog owners are more likely than cat owners to buy the rounds in at the pub and almost twice as likely to buy in the rounds as people who own neither pet.
The winners of the Open for Dogs competition – including those who will be awarded a Special Recognition prize for pulling out all the stops for man's best friend, will be presented with their awards at the Kennel Club's Discover Dogs event at Earls Court, London on 12 - 13 November 2011.
Visit www.kcdogfriendly.co.uk for more information.
---
Doggyjumps by Polyjumps Open Days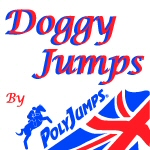 DoggyJumps by PolyJumps will be holding two open days where you can try out their their equipment their new plastic and aluminium contacts as well as a range of other agility equipment. Come anytime between 10.30am- 5.00pm.
Saturday, 15 October - Oxfordshire/Buckinghamshire border just 5 minutes from M40

Sunday, 13 November - AC Agility, Southrop
Please register your interest via email to Doggyjumps or AC Agility. Web site: www.doggyjumpsbypolyjumps.com
PolyJumps is a registered trademark of Whitakers Equestrian Services Ltd.
---
Naturebone News
Anthony Mackle Ltd based in N .Ireland, have just launched an exciting new treat range called Naturebone. A delicious real meat treat, it is made with only 100% natural ingredients and no animal derivatives or nasty additives.
They come in three well- know shapes - Chews, Bites and Strips - giving dog owners the choice of a rewarding chew, or highly palatable training treats. Made with real beef liver and food grade quality ingredients, Naturebone is hand-baked, cooled and packed to maintain freshness and a real meaty aroma once opened. They are also both low in salt and low in fat and contain Omega 3 oils to help maintain a healthy glossy coat.
Anthony Mackle, the director of the company explained "'We developed Naturebone as a healthy alternative to the current range of mainline treats on the market. Our aim was to create a natural Real meat treat, that smelled and tasted so good every dog would love them. Alot of dog owners are now very aware of their pets diet and are looking for treats that will compliment their healthy diet and still taste and smell great. We find they are particularly great for owners who show or compete with their dogs and need a really palatable semi moist treat to use as rewards and for training.'
The product range has just been launched on www. Agilitywarehouse and is also available through Naturally Dogs at Agility shows across the country. With the new packaging launching in early 2012 watch out for them in a pet shop near you or log on to www.agilitywarehouse.com to try a pack today.
Available in 200g and 500g packs. Shelf life is 12 months, simply store in a cool dry place out of direct sunlight once opened
Ingredients; Beef liver, Lung, Flour, Various sugars, Salt, beef fat, omega 3 oils, potassium sorbate to maintain freshness.
For more information please contact anthony@jampetfoods.co.uk or visit
www.naturallydogs.co.uk
.

New for 2012, Gluten free range and high protein bars.
---

Kennel Club International Festival
The Green Dog Deli canine catering van will be at Kelmarsh Hall for the KC International Agility Festival 12-14 August. Please pre-order your takeaway meals of fresh bones, chicken wings and complete BARF sausages by email: questions@greendogdeli.com or via the website: http://greendogdeli.com/HTML_files/contact.html
Designed to make camping easy, the sausages and wings come in clean, re-sealable packs that stack neatly in the fridge and can also be fed straight to your dogs so no bowls to wash!
---

Pets Perfect Photo Competition
Sophie Knox of Pets Perfect was browsing the internet when she found this photo which gave her an idea. Every month they are going to upload a photo to feature in the news section of their site as well as their monthly newsletter. Photos should primarily be of the dog and with any humans as the supporting cast!
If you have a great photo that you would like to share, email it to info@petsperfect.co.uk with your name, your dog's name, breed and your email address. One picture will be selected to appear on the site each month. Photographs should be sent as .jpg images with name and address and email address so that the entrant can receive details of the winning photo each month via the newsletter. The deadline for entry is the 20th of each month.
The person whose image is selected will receive a 10% discount on anything on the site.
This competition is strictly for amateur snappers and is not open to professional photographers.
July 2011 Winner...
What fantastic photos so many of you sent in! We've had photos of the cutest of dogs, some curled up on the sofa while more than a couple were of dogs in deep slumber on their owner's duvets! Then there was a whole load of dogs in action. They were having such fun on beaches, in gardens, playing with the cat. There were group pictures - posing pooches - and in one case the back view of a number of dogs staring out of the window waiting for the rain to stop so they could get on with their Agility Competition!

We found this a very difficult decision, but we chose this picture as I found Kye (the working collie) and his friend playing with their tug toy just adorable! Congratulations to Lynn Jones who gets 10% off her next order and a big thanks you to all the runners up and they will have 5% off their next order. For next month's photo competition the theme is Out and About. So get your cameras clicking and send your entries in!
---
Enter the Xtra Dog Photo Competition and Win Xtra Dog Goodies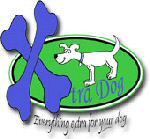 To celebrate the launch of the new website Xtra Dog, in conjunction with the Xtra Dog Facebook Page, they are launching their 2011 photographic competition. It's your chance to show off your fantastic dog/s to the world and at the same time have the chance of winning one of three Xtra Dog Doggy Bags full of fantastic goodies from our website.
Each category is being judged by a well known personality in the dog world and the winners and all entrants photographs will be displayed in a gallery on the Xtra Dog website for all their visitors to see.
There are four exciting categories to enter
The Spiffiest Spiffy Dog - judged by TV personality and Tellington TTouch instructor Sarah Fisher,
The Cutest Sled Dog - judged by Siberian Husky breeder and Siberian Husky Club GB (Welfare) fund raising co-ordinator Tessa Wakeling,
The Dog the Judge Would Most Like To Take Home - judged by the well-known dog behaviourist and Tellington TTouch practitioner Marie Miller.
Extra Dog Best in Show 2011 - Finally once the judges have decided the winners and the best pictures in each category and some of the other best pictures they will be published in a gallery and you will get the chance to vote for the title of Xtra Dog Best in Show 2011. The winner will get a fantastic Xtra Dog Doggy Bag and a small trophy.
You can enter as many categories as you wish. There is no cost to enter.
For more information go to the Xtra Dog web site
---
Alpha Agility Challenge Continues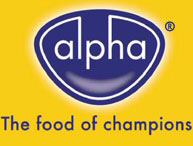 Nottinghamshire-based Alpha Feeds Ltd get 2011 off to a great start by their continuing support of the fast growing active dog sport Dog Agility by proudly presenting The Alpha Agility Challenge, an Agility competition for large dogs Grades 1 – 3. Competitors will have nine opportunities to qualify for one of the 45 places and will receive an invitation to compete at the Grand Final.
Nine heats will run through the summer with the ever-popular Alpha Wildcard, which can be awarded at each heat by the judge for that partnership that did not qualify on the day but ought to be at the final. Find all the competition details on the Alpha Feeds and Agilitynet websites.
Ryck Turner, CEO of Alpha Feeds said he was delighted that Alpha was continuing to supporting the active dog community in such an innovative way and he look forward to meeting competitors at the forthcoming heats.
The 2011 qualifying heats will be held at:-
April 2011

Lincolnshire Agility Enthusiasts - Lincolnshire
Easter 'Egg'gility - Warwickshire

May 2011

Beacon ADTC - West Midlands
Belvoir Steam Festival - Leicestershire

June 2011

July 2011

Chipping Norton DTC - Oxfordshire
Holkham Country Fair - Norfolk

August 2011

Herefordshire Country Fair - Herefordshire

September 2011

Prestbury Park Championship Show - Gloucestershire
The Alpha Agility Challenge Final will take place on Sunday, 25 September at the Malvern Autumn Show, Three Counties Showground,, Malvern WR13 6NW. .Championship Agility judge Jackie Gardner will kindly officiate
For more information, contact Graham Taylor.2 Medley Grove Leamington Spa CV31 2GA. 07831 548911 rover.pro@outlook.com or Alpha Agility Challenge TSM Ltd 1 Doncaster Rd, Gunness, Scunthorpe, DN15 8TG Tel:01724 784600
---
Q-Me Special Offer
The first DVD by world class agility handler David Munnings is now available to pre-order exclusively from Tug-E-Nuff. Q-Me is a comprehensive guide to the fundamentals of Dave's successful handling system and contains all the pre and early agility skills he teaches his own dogs.
Release date is 10 December 2010 (RPP £29.99) Order your copy today and receive it for the special pre-publication price of £25.00. Order on www.tug-e-nuff.co.uk
Dave Munnings is known and respected as one of the highest known agility handler and trainer across the UK. He has many experiences at top senior finals including Olympia, Crufts and the FCI World Championships. Dave won Bronze with his dog Billy in 2006 and Silver with his current dog Dobby at the FCI World Championships 2010.
Dave is currently based in Chilham, Kent and offers agility lessons, both privately and small group lessons.
Please contact Dave for further information: munnings_com@hotmail.com
Dave is a qualified osteopath on both humans, equine and canine.
---
Read Dawn Weaver in The Zone

If you've enjoyed Dawn Weaver's must read book Knowledge Equals Speed!, why stop there? Now you can read the first of Dawn Weaver's Knowledge Equals Speed mini sequels!
Between the months of November 2010 and March 2011, Dawn will expand on the 'What kind of handler are you?' section of her book and give her personal advice on how you can avoid becoming the dreaded 'bully handler.' These exclusive articles can be found only in the Agility Zone Magazine.
Visit our website for more information.
---
Sew What Embroidery and Clothing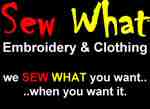 Sew What has been busy over the summer. Not only have they updated their clothing range, they have added handmade leather and biothane leads, collars and half slips to their stock.
Sew What has been 'on the road,' attending a number of shows. If you missed them this year they will be out and about again next year with their aim being to meet as many of their customers as possible at various shows around the country.
If you have recently qualified for Olympia and want to add some commemorative gear to your wardrobe, visit their online shop at www.sew-what-uk.com for more details on how to order.
The Sew What website is also being updated and is scheduled to appear with it's new look shortly. In the meantime it is business as usual, but if you wish to have your own club page added, or if you are an existing customer and wish to revise your clothing range, now is an ideal time to get in touch.
---
Premier Hire Services Changes Hands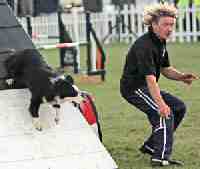 Shaun Young will be taking over the management of the hire of Premier Show Jumps (Agility Services) from the 1 November 2010.
Elizabeth Morgan will be dealing with the Premier Crystal Trophy business and will be contacting show secretaries among others to give them quotes.
'Alan Pollock said, 'Shaun is aware of the high service standards provided to clubs and show organisers in the past and will maintain the same in the future. We will be still working along side each other and operating from Triddles Farm. No major changes are foreseen.'
Once again Premier Show Jumps will be providing the equipment for the 2010 FCI Aglity World Championships in Germany.
For more information about hiring equipment or buying trophies ring Shaun Young on m. 0789 269 1122 or Elizabeth Morgan on m. or 0793 585 4312. Email: premagilityserv@btinternet.com
Premier Show Jumps can still be contacted on tel. 01342 842454.
Photo: John Leslie
---
Special Show Offer from Bentley's Catering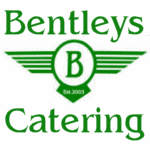 Bentleys Catering are offering judges/helpers breakfasts for 2011 at 2010 prices, if booked before 24 December 2010.
Debbie Bentley explained, 'Unfortunately, the price increase is due to increases in food and fuel costs and the dreaded VAT. We will endeavour to keep the increase to a minimum, but to ensure 2010 prices book your show before Christmas 2010.'
New on the menu for shows is Afternoon Cream Tea (i.e. cake, cream & tea or coffee) This must be requested at time of booking. If you are an organiser of a 2dDay or more shows, Bentleys can suppy evening meals on site for jduges, helpers and competitiors, too.
Bentleys Catering have been trading for seven years and have five stars with Health & Hygiene Scores on the doors. They are a family run business.
Please visit www.bentleyscatering.co.uk and complete the enquiry form with details of your show to avoid disappointment, bookings are already in for next year.
---
Free Offer from Ace Canine Supplements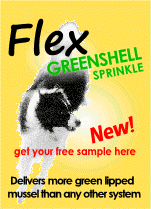 Ace Canine Supplements are offering the chance to try, free of charge, the latest addition to their carefully chosen range o joint care solutions. Flex Sprinkle is a revolutionary a development of their Flex Greenshell tablets. Just click here for your free sample.
Flex Sprinkle is specifically designed to deliver a greater quantity of green lipped mussel extract to the dog - without the problems of feeding bulky or numerous tablets. While glucosamine and chondroitin based supplements have been available in powder form, green lipped mussel, because of technical difficulties, has not. As a result of an innovation combining all the ingredients in the Flex formula in a stable and free flowing granule, a convenient solution to the problem has emerged - as the name implies, this product can simply be sprinkled over the dog's normal feed. Flex Sprinkle is highly concentrated with over 70% active ingredients and it is therefore very economical to use.
For more information ring Ace Canine Supplements on tel. 0118 9842871 or email postmaster@ace-canine.com
---
Skinny Stitch Designs to be Launched at Agility Show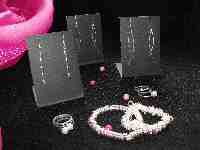 Claudine Longueira-Barr will be Launching her new jewellery business at the Thames show this year. She has been a jeweller for 23 years, starting her career in New Bond Street, London, and more recently in Fleet in Hampshire. She has had a few exciting commissions over the years, making a pair of earrings for Lady Di, and also a model wearing one of her pieces on the front cover of Vogue.
Claudine and her husband Carlos decided to follow their dream and move to Wales so now is the perfect time for Claudine to launch her own business selling her own designs. Her aim is to create unusual bespoke silver jewellery at affordable prices. Her simple creations include Skinny Stack Rings, drop earrings and pendants featuring fresh water pearls.
Claudine's ranges are limited and will change frequently. You can join her mailing list to be informed of her new designs or any special offers. You can even commission her to make a one off piece. Repairs are also undertaken.
To compliment her jewellery, she is also selling a range of hand-made, lavender filled hearts to freshen yours cars and vans. The specially made lavender bags for dogs help sooth and relax and can be either slipped into their bed or cage.
For more information email Claudine at skinnystitchdesigns@gmail.com or ring tel. 01558 650700
---
Capture the Action with Watts Photography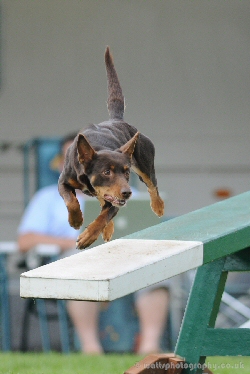 Most agility shows have a photographer these days and most sell prints produced on the day - of varying quality and price! However, more and more people want their photos to post on FaceBook, as illustrations on their own website or to show people on their iPhone, laptop or digital photo frame. It makes no sense to buy an expensive print and then scan it for digital use - especially as the original image was almost certainly digital in the first place! So Ian Watts has taken an idea from Track-Day photographers and is offering digital versions of any photographs taken at shows he attends.
As an active competitor and judge, Ian has the knowledge and experience to find the best camera angles, without getting in the way of ring party and competitors, or distracting the dogs! With 30 years experience and the latest professional Nikon equipment, you can be assured of great action shots of the very best quality (and many from a slightly different perspective to the usual offerings).
Ian's first show as full-time photographer was Agility for Britain at Staverton in April, where he took over 3,500 pictures, but he also has several hundred images from DFS Crufts 2010 on his website.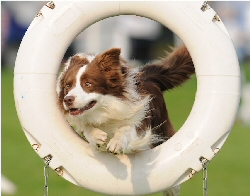 Individual digital images cost just £5:00 each and can be emailed or copied onto the purchaser's own memory stick or SD Card, if they have one available at the show. As Ian usually takes many shots of each dog around the course, he also offers all photos of any one dog for just £25.00 on a CD. Add £10.00 for each additional dog owned or handled by the same person on the same disc.
As well as being suitable for use on websites and computers, when you buy digital images you can make as many prints as you like at home - for distribution amongst friends and family. The only restrictions imposed by Watts Photography are that copyright remains with the photographer and they are not used commercially in any way except as illustrations on your own business website on the condition that credit is given to Watts Photography.
Visit www.wattsphotography.co.uk for more details.
---
Swampies Are Back in Stock
At the risk of scaring away the sun, the Swamp Cooler™from Ruff Wear is back in stock in all sizes. This cooling vest cooler is now an essential bit of kit for Agility and active dogs who compete in the heat!
Ann Harmes of Camddwr Canine says, 'They are a must for competing in the summer months. We have road tested this garment and it's fantastic!'
Features:-

Uses evaporative cooling to keep dogs cool in the heat
Exchanges the dog's heat with the coolness of the stored water
Releases the heat as the water evaporates
Three-Layer construction maximizes cooling effects:
1. Top air-mesh layer generates evaporation, releasing heat
2. Middle layer absorbs and stores the cooling water.
3. Bottom layer cools the dog
Light colour reflects sunlight and ultra-violet rays for added sun protection
Auto-lock buckles adjust and hold for a custom fit
Available from Camddwr Canine or Agility Warehouse or from trade stands at shows throughout the summer!
---
JesseJump Defies the Credit Crunch

Thanks to the increase in their sales recently, JesseJump Agility has been able to secure great discounts with Parcel Force allowing them to reduce some prices by two thirds.
Owner Neale Hardwick of JesseJump said, 'We get good discounts on overseas too, but it differs from country to country. If people ask we can quote on any item we sell.'
Their lightweight garden practice jumps and weaves sets are available through Agility Warehouse.
---
Crufts Shopping
If you visiting Crufts 2010 you'll want to do some shopping in between the breed, obedience and agility events. Pop into these Agilitynet and Agility Warehouse suppliers and introduce yourselves to the nice people who support our site. Many will have some bargains on the stand that you will not be able to resist.

Pets Perfect looks forward to welcoming friends old and new at Crufts! We have a wide range of agility products, Gencon, Black Dog, Canny Collars, Paw Pluners, toys and all sorts of super things for your dog. Come and join us in Hall 4 stand 148

Mary Ray stand is in Hall 1, Stand Number 194 and we will have special offers on books.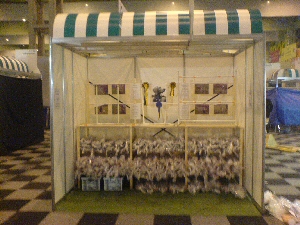 JesseJump Agility will be at Hall 5 stand 42
Affordable yet versatile hurdles and weave pole sets for Dog Agility, Working Trials and Flyball training. We have extensive stock available with many savings to be made if bought at show.
Lintbells will be at Crufts – Hall 3, Stand 121, which is close to the junction between Hall 3 & 4. We'll have a special offer running on our joint supplement, Yumove, at the show. We'd love to see any Agilitynet folks!

Country Mun are at Crufts in Hall 2, No.150. Same space as we've had since it moved up to the NEC. There will be small selection of items at reduced rates but only while stocks last, so by Sunday they might be all gone.

Dog Rocks Distribution Ltd will be exhibiting at Crufts 2010 from 11-14 March 2010. Come and visit us in Hall 2 Stand No. 114 and take advantage of our special one off show offers. Dog Rocks placed in your dog's water bowl will help stop urine burn patches on your lawn and shrubs. Dog Rocks are a 100% natural product imported from Australia

Doghealth will be in Hall 2 Stand 10.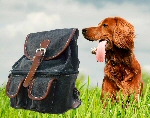 Hound Sac will be in Hall 1 Stand 55. They will offering their handsome bags for £39.95 on the stand. Tried & Tested Article in Equine and Canine Magazine They said 'Seriously Impressed! Every dog owner should have one!'
LessBounce is stand number 113 in Hall 1. They have £5 off the Shock Absorber 102 at the event!.

Camddwr Canine will be at Crufts again this year! Come and see us in Hall 3, Stand 90. There will be some great show offers on Back On Track, Ruffwear and Hurtta dog gear. Just mention that you are an Agilitynet reader and they will give you a 10% off your purchases at the stand at Crufts!
---

Camddwr Canine Teams Up with Yumove
Having trialled Yumove on two of their own Agility dogs since September and reading some excellent feedback from Agility handlers, Ann Harmes, owner of Camddwr Canine, were so very impressed with the results that she have agreed to take on supply of Yumove to the Agility market.
Yumove is the first Triple action joint support supplement for your dog, containing a proven formula of Triple Strength Green Lipped Mussel, Glucosamine HCl, Hyaluronic Acid, Manganese and critical vitamins and minerals. It
Improves joint comfort

Supports joint structure

Promotes mobility
You can find Yumove on the Camddwr Canine website, and it is now also available through their network of Agility stockists. Special Rates available for bulk orders so why not sign up for their training club discount scheme
For details. ring Harmes on tel. 01824 780522
---

Tug-E-Nuff Special Offer
To celebrate Tug-E-Nuff Dog Gear's brand spanking new website they are offering a 10% discount off your first online order when you create an account with them. This offer ends 01/03/10.
---
Grab a Bargain from Camddwr Canine
Camddwr Canine has a '10% off everything sale' Now doesn't that make those stunning Hurtta coats look even more attractive! Plus a bumper bargain rail with goods discounted up to 50% including Hurtta coats and many other items!
Sale starts 01 Jan for two weeks and endsl 14 January
Sale code required
---