Education, education, education...
Got an agility problem? Don't waste your time complaining. Do something about it. Need more practice on the contacts or weaves? Want to try out new ideas? Now you can help yourself. Book a workshop or a private lesson. Join an additional club or training group in your area. There are plenty of instructors and clubs around who can help you with your problems.
Got training news? Then email a paragraph or two about your event to Agilitynet. If you have openings at your club for new members, go to Training Places. You can also publicise your training day, workshop or seminar by putting its details on the E-vents page. Just complete the on-line entry form on the page.
2013

KC Canine Sports Science Seminar Cancelled
Due to unforeseen circumstances, the Canine Sports Science Seminar scheduled to take place on Sunday, 3 November 2013 at the Kennel Club Building at Stoneleigh has been cancelled. The Kennel Club would like to apologise for any inconvenience caused by the cancellation.
The next Canine Sports Science Seminar will be held on Saturday 8 November 2014 at the same venue and more information will be available in February.
---

Ultimate Handling Announcement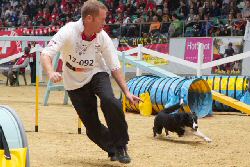 The Ultimate Agility Team are pleased to bring to you Ultimate Handling, the first e-handling course in the UK by top international trainers and competitors Greg and Laura Derrett.
Greg said, 'Ultimate Agility aims to inspire and motivate you with all agility and dog training. We will be dedicated in bringing you the very best and most up to date methods of training that will be delivered in various different formats from blog posts to articles, newsletters to online courses and many more.'
The course has just opened for registration and will be available for sign-up until the 6 November 2011 which means there is not much time to get onboard. Once you are signed up you will have the full course access for six months at just £8.30 per lesson.
This course, similar to other on-line resources for dog training, is a step ahead of learning from a fixed resource like DVDS which have to be aimed at a broad spectrum of handlers and dogs. E-courses allow for more flexibility and, in this case, direct access to world class trainers to answer any questions. This could be an invaluable improvement in the way that we currently train dogs, helping you to develop your understanding and clarify learning specific to you and your dog and saving you from fuel costs and dark winters evenings.
Lauren Langman added 'I love how learning is moving forward so rapidly in every way, I never thought however that I would see an online agility handling course so soon. It is always good to know what is going on with current dog training and also to know what can be done to improve ones own knowledge. With so many clubs and trainers to choose from as well as rising fuel costs it is certainly an interesting alternative to traditional group training where you wait your turn. '
Learn more now at www.ultimateagility.com or send us suggestions as to what we could be doing to help you. If you register an interest in the site, you will receive a free one-off article on, The Trainer vs. The Competitor In All of Us.
We hope that you enjoy the future developments and learning opportunities.
Greg Derrett's Top Tip Of The Day
One cue = one behaviour = one reward!
---
Something for the Kids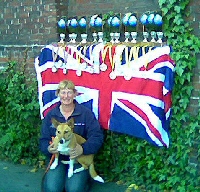 Racingredd Agility are very pleased to be hosting a Junior ONLY training session with the talented and successful Junior handler Ashleigh Butler. Although she is still in Juniors, Ashleigh has a very experienced CV including representing GB at the European Opens, attending Crufts several time and winning Championship certificates with her dog Pudsey (aka Ashpen Pudsey Bear.)
The training day is to be held on Saturday, 5 November at Racingredd Agility's venue ,Twenty Foot Fram, Drain Road, Newborough, Cambs PE67SG.The session will be from 13.00 - 15.00 and will cost £10 per handler. Handlers/dogs will be split into levels of experience.
Organiser Wendy Clay said, 'Both Ashleigh and I feel it is important to encourage junior handlers as they are, after all. the future of our sport which is why Racingredd will be donating its equipment, free of charge, and Ashleigh will only be claiming her travel expenses.'
Please ring Wendy Clay on m. 07775 556606 or email wendyroseclay@gmail.com for further details.
---
Laura Chudleigh Agility Training
Top handler Laura Chudleigh is now able to offer agility lessons in Brinkworth, Wiltshire (Just off J16 and 17 of the M4) for beginners to advance handlers and dogs. For more information please ring Laura on m. 07894 138436 or email laura.chudleigh1@gmail.com.
Laura and her dog Rodney (Flickcee Hot Rod) finished 2010 on a high. The pair won the Kennel Club Agility Stakes at Olympia.
For more information go to
www.laurachudleigh.co.uk
---
Lauren Langman Announces New Agility Instructor Programme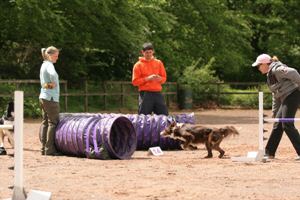 The Lauren Langman Accredited Agility Instructor (LLAAI) Programme has been designed specifically for aspiring and existing agility trainers. It is a fully comprehensive training programme that will give you a complete toolkit of methodologies, teaching and learning styles, and an abundance of ideas – and enthusiasm – to put into practice with your own students. Progressive and innovative, the programme is based on Lauren Langman's unique, behavioural-based agility training, which has been proven many times over through the ongoing success of Lauren and her students.
What is Level 1 and how many levels are there?
Level 1 will include exercises from the ground up. Unlike other training programmes, however, it won't just show you how to teach the equipment. It will teach you how we begin to create drive over jumps, awesome contacts and wicked weaves! In short, you will be learning how to create successful agility partnerships, from day one. The programme will consist of both theory and practical sessions. You will be provided with a reading list and suggested materials to support the course. This programme will, in the long term, consist of four levels with Level 1 being the very first part of the programme.
Certification
All students who pass the programme will receive a Certificate and will be entitled to use the letters LLAAI when advertising their services.
Booking Arrangements
The programme will start from Friday 10am – 4pm, continue on Saturday 9am – 5pm and finish on Sunday 10am - 4pm and will be held at the Meldon Village Hall, Okehampton, EX20 4LU. All materials that are needed will be provided via email or on the day. If you have any questions in advance of the day we are more than happy to try to cover them or if there is anything you would like covered specifically please ask beforehand and we can make sure it is included.
As demo dogs are available for this course, it will not be necessary for you to bring your own dogs however there will be adequate breaks during the programme, so if you do need to bring dogs you can make sure they are comfortable.
We can suggest local accommodation as well as offer B&B in the farmhouse. All of our cottages are fully booked however.
Cost
The cost of the Level 1 Programme is £275 inclusive of VAT which will include materials and resources, and refreshments each day including lunch. We can offer 2 spaces for £500 if booked and paid for together. There are no spectator, but a waiting list will be operated with the intention of holding another programme on a similar date in 2012.
Option 1 - By cheque made out to Devon Dogs Ltd and posted as above.

Option 2 - By electronic transfer to account number 05366321, sort code 72-00-00, making sure you put your name as reference.
Cancellation Policy
Please note we operate a 'no refund' policy for this training. If you are unable to attend this course, please inform carole@devondogs.co.uk as soon as possible.
About Lauren Langman
Lauren Langman, who will be instructing this programme personally, is an international competitor and instructor, whose own agility club is Devon Dogs. She is also leads the new holiday with dogs business, Bowerland Cottage Holidays, providing residential agility holidays throughout the year.
With regard to dog training, she has taken complete beginner handlers from basic obedience levels right through to Grade 7. She has also developed junior handlers, numerous ABC dogs and has qualified her own dogs to compete at international Championship level. Lauren has a Law degree and is a qualified secondary school teacher in English & Law.
This is an exciting opportunity to learn how to lead the field from a top UK handler, international instructor, and qualified teacher. For more details, see booking form below.
Lauren Langman Accredited Agility Instructor Programme (LLAAI) Level 1- 28-30 October 2011 – Meldon Village Hall, EX20 4LU
---
Greg Derrett to Put on Handling Theory Seminar
By popular demand Greg Derrett, in conjunction with Devon Dogs, is presenting another seminar focused on his handling theory. He will explain in detail how a consistent handling system can benefit your dogs by helping them fully understand what you want from them and ultimately achieving the results you desire. He will fully explain the cues used in his system and participants should leave with a full understanding of how to handle any course using this system. He will also include a Q & A session. From 6.00 - 9.00pm. Refreshments available.
Cost: £35 per individual space or reduced prices for block bookings for club use. This is one not to be missed.
Book via email: carole@devondogs.co.uk.
---
New Training Venue in Tyne & Wear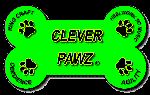 Lucy Parkin has opened up a new purpose-built, indoor, dog training arena in Washington, Tyne and Wear called Clever Pawz. They have a full set of competition standard Agility equipment and are offering classes at all levels. It is also available for hire. There is a contact us page on the website if you want more info or you can contact Lucy direct on lucy.parkin@doglover.com. Tel 0191 4171830.
---
Lee Windeatt Starts Training at New Venue
Lee Windeatt has finally been able to sort out his training venue and is now able to offer private agility lessons for all levels, heights and breeds. He can also some weekly group classes throughout the summer. The new venue is located in West Malling, Kent, just off the M20.
He said, 'I love teaching agility. I am very passionate that the dogs and handlers do well and improve.'
For further information please ring Lee on m. 07947 810907 or email lee@windy60.freeserve.co.uk or go to www.leewindeatt.co.uk
---
Susan Garrett Comes to the UK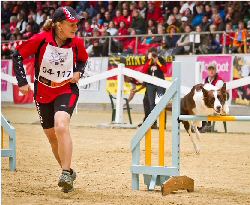 Devon Dogs are pleased to announce that Susan Garrett is offering her famous Advances in Dog Training Seminars (5 & 6 May) and Contacts & Weaves Seminar (9 May) at their venue in Exeter. Susan's innovative approach to dog training has allowed her to come up with her own unique teaching system and her techniques are now taught throughout the world and successfully used by competitors worldwide. This is a rare opportunity for anyone interested in any aspect of dog training to hear it from one of the world's best.
Susan will show you how to apply learning theory into your everyday dog training. She will roll out what she feels are the 10 critical keys to an amazing performance sport dog, as well as give an insight into using Classical Conditioning to your advantage in training.
There are three days available and the costs for both spectator and working spots are: £110 for one day, £180 for two days or £250 for all three.
Venue: Newhall Equestrian Centre, Budlake, Devon EX5 3LW 8.40am – 4.30pm
More information and booking form
---
Training Day at A Week at Vegas
A full day of training is being planned for Thursday, 26 May at the Dog Vegas Show. Six rings are available to hire by 6 or 12 trainers who wish to provide a half day or a full day's agility training.
A Week at Vegas Show that will take place from 21-30 May 2011 at the Bakewell Showground.
If you wish to be a trainer at this event please email jaxk9@tiscali.co.uk for full terms & conditions. Please also advise if you would like to hire the ring for half a day or a full day, the grades, heights that you wish to train and the type of specialist training you would be concentrating on.
---
Megagility Training Venue for Hire
Megagility now have a few spaces available at their enclosed indoor venue at Sedgebrook, nr Grantham to hire to interested parties. The club trains on Saturday, Monday and Wednesday.
Subject to availability, they are also offering use of the barn plus equipment for those looking for an additional training facility. The venue, measuring approx 30ft by 90ft, is enclosed and has an adjacent exercise area and parking spaces. Use of the barn is more or less available on:-
Monday Morning up to 12 noon and after 8.00pm
Wednesday Morning up to 10.00am
Thursday Any time up to 4.00pm and after 8.00pm
Friday Morning up to 12 noon and after 7.30p
Sundays and any other times may be available but will be on a case by case arrangement.
To google use Postcode NG32 2EJ.
For more details, ring Lesley on m. 07740 022250 or Caroline on m. 07986 808360 or email megagilty@hotmail.co.uk. You are welcome you to come and take a look.
---

Green Carpet Training
Leamington DTC is offering the chance for people who have qualified for Crufts to work on the 'Green Carpet.' Pre-Crufts sessions will be held throughout February on Wednesday evenings at the Kennel Club Building at Stoneleigh (Warks). Individual or groups sessions can be arranged at £10 per person. Crufts qualifiers would have priority.
Ring Norma Ansell on tel. 01789 415271 to arrange.
---


APDT Dog Training Instructor Course
There will be two Association of Pet Dog Training (APDT) Instructor's courses at Moulton College (Northants.) in 2011, aimed at pet dog instructors (sit, down, don't jump up etc.) The skills taught, however, including presentation, handling a class, choosing a venue, planning lessons, as well as those mentioned above are just as relevant to instructing any of the disciplines. If you understand how to teach a pet dog class you can combine it with your knowledge of agility, and become an effective agility instructor.'
Chris Mancini, herself an agility instructor as well as a pet dog instructor, said, 'Often people think that because they can train their own dog(s) to a high standard they will make good instructors, but there is a lot more to instructing than that. Instructors need to understand learning theory - how to motivate a dog, when to reward and when to fade out the rewards - they need to understand how to deal with challenging owners (and dogs), how health and stress can impact on a dog's ability to learn and many, many more things.'
A Foundation course and an Advanced course will be taught on the same weekend but with separate sessions. The dates are 14-17 April and 8-11 September 2011 (Thursday evening, Friday, Saturday and Sunday). The cost is £935 per student, including accommodation and meals.
Foundation course is for you if you have had little or no experience of dog training instructing and includes:-
Class planning how to ensure your owners make the best use of their lesson?

Learning Theory essential for all dog trainers/instructors. Understanding how a dog learns

Presentation delivering your message in a professional way

Communication how to make sure that what you say is understood by your owners

Challenging dogs and challenging owners how to deal with some common problems in class

Equipment what is available, what should you recommend (or avoid) and why

How to teach various exercises basic exercises explained, and how to progress them

Diet understand what is in various dog foods, and some of the problems they may be causing

Teaching the disabled owner how to adapt exercises to the physical needs of your owners

Plus other subjects
Advanced Course is for instructors with at least one years experience of teaching classes and includes:-
Progressing exercises taking it to the next level, and ensuring the dog really understands
Stress in dogs and owners recognising stress, dealing with it and avoiding it
Diet and effects on behaviour 'you are what you eat' and so is your dog.
Health problems be aware of a dog's health problems, and avoid adding to them
Training the assistance dog enjoyable exercises for dog and owner
Breed specific problems should you be training a sight-hound, terrier and collie using the same methods?
Reviewing the class are your classes the best they can be, or do they need reviewing?
Plus other subjects
Both courses will be accredited by National Open College Network (NOCN
Please see the APDT website for further details, FAQs and application form: http://www.apdt.co.uk/apdteducation.asp
---
Training Opportunities at a Week at Vegas

The organisers have set aside a on full day for training on the Thursday at the Dog Vegas show 26 May. Six rings will be available to hire by six or 12 trainers who wish to provide a half day or a full day's agility training.
If you wish to take advantage of this offer, please email jaxk9@tiscali.co.uk for full terms and conditions. Please also advise if you would like to hire the ring for half a day or a full day, the grades, heights that you wish to train and the type of specialist training you would be concentrating on.
---
Canine Sports Seminar Reminder
Soon it's time for the fourth yearly Canine Sports Science Seminar, supported by The Kennel Club, and organised by Steve Croxford, The Kennel Club and me. There is (just) still time to register! Do it now!
Pete van Dongen, MRCVS, said 'The seminar is by doggy people, for doggy people, and is intended to explore best practice when taking part with your dog in active sports and for treating and preventing any possible sports injuries, taking a holistic approach. As someone interested in dogs, either through your profession, or through your hobby, I thought you might be interested in knowing about this seminar.'
It will be held at the Kennel Club Building - same as last year - at Stoneleigh Park, Warwickshire CV8 2LZ on Sunday, 31 October 2010 from 8.30am to 4.30pm. Cost is £80 inclusive of VAT, and this includes refreshments, a buffet lunch and delegate pack and hand outs.
This year there will be four lectures and two practical demonstrations. Subjects for this year are:
Osteopathy in the Working Dog + practical - Speaker: Stuart McGregor

Hydrotherapy, Rehabilitation and Fitness Training for dogs from different disciplines - Speaker: Angela Griffiths

Nutrition for the Canine Athlete - Speaker: Marge Chandler

Core Stability and Exercises for the Working Dog to achieve this + practical - Speaker: Jackie Grant
Please see attached info and application form. Also, if you run a training club, or have other contacts in the world of dog sports, please can you print out this poster and hand it out or hang up at your club?
---
Nice New Venue for Whirlwind

Whirlwind Agility has moved to a much improved venue with several large flat training areas, wooded exercise area and good facilities. They are now based in Stoke Poges / Gerrards Cross, South Buckinghamshire.
Weekday classes commence 27 September while Sunday classes, including a new beginners class, will start up again on 7 November 2010.
Whirlwind aims to train positive agility training to each dog and handler on an individual basis to help each handler/dog team reach their optimum performance. Classes are available for all sizes, all breeds, from fun and fitness to Championship level competition. One-to-one instruction is available in the daytime as well training days.
Whirlwind Agility is run by Sue White who competes regularly with three competitive Grade 7 dogs, including The Agility Club Dog of the Year 2009 and Crufts qualifiers for the last seven years.
For further information, please email Sue White at whirlwindagility@aol.com
---


Residential Agility Holidays in Devon
Devon Dogs, run by Head Trainer Lauren Langman, is offering a great combination of top class agility training and luxury accommodation at Bowerland Farm Cottages, based in Okehampton, Devon. Their residential agility holidays are designed to cater for all abilities of dog and handler whilst providing superb accommodation during your stay. Agility training will be tailored to meet your specific requirements, with a combination of one–to–one sessions and small, friendly, group workshops.
Naturally, you will expect an excellent standard of training from an agility holiday at Bowerland. As our Head Trainer, Lauren has impeccable agility credentials, competing at Grade 7, the top level in great Britain, and some of her greatest achievements have been to compete on behalf of Great Britain in the World Agility Competition in Switzerland in 2006 and again in Norway in 2007. She also qualified for Olympia Agility finals in 2007 and 2009 as well as being nominated for the Agility Club's National Awards in the category of Best Trainer in 2008. Lauren has also qualified for the semi-finals for Olympia 2010.
Agility Training Options
There are a number of different training options available to you, based on a seven night stay. The packages are designed to make the very most of your visit to Bowerland, offering top quality agility training, whilst allowing you and your dogs plenty of time to relax and enjoy your holiday in the stunning Devon countryside.
Your training will be carefully structured, comprising an individual training session with Lauren shortly after your arrival, to draw up a personalised training plan. The Gold option includes an additional three hours of classes or workshops and unlimited use of our facilities, finishing with a final one–to–one session with Lauren in order to review your progress and finalise an action plan to take away with you. Cost: £100.00 plus accommodation costs
Package includes a one-to-one training session with Lauren to draw up your personalised training plan, plus an additional two hours of workshops or classes. You are also welcome to use our training facilities at a cost of £10 per hour. Cost: £60.00 plus accommodation costs
You have the opportunity to use our facilities, including a full set of competition standard agility equipment sited in an outdoor school, guaranteeing perfect conditions underfoot for you and your dogs. Equipment hire is £10.00 an hour. Cost: Accommodation only costs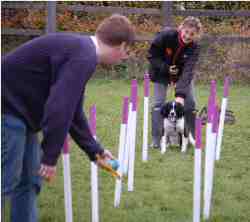 In all cases you can also choose to join in with any additional classes and workshops or attend individual one–to–one lessons on an ad hoc basis, subject to availability.
Agility training for short breaks is available by arrangement.
One of the many benefits of an agility holiday at Bowerland is the opportunity to stay on-site. The superb facilities are set in 9 acres of stunning countryside on the edge of Dartmoor. Two 4 star holiday cottages are available for you during your stay. More about the accommodation
Of course, dogs are welcome in all the facilities and kennels, crates and blankets can be provided, if required. Up to three dogs go free. If you would like to bring any more than three dogs, please contact us for details.
For more information about Bowerland Residential Aglity Holidays including the accommodation, please contact: Carole Langman on m. 07717 696623 or email: carole@devondogs.co.uk Click on the postcard on the www.devondogs.co.uk site to see the beautiful cottages.
---

Agility Buds Moves to Scotland
Agility Buds, previously run by Lucy Osborne in Lincolnshire, is officially moving to Scotland. As of the 13 September, Lucy Osborne will be teaching agility and general dog training classes in the Dundee area.
Lucy would like to invite handlers from across Scotland and Northern England to come and sample some of her 'Southern' training techniques that have helped make her as successful as she is today.
Lucy is offering the following services:-
One 2 One lessons
Group Training Classes (Not just agility)
Club and Private Training Days (Lucy will travel and train you at your venue)
For more information or to book, call Lucy on mobile: 07904 439004 or email lucy@agilitybuds.com. Visit website – www.agilitybuds.com
---
New Agility Coaching & Sports Seminar
The 1st Sports Coaching for Agility Handlers, trainers and instructors will be held on Saturday, 30 October at the Kennel Club Building at Stoneleigh (Warks). It has been planned to co-incide with the 4th Annual Canine Sports Science seminar on Sunday, 31 October 2010 at the same venue.. This new seminar is a unique opportunity for agility handlers, trainers and club instructors to hear how some of our most successful trainers and dog handlers have been using sports science and coaching techniques to improve their own performance and that of their clients.
As it has grown in popularity as a sport, more and more interest has been shown in applying training techniques used in other sports to dog agility. Many of the UK's top handlers and trainers have been adopting and adapting methods to their own training programmes.
Amongst the speakers for the first seminar is the current FCI Medium Dog World Agility Champion handler Natasha Wise, who has studied sports science to degree level. Attendees will be able to hear how she has been able to apply coaching techniques common in other sports to her own agility training and handling. Natasha will be joined at the seminar by Mark Laker, Dave Jolly and Steve Croxford.
Mark Laker, who runs Ag. Ch. Bekkis Carbon Copy, is one of the UK's most successful Championship handlers and a previous British European Open Team member. Mark runs his own training school and has been applying sports coaching techniques to his training programmes for a number of years. He also runs courses for agility handlers, specifically designed for handlers to understand how, by applying his techniques they can get the best performance from themselves and their dogs.
Dave Jolly has been involved in agility training as a coach and agility instructor for over 20 years, he is also one of the coaching team for Agility Team GB, responsible for preparing the European Open team for competition at this prestigious international event.
Steve Croxford has been the team manager for the Kennel Club's World Championship teams for nearly a decade and is now responsible for performance development for all of the Kennel Club's international agility teams. Steve has been at the forefront of developing sports training techniques. Steve's performance-based training approach has been very popular with clients, many of whom have gone on to compete at the highest level in the UK and internationally.
The Sports Coaching for Agility Handlers seminar will be of interest to anyone wishing to enhance their own performance capabilities and who would like to inject a more sports-oriented approach into their training programmes or for that of their clients and/or club members.
Full details and an application form are available from the Kennel Club website - www.thekennelclub.org.uk. Discounts are available for those attending both seminars and for students studying courses related to the Canine Sports Science seminar.
---

KCI Overflow Camping
It may be short notice, but Moorepaws Midlands is offering a great opportunity to train with 2010 European Open medal winners David Munnings and Lucy Osborne just before the KCI Festival. There will be two sessions - from 10.00am til 1.00pm and 2.00pm til 5.00pm. The cost is £32 per session.
The Moorepaws venue is only 20 minutes from Kelmarsh and there is lots of room, so if you want to come along before going on to Kelmarsh, that's absolutely fine. Caravans can be accommodated as well!. Moorepaws venue is located at Ashby Lodge, Northampton Road, Welford, Northants, NN6 6JE.
Please email Kate Smith or ring call Paul on 07931 744170 if you would like to reserve a place.
---
Lessons with Jayne Widdess in Norfolk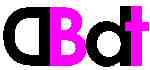 Jayne Widdess (DBDT) has started training full time at a venue near Dereham. Daytime and evening lessons are available along with group sessions. Puppy Foundation (from four months of age), Grid Work and Target Training are all part of the training methods along with teaching the dog to work independently. All standards of dogs catered for. Lessons tailored to the individuals needs.
For more information email Jayne on Jayne@widdess.me.uk or visit http://www.dbdogtraining.co.uk. Tel. 01362 637168
---
Agility Training at South Eastern Agility
South Eastern Agility is pleased to announce that they have taken on two new trainers for both their Wednesday and Saturday classes. They both have vast experience and are well known in agility. Shaun Young will betaking Wednesdays classes while Helen Saunders will be doing Saturdays.
The club has availability for both beginner and more experienced handlers and dogs. Training venue is located in Smallfield, nr. Horley, Surrey RH6 9JN
For more information email: southeasternagility@gmail.com or ring Mary on m. 07751 281010 or Margaret on m. 07894 961957
---
Crazymaesy 3 Day Agility Camp

Crazymaesy is hosting three days of agility related fun and games alongside the top class reward based training that you would expect from Experienced trainer, competitor and accidental entertainer, Jo Fraser. The dates are 24-26 August 2010.
Each day will have its own focus (jumping, contacts, weaves) with work on enthusiasm and confidence of dog and handler, body language, consistency and use of verbal commands - all leading to the perfect agility partnership the Crazymaesy way. Fun, fast and accurate.
A two hour, small group, session daily will be followed later by the chance to put it all together in another two hour slot, walking, understanding and competing over full length courses, giving 12 hours training for you and your dog over the three day period. Lunches will be provided and evening entertainment included. Expect to work hard and have a fabulous time!
This year's camp is open to competing partnerships with dogs Graded 1-5. Handlers must be familiar with each piece of equipment and wish to improve their overall performance. Individual personal assessment will be offered on night of arrival to ensure every session can be tailored to suit each participant.
There will be a practice ring available for all to use, with a full set of equipment, each day.
The venue is a beautiful organic farm near Coleshill, Oxfordshire, surrounded by National Trust woods and parkland with stunning views to the Ridgeway and the White Horse. Maps of adjacent dog walks will be available.
The cost of £150 for the three days will include free camping spot, toilet facilities and water.
For a full itinerary and to discuss your individual requirements email Jo Fraser at crazymaesy.camp@gmail.com
---
Agility Lessons at Phaze2training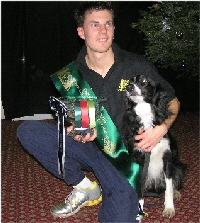 Phaze2training is starting up classes run by Marc Saunders. Training will be on Tuesday and Thursday evenings between 6pm and 9pm. The venue is no more than 10 minutes away from junction 11 off the M23, set in Colgate just outside of Horsham, Surrey. There are a few places still available. Classes are open to all grades.
So if you are interested or would like more information don't hesitate to contact me by email phaze2training@hotmail.co.uk or ring m. 07976 269332
---
Late May Bank Holiday Training with Eileen Ainsworth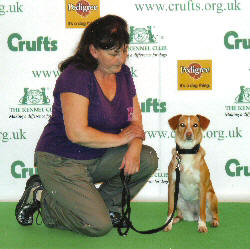 Delinquent Dogz are, as usual, holding one of their shows over late May Bank holiday on (Sunday, 30 and Monday, 31). On the Saturday, due to demand from existing entrants, we are offering training sessions with Grade 7 handler Eileen Ainsworth.
She currently competes with a Grade 7 Medium Lurcher and Grade 4 Medium Cocker Spaniel plus Grade 4 Kelpie and Labrador and Grade 3 baby WSD.
Running Delinquent Dogz since 2004, Eileen has also taken many dogs up to competing standard and we regularly welcome new members to the fold.
The training sessions on Saturday, 29 May will be maximum of four handlers per group and sessions will be two hours long at £20 per dog. The first session is already fully booker but there are two more available on a first come first served basis. Training sessions will cover whatever YOU feel YOU need work on and will be full of helpful hints, too.
Please ring Michelle on m. 07949 466911 or email chelle@delinquentdogz.co.uk
---
Sarah Osborne Training in Scotland
Having settled in, Sarah Osborne is able to offer training at her new home on the East Coast of Scotland. Situated half way between Dundee and Aberdeen just off the coast road or 5 miles off the A90, she is just a stones throw away from St. Cyrus beach so you can have a walk on a stunning beach afterwards.
Training can be arranged for any afternoon and evenings during the week and can be 1-2-1 or small groups. She is also available to travel to clubs if you want to arrange training at your own venue.
For more information, ring Sarah Osborne on m. 07766 751191 or email sarah_dylan82@yahoo.co.uk
---

More Moorepaws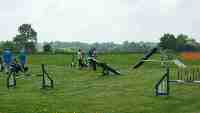 Paul Moore and Kate Smith have finally moved to their new home in Northamptonshire! They are now able to offer training for all grades and sizes on a one to one or group basis. At the moment, it's outside training, but the plan is to have some indoor training available by winter. They will be setting up a new club called Moorepaws (Midlands) while the original Moorepaws will be continuing in Sussex with Simon Chandler and Karen Richardson.
They have enough room to do camping for a limited number. Sorry, but there's no electric. Caravan storage is also available. For future reference, they are located not that far from Rugby, Kelmarsh or Hinckley shows so if ever you miss the camping deadlines, they can offer overflow camping for a limited number.
During the week between Nottingham and Hinckley - Monday, 31 May to Thursday, 3 June - Linda Hutchinson and Kate will be doing training days, again catering for all grades and sizes. The cost is £27 per 3 hour session.
Kate will also be running a McTimoney Chiro clinic there as well!
If you're interested in any of the above, please call Paul on his mobile 07931 744170 or email Kate at ktbloo@yahoo.com.
---
Hannah Maidwell Training in Midlands

This month, for the first time, Hannah Maidwell (formerly Passey) has opened up her training to non-members. She has 13 years of agility experience, training her first three dogs to Senior and Advanced levels, and currently competes with Vinny in Grade 7 and Chief who has just started competing and won into Grade 4 this weekend!
Hannah has been training club members for the last ten years to compete successfully at all levels, using only positive and motivational methods.
Training will be held on Wednesday evenings and can be on a 1-2-1 or small group basis and will be tailored to the individual needs of each handler and dog. Hannah is also offering pre-agility training for puppies and young dogs teaching no-impact foundations to dogs over six months.
The venue is fully fenced and insured, with a full set of Adams Agility equipment and is ideally situated a few minutes from the M1, A50 and A511 in rural Leicestershire.
For more information, contact Hannah on m. 07917190488 or email maidwellagility@aol.com
---

Agility Training at Megagility
Megagility in Grantham (Vale of Belvoir) can now cater for Grades 3–6. Their new trainer is Grade 6 with nine years experience. All of their other trainers regularly train with Bob Sharpe and are advocates of both Bob's and Gregg Derrett's methods of training.
The summer 2010 training schedule is:-
Grade

Training times

Start date

Grade 3 – 6

Wednesdays from 6.30pm

19 May

Grade 0 – 3

Wednesdays from 7.00pm

28 April

Foundation

Mondays from 6.30pm
Saturdays 12.30

26 April
15 May

Obedience

Tuesdays and Saturdays.
There will be pay on the day sessions available prior to the start date for all classes. Non-competition classes available.The Club also offers use of venue and equipment for those looking for an additional training facility.You are welcome to come along and take a look. If you're interested ring Lesley on m 07740 022250 or tel. 01476 567032 or email megagilty@hotmail.co.uk
---
4th Canine Sports Science Seminar
Steve Croxford and Peter van Dongen have organised the 4th yearly Canine Sports Science Seminar, once again supported by The Kennel Club.
The seminar is by doggy people, for doggy people, and it's intended to explore best practice when taking part with your dog in active sports and for treating and preventing any possible sports injuries, taking a holistic approach.
It will be held at the Kennel Club Building (same as last year), Stoneleigh Park, Warwickshire CV8 2LZ, on Sunday, 31 October 2010 from 8.30am to 4.30pm. The cost is £80 inclusive of VAT, and this includes refreshments, a buffet lunch and delegate pack and hand outs.
This year there will be four lectures and two practical demonstrations. Subjects for this year are:
Osteopathy in the Working Dog + practical - Speaker: Stewart McGregor

Hydrotherapy, Rehabilitation and Fitness Training for dogs from different disciplines - Speaker: Angela Griffiths

Nutrition for the Canine Athlete - Speaker: to be announced

Core Stability and Exercises for the Working Dog to achieve this + practical - Speaker: Jackie Grant
Please see attached info and application form. Also, if you run a training club, or have other contacts in the world of dog sports, please can you forward this email, or print the poster out and hand out, or hang up at your club? Thank you!
---
Spaces at Southdowns Available

Due to a few dogs having to drop out due to injuries and retirement,Southdowns Agility Club has a few spaces for competition standard dogs, ideally Grades 3 - 7 or experienced lower grades. There are places in two classes that train at 7.30pm on Monday evenings at an indoor venue in Wickham in Hampshire - just north of Portsmouth / Fareham.
For further details please email Lynda Isaac at lynda291@btinternet.com
---
Agility Training Summer Camp in the Derbyshire Dales
Nic Jones and Sandra Adams are organising and running a Summer Training Camp organising and It'll be organised and run by myself and Sandra Adams, now are organising an Agility summer Training camp from 31 May to 4 June 2010. Both organisers are Grade 7 handlers and have been trainers for a number of years.
Nic said, 'The idea is that it will be a stopover between the four big shows in this area - Nottingham/Dog Vegas and then Hinckley / PADS.'
People will arrive Monday from lunchtime onwards to have time to get settled in. Training will take place each morning - Tuesday, Wednesday and Thursday. The group split into two classes of five handlers each. Each half will spend half the time with Sandra and then swap over to spend the other half with Nic. Groups will be matched according to ability and, if possible, size and a pre-camp questionnaire will enable them to plan specific exercises and give a directed focus to each session.
The cost is £130 which includes all training and the camping. £50 deposit secures a place. There is a water tap and Elsan disposal point but there will not be electric hook up.
In the afternoon you can visit the huge new shopping centre which has just opened in Derby or you can enjoy the afternoons spent up in the beautiful Peak District. The market town of Ashbourne is about 15 minute further north from Derby and beyond that the wonderful Dovedale, Wolfdale etc.
If you want to know any more just email Nic on nicola@njones477.orangehome.co.uk or ring m. 07709 306382 or email Sandra at sandraadams65@yahoo.com or ring m. 07792 727286
---
Leah's Place in Kent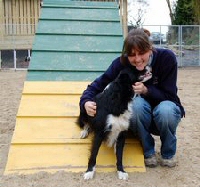 Leah Gardner now has a paddock where she can now take private lessons. The large acre and half paddock can be found in the beautiful country side of Penshurst, close to Penshurst Place, just ten minutes from Tunbridge Wells and five minutes from Tonbridge, Kent.
1-2-1 lessons and small group lessons available at the paddock, and larger training groups and training days at the indoor sand school. All ages, abilities and heights catered for, with a fun, friendly and positive approach. Times are days are flexible.
For more information, please ring Leah Gardner on m. 0781 4562996 or email on leah@anjuagility.co.uk
---
Places at Bretons

Bretons DTC has a few spaces left (for all levels) on a new 10 week course, starting on Monday, 1 March. Classes are held at Aldborough Hall, Aldborough Hall, Aldborough Road North, Ilford, Essex IG2 7TE.
Please contact the Breton's agility coordinator, Jean Luckett on tel. 01708 459874 or email j-luckett@hotmail.co.uk
---
Spaces at Surrey

Surrey DTS has a few places available for Grade 3 and above handlers. Training takes place Thursday nights at Rowly, Nr. Cranleigh.
Email enquiries to Jane Ling at janeling@live.com or ring tel. 01730 814452.
---
Olympia Practice Up North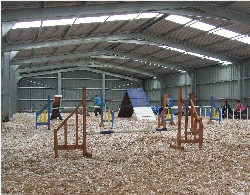 From Friday, 27 November Laverock Indoor Agility Centre will be 'Olympiarised' ! Jumps, weaves etc. will have plenty of sparkly tinsel on them and A-fames will have hanging decorations. There will be a Christmas wall and a TV available playing the Olympia DVD at full blast volume. Ideal for those wishing to help prepare their dog for the Olympia Environment or those just interested in seeing how their dog reacts.
Prices start from only £12 per hours hire.
Further info - www.multidogcottages.co.uk - click on Agility Arena or e.mail comebyanaway@hotmail.com
---
Spaces at K9 Consultants

K9 consultants have a starters agility course starting in January 2010 (Saturdays) for six weeks. This course is available to dogs that haven't done any agility training. Handlers are welcome who have either trained a dog already or are just starting out. Classes will be held in Leicester, just off J22 of the M1. There are also two places available on Saturday mornings for agility handlers and their dogs who compete at Grade 1-3. For further information please contact me on 07834714813 or email ruthbates2572@sky.com
---
Blackthorn DT Vacancies
Blackthorn Dog Training in Shropshire (near to Oswestry) has space for two more handlers in the Competition class on a Monday evening. Anyone interested in joining us or wanting further information should call Sue Leech on tel. 01691 828033 or email: Kelpiesue01-training@yahoo.co.uk
---

Agility Training with Dawn Weaver at Hest Bank
HBK Agility have invited Dawn Weaver to come north and do a training day at Hest Bank Kennels, Hest Bank, Lancaster on Tuesday, 19 January 2010. Just after Ribble show two training sessions to be held through the day, each 2 1/2hours. Grades 1-4 will be in the morning while G5-7 will be held in the afternoon. Both groups will have lunch provided. The cost is £25 per person.
For further information email Ian Robinson at Ian@agilityeye.co.uk or ring mobile: 07984 498003 or tel. 01524 822473
---

Philippa Armstrong Training
Would you like to handle your dog by 'remote control' or teach someone else to do it but don't know were to start?
From time to time Philippa Armstrong has been asked for advice on various aspects of working dogs at a distance, both when standing and when handling from a wheelchair.
She said, 'Whilst I am not professing to be an expert as I am only a Grade 3 handler, I am more than happy to share what I have learnt thus far and how I teach my girls to work independently, if I can be of help to anyone. I'm told I am a natural motivator of my dogs. Now I am geared up to travel more widely I am able to offer advice in person.'
With her dog, she is the only person in the country to have won out of Grades 1 and 2 whilst handling their dog from a wheelchair. More recently she and Binky won an Agility Class by six seconds. There are clips of her and the girls - both standing and seated - in action at www.philippaarmstrong.co.uk
For further information email Philippa Armstrong on: philippa.armstrong@lineone.net or ring tel. 01803 867074
---
Racingredd Puppy & Young Dog Classes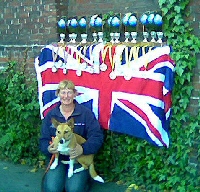 Racingredd Agility, based in South Lincolnshire, is starting a new day time puppy and young dog agility course. The training will given by Wendy Clay, one of the top handlers in the UK. She will teach handlers and their dogs how to do all the agility equipment.
If you have been thinking about trying Agility for the first time with your dog - or know someone who might be interested - the seven week course costs £45. Classes will take place on Thursday mornings from 11.30am - 12.30pm. Young dogs must be 12 months old.
For more details please ring Wendy on mobile: 07775556606 or email wendyroseclay@googlemail.com. For more information visit www.racingreddagility.co.uk
---
Sports Coaching for Dog Agility Handlers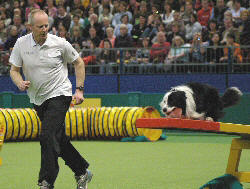 As the agility season draws to a close are you reflecting on this years achievements, the highlights and the 'if only' moments, but what are you going to do about them next year, what are you going to do more of, what are you going to do differently, where are you going to focus your training this winter. Have you considered that sports coaching may help you up your game and improve your performance?
Mark Laker's Sports Coaching Seminars are aimed at dog agility handlers looking to improve their performance, get more enjoyment out of competing, put direction and structure into training sessions, and ultimately gain the results they want at competitions.
The one day seminar is classroom based teaching foundation skills of sports coaching including:-
Understanding how motivation effects us
Gives guidance on setting challenging goals and objectives
How to gain confidence
Techniques for dealing with nerves and pressure
Coping with anxiety, arousal and attitude
The next seminar will be held on Saturday, 28 November Nr Andover in Hampshire. The cost will be £60 per handler. The day (9.00am - 5.00pm) includes:
A pre course assessment
Workshop exercises
Syndicate work
Refreshments and lunch
Follow up support
Seminars can also be held at your training venue and 1-2-1 coaching can be arranged.
For further details please contract Mark at mark.thelakers@gmail.com
---
Warehill Training Restarts
Warehill Friday training starts on 9 October at 7pm. They train on Monday and Friday evenings throughout the winter with two sessions each night at 7pm and 8pm. Friday night is mainly for competing dogs and there are a few spaces there. Monday evenings have the less experienced dogs but there are still Grade 5 & 6 dogs in the 8pm class. The Club also accepts accompanied juniors in any of the session, relevant to their experience.
Hilary Crew said, 'Warehill Agility caters for all sizes and grades of dogs but this year our Small dogs have really shown the way with many wins and places.'
A new course for Beginners starts Monday, 19 October 7pm.
Anyone interested in booking a place should either email Hilary Crew on colliecrew@hotmail.com or ring tel. 01582 721765 between 4.30-6pm.
---
Training at CATS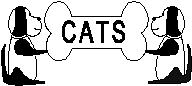 If you are looking for somewhere else to train, then Crawford Agility Training Society (CATS) currently has availability. All heights and levels considered.
The club trains on Thursday evenings from 8pm - 10pm at Downe Court Riding Centre, New Road Hill, Orpington, Kent. The venue is vastly improved with rubber flooring and clean car parking facilities.
For more information or to register you interest, then contact Lisa Bailey via email baileyl@willis.com or ring mobile: 07815 144694.
---
Digby's Training Places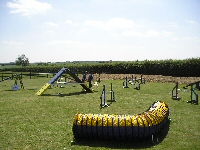 As the nights are drawing in, Digby Chase AC is changing over to Saturday training. They now have a few agility training spaces in their Puppy, Beginners and Competition classes.
Tony and Pat Butcher who started Digby Chase dog Agility in July 2004 said, ' We are a friendly - one could even say a homely club as it is run from our home. We have a two acre training field (our back garden). Whether you want to be, or you are already a serious competitor, or whether you just want to do it for fun, our aim is for you to enjoy your training as you learn combinations and techniques, as well as running your dog around a course. Our classes are small, and are geared to help individual needs and problems.'
All the equipment used is made by RVA and they have several types of training weaves. They can also offer private lessons.
Digby Chase A is located in Digby Lincolnshire, 6 miles north of Sleaford, 14 miles south of Lincoln.
For more information, ring tel. 01526 323395 or mobile: 07956150766
---
North Downs Starting a Second Night of Training
North Downs is starting a second night's training on a Thursday at Merrist Wood College, near Guildford. This was primarily for our current members who wanted a second night to train but there are a couple of spaces available for competing dogs.
Please speak to Lorna Goodban at a Show or contact via email for further details LornasRedDogs@gmail.com
---
Whirlwind Winter Term

Whirlwind Agility, run by Sue White with a little help from her friends, will be starting their Winter Term on Sunday, 11 October 2009. Classes are on Wednesday, Thursday and Sunday. Agility is for all levels up to Champ level, and includes two beginners classes on a Sunday.
Whirlwind is based in Harefield, West London.
More details can be found on the new website www.whirlwind-agility.co.uk.
---
Training Days with Ian Dobison
As well as running classes for local agility competitors and pet dog owners, Ian Dobison is running some training session over the winter. The training days are aimed at all levels and they will include Small and Medium heights. The groups will have a maximum of 6 handlers and the main emphasis will be on problem solving and building handler confidence. The morning session will be 10am – 12.45pm. The afternoon session goes from 1.00pm – 3.45pm. Ian will be assisted by Ag.Ch. Call Me Mr T (aka Tyler).
The training sessions are all held at indoor equestrian centre near Dalton Piercy, Co. Durham with easy access from main routes. There are local campsites or Travel Lodges for those travelling from outside the area.
Ian says 'I give maximum feedback to ensure the handlers and their dogs get the as much help as possible to improve their working partnership.'
The cost will be £20 per handler, per session.
Winter Training Sessions 2009-2010
| | |
| --- | --- |
| Month | Dates |
| October | Saturdays 17 & 24* |
| November | Saturdays 14 & 28 |
| December | Saturday 18 |
| January | Saturdays16 & 23 |
| February | Saturday 20 |
| March | Saturdays 6 * & 20 |
* 24 October and 6 March dates are the day before Hare 'n' Hounds winter shows.
For more information or directions to the venue, ring Ian on tel. 01429 294256 or mobile: 07794 606522 (m) E-mail mrtagility@ntlworld.com
---
An Urgent Message for People Attending the Acorn DT Alan Bray Workshop
Alan Bray is booked for a workshop tomorrow evening, Thursday, 2 July at Acorn Dog Training in Milton Keynes. The organisers are very concerned about running this workshop in the current temperatures as their field is completely exposed to the elements with no shelter from the heat during the evening.
Fran is trying to contact everyone who has booked in, but she does not know if she can reach everyone as Jayne and Alan are away on holiday and they have the complete list of attendees. Can everyone who is planning on coming to the workshop please ring Fran on tel. 01908 397236 or mobile: 07887 682180 before setting out.
---
AC Agility to Train Full Time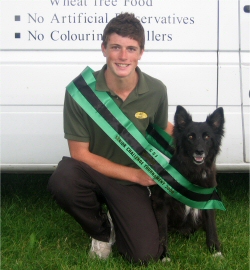 As from Monday the 15 June, Anthony Clarke will be training and instructing full time at his new agility training venue In Gloucestershire. Lessons will be available all day - Monday to Friday,
Private 1-2-1 lessons
Private group lessons
Ground work and pre-agility sessions
Obedience for agility
Training days
Themed days
Ant said, I've decided to train full time because the demand for agility training around here is huge, and people just want their dogs to do things.'
For more details and to book a session ring Anthony Clarke on tel. 01367 252828 or email anthony.acagility@tiscali.co.uk
---

Nigel's New Training School in the North
After a nasty accident on the motorway last year, Nigel Staines decided to change his life's direction. Having previously done many successful training days in the UK and more recently abroad, he decided to set up his own Agility and Obedience training school at the very top of the North Pennines. He started Dark Destroyer Agility earlier this year at Far Nentsberry Farm, Alston, Cumbria CA9 3LZ - just 30 minutes from Penrith/Carlisle, 50 minutes from Scotch Corner/Newcastle.
Nigel said, 'The growth has been what I can only describe as 'explosive' and the joy of seeing handlers obtain consistency and the winning formula is rewarding as winning any final.'
The weather can be extremely vicious at this height so when the weather is bonkers, he uses a medium-sized indoor 'equestrian sandmix' school suffices for obedience lessons, agility beginners and competition combination conditioning. Outside there is a full size agility area with competition equipment so handlers can get that competition feel.
Training available during the week, daytime and (some) evenings. The main is on solid foundation work. Residential training is also available.
At the venue there are 40 acres of hilly grassland, woodland combined with several mountain streams making it ideal for dogs to let off steam and for handlers to walk and enjoy the amazing views. Fresh free range eggs always available at home and normally at the shows which Nigel and his partner Donna attend.
For more information ring Nigel Staines, Dark Destroyer Agility, Morgans Kelpie stud UK.on tel. 01434 381089 or mobile: 07765 355230
---
Field in Coventry Area Available for Hire
Once again Loraine Bryan is offering to hire out her field with a full set of agility equipment for anyone who would like to have extra practise. Loraine is in the Coventry/Solihull area. The Field is fenced and there is parking for up to 6 cars - more in dry weather.
If you would like to hire the equipment and field, ring Loraine on mobile: 07969 953999.
---
Spaces at Little Revel End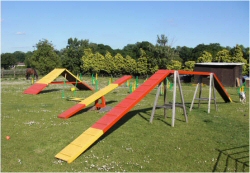 Little Revel End, Redbourne (Hertfordshire) has places for beginners and more advanced dogs on a new course starting Wednesday, 20 May. Group sessions are held outdoors with a maximum of six handlers to a group. The venue is located near St. Albans and Hemel Hempstead.
Please ring Triche on tel. 01582 794862 to book your place.
---
Training Places Available at Sands
Sands Dogtraining, just outside Stockbridge, Hampshire has a couple of spaces left in Mondays beginner class and in Tuesdays pre competition class. 1-2-1 lessons also available as well as equipment hire - only after assessment.
The new training venue is in the heart of Test Valley, in the lovely Hampshire countryside.
Please ring Katarina on tel. 01264 810383 or mobile: 07976 886702 or visit the website www.sandsdogtraining.com
---
Tabondi Training Is Taking New Members
Due to changing to summer nights, Tabondi Agility in Hinckley (Leics) are open to new members.
Founder Eileen Wischnia said, 'We are a friendly inviting club where everyone can contribute ideas. Training is geared around individual needs and problems. Classes are small, organised and planned. Our aim is to teach you to enjoy agility learn the techniques and combinations and to handle your dog around a course. '
If you may be interested in joining them on a lovely summers evening, then please ring Eileen on mobile: 07775 532223 after 1.00pm or by email tabondi@tiscali.co.uk
---
Training with David Munnings

Dave Munnings has a new training venue which is available for 1-2-1 and group lessons in the week, mainly Tuesdays and Fridays but he can be flexible. The venue is in Chilham, near Canterbury, Kent.
Dave is an experienced, very motivational trainer who can work with complete beginners to the most advanced handler and dog combinations to get the best results possible. He uses an easy to understand and consistent handling system but also understands every dog and handler is different and you have to be very adaptable when training as one method doesn't work for everyone.
He urged, 'Come and tidy up your handling and make your dogs more consistent before the 2009 season, and see if you can win up some grades this year.'
---
KC Rules & Regs Seminar
The Agility Club still have spaces left on a Kennel Club Agility Regulations and Judging Procedure Seminar (with examination) on Saturday, 28 March near Hook, Hampshire.
Club chairman and KC Accredited Judges Trainer Bill Glover said 'These seminars are ideal for current, new, or prospective judges, instructors and trainers, or handlers who want to increase their knowledge of the sport". The seminar is open to all - not just Agility Club members.
For details see the Agility Club website: http://www.agilityclub.co.uk/judges.asp .Please note that the Agility Course Design and Practical Judging Seminar on Sunday, 29 March is fully booked.
---
Deadline for Canine Sports Seminar Extended
The deadline for the 3rd Canine Sports Science Seminar has been extended by one week so there is still time to register. Have a look at the schedule and get a ticket. This is something not to be missed for anyone interested in canine sports
Click here for more information.
---
Two Places Left on Carla Whyte Training Day
Carla Whyte has a couple of places left on the afternoon session of her training day this Saturday (21st) taking place in Great Brickhill, near Milton Keynes. Jump combinations, contact, weave and motivational exercises will be covered. Suitable for Grades 4 & 5 or experienced handler with a Grade 3 dog. All sizes welcome. Cost: £20.
Email carlaswhyte@yahoo.co.uk for more information.
---
Spaces Available on Mark Douglas/Barrie James Training Day
Has your show been cancelled this weekend? Worcester Agility Society has spaces available for handlers with experienced G3 - 5 dogs, training with Mark Douglas and Barrie James on Sunday, 8 February 2009. There will be two sessions - morning from 9.30am - 12.30om and afternoon from 1.30 to 4.30pm at the indoor riding school at Sandbourne House, Baughton, Worcs WR8 9DG. There will be a maximum of seven dogs in a group.
Ring Anna on mobile: 07919 431041 for further details.
---
Dianne Talbot Agility Training Camp on Kent/Sussex Border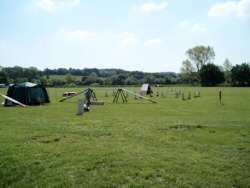 There may be no SupaDogs the following week but Dianne Talbot returns for the third year for this Agility Training Break. There's still time to switch your holiday and enjoy your agility and a relaxing holiday in a stunning location.
Dianne is one of the UK's top agility handlers and is a fantastic trainer. This is a rare chance to train with her in the South. It's a great opportunity to learn new skills or move your existing skills up to the next level. By training over four days you really get an opportunity to put your new skills into practice!
Take advantage of the early bookers credit crunch discount. If booked prior to 1 March 2009, the inclusive cost for the course is £140 with a non-refundable deposit of £80 to reserve a place. The balance of £60 is payable by 1 April 2009. Bookings after 1 April will be at the higher rate of £160.
The camp will run from 18-21 May inclusive. The fee includes four training sessions for you and your dog and your camping/caravan pitch from Sunday to Friday, 17-22 May or you can travel daily, if you wish. Electric hook-ups are available by arrangement at extra cost.
The venue is truly fabulous – a caravan site with easy access to local amenities and attractions including Camber Sands Beach (30 minutes), Bodiam Castle ( 20 minutes walk through the country and river-side footpaths) and many more. The site itself provides a 50 acre exercise field.
For further information or to book your place please ring Claire Alderson on mobile: 07778 012949) or email caagility-dtweek @ yahoo.co.uk (remove spaces).
---
Clyde Valley Agility Week – Training Camp – June 2009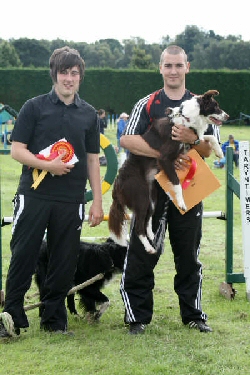 In the past The Clyde Valley Agility Training Camp was organised and run by Philip Patterson and Peter Elms but, due to a change in hands of the Clyde Valley Show, this training camp will now be run by Kenny Spottiswoode and Peter Dall.
The camp will take place over four days, from Monday, 22 to Thursday, 25 June 2009, followed by the Clyde Valley Show on the same site. Anyone coming for the camp has the advantage of being settled in for the show.
Day 1 will consist of an hours 'getting to know you' training session, followed by a BBQ later in the evening.
Day 2 will consist of a two hour training session dedicated to the weave i.e. angles, independence and accuracy
Day 3 will have another two hour training session. This time the training will be aimed at the contacts i.e. speed, accuracy and independence
Day 4 yet another two hour training session which will be mainly jumping and handling theory.

Kenny said, 'The group sizes will be a maximum of six as we have learned in the past that people much prefer a smaller group size and that we can really help handlers and dog's progression in smaller groups as we get to spend much more time with them. Evening's will be no snooze fest either as we plan to hold some form of social events or fun agility competitions every night throughout the camp.'
This camp will be held at Eglinton Country Park, Irvine which boasts 1000 acres of park where you can walk, run, jog, ride or just rest. Nearby are miles and miles of sandy beaches and safe swimming! Food is no problem. You can go to either the lovely cafe for snacks and lunches (lovely cakes) or the nearby shops. Showers, Toilets etc will also be onsite.
The cost for the camp is £120. If you would like to attend then please contact Kenny: contact@kennyspottiswoode.co.uk or ring mobile: 07731 710008
---
Spaces Available at Nic Jones/Sandra Adams Training Day
There are two spaces available for handlers with G3 - 5 dogs, and one space for a handler with a G5 - 7 dog, training with Nic Jones and Sandra Adams on 17 January 2009. These are three hour sessions to be held in the afternoon (start time to be confirmed) in the indoor riding school at Sandbourne House, Baughton, Worcs WR8 9DG. Maximum of six dogs in a group.
For further details, ring Anna Braley on mobile: 07919 431041.
---
Nic Jones Training Day Places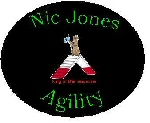 Due to a change of dates from 25 January to 1 February, Nic Jones's next training day is no longer full. She now has one or two spaces available in the morning session (9.00am - 12noon) for the more experienced handlers/dogs, roughly Grades 3-7.
The venue is Barton in Fabis Equestrian Centre, Barton in Fabis, Derbys. about five miles from Junction 24 of M1.
If you are interested or know anyone who might be, ring Nic Jones on mobile 07709 306382 or email nicola@njones477.orangehome.co.uk
---
Training Days with Lucy Osborne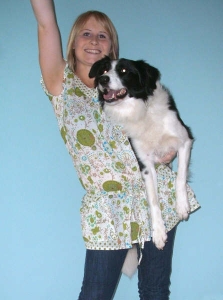 So many people have asked that Lucy Osborne has decided to do some training days in addition to her week night classes which are 99% full. Her training philosophy is based upon training confidence with handler and dog, and increasing drive to and from obstacles with a positive attitude to gaining success! She also trains puppies from an early age drive techniques.
When asked why she trains this, she explained. 'This is something that I struggled with as I was never really a confident person. This feeds straight to the dog.'
'When I got my Ben (Ben Bombastic Mr Fantastic) he was totally different to any dog I'd been used to. Ben went through Elementary, Starter and Novice quite quickly. I then began to gain confidence in him. As soon as I began to become confident, he began to work away and to shine more and more. Now is a real star!'
I am now very confident in him. I know that he will try 110% at everything for me/. Since I have been more confident, he is also more confidant and has picked up a speed! He drive to obstacles has also increased. This is something that i think everyone needs training for.'
Lucy will be at shows most weekends in the summer. Look out for the training days and training days at other venues. She also does training for specific needs, and can can do 1-2-1 sessions or do training days at your venue. Have a look at her website for more information or call her on tel. 01522 703352. Email lucy@agilitybuds.co.uk
---

Canine Sport Seminar 2009
Steve Croxford, Peter van Dongen and Zoe Tharmasingam of the Kennel Club have organised a Canine Sports Seminar for 2009 which should prove of interest to everybody involved in canine sports, veterinary medicine, complementary medicine and much more.
Date: Sunday, 15 March 2009, 8.30am – 5.00pm

Venue: The Kennel Club Building, Stoneleigh Park, Warwickshire CV8 2LZ

Cost: £70.00 incl. VAT per delegate
The aim of the Seminar is to explore best practice when taking part with your dog in active sports and for treating and preventing any possible injuries, taking a holistic approach. The seminar will include several presentations and practical sessions to help in the treatment of the canine athlete:
| | |
| --- | --- |
| The Veterinary Perspective on discipline specific training and rehabilitation. | Canine Massage Therapy – Comparison between species and disciplines. Includes practical demo. |
| Gait Analysis and Conformation – How does it relate to various disciplines and injuries? – Includes practical demos/Videos. | McTimoney Chiropractic – The role of this treatment modality in the Sporting Dog. |
Peter said, 'We have had a very good response to the first two Seminars, in 2007 and 2008, and hope the next Seminar will be even bigger. We have taken into account all the suggestions from the questionnaire from last year and have made many positive changes. For instance, there is much more car parking space. You can take your dog on site. There are fewer speakers who will speak for longer; and there will also be practical demos and video presentations as well as trade stands and info packs. As usual, the quality of the speakers is second to none, from various professional fields.'
If anyone wants some more info,visit the Kennel Club website www.thekennelclub.org.uk
Please see attached for the official advert for this event. If you run, or attend, a club, please print out the advert and take copies there as well.
---
Agility Instructors Course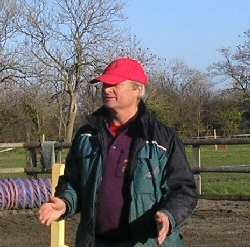 Mike Bacon is offering a course consisting of 5 modules designed for people who are interested in becoming dog agility instructors. The summer 2009 course will be held at Orchard Farm, Kenn, North Somerset, BS21 6TT a few miles from M5 J20.
Dates are
Module 1: Starting Instructing – Sunday, 19 April
Module 2: Equipment Training - Saturday, 6 June
Module 3: Teaching Handling - Sunday, 7 June
Module 4: Competition Coaching Saturday, 8 August
Module 5: Solving Problems Sunday, 9 August
Each module is free standing and can be done independently but all fit together to form a complete course. The class size is limited to 8 people.
The topics are aligned with the Kennel Clubs Accreditation Scheme for Instructors and are also excellent preparation for anyone intending to attend the Agility Club Approved Instructor course and take their exam.
The price for each module is £40 if done individually, or £150 for all five booked and paid for together in advance.
Mike Bacon has been an agility training instructor for 25 years and has helped many people become instructors.
For more information ring Mike Bacon on tel. 01934 833525 or mobile: 07889 447593 or email mike_of_diamonds@yahoo.co.uk or go to web site www.diamond-dog-training.co.uk
---
UKA Judging Seminar 2009
Next year Kim Hunt of the The Derbyshire Agility Centre will be presenting four seminars for people looking to judge at UKA events. All the Seminars below will be held prior to a UKA Show.
UKA Judging Seminar Diary 2009
| | | | |
| --- | --- | --- | --- |
| Date | Venue | Level | Cost |
| Friday, 1 May | Newbury Showground | Level 1 | £45 |
| Friday, 26 June | Newbury Showground | Level 1 | £45 |
| Monday, 27 July | Tewkesbury | Level 2 | £45 |
| Friday, 4 September | Cheltenham | Level 1 | £45 |
Should any Show Managers wish to hold a Seminar prior to their show please contact me on the numbers below. All that is required from the show management is use of a ring of agility equipment for the afternoon. Everything else is provided by Derbyshire Agility Centre.
Kim has been running these course ever since Laura and Greg Derrett set up UK Agiity, knowing it would offer new challenges due to the way the classes were structured.
She explained to Agilitynet, 'Basically it meant that Judges would be attempting to design courses for every height of dog and every level of dog and judge them all in the same day! The added complication is the time factor, as this meant that Judges had to change the courses potentially four times, which can be very time consuming, so clever and thoughtful course design to encompass this was very necessary for the smooth running of a UKA show.
She has currently trained over 30 people, including those who have judged before and those who have not. The courses are very intensive, so she only trains up to eight people per course. As she is the only one running them, there is continuity for everyone. There is no exam as Kim does not believe that having a good memory does not necessarily make you a good Judge. After all that's what a rule book is for!
Kim said, 'I know that everyone who has completed the course, whether they are experienced or not, have been able to take away with them some useful knowledge which helps them to go on to be a better judge, after all without our judges we would not have any agility!'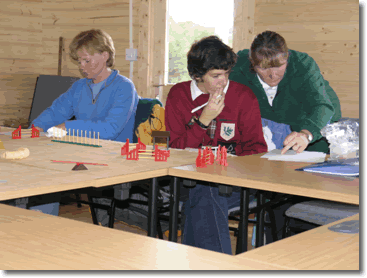 UKA Judges Seminar Level 1


Designed specifically for anyone in agility who has never Judged before (you do not necessarily have to be a competitor) or those who would like a 'top up' on UKA style judging. The course content will cover:-
UKA Rules
Judging Ethics
Health and Safety for dog, handler and Judge
Classes – Programmes/Levels/Titles
Course Design and Difficulties
Course measuring/timing
Practical Course Design and implementation
Hands on Judging
All participants receive a Certificate of Accreditation from UKA.
UKA Judges Seminar Level 2
Designed specifically for anyone in agility who has never Judged Games Competitions in UKA (you do not necessarily have to be a competitor) or those who would like a 'top up' on UKA style games judging. Ideally you will have already completed your level 1 judging course or at least judged games at a UKA show prior to the course. The course content will cover UKA Games Rules for:-
Power and Speed
Time Fault and Out
Gamblers
Snooker
Course Building and Design for all heights and levels in Games
Course measuring/timing where appropriate
Practical Judging
All Participants receive a Certificate of Accreditation from UKA.
For more information contact: Derbyshire Agility Centre, c/o Kim Hunt, 8 Bullsmoor, Belper, Derbyshire DE56 1JS. Email: kim@kimhunt.co.uk. Web site: www.kimhunt.co.uk Tel. Telephone: 01773 827643 Mobile: 07870 575328
---
Dawn Weaver Training Day Places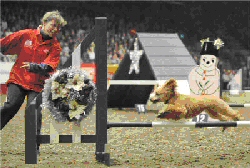 Due to cancellations, there is one place up for grabs in G3-5 on the Dawn Weaver Training Day at Scrambles on Sunday, 23 November. In addition, there several left in G5-7.
Dawn works all sizes of dogs and has been a member of every National team often with several dogs. Her dogs are stunning to watch with her current specialty being her super fast running contacts. She
is then away for a month and after March will be competing most weekends, so this may possibly be your last chance this year to obtain training with this wonderful, multi-medal winning trainer.
Timetable will be:-
9-00 am to 11-00am. Grades 1-3 (All sizes)

11-30pm to 1-30 pm. Grades 3 – 5 (All sizes)

2-30 pm to 4-30pm. Grades 5 – 7 (All sizes)
Cost will be £30 per session or £50 for both sessions.
Lu Carter said, 'I did the last training day with her and picked up tons and tons of great tips and really enjoyed the day.'
If you are interested please Contact Lu asap to get one of these places. Ring tel. 01932 222022 or email lu@scramblesdts.com, The Venue is:- Apps Court Farm, Hurst Rd, Walton on Thames, Surrey KT12 2EG. Cheques to be made out to Scrambles and sent to:-
Lu Candy, 'Flintstones,' 40 Dudley Rd, Walton on Thames, Surrey KT12 2 JU
---
Watford Open to New Members

All the spaces for post-beginner dogs are now full.

Watford Agility Club (WAC) is offering places in their New Beginners class, starting 8 January 2009, for dogs that have not done agility before. There are also a few places for G2+ Large dogs and G2+Small dogs. As a KC registered club, they can not except dogs under one year old.
WAC is a friendly, welcoming club that has been running for many years. Over the past few years, they've had several venues and are now based indoors at the Equestrian Centre, Oaklands College, Smallford Campus, St. Albans. Training is on Thursday evenings from 7.00-10.00pm. There are two Large dog classes, one Small, one Medium and one mixed Small/Medium class.
If you are interested in joining either come to Oaklands any Thursday evening up to the 11 December or ring Geraldine Smith on tel. 020 8907 9199. Email geraldine00907@aol.com
---
Amanda Hampson Training Days at Delinquent Dogz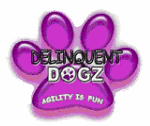 Amanda Hampson has kindly offered to run half the training sessions at the Delinquent Dogz shows on 18-19 October and 2 November 2008. Training will be on pretty much anything you think you need. There will be various sessions available throughout the days mentioned although Amanda has made the following suggestions:- Weave Work, Motivation, Contact, Pull ins and Flick Flacks and Tighter Turns. Maximum of 4 dogs and handlers per session. Each session costs £5 with a very generous £1.50 going towards the DD Guide Dogs appeal.
Amanda has been competing in agility for 16 years and has been an instructor for the last ten. She has also represented Britain at the World Championships in Switzerland and Norway, competes at Grade 5 with Rogue (although it wont be long before another gundog (NSDTR) is giving the Mediums a run for their money in the Champs) and has won a C C with Minx (another gundog (NSDTR). Roll on the next two, Amanda. Then can you get Daisy there, please! All of this and she is a 'jolly nice lass' too, who thinks nothing of offering advice in the kindest possible way.
Michelle Ainsworth, Show Secretary said, 'I have even put my name at the top of the list with Zak - nothing like starting the day with a challenge! Wonder what advice she will have for us!'
These sessions are available with priority to those already entered at the shows. If you aren't, there is still camping available for the October show and plenty of spaces left for competition on any of the above days. Please ring Michelle on mobile: 07949 466911 or more information.
---
J. K. & A. Agility has a Space Available in the Small Competition Class
J.K. & A. Agility is a small friendly club run from Milland nr. Liphook (GU30) on Thursday evenings. The small class arrives at 6.45pm and finishes at 8pm. Due to unfortunate injury, one of our members has had to drop out for the foreseeable future which leaves them with a space free.
Jo Sermon said 'Although I like to keep numbers low to make sure everyone gets enough time on the equipment, I do need a certain number to pay for the venue, insurance and new equipment. We're looking for a Small dog handler with a dog that can do all the equipment and who are looking for training to competition level. We like people who enjoy agility and have a good sense of humour, but want to work hard at training their dogs.'
If you're interested please contact Jo for more information on:- jo @ agility - training . co . uk (remove spaces).
---
Spaces Available on Peterborough Training Day
There are still some spaces left on the training day with Jill Spurr and Mike Douglas which is being held on Saturday, 20 September at a venue near Peterborough. The plan is to have two small groups - maximum of six - which will be swapped around mid-day, so that each group gets the opportunity to train under both Jill and Mike. This is aimed at competing dogs of any grade. Jill and Mike are happy to focus in on specific problems that each handler would like help with. The cost is £35 per dog for the whole day.
For further details or to book a space, please call tel. 01945 871213 or mobile: 07742 565969.
---
New Agility Venue Opens in the North East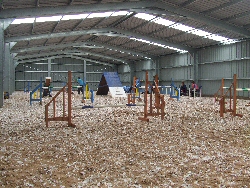 Laverock Dog Training Centre, a brand new purpose-built indoor Agility Arena - yep, NO horses - has been opened near Barnard Castle, Co. Durham. The 120 foot x 45 foot building has the latest 'turf float' arena flooring, designed to provide a firm surface but with polymer fibres that bind together with the sand to allow the dogs to travel over the surface rather than into it, thus reducing the stress on limbs and muscles. The surface is deliberately coloured peach and white so it compliments the building design, creating a lovely light area to train in unlike the usual dark horse arenas. It is also 'tastefully' designed. One agility person described the surface as looking like a coffee cake with cream swirls! Being non-sticky and black rubber free means you don't have to wash and comb your dog after each session!
A full set of agility equipment is included in the hire price plus many extras including training weaves, 'baby' jumps, table, different types of tyres, two sets of contacts etc. The building is available for hire every day from 9am to 10pm with interior lighting available when required at no extra cost. Chairs, drinks and even coat hangers (!) are all provided to make your time more enjoyable but the best thing is you drive up, train with the dogs and drive away! No lugging heavy equipment in and out of trailers or back to sheds for storage!!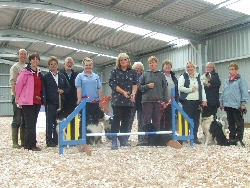 Run by Marcus and Mandy Bainbridge of Colliewobbles, the arena is situated on a private farm in an Area of Outstanding Natural Beauty. On-site car parking and toilets are available and the building is available for hire from one individual to groups of 10 people, from one hour to all day.
It will also compliment the multi-dog friendly holiday cottages that are opening at the farm Easter 2009.
With thanks to Natalie Mitchell for the photographs of the inside of the building plus one of Sue White (right) opening the building when some training days were held during Northern Agility Week.
For further information, prices and availability, please ring tel. 01833 650695 or email comebyanaway@hotmail.com
---
KCAI Scheme Hailed as Future of Dog Training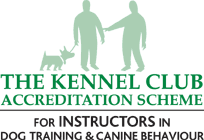 The Kennel Club has welcomed a report published by the Companion Animal Welfare Council (CAWC) that they would use the Accreditation Scheme for Instructors in Dog Training and Canine Behaviour (KCAI) as a model for developing a national framework of standards.
Over the past twenty years, a large industry has grown up around the treatment of animal behaviours that are perceived as problematic. CAWC believes there is a need for individuals to prove their knowledge, skills and expertise in order to practice as a dog training instructor or behavioural trainer. Without this, there is a concern that companion dogs could suffer at the hands of trainers who are inadequately qualified to carry out their role.
This is why, after careful research and development, the Kennel Club launched the KCAI scheme in 2004. The scheme works by converting all that a member knows and does into points to indicate their level of knowledge, achievement and experience. Members must evidence their background knowledge and practical dog experience through a portfolio of information, and the various modules require them to demonstrate a wide understanding of a range of subjects.
There are now 29 Accredited Instructors, all of whom have at least five years' practical teaching experience and have been through a rigorous process of assessment. This involves a review of the member's portfolio and an oral and practical assessment of their knowledge and practical experience.
The KCAI scheme sets a national standard to safeguard the public, to offer assurance to vets on the referrals of their clients, and which also guides the scheme members in their search for knowledge and experience to improve the future of dog and behavioural training advice.
CAWC's July report, entitled 'The regulation of companion animal services in relation to training and behaviour modification of dogs', has praised the Kennel Club's scheme saying that it 'would form a sound basis for future development.'
Caroline Kisko, spokesperson for the Kennel Club, said: "The Kennel Club welcomes the recommendations by CAWC that a framework for the recognition of skills for professional dog trainers and behaviourists should be established, and that the Kennel Club Accreditation Scheme could form the basis of this.
"The KCAI scheme is intended to form a national standard that will safeguard the public, to unify both knowledge and experience and enable instructors to measure where they are experienced and where they can improve.
"We have taken a great deal of time to identify the correct levels of knowledge, experience and achievement which prove competency in offering advice, counselling, training and instruction to owners and their dogs, whether on a one to one basis or in a class environment.
"An increasing number of people are claiming to be dog trainers and behaviourists, based purely on their own experiences with very few dogs and, as a result, the techniques that some employ may be questionable. This was the Kennel Club's motivation in providing the resources to develop this qualification and the Kennel Club is committed to ensuring its standards are maintained.
"If an instructor in dog training or canine behaviour is accredited under our KCAI scheme, they must have suitable practical experience and must adhere to the Kennel Club Code of Practice for Instructors. It is important that members of the dog owning public know where to go to find a reputable dog training instructor."
The Kennel Club is confident that the standards and protocols set through this scheme will prove in time to be recognised as the 'industry standard' and will offer assurance and protection to the dog owning public. At the same time it will provide recognition for the many hard working, dedicated and competent instructors in dog training and canine behaviour in this country, and indeed further afield as membership is not restricted to the UK.
---
Summer Training with Dave Munnings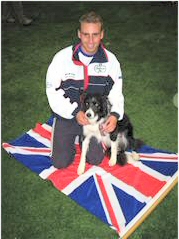 This summer Dave Munnings will be training at Pachesham Equestrian Centre. The dates can be found on the Events page. There will be private 1-1 and group sessions available.
Dave is an experienced handler and trainer who uses very motivational methods to get the best out of his dogs and the dogs he trains. He is a very enthusiastic trainer who wants people to understand his methods not just mimic them. The sessions will be focusing on tightening turns and improving handling techniques, but will also cover motivation, contacts and weaves. His training sessions are fun and educational.
Dave is currently working two dogs, both of which are Agility Champions. He won the Bronze medal at the FCI Agility World Championships in 2005, the Championship class at Crufts this year and has qualified to represent GB in Germany at the European Open in July.
If you would like a place have a look at the dates on the events page and e mail Dave at:- Munnings_com@hotmail.com
---
Agility Buds Training Day with David Munnings
There is a few spaces left on the Dave Munnings training day that Agility Buds are holding in Skellingthorpe, Lincoln on 29 June 2008.
The training will be done in an indoor arena so we don't have to worry about the weather!
The spaces that are left are:-
2 x spaces in the Grades 1-3
1 x space in the Grades 4-7
For more Information, ring Lucy Osborne on tel. 01522 703352 or email lucy@agilitybuds.co.uk
---
Working Spaces Open on Susan Garrett Seminars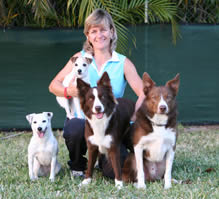 As there are some spaces left on the Susan Garrett seminars, UK Agility has decided to open up some working spaces to anyone and not just UKA members.
The Seminars which will take place at the RDA Riding School on the Cheltenham racecourse (Glos) are:-
Advances in Dog Training - 21-22 July
Advanced Shaping - 23 July
Weave Seminar - 24 July
One Jump Workshop - 25 July
For those of you who do not know Susan, she is owner of Say Yes Dog Training Facility in Ontario, Canada and the Author of Ruff Love and Shaping Success. Her two videos on dog training have also proved hugely popular with worldwide sales. She has been one of North America's Top competitors in Agility, Obedience and Flyball over the last 15 years. Susan was also a Double gold medallist at the IFCS Agility World Championship 2006 & 2008. She will also be representing Canada at the FCI 2008 World Cup. This will be the first time Canadians have allowed Border Collies to run.
The Say Yes philosophy is to train dogs without physical or verbal corrections. Their goal is to train owners to bring out the best in their dogs, focusing on positive reinforcement and lateral thinking to come up with training solutions. The results are dogs that are as focused and driven about their work as their owners are about training them. Gone is the myth that only certain breeds of dogs can achieve greatness. The Say Yes program ensures that owners of all dogs and all breeds achieve their goals, from the high-drive, out-of-control dogs to the motivationally challenged ones that need more confidence to work at their peak. Their innovative, progressive approach to dog training will enable you to overcome any challenge and help you to develop a lifelong, harmonious relationship with your dog. To learn more about Susan, please go to www.clickerdogs.com
For further details on each seminar please visit the E-vents page on this site. Please email greg@ukagility.com or ring tel. 01386 424218 to find out further details and to book your place.
---
Clyde Valley Summer Training Week
Due to some people not being able to come, some places have become available on the Peter Elms/Philip Patterson training week at Eglinton Country Park before the Clyde Valley Show in June.

After last year's very successful training week at Kelso, Peter Elms and Philip Patterson are having a re-run of the same this year. It will consist of two hour sessions daily for the Tuesday, Wednesday and Thursday. Monday is for arriving, settling in and have some fun agility in the evening. Any size, shape, age of person or dog can come and take part! The maximum group sizes of eight. This should give you a good number of turns to sort out your problems. If you wish extra training, you can see Peter or Philip at the venue.

In the evenings we are hoping to have a PAYG ring open to all dogs that are agility age and experience

The Eglinton Country Park, Irvine boasts 1000 acres of park where you can walk, run, jog , ride or just rest. Nearby are miles and miles of sandy beaches and safe swimming! Food is no problem. You can go to either the lovely cafe for snacks and lunches (lovely cakes) or the nearby shops. It is at the same venue as the Clyde Valley 3- day Show, so once you settle in, you can be there for the week!

The cost is £50 per handler and £25 per caravan/tent.

Even though Philip has moved to Leeds - for the better weather and family - he and Maureen will be coming to both shows this year. Further details can be found on

www.clydevalleydogs.talktalk.net or email clydevalley@talktalk.net or ring tel. 0113 267 6886. (21/05/08)
---
Training with Toni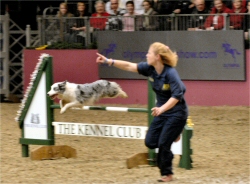 From 28 May and then every other Wednesday. Toni Dawkins will be teaching at Plum Pudding Equestrian Centre which is where the WAG shows are held. This is just for the summer. There are places for a two hour session from 19.30. The training will focus specifically on contacts/sequences from contacts and jumping/handling on alternate weeks. The first session on 28 May (Supa Dog Week) is all about contacts and how to handle sequences from contacts whatever your method.
Cost: £16.00. Grade 5 and above only please.
The Plum Pudding Equestrian Centre is located on Dane Road, Minnis Bay, Kent.
Email hazelhicks@talktalk.net or ring Toni on tel. 01304 361026 for more details (17/05/08)
---
Bouncing Barn Available This Autumn
Coming this September 2008, you can hire a dog training barn with seamless rubber flooring and an outside paddock, near Chichester, W Sussex. The indoor barn measures approx 90ft x 26ft (27m x 8m) while the outside fenced paddock measures 66ft x 130ft (40m x 20m). Agility equipment and flyball equipment is included in the hire of the facilities.
If you would like to hear more, then please contact Cherry Gillbard on tel. 01243 545982 or email pj.gillbard@btinternet.com
---
WAGAM Training Places

W.A.G.A.M. Dog Training Club has a couple of spaces left at their Wednesday night training sessions near Cirencester, Gloucestershire. All sizes and abilities of dog and handler are welcome. Training is indoors and classes will never be bigger than six dogs.
For further information please email pennymiles@onetel.com or call tel. 01793 752149
---
4 Paw DAC Moves to New Training Venue

4 Paws Dog Agility Club are pleased to announce the opening of their new training venue at The Field, A1198 Kneesworth, 1 mile north of Royston Hertfordshire. There they have a five acre secure field. All standards of agility are covered from fun classes to competition standard. All types of dogs and owners are catered for and would be welcome to join us.
The Club will be holding an introductory session for new Beginners on Saturday morning, 10th May. The catchment area for the club is South Cambridgeshire and North Hertfordshire district.
Contact Chrissy Walker for further details. Email: chrissy4paws@tesco.net or ring tel. 01763 244437 or mobile: 07811 878231.
---
Paws 2 Touch Agility Spaces
Places are available at Paws 2 Touch for complete beginners through to competing dogs and all heights catered for.
Paws to Touch is an agility club run by Sharon Eldridge, based nr Battle, East Sussex. This is an outside venue with excellent dog walking facilities including a lake for the dogs to swim in during the summer months. Premier equipment is used. New classes are due to start on Tuesday, 13 May.
For further details email Sharon - merliedogs@btinternet.com or call her on mobile: 07947 651980. (01/05/08)
---
White Rose Openings

White Rose Agility, based indoors at Halifax, West Yorkshire, currently has a few vacancies for people already competing. We have classes for all sizes of dogs and catering for all Grades. All classes are instructed, not a free-for-all, and top quality equipment is used. (28/04/08)
For further details email Brenda on yettontop@ntlworld.com or ring (daytime only please) on tel. 01484-306963 or mobile: 07900-470611
---
Otley Training Spaces

Otley DTS have spaces available on their Tuesday night training session (8:30 – 9.45pm) The session is for experienced/competing handlers with dogs Grade 3+ or good Grade 2s. All heights are welcome. Training takes place in a well lit indoor venue at East Keswick, between Harewood and Wetherby.
All enquiries to Pam Costello at email Pamela.Costello@tiscali.co.uk or mobile: 078410 46871.
---
Mid-somer Training Weeks & Weekends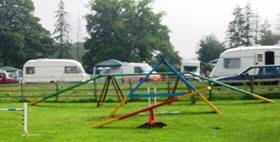 Alan and Nicki Clements currently have a limited number of places available on their Midsomer Training Weekend on 26 & 27 April. Their training week from starting from Monday. 26 - 30 May is fully booked.
Training sessions as well as camping will be held in their two acre paddock, near Oswestry in North Shropshire. Numbers will be limited and all abilities will be catered for. Small groups will be organised to ensure everyone gets a high level of individual attention. Typically, several groups will be organised to include puppies, Grades 1 & 2, Grades 3 & 4, Grades 5 - 7, but will be flexible depending upon those attending.
There will also be social activities organised each evening.
For further details please see our website www.midsomeragility.co.uk or email Alan & Nicki Clements on midsomeragility@aol.com
---
Training Places at Nottingham
Nottingham Agility DTC have spaces available on their Monday night training session (8:30 - 10:00pm) The session is for experienced/competing handlers with dogs Grade 4+ or good Grade3s. Each month consists of two weeks club instructor, 1 week external instructor and week Dog of Month/Year competition night, followed by train yourself.
All heights are welcome. There is a Small, Medium and Large on the class. Training takes place in an excellent, well lit indoor venue at Selston, near Mansfield, within easy reach of M1.
If interested email andrewgarratt@gmail.com (07/04/08)
---
4-day Agility Training Course in East Sussex with Dianne Talbot
There are still a few places left on this event. The course is run over four consecutive days from Monday, 19 Monday to Thursday, 22 May inclusive. All levels are catered for from Starters to Advanced. The venue is a glorious flat camping site with acres of dog walks for your free time. Cost:- £160 per dog/handler including five nights camping/caravan, if required. Lots of fun and lots of valuable training tips, too.
Email Claire Alderson at caagility-dtweek@yahoo.co.uk or call on mobile: 07778 012949 for more details. (07/04/08)
---
New Agility Club Starts up in Staffs.
With over 35 years of experience between them, Jackie Gardner and Christine Wingate-Wynne, who are both successful Championship agility competitors, have joined forces to form SmartPaws Dog Training Club.
The Club, which will train basic obedience and agility at an indoor venue at Newton Regis, near Tamworth, promotes high standards of responsible dog training using only positive reward based methods.
Well behaved dogs of all breeds and types are welcome at the Club. Beginners will be asked to complete a 6-week Basic Obedience course. They would then progress onto a Foundation Agility course. By arrangement, owners of dogs with basic obedience may be tested for immediate start on the Foundation Agility course. Enquiries from owners with agility experience are also welcome.
Anyone interested in booking onto a course or obtaining further details, should ring Jackie Gardner on mobile: 07986 338677 or by email at Smartpawsdtc@googlemail.com Owners are welcome to come and meet the instructors and view the training by arrangement. (07/04/08)
---
Say Yes to Susan Garrett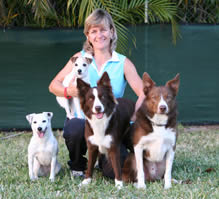 Canadian Susan Garrett, one of the most successful dog agility competitors of the last decade, is coming back to the UK to conduct seminars week 21 - 25 July 2008.
2 day Advances in Dog Training (21-22 July)
The seminar is an opportunity for anyone interested in any aspect of dog training to hear it from one of the world's best. Day one of this exciting program will review fundamental principles of dog training and work on improving your mechanics as a trainer. Susan will show you how to apply learning theory into your everyday dog training. Understanding why your dog does what he does will help you work through training challenges facing you in any area of competitive dog training. Learn how to teach your dogs both control for stationary positions (like contacts and sit stays) and incredible motivation so you will have a dog that wants to work at any skill you want to work on. Day One of the workshop is mostly lecture, demo and some work with your dog. Included will be games such as; It's Yer Choice Game and Susan's very popular Crate Games. These 2 games form the foundation of Susan's Say Yes Dog Training program which has helped many dogs become National or World Champions.
Working Spot £125. Observing £30 a day UKA member; £40 non-member
1 day Advanced shaping (23 July)
This advanced level shaping workshop is aimed at the more experienced teams that have been routinely shaping behaviours in their training. The challenges of this workshop are aimed at improving your understanding at creating dynamic behaviours with your dog. Susan will show you how altering response costs, placement of reinforcement or manipulating your environment can affect your dog's ability to learn. Efficiency in dog training will allow you to achieve more in less time. By sharpening your own skills your dog will show you brilliance that you never dreamt possible. Working spots open only to those that have taken Advances in Dog Training.
Working Spot £65. Observing £30 a day UKA member; £40 non-member
Weave Day (24 July)
During the morning session Susan will explain how her 2x2 weave training method works including all of the recent advancements. Participants will work in stations alternating between key body awareness exercises for their dogs and 2 pole weave shaping. The afternoon session is aimed at dogs with experience weaving. Susan will put dog and handlers through a series of weave pole challenges aimed at evaluating the dog's understanding of independent weave performances. A series of systematic drills will be used to help improve performance.
Working Spot £65 for both sessions or £35 for 1 session. Observing £30 a day UKA member; £40 non-member
One Jump Workshop (25 July)
This session has been a popular one wherever Susan has presented it all over the world! Based on Susan's popular DVD, this workshop will show you how to make use of only ONE jump to teach your dog agility handling fundamentals including: Serpentines, threadles, front cross, rear cross, tight turns, start line excellence, distance work and more. Exercises will include some of the key drills from the DVD and new ones aimed at improving your dog's overall understanding of handling. Everyone has the ability to tote around one jump; after this session you can use that one jump to create an unbelievable understanding of handling skills for your dog.
Working Spot £65. Observing £30 a day UKA member; £40 non-member
To book your place will be on a first come first served basis. Working spots only available to UK Agility members. Email Greg@ukagility.com
---
Mike Bacon to Go Full Time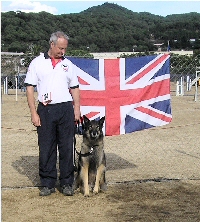 Mike Bacon has taken early retirement from his 'proper job' as a Senior Project Manager for Fujitsu Services to become a full time dog training instructor with Diamond Dog Training. He will be starting a new summer training program from 31 March.
The main training venue is Orchard Farm near Clevedon a couple of miles from Junction 20 M5. Agility training is available during daylight hours and is done in a fenced off sand arena. A grass paddock will be available soon and there is a small barn available for shelter in very bad weather. Agility classes are provided for all levels and are done in small groups of 4-6 people. Club training and 1-2-1 coaching are also available by arrangement.
Mike has been an agility instructor for 25 years. He is an Agility Club Approved Instructor and a member of the Kennel Club Accredited Instructors Scheme. With his BSD Jack of Diamonds, he was 6th in the BSD World Championships in 2004 and was a member of the winning team in 2005. He is currently managing the GB BSD Agility team.
More details can be found at www.diamond-dog-training.co. Ring Mike on tel 01934 833525 or mobile: 07889 447593. Email mike_of_diamonds
---
Basin Bridge Agility Open Evening
Basin Bridge Agility, located in the quiet Leicestershire countryside, close to Hinckley, is holding an Open Evening including a free training session for Beginners and Grades 1-4 on Tuesday, 1 April and for Grades 5-7 on Thursday, 3 April. There are also Open Evenings of free training on 8 & 10 April. Handlers are invited to come along, meet the club trainers and sign up for use of the field or any of the classes.
The site is the ideal agility training venue with full of competition standard agility equipment set out weekly into different courses, plenty of car parking and toilet facilities
Experienced handlers and dogs have the opportunity to train themselves, using the equipment. For a small monthly fee the field is available for use every day (daytime and evenings) except during training classes.
Alternatively there are openings in the classes, grouped by level from beginners and grades with no more than eight in a class. All the trainers are competing at Senior (Grade 6) or Advanced (Grade 7) levels.
For more intensive training or to work on a problem book a private lesson.
The site is the ideal agility training venue with full of competition standard agility equipment set out weekly into different courses, plenty of car parking and toilet facilities
For more information or to book your place call Phil on mobile: 07884 314675
---
Sports Psychology Seminar for Dog Agility Handlers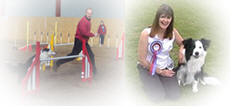 Mark Laker first became interested in sports psychology when he learnt that it could help improve his approach, mental attitude and preparations to the sport, therefore improving his agility performance. He had a brilliant young dog with loads of potential but, before using these new skills, seemed to be faced with endless frustrations. Everyone can understand the ups and downs of running a dog, highs when winning but so many eliminations and lows. Partly there was the handling but that's another course and another well known instructor!
Mark developed his interest in sports psychology, researching many books, articles and websites. He also talked to professional sports people who have benefited from these skills in their own field. He soon developed his understanding of how it could be applied to Dog Agility. Then he went on to try it out on his partner Karen and their friends using them as guinea pigs! The result, a solid belief, and proof, that applying sports psychology to dog agility can make a difference.
Driven on by comments from others like:-
I go to pieces when people watch me.

I know I let my dog down.

I get so nervous just thinking about going in the ring.
Mark has developed a one day Sports Psychology for Dog Agility Handlers course to help other people use skills such as: self-talk, centering, coping, and goal setting to develop their confidence and further improve their enjoyment of agility. The workshop includes delegates working in small groups on class room based exercises followed by short courses with their dogs that allowed them to practise the techniques in a real situation.
This course does not promise to turn everyone into a world medal winner but everyone who has attended has already felt the benefit. They are easy to spot – they're the ones at the shows still smiling, as they know what they are working towards and achieving it.
Mark will be running more of these courses in the future. If you are interested in finding out more about how sports psychology can help improve your performance on the agility course, email Mark Laker at upandover.agility@virgin.net.
---
Agility Training Weekends at Top Barn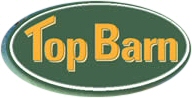 Top Barn Farm is keen to set up agility training weekends from October to March. The owners, the Nicky and Richard Harper, are able to provide pitches with electric hookups, toilet/shower/elsan point, respected and experienced trainers and equipment (or you can bring your own). They can also arrange lunch and a meeting room in evening if required, or there are plenty of local pubs near by.
Top Barn Farm is a diverse working farm. Owned by the Harper family, they farm horticultural and arable crops, Christmas Trees, beef, sheep and pigs much of which is sold through the on-site Harvest Shop which has its own butchery. During the summer months they have PYO strawberries and raspberries and various family activities such as trailer tours and maize maze. They like to open up the farm to the public and use some of the land for leisure and sports – such as dog shows, fishing , caravan rallies and they even have our own watersports lake!
Top Barn Farm is also a premier venue for dog agility shows. Based near Worcester, they have hosted weekend shows for Golden Valley, Worcester, Bromsgrove and APDT agility clubs.
During the summer months they set up a large marquee which is used for the judges and lunches. In general 8-9 rings can be comfortably set up next to the marquee. They also have separate fields - all adjacent to the 'show field' - which can accommodate parking and camping. They can accommodate up to 250 pitches for our larger shows. They do have a couple of weekends available for large club shows between March/April and September/October.
' Nicky Harper said, 'We enjoy hosting the agility shows and even the odd breed show such as for Cavalier King Charles Spaniels. We find that the 'agility community' always look after our premises well and it is great to see the dogs rushing around!
If you would like further details please contact Nicky Harper on mobile: 07739746660 or by email richharper22@hotmail.com. Further information on the farm can be found at www.topbarn.co.uk
---
Places at Patanden Agility
Patanden Agility has a few spaces available for beginners on a Tuesday evening. They train at a lovely indoor equestrian centre in Coldwaltham, West Sussex. For more details please ring either Denise Smith or Pat Griffiths on tel. 01243 551773 or 01243 552188 or email Deniseanddave1966@hotmail.co.uk
---
Clyde Valley Summer Training Week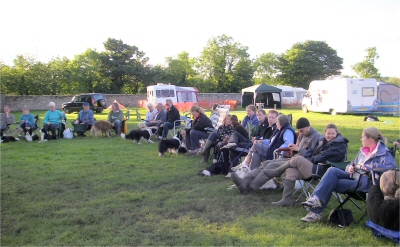 After last year's very successful training week at Kelso, Peter Elms and Philip Patterson are having a re-run of the same this year. It will consist of two hour sessions daily for the Tuesday, Wednesday and Thursday. Monday is for arriving, settling in and have some fun agility in the evening. Any size, shape, age of person or dog can come and take part! The maximum group sizes of eight. This should give you a good number of turns to sort out your problems. If you wish extra training, you can see Peter or Philip at the venue.

This year it is being held at Eglinton Country Park, Irvine which boasts 1000 acres of park, to walk ,run, jog , ride or just rest. Nearby are miles and miles of sandy beaches and safe swimming! Food is no problem, either at the lovely Cafe for snacks and lunches (lovely cakes) or nearby shops. It is at the same venue as the Clyde Valley 3- day Show, so once you settle in, you can be there for the week!

The cost is £50 per handler and £25 per caravan/tent.

Even though Philip has moved to Leeds - for the better weather and family - he and Maureen will be coming to both shows this year Further details can be found on

www.clydevalleydogs.talktalk.net or email clydevalley@talktalk.net or ring tel. 0113 267 6886.
---
Dawn's Running Contacts Workshop
Always wanted fast, reliable, running contacts? Well here is your chance! Now you can learn how to do running contacts in theory and in practice.
Dawn Weaver is running a workshop on 24 February 2008 for dogs that do not already have a well established contact criteria. She said,
'I am often asked at shows and on training days about how to do running contacts. However, there is not the time or facilities to show people effectively at these times so I have decided to run a couple of small workshops for people who are really interested in learning how to teach this behaviour to their dogs. This will be at my own venue near Blandford (Dorset) where I have lots of space and the facilities to train on this subject.'
Spectators welcome £15. Maximum 6 in a group. Participants £25. Approx 2 hour session.
For more information or to book a space, email Dawn Weaver at dawnweaver@dreamer2612.wanadoo.co.uk or ring mobile: 07713 340433
---
Film Classes for Dogs

If you would like your dog to be on the big (or small) screen i.e. film or television, then come along to Daly's Dogs where you will learn how to teach your dogs the tricks needed for film and TV work. Any age or breed or dog including crossbreed is welcome! Only kind, reward based and fun training methods will be used.
The six week course includes an informal test at the end and a chance to register your dog for possible local film work. Please note, this course DOES NOT guarantee you or your dog work but it does put you in a good position should a suitable opportunity arise.
The course will be help at Whaddon Village Hall, nr Royston (Herts) on Thursday nights at 8.00pm. The cost will be£40, payable on the first night.
Visit www.dalysdogs.co.uk
for more details. To book email info@dalysdogs.co.uk or call Sally Rowe on mobile: 07905 094308

(02/01/08)
---

Space Available on Dawn Weaver Training Day
Due to a last minute cancellation, there is one place left on the afternoon session for an experienced handler on the Dawn Weaver training day scheduled for Sunday, 6 January 2008.
The course will be held at the Cannington Equestrian Centre, Cannington, near Bridgwater, just off the A39 Bridgwater-Williton road (Junction 23/24 M5).
Ring Jane Tatam on tel. 01823 400002 or email amolibros@aol.com to book your place or for more information. (02/01/08)
---
Positive Agility Classes Start Next Month
Positive Animal Solutions will be starting agility classes in Hull, East Yorkshire on Friday, 15 February 2008. The groups has a brand new set of KC equipment and will be training in a secure indoor arena with great facilities.

Please contact Lynda on tel. 01652 661951 or email lynda@positiveanimalsolutions.co.uk for more information. (02/01/08)

<![if !mso]><![endif]>