News and results...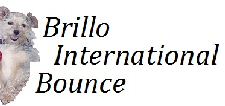 The Brillo International Bounce was launched in 2013 by Graham Taylor as a competition exclusively for Small and Medium dogs. It was named after a small dog he used to have - and yes, his KC name was Brillo Pad.

The Final
The 2016 finals of the Brillo International Bounce competitions for Small and Medium dogs was held in glorious, mid-September weather. It was hosted by Blenheim Agility weekend on West Midland Showground on the banks of the Severn. As well as awards and prize money on offer, each competition winner was set to win a £250 Dog Friendly holiday voucher courtesy of Agria Pet Insurance, sponsors of the Final and Dog Friendly. Championship Agility judge Mike Hallam officiated and reports.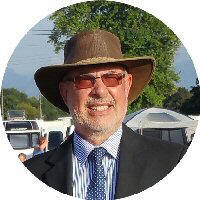 I was lucky enough to be invited to judge the Brillo Finals by Graham and his team. I thoroughly enjoyed my experience and felt honoured to be asked.
Mandy Melville-Love and Darren Stokes and the Blenheim team supplied the atmosphere as well as the venue. Throughout the day, the support I received and the atmosphere around the ring was a credit to everyone. We were also lucky enough to run the finals when all the other rings had finished, allowing the competitors to watch.
The level of the competitors was mixed, as you would expect, and as usual the top pairings came to the fore, tending to dominate the top places. We had a few with navigation issues but, on the whole, most managed to cope with the course. Iíd pitched it around about Grade 4-5 as this was a 1-7. In old money, that would have been called an Open.
The Mediums seemed to cope better with the courses and we had high levels of competition from all. However, when you have someone as experienced as Amanda Hampson it does make it a challenge for the others. Amanda achieved 2nd place in both the qualifiers and ultimately taking a well deserved win in the final round, completing the course nearly two seconds ahead. All the others should be proud of what they achieved in getting to the Medium final, many tried and didn't make it.
The Smalls were similar to the Mediums but a little less successful with fewer getting through to the final. Again, the more experienced coped better and in Amelia Nicholson we had another dominating performance. She achieved 3rd in both qualifiers and then won the final four seconds ahead of second place. Again all the other Small competitors should be proud of their achievement in qualifying in the first place.
So both Amelia and Amanda each won a £250 Dog Friendly holiday voucher, courtesy of Agria Pet Insurance and Dog Friendly.
Brillo International Bounce Final Small Dogs

Amelia Nicholson with Roo My Little Gem - 34.795 secs (C)

Wendy Swadlo with Hey Presto Its Basil - 38.774 secs (C)

Heather Leary with Wychlea Donít Stop Me Now - 49.405secs (C)

Craig Woodhead with Let Robbi Entertain You - 36.659 secs (5)

Brillo International Bounce Final Medium Dogs

Amanda Hampson with Ag.Ch. Shoredancer Sea Jade - 31.668 secs (C)

Andrew Stockton with Ttrue Blue's Amazing Destiny - 33.218 secs (C)

Abigail Phillips with Danas Tiger Lilly - 34.518 secs (C)

Sandra Jones with Bordertime Sandra Luna - 35.596 secs (C)

Katie Lines with Under The Archies - 35.046 secs (5)

Rob Morley with Leonis Minoris Praecipula - 31.224 secs (5)
I hope everyone enjoyed my courses and they enjoyed the day. I know I did and I look forward to seeing some of the competitors grow over the coming years, hopefully seeing some of them in the Championship classes.
Again a big thank you to Graham for the invite and Agria for their sponsorship. I look forward to competing with my Small dog next year.
---
Finalists Announced

Congratulations to the following partnerships who have qualified so far for the Brillo International Bounce Finals that will be held at Blenheim ATC Agility Show Weekend at West Midlands Showground, Shrewsbury on Saturday 10th September 2016 judged by Championship Agility Judge Mike Hallam.

Each Final will consist of two rounds (1 x Agility and 1 x Jumping) at each size which will not be timed (max time specified) and all double clears will go towards the final round. In the event of less than 10 double clears at either size then all double clears and dogs with the minimum combined faults will be selected to produce 10 dogs for the final round. Time will be used with faulted dogs to determine those chosen up to 10 dogs. The 10 dogs will compete in the final jumping round against the clock to find winners and enjoy a share of the

£50 prize money at each size with the winner at Small and Medium size receiving a Holiday Voucher thanks to Agria Pet Insurance.
Small

Medium

Handler
Dog
Handler
Dog
Carol Ellis
Squibs Witchi
Rachel Thornton
Timsgarry Jacobin
Jenny Newson
Blackwild Rascal
Sara Gilding
Rykas Flexilexi
David Sinnerton
My Millie Mo
Virginia Alves
Uxio Paloma
Martin Tait
Sumila Cassandra
Abigail Phillips
Danas Tiger Lily
Wendy Swadlo
Hey Presto Its Basil
Emma Greenshields
Black Knight of Wessex
Dawn Garland
Mor Cheeky Eryn
Angie Barrie
Kenocto Sunshine Petals
Amy Hyde
Jayfeather Spring Clean

Sandra Jones

Bordertime Sandra Luna
Toni Tomkiss
Desperately Seeking Suzie

Katie Lines

Under The Archies
Lynne Jenkins
Fortiskeeper Tearaway Tess
Sue Winton
Little Jessie Tastic
Mike Fairlamb
Rugrat by Request
Jenny Hills
Dashingthru Its Rocky Roo
Natasha Wardle
Diesel Of Hampshire
Abigail Doxford
Annervalley Cassie
Sharon Brewster
Shazonfire's Wickeldy Wild
Sarah Gamble
Wizkid Winter Star
Clive Foden
Ag.Ch. Mohnesee's Miss Chief
Amanda Hampson
Ag.Ch. Shoredance Sea Jade
Susan Kallenberg
Mister Rupert Bear
Cathy McDonald
Bottlesford Going Dutch
Jean Tuck
Ag.Ch. Japaro Cool Jazz at Craygill

Sue Powell

Avalia Black Cardamom
Adele Newman
Rhydygalfe Quickstep
Heather Pratt
Paddys a Little Terrier Too
Terry Wallbank
Billy Bob
Emma Ginster
Bekway Take On Teaza
Hilary Bowden
Lets Smartie Partie
Jess Martin
Scooby Booby Ruby
Heather Leary
Wychlea Donít Stop Me Now
Rob Morley
Leonis Minoris Pracepulis
Craig Woodhead
Let Robbi Entertain You
Ann Fairweather
Beautemps Quicka Flicka
Louise McGovern
Settle on the Best
Kathy Conneely
Cloudtenn Arabica Bebe
---
Heat 1
Working Belgian Shepherd Dog Society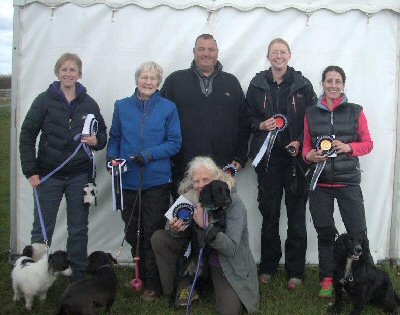 Trust Judge Barrie James to be surrounded by the ladies! Some of the first qualifiers for the 2016 Brillo International Bounce competitions for Small and Medium sized dogs.
Brillo International Bounce finals will be held as part of Blenheim AC September Weekend at West Midlands Showground. The overall winner of each size wins a holiday voucher courtesy of Agria Pet Insurance and Dog Friendly.
Congratulations to all.
---
2016 News
Brillo International Bounce is pleased to confirm that alongside other prestige Agility events the Brillo International Bounce Final will use jumps set at 450mm for medium-sized dogs and 350mm for small-sized dogs.
The 2016 competition consists of 16 heats with three handlers qualifying from each. The class must be judged using current Kennel Club rules and each host venue will chose which grades are included for each size of Brillo International Bounce qualifier. Last year's finalist, Championship Agility judge Mike Hallam will officiate at 2016 final at the Blenheim show on the 10th September.
The first qualifiers of the Brillo International Bounce competitions for both Medium and Small dogs are at Working Belgium Shepherd Dog Show during the weekend 23 - 24 April at Thame Showground. The schedule is available now on Agilitynet.
The 2016 qualifying heats will be held at the following shows:-
Saturday, 23rd April
WBSD Open Agility Show, Thame Showground, Oxfordshire

Sunday, 24th April
Lincoln Agility Enthusiasts Open Agility Show, Lincoln Showground, Lincolnshire


Monday, 2nd May
North Somerset Severnside Open Agility Show , Wraxall, Somerset


Sunday, 8th May
Hatton Agility Festival, Hatton Country World, Warwickshire


Saturday, 5th June
Wye Valley Premier Agility Show, Monmouth


Saturday, 11th June
Oswestry Open Agility Show, West Midlands Showground, Shropshire


Sunday 19th June
Golden Valley Open Agility Show, Top Barn, Worcestershire


Saturday, 25th & 26th June
Milton Keynes Open Agility Show, Leighton Buzzard, Bedfordshire


Sunday, 26th June
Dogs Unleashed, Bakewell, Derbyshire


Sunday, 3rd July
Lune Valley DTC Open Agility Show, Westmoreland Showground, Cumbria


Sunday, 10th July
Just Dogs Live Peterborough, Cambridgeshire


Saturday, 23rd July
Caerphilly & District Agility Show, Usk Showground, Monmouthshire


Sunday, 24th July
The Pet Show, Stoneleigh Park, Warwickshire


Saturday, 30th July
Orchard Agility at Hitchin, Hertfordshire


Saturday, 27th August
Q-me Open Agility Show, Bath Racecourse, Wiltshire


Saturday, 10th September
Blenheim Open Agility Show, West Midlands Showground, Shropshire
Brillo International Bounce, 2 Medley Grove Leamington Spa, Warks. CV31 2GA. Tel. 01926 315335. Email: rover.pro@virgin.net