News and results...
The Colimanor Annual Agility Starter's Cup is a competition for Large dogs, Grades 1 & 2 combined. It comprises approx
ten heats held at various Agility shows around the country with the final being held at Lansdown Open Agility Show on Saturday, 30 June 2013. Colimanor is a family run business founded on love for animals and a deep desire to source and deliver nutritious excellence.

Judge's report by Barrie James

I was invited to judge at Tuffsbury Summer Show at Berkeley Castle, a favourite venue of mine so I jumped at the chance. An added bonus was to judge a final on the Saturday evening, and even better the Colimanor Grade1-2 Final (I still remember my first Agility Final more than 20 years ago so I understand how important it would be for those who had qualified, and hopefully one they would never forget ).

The Final was to be run in Ring 4 when all the other classes had closed. Planning my course was interesting as some competitors qualified this time last year and had since progressed through the Grades whereas some others had only recently qualified.

The number of spectators around the Ring started to increase and this was pleasing to see, so many people supporting friends and students also just cheering on all the competitors. Our commentator did a grand job waking up the crowd and even got a Mexican wave going.

I was lucky to be able to ask a friend, Susie Josty , to run Ozzie as a white dog, to which they did great, a fab clear to settle my nerves on how the course would and should run and also to ease the competitor's nerves.

The class started and a few errors incurred at No 5 and a few dog walk contacts were missed at the beginning with dogs pulling off to the right. The weaves also caused a few more problems than expected. However, a nice clear from Kevin Veale with Tynever Blue Mist set the standard. A few people pushed a little too much and made some silly mistakes, especially on the home run and the seesaw! Having said that, we all know most Finals are not usually won with a 'safe' clear and to take home the biggest crystal you need to push it.

The next stand out round for me was Sarah Rogers with Rock the Magical Deejay. I honestly thought we had witnessed our winner and the round of applause from the crowd seemed to agree with me, definitely one to watch for the future. The last dog to run would have to go some to take the top spot, and they did. Alan Ballinger with his second dog Waggerland Duster put in a faultless round to take the prize. Alan was over the moon and deservedly so - a great run. It was pleasing to see that all competitors thanked me for judging and rewarded their dogs, something I believe we should all continue to do.

I would like to thank my fabulous Ring party, all people I have met on the agility circuit that offered to help on my Ring. They succeeded in running the Ring faultlessly. I would also like to thank Tuffsbury and Colimanor for supporting this Final. It was great to see all competitors lined up in the shade at the beginning of the Final, nervous yet proud to be there. Lastly ,to all who qualified, you proved you deserved to be there and whether win or lose you still took the best dog home.

Happy training and competing all

The Prizes
1st Prize – Trophy, Rosette and 1X 12kg Bag of Dog Food

2nd Prize – Trophy, Rosette and 1X 4kg Bag of Dog Food

3rd Prize – Trophy, Rosette and 1X 2kg Tub of Dog Food

4th – 10th Rosettes (or 10% of entry whichever is greater)
Final - Lansdown Open Agility Show
30 June 2013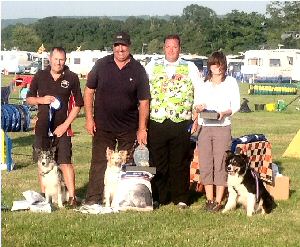 The results of the Final are as follows:
| | | |
| --- | --- | --- |
| Place | Handler | Dog's name |
| 1 | Alan Ballinger | Waggerland Duster |
| 2 | Sarah Rogers | Rock the Magical Deejay |
| 3 | Kevin Veale | Tynever Blue Mist |
| 4 | Wendy Holmes | Henry the Eighth |
| 5 | Natalie Woolford | Hurry Cain |
| 6 | Tracey Priday | Dances with Sheep |
| 7 | Debbie Elliott | Crackerjack Charlie |
| 8 | Natalie Woolford | Dazzling Diamond Geezer |
| 9 | Alan Ballinger | Duster Surprise |
| 10 | Gay Rowley | Moricroft Mirliton at Gaegraize |
---
The first three placed dogs in each heat are invited to go forward to the Final. A Heat will be a Combined Grades 1 & 2 Large Dogs Agility. If a heat needs to be split, prizes will be offered in each part, with the first three placed dogs in each part being invited to go forward for the Final.
Rules & Regulations
Eligibility for competition is under the Kennel Club classification and is open to dogs working Grades One and Two Large Dog Agility.

The competition must be judged under the appropriate Kennel Club Rules in force at the time of the event.

Competitors entering the competition must be deemed to have agreed to abide by those Rules and Regulations.

Competitors may qualify more than one dog for the Final.

Each heat is open to all competitors eligible for Grades 1 & 2 Large Dogs.

Qualifiers may enter further heats for competition, providing they are still eligible for Grades 1 & 2.

Handlers who gain a place in a heat with a previously qualified dog should inform the Colimanor representative on the day of the show of this fact.

The competition will consist of approx' 10 heats with the first three placed dogs from each heat going through to the final. In the event of someone qualifying more than once for the Final, the next placed eligible dog will be taken from the appropriate heat.

Should someone be unable to attend the Final the next placed eligible Dog may be invited at the sponsor's discretion.

Surrogate Handlers will not be allowed.

We reserve the right to publish any photos of the events, dogs & handlers in our promotional material without obligation.