Skinner's Jumping Grand Prix at the Chatsworth Country Fair is a special competition consisting of two Jumping rounds that feature jumps, spreads, tunnels, weaves to test the dogs speed and accuracy without complicated course patterns. The combined results of the first two rounds will give us top five dogs who go forward to a final jump off, using a shortened course derived from last course to share the prize money. (£30 £15 £10 £10 £10)
2016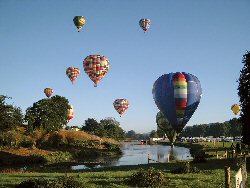 Starting out at 4.45am can't be much fun, but that's what Veronica Hill did to join us on Saturday, 3rd September at the Chatsworth Country Fair for the 2016 Skinners Grand Prix, eventually arriving in good light. The peak road overlooking the house provided the perfect platform to enjoy a magnificent early morning display of hot air balloons rising from the Chatsworth parkland, the likes of which is not seen other than at Bristol's own International Balloon Fiesta. All that before a dog had run.
Whilst the weather did its best to reduce the morning crowd to a cluster of umbrellas, the dogs, as ever, gave of their best on the course set by judge James Amor - even when the Household Cavalry Musical Ride passed by on their way to a damp Grand Ring performance.
The Skinners Grand Prix is a test of consistency. Who can produce three clear Jumping rounds with the same dog at speed in less than three hours. Rounds 1 and 2 are about finding the finalists who would share the prize money. Double clears at speed were the order of the day.
Back to defend his 2015 Grand Prix title was Rob Morley with Whitefield Chloe. One could say, that they peaked too early by coming 1st in Skinner's Jumping – a class too early.
Happily the afternoon brightened slightly. Round 1 of the Grand Prix winners included handlers who were running more than one dog as well as a dog who's name was a commentator's gift - Come On for Pete's Sake who won the first round much to the delight of partner Anita Perfect. Could they repeat it in Round 2?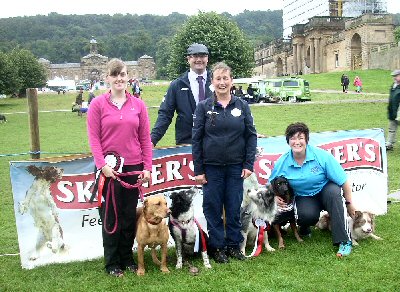 After a course change allowing all a breather, Round 2 started with faster times but no less accuracy. We ended with Alyshia Hindle and Jaycote Calista joining Gemma Walchester and Veronica Hill - both with two dogs into the money. The Final which is run off in reverse order. Veronica Hill with The Spycatcher was rewarded with yet another clear round in a time of 21.405 secs. The gauntlet was down for those following to knock the partnership off the podium. You can just see from the photo that a Labrador and a Bavarian Mountain Hound got there.
Despite best efforts of the others, a delighted Veronica and Spy held on and won most of the cash. Skinner's vouchers were posted to our other winners as a reminder of a great day out at one of the best outdoor events in the UK.
Veronica Hill with The Spycatcher - 21.405 secs (C)

Gemma Walchester with Corrie Dhu Lace - 21.606 secs (C)

Veronica Hill with Magical Gamble - 21.683 secs (C)

Alyshia Hindle with Jaycote Calista -23.206 secs (C)

Gemma Walchester with Edward The Third (E)
No doubt Veronica will be back to defend her title in 2017.
We look forward to welcoming her and you to Skinner's Grand Prix next year.
---
2015
We're in the money is probably the thoughts of our winners of this year's Skinner's Grand Prix at the Chatsworth Country Fair on 5 September 2015.
The competition is limited to Grade 3 – 7 Large dogs with two jumping rounds to test the dog's speed and accuracy. Taking the combined results of the first two rounds gave us the top five dogs who go forward to a money final Jumping round, under the watchful eye of Championship Agility judge Nick Robson.
There were lots of clear rounds but the double clears proved very elusive.
Running in reverse order in front of a large crowd, our top five were led off by last years finalist Mandi Marks with Snowball on Ice, followed by Rob Morely with Whitefield Chloe, Alyshia Hindle with Jaycote Calista, Richard Brookman with Paddy Brookers and finally 2014's winner Gemma Miles with Flash of Devil Red.
Running first, Mandi decided do or die and today Snowball was just a bit too enthusiastic and a great OOOhhh from the crowd confirmed Nick Robson's decision to eliminate. Running second, Whitefield Chloe gave us a cracking clear round and held the lead till last years winner, Gemma Miles came to the start line with the last dog to run in this years competition. Nothing certain till the fat lady sings. Flash Of Devil Red delivered a fractionally better time than our 2015 winner but with five faults fell into 4th place.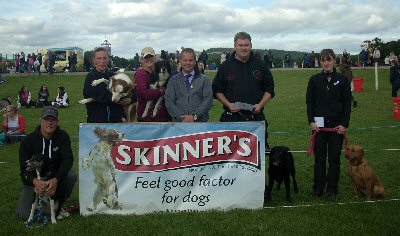 Skinner's Grand Prix 2015 winners
Rob Morley with Whitefield Chloe - 27.97 secs (C)

Alyshia Hindle with Jaycote Calista - 33.07 secs (C)

Richard Brookman with Paddy Brookers - 41.56 secs (C)

Gemma Miles with Flash of Devil Red - 27.91 secs (5)

Mandi Marks with Snowball On Ice - E
Very many thanks to Skinner's for continuing the support of this competition.
First published 6 October 2015