I
nternational
M
ix & Breed
C
hampionship
A
gility &
P
ar
A
gility
W
orld
C
hampionships
Under FCI rules, only pedigree dogs are able to compete in agility so in the year 2000, Petra Fuchs founded the International Mixed Breed Championships which was solely for crossbreed dogs. The first show was held in Italy as a standalone championship. The following year the show was held in the Czech Republic and, at this show, it was decided to also allow pedigree dogs to take part. Then in 2002, in Hungary, the ParAgility was introduced and joined forces with the IMCA to enable international dogs and handlers – both able bodied and those with disabilities, to take part in an international event. The UK has been quietly taking part in IMCA & PAWC for a number of years, but the popularity of the event and it's success have risen steadily. Now it's time to brag... Take it away, Team Leader Linda Croxford.
This is really two separate events, run by an organising country alongside each other. It has the most magical atmosphere – seeing top international handlers cheering on those with disabilities and vice versa. Countries are limited to a total number of 15 dogs within the IMCA competition, of which there can be no more than seven in one height. There is an Individual event and a Team event - both of which consist of two rounds (one agility and one jumping). There are Individual awards for each of the classes and the overall winners are classified as the IMCA Champions.

The UK team has competed every year since 2002 when a small handful of brave people took part. Year on year, interest has grown internationally for the event and now a lot of the overseas countries see IMCA as an event for their top dogs.
Up until last year, Richard Partridge was the Team Leader for the IMCA & PAWC UK Team, assisted by Dianne Maylam who unfortunately passed away earlier this year. Both Richard and Dianne had partners who had competed in the ParAgility events and were avid supporters of the show. I personally first experienced the event in Italy in 2014 when my son Daniel competed with three of his dogs although had we'd heard about it from some club members the previous year.
At the beginning of this year, Richard decided it was time to retire from being the Team Leader and I applied to Richard and the governing board of the event to take over the role. Unfortunately, by the time I was in post, the 2016 show season had begun so arranging a selection day was out of the question. So a notice was placed in the Agility media (www.Agilitynet.com / Facebook), inviting competitors to contact me if they wished to be considered for the 2016 IMCA team. We got slightly more interest for the team in numbers than was allowed, so I made the final selection by travelling around to shows to watch handlers in a competition environment and to assess and choose the team.
Where we had more dogs that we were able to take, selection was based on the handler and dog as a partnership and took into consideration the following:-
International course experience

Handling ability of the handler

Dog's grade

Dog's height

Championship class experience
This year we took a full team of 15 dogs to the Czech Republic. Some had lots of international experience, whilst for other it was their first time abroad. We were able to enter one team in each height category.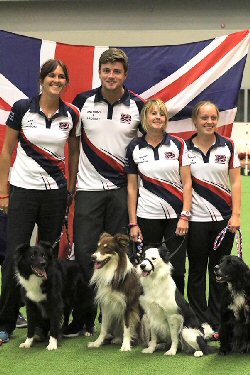 Small
Abby Blythe

Daniel Croxford

Ryan Hennessy

Charlotte-Louise Yeaman
Medium
Cameron Bunce

Rachel Bunce

Jan Cooper

Katie Cusak

Sammie Towe
Large
Anthony Clarke

Daniel Croxford

Leah Gardner

Mandy Melville-Love

Hannah Payne

Darren Stokes
The ParAgility event has no limit to the number of entries, but handlers - not dogs - have to qualify under certain disability criteria and can enter no more than three dogs. This event was created or those handlers who love doing agility but who are at a disadvantage when competing against able-bodied handlers at regular shows. Handlers have to complete an application form which must be signed and verified by their doctor or hospital, detailing the information and level of their disability. Along with the application form, they have to send a video of them competing with their dogs. The application and video are then reviewed by the organisation board and placed into a category of disability of which there are seven groups as follows:
Group 1 Participants with the aid of a battery powered vehicle (eg electric wheelchair)

Group 2 Participants with a manually powered vehicle (wheelchair)

Group 3 Participants which are moderately disturbed as a result of their disability in the quality of walking (compared to a non-disabled handler)

Group 4 Participants who are highly disturbed by their disability in the quality of walking

Group 5 Participants, in which the quality of walking are greatly disturbed by their disability

Group 6 Participants in which the main problem is in an area of the body which does NOT concern/relate to movement. (e.g. vision impairment)

Group 7 Participants who have a mental disability as a result of their disability. In consultation with the members of the Board, they may use an accompanying person on the course
We have quite a few handlers within the UK who would have been eligible for entry, but although a lot of interest was generated by the notice in the media, unfortunately many of them decided that the journey to the Czech Republic would be too much for them although all were really keen on the concept of being able to compete against their equals. In the end, we took a team of seven PAWC handlers with a total of 11 dogs.
PAWC Team
Linda Croxford

Zoe Fillery-Hammond

Yvonne Goode

Angela Lucas

Millie Roberts

Amanda Smith

Faith Whiteley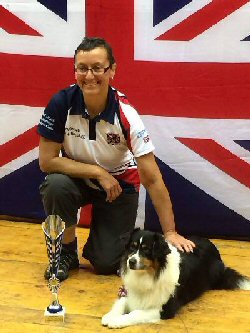 2016 Team achievements
This year we had a phenomenal teams in both IMCA and PAWC. I could not have been prouder. The Team had a combined total of 17 podium positions - 7 x Gold, 6 x Silver & 4 x Bronze -which included one Individual IMCA Champion- Leah Gardner with Theory and two PAWC champions - Yvonne Goode with Breeze in Group 5 and Angela Lucas with Bizzy in Group 4.
Included in the medal total was our IMCA Large Team that won Gold in the Agility round and were 5th in the Jumping round – winning them the overall Silver medal. Unfortunately, they just missed out on the overall Gold being less than 5 faults behind Italy who was in Gold position. The Medium team was 5th overall with only 7.83 faults over both rounds, and the Small team was 6th overall, having no faults carried forward but their time over the six rounds was slightly slower than others. This was an incredible achievement for everyone on the teams.
This year we had two new members of the PAWC team - Zoe Fillery-Hammond and Yvonne Goode. I am sure lots of agility competitors will know Yvonne Goode, if not in person by name, due to the huge fundraising efforts carried out by the Agility community towards Yvonne's expenses for immunotherapy in Germany. Attending this event was on Yvonne's 'to do list' and even though she was in constant pain, no hospital was going to keep her from it!
When she ran her two dogs in the first class on the Thursday and achieved a clear, we cried our eyes out in happiness when she crossed the finish line. Mandy Melville-Love has been at her side throughout and was the organiser of the recent Action against Cancer auction which raised in excess of £11,000 for Yvonne's treatment in Germany. I believe there were more than a few people on the team who were doing the same but won't admit to it! After three clear rounds with her dog Breeze, she became the Overall Group 5 Champion.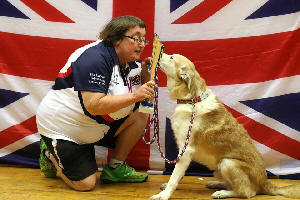 In Group 4 our overall Gold medallist was Angela Lucas. Angela has attended the PAWC for a number of years and is always the life and soul of the Team. Game to interact with the other countries team members, she kept the UK Team constantly laughing throughout the week with her antics. However, once on the start line she steered her Border Collie around the course with some impressive distance control. This year she and Bizzy had three clear rounds which gave her the overall Group 4 Championship.
If I were to list everyone's achievements over the week and how much I and the rest of the team enjoyed the event, this article would go on and on. Save to say, that every single team member was a credit to the Team, had some cracking achievements and, when things didn't go to plan, held their heads high and praised their dogs no matter what.
What better start in my first year as Team Leader to have such a brilliant team. All the hours spent sitting in front of a computer researching and planning the transport, journey, hotels, catering, ParAgility handlers travel requirements along with fundraising to reduce everyone's costs. The team members are all self-funding except for the few fundraising events which individuals arranged and Eurotunnel who very kindly sponsored the dogs crossing fees. The number of Facebook posts and announcements of the team's achievements has swelled interest in the next year's event and requests for information on how to try out for the team are now being received daily. I can report about all the medals won but we also had quite a few unlucky runs –a couple of which were Anthony and Protest who had a fantastic round in the individual jumping but just tipped a pole with a really fast time. Milie and Riot would have been in the running for the overall Gold in Group 6 but unfortunately Riot cut his pad whilst out on a walk so severely that he had to receive veterinary attention which meant he could not compete on the final day and there were many more 'nearly' runs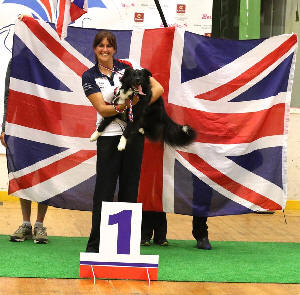 However, for me personally the round of the IMCA event was Leah and Theory in the Agility – the last class on the last day and having to run second to last knowing the ability of the German winner of the jumping class that was to follow her would have been in Leah's thoughts but Theory didn't care – he just wanted to get onto the course! The speed and acceleration Theory had over the dog walk and into the tunnel made the whole auditorium gasp – and despite the noises the Italians were making during her round (to try and put her off) she finished in the lead. When the German handler got eliminated we all knew she had not only won the agility class but also the overall championship.
In the PAWC there were so many rounds that were memorable – not only from the UK handlers but from the overseas competitors. All of Yvonne's rounds were special knowing how ill she has been and what an achievement it was just for her to be there. Beatte Wichmann from Germany who competes from a motorised tricycle wheelchair and does all the European style handling is phenomenal and finally the young Hungarian lady who is carried around by her parent who is not allowed to give the dog any command and can just walk their daughter around the course. The young girl has no speech so can only grunt with partial arm movement to tell the dog which obstacle he should do. It is very humbling to see such handlers compete and you could hear a pin drop during their round!
Team UK came 3rd in the overall country rankings – only a few points behind 2nd and, I believe, our highest country ranking to date. Raising the team's performance year on year is an attainable goal, Our end goal is to be the top ranking country in 2018 when the UK will be hosting the IMCA & PAWC event on home ground. We also hope that it will help to increase awareness and support of the PAWC movement. Planning has already commenced and more details will be announced in due course.
Finally, in readiness for 2017, an IMCA team selection day has been arranged for Sunday, 19th March and will be held at Willow Farm Equestrian Centre in Faversham in Kent and will be judged by Neil Ellis. Any competitors interested in trying out for the 2017 team should contact myself for further information and application form (info@petlodge.co.uk).
I would like to personally thank all the 2016 team members for making my first year as Team Leader such an enjoyable and memorable one.