My dogs and me...
Jody Brigden may only be 13 years old but she's been doing agility for four years now and competing for around two or three of them. It is her life. She can't imagine living without her two amazing dogs and her agility. It's more that her hobby. It's what keeps her going. Sometimes it has been tough but she loves it and she can't picture doing anything else.
It all began when I was nine. We'd had Buddy, my Cavachon, for roughly 10-12 months and I'd finished doing puppy training with him. I loved it and wanted to continue my training. I knew nothing about agility, but it appeared to be fun so we looked for a club, and that's how we found Highdown Agility.
Nobody in my family has ever done agility before so I was a complete newbie when I started. I was instantly hooked.
Now I train twice a week - once with Buddy who jumps Micro and once with Ralphie. I've also helped out at the Highdown Agility Summer Show as a member of the ring party and helped load the van to set the show up.
After about a year of training, Buddy and I had passed some progress tests at our club and began to do some shows which I really enjoyed. Buddy was a natural to agility and was so easy to train. He started doing really well and winning the classes at our club shows. That's when we registered him with the Kennel Club and started doing KC shows.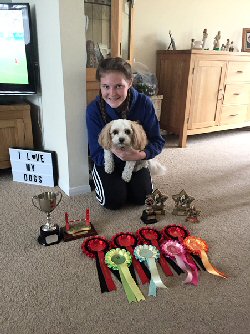 Buddy
He won over all the heights at South Eastern Winter series and in 2017 he moved up to Grade 2 at the Easter Celebration at Ardingly. After that, we started travelling further to shows.
I had been competing with Buddy for approximately two years when we began to notice a change in him. He was becoming less consistent, missing his weaves and measuring the jumps. He got to the point where he refused to jump completely and wasn't himself at all!
We took him to a physio who massaged him and the vets who said there is nothing wrong with him, but I knew he wasn't right.
It was very upsetting because I was preparing for YKC Crufts Qualifiers at the Kennel Club International Agility Festival (KCIF) at the time and my poor boy was in pain.
As we were given an all clear by the vets, we took the three hour journey to Rockingham anyway where I was due to compete on the Sunday. Buddy refused to jump, however, so we took him back to the local campsite where we were staying.
Shortly after we were back, he was booked into the vets to get his teeth scaled and polished. We decided to get an x-ray for him at the same time. He was diagnosed with hip dysplasia and put on anti-inflammatory. We were told that he might not be able to do agility again.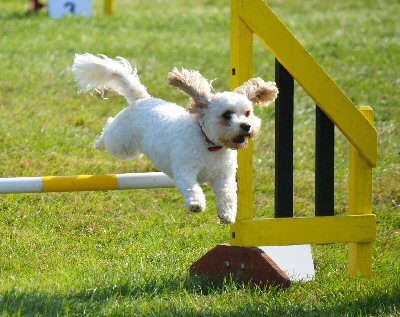 After a three month rest and taking supplements everyday, the surgeon at our vet clinic said they wanted to get Buddy back jumping again. We took him back to training where he jumped Micro and absolutely loved it! After a few club competitions, he was ready to go back to KC shows.
Unfortunately, I can't qualify for any YKC finals now because they don't offer Low Height Option (LHO) for Small dogs in the Qualifiers. However, I am still a YKC member and would love to qualify with Ralphie in the future. Buddy and I are limited on what shows we can do as not that many shows offer LHO. We booked a few, but one was cancelled due to the snow and then Buddy started refusing to jump again. As we didn't want to cause him any pain or discomfort, we gave him a break from training and discovered that he had an abscess on his anal gland which wouldn't clear.
After about six weeks later, the vets said that it had ecoli in it. Fortunately, it cleared up shortly after he was put onto the right medication. Our poor little boy had been through the wars and was finally better. Hopefully he will be well for a while now.
A couple of weeks ago, Buddy started training again and is loving blasting round some challenging courses. He has had two club shows - one when he came 3rd overall out of all the higher grade dogs and the other where he came 1st in the Steeplechase and got a clear round in the Agility. He is only grade 2 and was competing against Grade 5-7s!
We also have some upcoming KC shows which we are both looking forward to.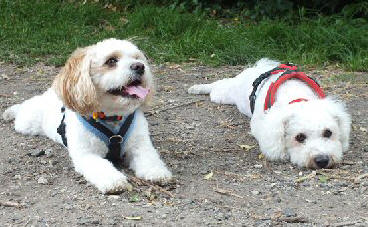 Ralphie
Agility also brought us to our second dog - Ralphie, a cheeky Bichon Frise puppy that we rescued from Sussex Pet rescue at 14 weeks old. Buddy didn't know what had hit him! Suddenly his life was being invaded by a puppy and he wasn't too keen on that idea. But, that didn't last long and they were soon inseparable.
I began my training journey with Ralphie. It didn't start off well because he was scared of the jump wings and incredibly naughty. After around a year of training, we are seeing an improvement in him. Sometimes he can run beautifully and not run off or get distracted at all and other times he can be a nightmare and not listen at all! He is still scared of the dog walk, but he is an amazing weaver!
I used to get very upset and dis-heartened when he was having a very naughty night at training. It always felt like he purposely didn't listen to me. Also, Buddy wasn't running so I was upset about that. Buddy was so easy to train that it felt like I was doing something wrong. I have to remember that Ralphie is not Buddy and is going to be more difficult to train as he's a completely different dog!
Now that Buddy is back at training, I'm not getting as upset at Ralphie and I am enjoying agility with him much more. He's just a challenge to train which will make it even more rewarding when he is trained. He is still young after all - he'll be two in July 2018 - and has an amazing future.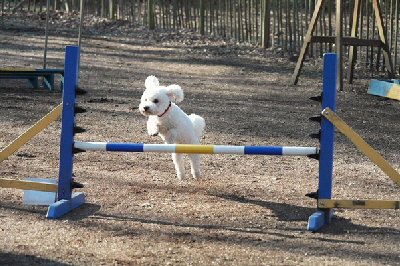 I absolutely love both of them and wouldn't change them for the world. They both adore agility and I wouldn't do it with them if they were in pain. Fortunately Buddy is very good at letting us know if there is a problem.
Nobody at my school does agility or knows much about it. However, I have met some new friends through agility which is really nice because they share the same interest with me.
I look forward to our agility future and competing again but whether it goes well or not, I am always taking the best dog home!
About the author...
Jody Brigden lives in West Sussex with her mum, dad, dogs and twin brother George. She is two minute older and never lets him forget it!
Her mum plays hockey and her brother plays football and hockey but her only interest is agility. She does love photography as well though!
First published 25th June 2018
Feedback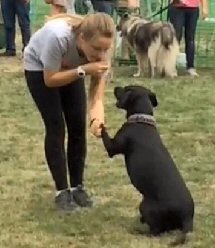 From Sally Perks...
I use Agilitynet loads for various agility things like shows, products etc. I was looking through something on there and found Jody's Agility Journey which helped me in a strange but great way.
I'm quite like Jody - 13 years old, agility junior handler - although starting competing in Spring 2019 instead of having years of experience - and lover of the sport and my dog Daisy, a Sporting Labrador Retriever. I find myself in the same situation at school with other students or friends not knowing of or doing agility. Reading her Agility Journey made me feel as though I weren't the only one in that situation, although I am starting to meet agility friends at shows, it still really helped me. (23/09/2018)