Without spilling your coffee...
Author: Hayley Laches
Reviewed by: Louise Raine


Front cover

Overview: Hayley Laches has designed an entire agility handling system aimed at people who are unable to run with their dogs, although it can also be useful for all handlers and dogs.

What's in the book:

About Hayley

Marker words

Verbal cues and market words

Pac-Man Theory

Rewards

Pre-equipment flatwork

Jump sequences - Basic and Advance 1 Jump skills

Turns and crosses - flatwork and on kit

Putting your new skills into practice with small, simple sequences

Progressing into technical sequences
I'm a runner when it comes to agility handling so why would I be interested in this book?
I met Hayley for the first time in August 2020 when I took Trigger, my Team GB (2016) and now retired Grade 7 agility dog to a Beginners Hoopers workshop in Cheshire. As we worked through the exercises introducing hoops and eventually barrels, I realised I was really enjoying how we were being taught to teach the dog the value of the equipment. Driving home I began to think about how Hayley's methods could be transferred to dog agility training, as I could see the potential.
The book starts with an overview of Hayley's work career, followed by her achievements within dog sports with her dogs, past and present. She then explains why she distance handles and who her training methods could help, including:-
Agility handlers who simply can't keep up with their dogs.

Velcro dogs that like to stick super close to their handlers and need to learn to run more freely.

Dogs that like to run at their handlers barking or biting at them between taking obstacles.

Handlers who are unable to handle using traditional methods due to health reasons.
My reason for buying the book was to add some distance handling to my current system by training stronger verbal cues, using Hayley's 'choice' method. I've been competing in agility since 1986 and it has taken a toll on my body. I would like to be able to continue competing for as long as possible by reducing the amount of running I do and creating more independence.
Hayley explains the 'choice' training method she uses and why. Understanding why you are training a particular way is important as, if you understand the theory, you are more likely to follow the instructions. Hayley covers what 'marker words' are and how to introduce them, and then cue words. Within this section, there is a table of Hayley's cue words and the behaviours. This definitely gets you thinking about the cues you use and whether your dog knows the behaviours fully.
Then Hayley covers pre-equipment flatwork, followed by adding equipment. These sections are packed with detailed instructions and colour photographs showing cue word position, marker word position and reward position. This means a complete beginner can carry out the skills with any dog as remember, this is choice training, so each skill is introduced in a way that encourages the correct behaviour. Again, Hayley explains why we are training each skill and the benefits of doing them. Throughout the book, Hayley's dogs are a reminder of important parts of the learning processes or the instructions, which is great so you don't forget.
She then moves on to jump sequences which are clearly explained and labelled so that you can start putting the jump skills together. Changing the position of the handler on a jump sequence changes, in some cases, the verbal cue required. The cues are listed so the reader is again given clear understandable information to complete the sequence using the correct cue and jump skill.
What specifically did you like about this book?
I think this is a great book. It is written in a light-hearted and enjoyable way that really encourages the reader all the way through. It is definitely not a heavy-duty, hard to read textbook.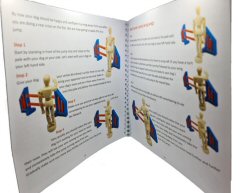 Each jump skill set is broken right down into very simple steps with diagrams and arrows describing exactly where to stand, what to say and what arm to use etc.
The exercises in this book can take someone who has zero knowledge of agility to being able to handle a long sequence with quite advanced jump skills.
Hayley's 'choice' method really suits and excites me as a trainer and a handler and the dogs love it. The skills that they have achieved so far have really impressed me and helped to reignite my agility mojo.
I also think the book will give people plenty to work on with very little equipment at home during the Covid restrictions.
Design and production specifications
The book is paperback (20cm square) and spiral bound. It has 173 pages and is made up of text and diagrams, the majority of which are photos of miniature agility kit and pictures of Colin, a small semi-poseable mannequin, showing the handling positions etc. The photos are of Hayley's own dogs doing the exercises.
Price: £35 plus postage
Do you think the book represents value for money?
It is a brilliant book which is well worth the price. I'd give it 10/10.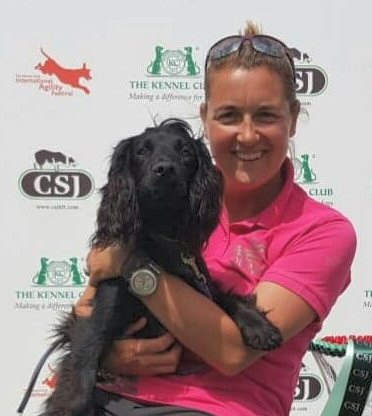 About the reviewer...
Louise Raine is a dog agility trainer based in County Durham who mainly teaches and competes in Northern England and Scotland.
She has been competing since 1986 and has trained over 20 dogs ranging from Border Collies and Working Cockers to Miniature Poodles and German Spitzs.
Louise has had one Agility Champion Borderstorm No Regrets and has had ticket wins with her other Collies Trigger and Ski and her Cockerpoo Amy, qualifying them for Crufts. She has also qualified for Olympia many times over the years and regards it as her favourite final.
2016 saw Louise and Trigger embark on international competition, and they successfully made the European Open Team where she stood along side her teammates Greg, Jess and Matt on podium as runners up in the Team qualifying event which is one of her favourite agility memories.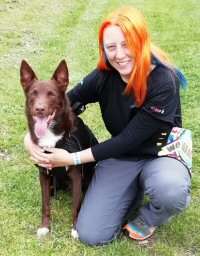 About the author...
Hayley Laches is often seen competing at shows with her multitude of dogs including her Kelpie, Atom, Nova the Husky, Ash the merle Collie, Flatcoats Merlin and Maverick (Crufts ABC Agility winner 2019) and Pixel the Spaniel mix.
She has successfully competed in Agility, Hoopers, Bikejor, Dryland Rig Racing, Heelwork to Music (Freestyle), dog triathlons and even Canicross (in the past!). She is most commonly recognised at shows for her brightly coloured hair and for meandering around the rings whilst her dogs work the course at a distance.
Hayley's club, Taming Canines, is based in South Lincolnshire where she teaches full-time, although she travels to teach as a guest trainer.
She is sponsored by CSJ, Dog Food of Champions.
For more information, go to ww.tamingcanines.co.uk or www.tamingcanines.ecwid.com
First published 26th January 2021