In your own time...
To find out what's new on the site, simply click on a link and off you go.
All items are arranged in chronological order by colour with the latest at the top of the page.
Okay, off you go or should we say, in your own time...
We update the site with your news and information on a daily basis, when possible.
Here's the past week, more or less, at a glance.
Pic of the Litter
(01 June 2017)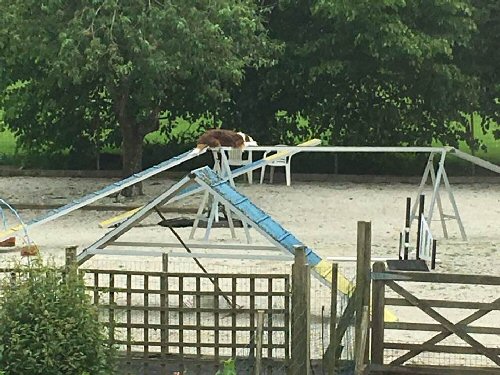 Just look where the 'special one' has chosen to take a nap.
Upon waking, he did his alarm bark and started running down the contact the way he was facing, right down to the end.
Didn't do 2o/2o though!
Photo: Sally Jones
New schedules: FAB Surrey 2 - IFCS (September), UKA Base (September), British Agility Champs (October)and Dickson & Browns (November, December, January 2018 and February)

Bouncy and playful, Winnie's a very active staffy girl looking for her forever home. This girl wants to please!

It's not that often Agility is held on a UNESCO World Heritage site, but that's where Heat 4 of the Animal Health Co Classic took place.

Hot news off the press! After three successful years of running a weekend show together, Bitz and Bobz and Chipping Norton are now ready to "go it alone" next year.

---

Shield Total Insurance is a leading provider of liability insurance for canine clubs, agility clubs and dog walkers.

Congratulations to Ashleigh Butler for making Sullivan (The Closet Monster of Ashpen) into her second Ag.Ch.

---

Southam have decided to allocate camping – so needed to reissue the entry form so people can include their camping group.

There will be a North West Council Rep Meeting on the Friday of the Lune Valley show. It will be open to people from all areas so bring your agenda.

---

New show dates: Taming Canines (October 2017, November, December, January 2018, February and March), Shrewsbury (October 2017, May 2018 and October 2018), Platinum (April), Gleniffer (June 2018), Prestwick (June 2018 and September), Ayrshire (June 2018)m Beardie (July 2018), Granite City (July 2018), Dundee (August 2018) and Excel (October 2018)

---

Running orders for Lune Valley have been posted and can now be downloaded from the documents page at Showtime

Watercombe Dog Agility and Souldern Agility Club (Northern Counties) have updated their club entries on Agilitynet.

If you are 55 years old or over you can join the 500 other people who are having fun with the Senior Agility League.

The World Agility Open is pleased to announce the appointment of Vicky Lyons to the role of WAO England Manager

---

Adams Agility has teamed up with Jenny Damm to bring you fabulous Jenny Tunnel Bags all the way from Sweden .

Camping at the Redgates show in the Main Field has been full for several weeks, but there are still some spaces available on the Top Field.

The M & M shows taking place in November, December, January, February and March are full but the Extra Special Shows are still available to enter.

---

Train in the Ring June and Ayrshre running orders have been posted and can be downloaded from the documents page of Showtime.

---
We couldn't do Agilitynet without you!
If you have any ideas for the site, we'd love to hear from you.
Email Ellen at Agilitynet with your news, stories, and photos etc.
If you've seen all the new articles, why not use some of your spare time
to read some of the articles and features that you may have missed the first time round.
If you find a broken link, please please let us know. Don't be shy. We won't take offence. We can't fix the problem if we don't know it's there.
Just tell where you've had the problem on an email with the name of the page on it.