In your own time...
To find out what's new on the site, simply click on a link and off you go.
All items are arranged in chronological order by colour with the latest at the top of the page.
Okay, off you go or should we say, in your own time...

Pic of the Litter
(05 March 2017)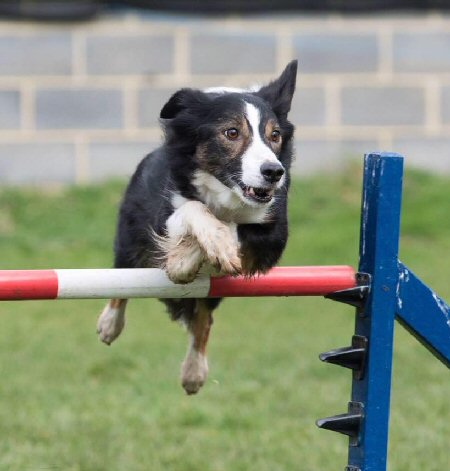 So easy I can do it with my paws crossed!
Steve Brown and Buddy snapped at training on 26 February 2017
Photo: Ben Sibley
We update the site with your news and information on a daily basis, when possible.
Here's the past week, more or less, at a glance.
Unfortunately the wrong file was sent to the printers so the 2016 Winning Out Certificates will all have to be sent out again.

Well done to Scotland's measurers. There will be a measuring session at every Scottish KC show in 2017.

New show schedules: Eastbourne (July), Tuffley (July), Adams (Mid August) and Prestbury Park (September)

Advance notice... If you're a top handler or aspiring to be one, the CSJ Agility Open on 14-17 June 2018 at Addington Manor is a must.

Important travel news regarding getting to the Agility Nuts KC show next weekend (April 1-2) which may affect campers and people helping to set the show up.

Just to let everyone know that Hinckley camping is now full. Spaces will only become available as and when they have a cancellation.

---

The gorgeous puppy Merlin on the rescue page has been rehomed to a very lucky and very happy agility home.

New show dates: Pyrenean Sheepdog Club of GB (August), British Agility Championships (October) and Ross-shire (October)

Dr. Nick Thompson BSc (Vet Sci) Hons, BVM&S, VetMFHom, MRCVS will be presenting a a one day seminar on Advanced Canine Nutrition and Vaccination aimed at sporting dogs in November. (Essex)

Put on your best Easter Bonnet and come and join Wiccaweys on an Easter Bunny Rescue Mission the weekend before Easter.

The Platinum Summer show this year will be held at a new venue Bowhill House Estate, just outside Selkirk.

Charlie, a young, a young tri colour working collie is a wonderfully intelligent dog who needs to be in an environment where his brain will be used, be it working in a small holding, agility or flyball.

---

The 2016 Winning Out Certificates have been posted and should be winging their way to those who applied.

---

The next meeting of the Kennel Club Agility Liaison Council will be held at the Kennel Club in London on Thursday, 13th July 2017.
There will be measuring on Saturday, 6th and Sunday, 7th May 2017 at Tunbridge Wells Agility Show. (Kent)
New schedules: Carn Brea (May) Platinimum (May), Roseland (May), Dog Vegas - Thetford (June), Godmanchester (June), Highdown (June), Wigton (June), Caerphilly (July), Nedlo (July), T & A (2x July), Wirral (July), Adams (August), Northern Week (August) and Agility 4 England (September)
The Running Plans for OJAC 2017 are now available to download by logging in to your account on First Place Processing

---

Read this article on caravan maintenance before you next go pounding down the road to your next show.
Orchard has re-issued their April, May, June and July schedules and entry forms to let people know that the entry fee for these shows is £3.10 and not £3.25. Anyone who has already entered these shows at the £3.25 fee will be refunded the difference.
Sammy has completed the five week 'life skills' course with Dogs Trust where they said he would make a great agility dog.
Ben Alderson (16) has won the Young Kennel Club Agility Dog of the Year at Crufts with Goose, a seven-year-old Border Collie.
Very striking Malinois Aragorn is looking for a new home where there is someone experienced with his breed and willing to commit time and energy to his socialisation.
Lando is a super affectionate, very sweet natured collie who would love to do some agility work because he knows collies are at their best when brain and body are put to use. Oh, and he is a bit of a stunner!

---

Whirlwind Agility in Gerrards Cross (Bucks) has updated their entry on the Clubs &Private Trainers page.
TNG Agility Club is running some 6 week courses outdoors in secure training paddocks in the Basingstoke area. (Hants)
New show schedules: Beachside (April), Train in the Ring (May), Dogs Unleashed (June), Chipping Norton (June), Hinckley (June) and Barnard Castle (July)
FitPaws Master Trainer Sharon Plowright has kindly agreed to come and run a Seminar Introducing Conditioning for our Dogs on 25th March. (Hants)
Natural Abilities Dog Centred Holiday with Sheila Harper Ltd is a 5-Day practical and theory course in August. (Staffs)

---

We just heard that Buster the Working Cocker from Heathlands and Glen who was listed on the Rescue page in January have been rehomed.
Two students at the University of Surrey Vet School are undertaking a research project to improve the understanding of the exercise and nutritional demands of the agility dog for the veterinary profession.

---
We couldn't do Agilitynet without you!
If you have any ideas for the site, we'd love to hear from you.
Email Ellen at Agilitynet with your news, stories, and photos etc.
If you've seen all the new articles, why not use some of your spare time
to read some of the articles and features that you may have missed the first time round.
If you find a broken link, please please let us know. Don't be shy. We won't take offence. We can't fix the problem if we don't know it's there.
Just tell where you've had the problem on an email with the name of the page on it.