In your own time...
To find out what's new on the site, simply click on a link and off you go.
All items are arranged in chronological order by colour with the latest at the top of the page.
Okay, off you go or should we say, in your own time...

Pic of the Bunch
(23 January 2017)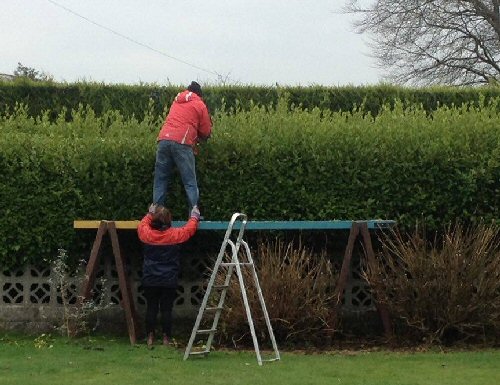 A new use for the dog walk!
Ideal for hedge cutting.
Photo Morgan Hildersley
We update the site with your news and information on a daily basis, when possible.
Here's the past week, more or less, at a glance.
Jon Winney and Maureen Goodchild will be holding a KC measuring session at Colchester Dog Agility Club Wednesday, March 1st
We added some more closing dates for Scottish shows, thanks to Dawn Gilmour and the Scottish Agility FB page.
New schedules: Welshspell (April), Gleniffer (May), Weald (June) and Pembrokeshire by The Pond (August).
Revised show schedule for 26 May Dog Vegas show, showing a change of Show Secretary on one of the days.
Another small change... this time to the FAB-KC Dorset Two schedule with more explicit explanation about the ABC special awards.
The Adams Junior Agility, Coffee Hounds Pairs and Show Offs Laser Pairs competitions are now all defunct,
Charlie has found a new home where he will be doing Obedience and taking up Agility so we may see him in the future.
Jon Winney and Maureen Goodchild will be holding a KC measuring session at Colchester Dog Agility Club on Wednesday, 1st March (Essex)

---

---

New schedules: Agility Antic (April and July), BSDS - Spring at Shuttleworth (April), Adams (mid-May) LADS (May), Aldon (June), GT Agility (June), MADS (June), Sutton Weavers (June) , & A (June), FAB Dorset 2 KC (July), RUFFS (July), LAS (July), FAB Dorset 2 IFCS (July), UKA Week (July/August)

More 2018 KC show dates than you can shake a stick at. Licences applied for. Information may change closer to the date.

There will be two FAB Dorset 2 shows on the same day in July - one a KC Open and the other a IFCS qualifier

---

Welcome to Broads Agility Club in Beccles who are putting on their first agility show in August. (Suffolk)
The Whizz Dogs show, raising money for Keeshond Club, in September will take place at Hatton Adventure World. (Warks)
The Animal Health Company is delighted to announce that they will be continuing their Agility competition in 2017.
All the Animal Health Company heats can now be found on the Show Diary by using the Qualifiers filter. Good luck all.
Baldrick is a good looking GSD X Mali whose owner no longer has the time or commitment to giving him the training and exercise he needs.
Enjoy a 2 hour interactive Scent Work Seminar showing why your dog uses its nose and the potential they have to sniff out different scents on 2nd May. (Herts)

---

M & M Unaffiliated Winter Series offers an opportunity compete for delicious trophies and eat scrumptious home-made cakes. (October, November and December, January 2018, February and March)
Beginner Working Trials Training Day, near Selby, Yorkshire is an opportunity to try this wonderful, varied dog sport.
Step into the world of Disc Dogs! Learn what the sport is and how much fun it can be with the incredible Ruby Welsford.

---

Stick That Disc - Throw the Plastic So Your Dog Can Catch It! workshop will be like extreme Zumba. (Warks)
BHC Agility has organised an unaffiliated fun show to raise money for some of WAO Team Wales on 17th March.
Mr T has been re-homed to a fantastic agility home, a local lady who lost her agility collie in December from cancer.
The first five Agility Shows Online (ASO) show schedules are now online:- Stonebridge (May), Blackdown (May), Wraxall, BATS and Sherborne Vale
Other new schedules: Fast Forward (February), Blaircoch (March), Cwm Farm (April) and Frittenden / WKPMA (September)
Someone in the right home is just going to love Pointer X Podenco Travelli. She is a blank canvas for someone with the time to take her dog training.

---
We couldn't do Agilitynet without you!
If you have any ideas for the site, we'd love to hear from you.
Email Ellen at Agilitynet with your news, stories, and photos etc.
If you've seen all the new articles, why not use some of your spare time
to read some of the articles and features that you may have missed the first time round.
If you find a broken link, please please let us know. Don't be shy. We won't take offence. We can't fix the problem if we don't know it's there.
Just tell where you've had the problem on an email with the name of the page on it.