In your own time...
To find out what's new on the site, simply click on a link and off you go. All items are arranged in chronological order by colour with the latest at the top of the page.
Okay, off you go or should we say, in your own time...
We update the site with your news and information on a daily basis, when possible.
Here's the past week, more or less, at a glance.
Pic of the Litter
(20 October 2017)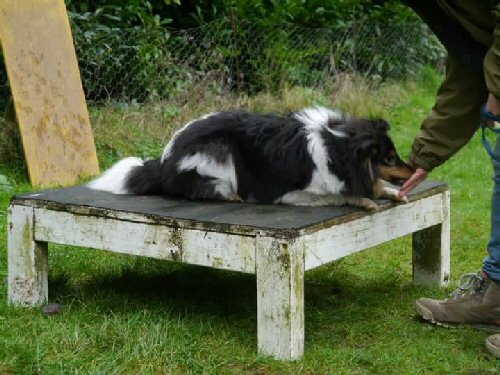 When was the last time you trained with one of these? If ever...
Photo: Rebecca Harris
When was the last time you trained the table as an obstacle? Did you ever have it in the ring or are you too young?
New show schedules: Phoenix AC - Wales (November, January and March), Dogs Matter (December), Kelluki X-mas (December), Prestwood (December and February) and Dogs Matter (January)

Former dog trainer Ros Reynolds is looking for an agility club that might like to use for her dog park in Boston, Lincs. for training or a show.

---

Border Collie Bombadil needs a home with no children and committed owners who will spend lots of time exercising and training him.
The running order for the South Devon & DTS Unaffiliated Ltd Show at Mare & Foal Sanctuary has been posted. (Devon)
Tri-colour collie Bear is a cracker but hasn't had much training! He has seen agility jumps, however, and was a natural over them.

---

---

New show dates: Orchard Summer Show (August), New Year Hurdles (January), and SWAT (May, August and September)
Moonlight DAC independent show on the 21st October, nr Dorchester, hasn't quite reached it's capping level so they have decided to take entries up until the day.
Congratulations to Hannah Grantham who has just received her Champ judge letter from the Kennel Club.
Nerf Dog will continue its sponsorship of two Country Shows Agility shows this winter at Morton Morrell College - the Festive Challenge and New Year Hurdles. (Warks)
The Engraving Studio has brought out a new easy fit collar tag which requires no fixing to your dog's collar - perfect for agility.

---

New show dates: Waverunners (January), Crooked Oak (April, September, October and December), Sutton Weavers (August) and Hartpury (September)

---

Sad news that Jacqui Tucker passed away on Friday, 6th October, 2017 after a short but devastating illness.

New show dates and schedules: Bitz 'n Bobz - KC (November and December) Bitz 'n Bobz - Independent (November and December) and Louandi (November 2017 and February 2018)
Squirt is an agile Staffie X who is always eager to please and who seems to enjoy agility equipment.

---

Report on the Burns Welsh Handler of the Year final at the Pembrokeshire County Show. And what a Final it was!

---
We couldn't do Agilitynet without you!
If you have any ideas for the site, we'd love to hear from you.
Email Ellen at Agilitynet with your news, stories, and photos etc.
If you've seen all the new articles, why not use some of your spare time
to read some of the articles and features that you may have missed the first time round.
If you find a broken link, please please let us know. Don't be shy. We won't take offence. We can't fix the problem if we don't know it's there.
Just tell where you've had the problem on an email with the name of the page on it.