In your own time...
To find out what's new on the site, simply click on a link and off you go.
All items are arranged in chronological order by colour with the latest at the top of the page.
Okay, off you go or should we say, in your own time...
We update the site with your news and information on a daily basis, when possible.
Here's the past week, more or less, at a glance.
Pic of the Litter
(10 May 2017)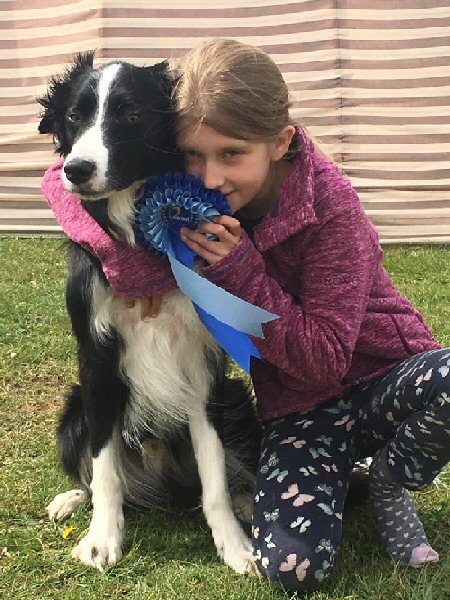 Imogen's first time running Loch in the Junior class and look what happened!
Photo: Tracy White
Fun with Fido has developed a range of interactive treat toys for dogs can be used for dog and puppy training and fun dog activities like agility and flyball.

At the request of the Kennel Club, we include the Crufts Team Flyball schedule: Prestbury Park (September)

Please note that although similar in name, the venue for the Waverunners KC show in September is different to last year.

---

Confirmation that the Redgates show closing date of 5th July is actually a Wednesday and not a Tuesday.

---

New show dates: Ynys Mon (May 2018) and Maidstone Activity Dogs (October, November, February and March)

The South and SW Regional Agility Liaison Council Meeting will be held at the Wraxall Premier Agility Show on 24th June.

---

The Kennel Club has announced changes to the way prospective agility judges qualify for their first appointments.

---

New schedules: Beachside (July), The Orchard Summer Show (August) Dog Vegas - Winterton (August) Whizz Dogs (September), M& M - Extra Specials (November, January and February and M & M - Winter Series (October, November, December, January 2018, February and March)

Learn to teach agility the right way. Take a 2 day Agility Instructors Course on 16th September. (North Soms)

The Kennel Club has selected 18 new dogs and handlers for 2018 development programme for Agility Team GB.

---

There is one space remaining on this six week Agility Foundation course starting on Thursday, 6th June. (Surrey)

There is a new version of the schedule for the Adams Agility show on 18 July with an imortant change of address for the paper entries .

Golden Valley needs a first aider on Saturday, 17th June at Top Barn Farm. Is anyone prepared to volunteer in return for free entries for their dog on the day?

On behalf of Craig Emery and with his permission, it is with deep sadness that we pass on the news that Catherine Emery passed away yesterday, 16th May.

---

The Red Arrows have been secured by the organisers of the Holkham Hall Country Fair as part of their entertainment programme for 2017.
4 Legged Flix will be live streaming the 2017 WAO, starting with team practice and the Opening Ceremonies on Thursday.
We couldn't do Agilitynet without you!
If you have any ideas for the site, we'd love to hear from you.
Email Ellen at Agilitynet with your news, stories, and photos etc.
If you've seen all the new articles, why not use some of your spare time
to read some of the articles and features that you may have missed the first time round.
If you find a broken link, please please let us know. Don't be shy. We won't take offence. We can't fix the problem if we don't know it's there.
Just tell where you've had the problem on an email with the name of the page on it.