Express yourself...
Agility people may be better at navigating a course than writing a story but here's a chance for you to put pen to paper - or fingers to keyboard. Email your short stories and other contributions to Agilitynet and see your name in print somewhere other than/as well as in The Voice or Eye tables.
New Rules for Dog Agility in Scotland FB
Suggested Agility Topic Days
Moany Monday - a day to moan about everything and anything to do with Agility


Truthful Tuesday - a day where we all come clean about all the naughty thing we do that p**s people off


Wishful Wednesday - a day of what I would like to see that would suit me and only me


Thankful Thursday - a day to be thankful for the wonderful dogs we have, and be thankful for those that give up their time to allow us to compete and have fun


Fantastic Friday - a day of joy as we are all off to Shows and in a good mood for a change.


Silent Saturday - a day of not many posts as we are all knackered


Successful Sunday - a day of happy posts with our win outs, clear rounds, Champ wins or just having the best time ever with my friends and dogs
Dawn Gilmour
---

The Real Joy of Agility
Steve Seale wrote this years ago...
It is not the winning or going clear. It is not the equipment or shows. It is not hero worship or faint praise.
It is the relationship and bond between you and your dog, that individual closest of ties you build, with the simplest of looks between each of you and you both know, the unconscious communication that is second nature between you, the sense of joy in being with each other competing, training or resting. That sense of togetherness as you wait to compete and, after, walking back to the car.
If you know these things and have them with your dog, then you have won in agility regardless of rosettes and trophies.
---
A Message to All Show Organisers
Just to broadcast to everyone I won't be going to any shows in 2017 that don't specifically cater only for me and my dogs! This is so that all show organisers know that they need to contact me directly to discuss what I want. Otherwise that's it. I'm not coming!
---

Dear Weather
By Dawn Gilmour
Dear Weather -
It really is nice of you to try to average out the temperatures between Summer and Winter, however here are a few things you should know -
I like sun in the summer.


I love frost in the winter.


My winter duvet has not seen the light of day this year.


Agility Shows across the UK have been cancelled due to your poor judgement of what you think is best for us.


Thousands of agility handlers and their dogs have been left distraught as they have had to do housework etc. when they should have been at an agility show!


My van does not cope well with mud and there has been more than enough of it in 2016.


My thermal knickers bought especially for this year are still in the package.
Please return the weather to normal for 2017 or I may need to remove you as my friend!
Thank you in advance.
---

Out of the Skies
From Alan Gardner
This is a true story and a surreal moment...
I was up the field training when an airplane lands in the field. A man gets out panting and runs up to me.
'Are you okay?' I asked.

The pilot replied, 'Yes, just landed as my engine is running cold and I need to put some tape over the vent. Hope I didn't disturb dogs?
And here is the clincher...
He looks at Jaidi and says, 'I didn't know you could do agility with Bernese Mountain Dogs!'
So now people drop out of the sky to see what breed he is...
---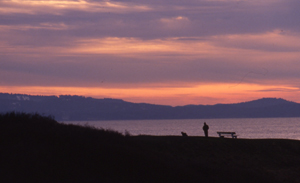 Rambling with Rebus
by Elaine Thomas
The twilight is deepening as we set off across the fields – the last remnants of the sun striking the clouds gold.
The dogs chase through the long grass – their passing leaving a smoke trail of pollen.
They barrel after the ball, so intent they don't see the fox in the hedgerow – it watches them quietly and then slips into the dense undergrowth without a trace.
My old Dalmatian Morse, slops along in the collies wake – content to watch them circle and spin. Old age has robbed him of his graceful economical trot, but on a quiet summers evening, he is quite happy to spend an hour nose down, tail ceaselessly waving, nearly but not quite keeping up.
On the horizon a jet takes off from Gatwick through the layers of gold and purple, and I wonder what holiday destination they are going to.
Rob turns his head just to check I'm there, and Morse rubs his head on my leg. I lean down to pull his ears and decide I don't want to be anywhere else than here, in the darkening twilight with my dogs.
Five seconds later I walk into a ravenous swarm of midges – and the mood vanishes. Rebus then hurls himself into the river with no thought as to how he will get out, and eventually scrambles up the bank, showering me in smelly water, mud and pondweed.
Still, the squall of stagnant water frightens off the midges.
Smelling like the bottom of a pond, we squelch home.