KC rule changes from 1 April
There has been so much misunderstanding about rule H1.9e that The Kennel Club is planning to regulate this aspect of competition to ensure that no food or training aid is brought into the ring under any circumstances. It is planned to rewrite the rule stipulating that there shall be no food or training aids of any description in the ring, and introducing a ban on pockets.
Said a KC spokesperson: 'This whole matter has to be taken in hand; some breeds, poodles in particular, are virtually genetically pre-programmed to treat a pocket as a training aid. Before we know it, we'll have handlers sewing pockets onto the hems of their trousers just so they can shove a foot out by the bottom of the A-frame.'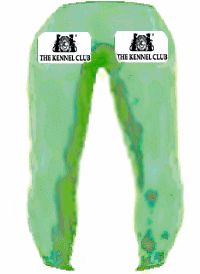 To enforce the new rules the Kennel Club is about to announce that a new line in clothing will shortly be made available that it will become mandatory to wear in the ring. Leggings and crop tops will be made available for women, coming in a pleasant green shade to complement the KC colour scheme, and bearing the KC logo. Designed by D French Designs with the fuller figure in mind, the green leggings will carry the logo twice, once on each side, on the back. Men will also be offered leggings but, instead of a crop top. a very fashionable string vest has been designed.
It is also felt that it would be unfair if judge and ring party were still able to have pockets, so the same clothing will become mandatory for them too plus some additional items for cold or wet weather (handlers are expected to have warmed up sufficiently so as not to require extra clothing): a thick fleecy boiler suit and a thinner waterproof one, all completely pocket-less of course. The boiler suits come in lime green for ring party, pillar-box red for judges. The KC says all the garments will be modestly priced, only £39.95 for the leggings, £125.99 for the boiler suits.
Source: Jo King (01/04/04)
From Jim Gregson
I hope these new garments that we have to wear will be made available for the Dundee meet this weekend. (02/04/04)
From Anna Dieckfoss
I do think some enterprising people will still manage to incorporate some sort of training aid into leggings and crop tops. Perhaps the Kennel Club should introduce a rule that states all handlers should run in their birthday suits, then there really would be no place to hide treats...or maybe there would... no, I shan't even go there! (01/04/04)
From Sarah & Billy
A little comment on the article about food in the ring and the stylish green outfits... Happy April Fools Day to you, too! (01/04/04)