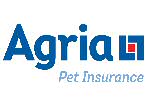 Supporting agility dogs with specialist lifetime cover
In your own time...
To find out what's new in the past week on Agilitynet, look on the list below. Then simply click on a link and off you go. Items are arranged in chronological order by colour with the latest at the top of the page.
You can't miss Pic of the Litter, our choice of an image which illustrates what we love about Agility. We update the website with your news and information on a daily basis, when possible and we change the Pic of the Litter as and when we find a great new picture. Here's the past week, more or less, at a glance.
Okay, off you go or as we say in Agility, should we say, in your own time...
Pic of the Litter
9th November 2019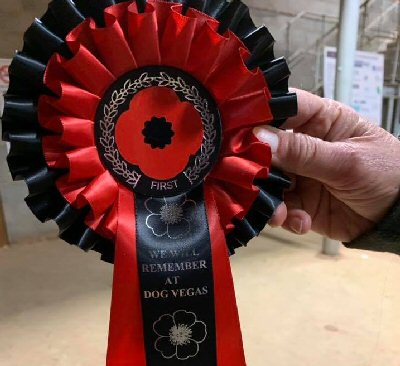 Dog Vegas is proud to support the Royal British Legion poppy appeal with commemorative rosettes.
Rosettes by: Show Offs
Team England Management congratulates the handlers and dogs who have been selected to represent England at WAO 2020.

Boodle the Golden Doodle goes to an agility playground to learn new games. Reviewed by Sasha (4) and her mum

---

The cap for their Moonlight Winter Series November show this Saturday has not been reached so the organisers will be taking entries on the day.

Due to confusion about the Prestbuiry Park 2020 date, Angelo (Doc) Docherty is now unable to judge the CSJ Veteran Stakes so Champ judge Andrew Dicker has stepped in.
Poppet's very very large framed Senior Agility League Hall of Fame rosette takes pride on Jenny Rotherwell's wall.

---

Nia is very intelligent and affectionate Carpethian Shepherd who is full of beans and is looking for a new home through no fault of her own.

---

There are spots available on the Ashleigh Butler Agility Day on 15th March for 3 x young dogs under 18 months. (Essex)

---

New date for your calendar: Saturday, 30th of November for another Canine massage workshop! (Aberdeenshire)

Linda Jones' funeral will take place on 12th November at Northampton Counties Crematorium. No flowers and please no black clothes as this is a celebration of her life.

---

The following clubs are holding classes for Juniors at their 2020 shows: Wallingford (April), Gleniffer (May and September), Dartford (June), The Agility Club (July), Derbyshire (July) and North Derbyshire (September)
New show dates: Jumping Jacks (2 x April, 2 x May, 2 x June, 3 x July and 3 x August) and LADS (May)
Paddy is a gorgeous seven month old BC boy with heaps of energy and much potential for making a fun loving companion.
Cleverpawz Dog Activity & Training has update its entry on the Clubs & Private Tuition page. (Co. Durham)

---

Agility Ability would like mums and dads to know that there will be Junior classes at their January and February shows.
New show dates: Agillidogz Summer shows (May, July, August and September), Bridge House (August) and FAB Somerset (2 x August)

---
If you have any ideas for the site, we'd love to hear from you.
Email Ellen at Agilitynet with your news, stories, and photos etc.
If you've seen all the new articles, why not use some of your spare time
to read some of the stories and features that you may have missed the first time round.
If you find a broken link, please please let us know. Don't be shy. We won't take offence.

We can't fix the problem if we don't know it's there.
Just tell where you've had the problem on an email with the name of the page on it.