In your own time...
To find out what's new on the site, simply click on a link and off you go. All items are arranged in chronological order by colour with the latest at the top of the page.
Okay, off you go or should we say, in your own time...
We update the site with your news and information on a daily basis, when possible.
Here's the past week, more or less, at a glance.
Pic of the Litter
(26 December 2017)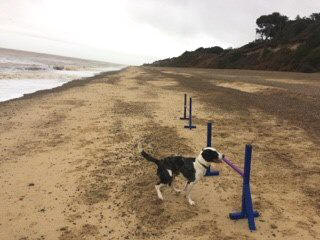 Agility training on the beach at Dunwich Heath, Suffolk.
Photo: Adrian Miller
1 x space on Toni Dawkins training workshop on 4th February for sale due to injured dog. (Denbighshire)
We have more than 1600 applications for Winning Out Certificates but there may be some more people who have not applied yet. Give them a nudge. Deadline is 29th January.
Jackie Allbut and Dawn Price are holding a KC measuring session in Halesowen on 2 March. By appointment only.

---

Rosie Pearson recounts her last agility weekend at North Derbys and the last Champ class she was ever to judge.

New show schedules: Bitz 'n Bobz (2 x February and May), Easter UKA (March), Omnidogs (March), Agility Antics (April), JDA (April), Phoenix (May) and CSJ (June)

There will be measuring at the Stonebridge KC show (Essex) on 27th January and another at the DBDT show (Norfolk) on 11th February.

---

Dogs in Need will be offering Lower Height Option for all Large dogs including ABC and the DINAS Classic Tournament and the invitation finals.
Two measuring sessions are planned for the Measuring at Northern Agility Winter Series in February and March. (Harrogate)
New show dates: Broads AC (April), Hatton Festival April) and Orchard (March, May, June, July and 2 x September)

---

New schedules just in: Crooked Oak (March), Tollard Park (April), Wallingford (April), Beacon (May), GT Agility (May), LADS (May) and Red Rum (May)
Orchard Agility is looking for trade stands to exhibit at The Summer Show over the August Bank Holiday.
The Red Run show will be supporting The Dragonfly Unit which provides inpatient support for young people with mental health and eating disorders through their trade stands and raffle.
Prestwick & District DTC, East Anglian Staffordshire Bull Terrier Club and Scrambles have updated their details on the Clubs and Private Trainers page.
All the shows being processed by Showtime and First Place Processing are now on the Agilitynet Show Diary.

---

Congratulations to the new fully Approved GJP (Global Judging Program) - judges - Neil Ellis, Barrie James and Joanne Tristram.

---

Breerock Dog Agility Summer Training Camp will start on 5th May with trainers including Toni Dawkins, Naarah Cuddy and Martin Reid.(Co Durham)

---

New show schedules: Prestwood (February), Dog Vegas - Easter (March/April), T&A (May) and Agility Nuts (May, June, July and August)
We couldn't do Agilitynet without you!
If you have any ideas for the site, we'd love to hear from you.
Email Ellen at Agilitynet with your news, stories, and photos etc.
If you've seen all the new articles, why not use some of your spare time
to read some of the articles and features that you may have missed the first time round.
If you find a broken link, please please let us know. Don't be shy. We won't take offence. We can't fix the problem if we don't know it's there.
Just tell where you've had the problem on an email with the name of the page on it.