In your own time...
To find out what's new on the site, simply click on a link and off you go. All items are arranged in chronological order by colour with the latest at the top of the page.
Okay, off you go or should we say, in your own time...
We update the site with your news and information on a daily basis, when possible.
Here's the past week, more or less, at a glance.
Pic of the Litter
31st March 2018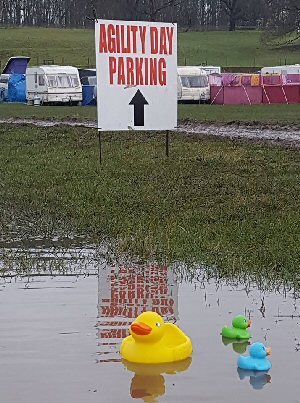 Lovely weather for ducks but maybe not dogs.
If you don't laugh, you'd have to cry.
Photo: Sarah Maslanka
JJ Dogs in Somerset now has 140 members and has added training on Fridays as well as other days of the week.

Megan Smyth is now taking commissions to raise money for Tristanís Pawprints, a new dog rescue centre.

---

New schedules: PODS (April, 2 x June and September), Lisburn (June), Swords (June) and The Agility Club (July)

Chase, a two year old collie, would make someone, who has the time to work with him, a cracking agility dog.

---

Louise Furniss' dog Woody (Andsal Young Rascal) went to Rainbow Bridge on Easter Monday after a short illness.
Lulu, a young Turksih rescue dog, is a long-legged girl, athletic slim build, very active, always on the go, with a delightful temperament who would suit an active home.
Barrie Harvey & Tracey Masters will be measuring at the Waverunners KC show on 17th June. (W. Sussex)
We've added a revised Dog Days Out schedule, clarifying that combined awards are on offer for FH/LHO classes.

---

Tor, a 15 month BC, has a lovely nature, is outgoing and friendly and desperate to have something to do.

Now is the time to grab a bargain on the Flea Market. Great deals on car cages, tail gate guards and dog vans.

---

New schedules: Phase Oyroke (May), Humber Hounds (July) and Pachesham 123 (April, May, August, September, October, November and December)
Adams has decided to extend the closing date of their 23rd May Fun show to 7th May and will accept paper entries for the 9th May show until 23rd April.

---

---

Andy Longley passed away on Saturday night. He was well known as a judge , trainer and also competed with his dogs.

---
We couldn't do Agilitynet without you!
If you have any ideas for the site, we'd love to hear from you.
Email Ellen at Agilitynet with your news, stories, and photos etc.
If you've seen all the new articles, why not use some of your spare time
to read some of the articles and features that you may have missed the first time round.
If you find a broken link, please please let us know. Don't be shy. We won't take offence. We can't fix the problem if we don't know it's there.
Just tell where you've had the problem on an email with the name of the page on it.