In your own time...
To find out what's new on the site, simply click on a link and off you go. All items are arranged in chronological order by colour with the latest at the top of the page.
Okay, off you go or should we say, in your own time...
We update the site with your news and information on a daily basis, when possible.
Here's the past week, more or less, at a glance.
Pic of the Litter
14 August 2018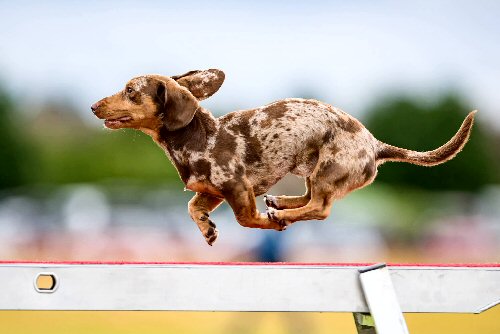 Herbie Sausage at Agilitynuts
Photographer: Dave Midgley at agilityfoto.com
Agility competitor and counsellor Emma-Jane LaRoche helps people deal with the death of a beloved dpg and bereavement.

Uphill Flyer (Otto), owned and handled by Christine Hicks, became Agility Champion at KCIAF, winning their third ticket in the Medium Champ.

Train in the Ring are looking for clubs or groups of people for ring parties at the Train in the ring September show at Errol.

Due to the cancellation the Orchard Agility Independent shows, there will be no Arden Grange Starter Dog of the Year & Embroidery Shop Finals at The Summer Show this year.

Herbie Sausage is a two year old rescue who splits his time between being a farm dog and an agility dog. It#s only his first year of competiiton and already he's had wins at independent shows and KCIAF

DD Dog Training in Stoke Mandeville is now offering both competitive and just for fun aglity. (Bucks_

---

Congratulations to all the LOW 550 Finalists who will competing at the Prestbury Park Show on Saturday, 1st September at Cirencester Park where Judge Anthony Bray will be waiting.

---

Reminder: Anyone camping at the Wes Lo show should keep a fire bucket or similar outside their unit.

---

New show schedules (Moonlight Winter Series (October, November, December, January 2019,February and March)

The first ever Finals of the SWAT South West Junior Challenge were held at the SWAT summer show in Somerset, judged by Chris Huckle on the 4th August.

Tombola prizes needed for the Orchard Summer Agility show on August Bank Holiday in aid of Marie Curie.

---

Entry form for the TAG September show must have fallen off on the way to the Show Diary. It's there now.

---

Blue merle Patches has bundles of energy and needs an active home with someone who can spend time with him.

New show schedules: Castlereagh (October) and Scrambles (September, October, November, December, January 2019, February and March)

---

Dylan has been rehomed to a young woman who does agility with her Labrador but was looking for a faster dog. H

---
We couldn't do Agilitynet without you!
If you have any ideas for the site, we'd love to hear from you.
Email Ellen at Agilitynet with your news, stories, and photos etc.
If you've seen all the new articles, why not use some of your spare time
to read some of the articles and features that you may have missed the first time round.
If you find a broken link, please please let us know. Don't be shy. We won't take offence. We can't fix the problem if we don't know it's there.
Just tell where you've had the problem on an email with the name of the page on it.