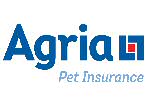 Sponsors of the 2018
Winning Out Certificates

In your own time...
To find out what's new on the site, simply click on a link and off you go. All items are arranged in chronological order by colour with the latest at the top of the page.
Okay, off you go or should we say, in your own time...
We update the site with your news and information on a daily basis, when possible.
Here's the past week, more or less, at a glance.
Pic of the Litter
8 October 2018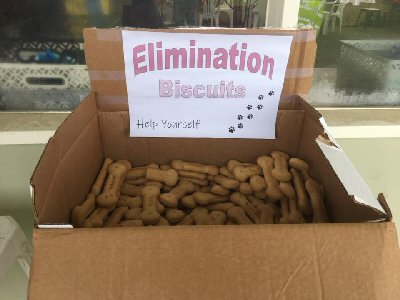 What a good idea! And the dogs loved them!
Sarah Davis earned two of these E biscuits at the Chippenham show at Lansdown.
Photo: Sarah Davis
---

Welcome to Champ judge Ian Armstrong who has been judging all levels and sizes since 2010. Purple suit supplied for free!

Kathrin Tasker of Millbrook Agility Dogs (aka MAD Kath) has updated the club's entry on the Clubs & Private Trainers page. (Surrey)

Handsome Husky Trevor is a very friendly chap who is always ready for a game with his toys and is currently learning agility at Mayhew with great enthusiasm.

New schedules: Jump 'n' Touch G4-7 (November, December, January, February and March) and Jump 'n' Touch G1-3 (November, December, January, February and March)

Jackie Allbut and Jackie Gardner will be measuring in the West Midlands including Intermediate height.

Revised schedules and entry forms for Dickson & Browns Winter Series. (November, December, January, February and March)

---

Ben is a 5 month old Lurcher X Collie puppy who was given to a 90 year old man whom unsurprisingly was not able to cope.

Due to the high number of entries for the Dartmoor November Show, it has been necessary to add an additional judge and change the judge scheduled for another class.

---

We spent the morning putting the 2019 qualifiers onto the Show Diary, starting with The Agility Club Starters Challenge and Dog Vegas.

The information about LHO options at 2019 shows is starting to come in thanks to 4th Height Supporters Group.

---

Gleniffer DTC will be offering LHO option for 2019 at both of their shows at Lanark Race Course in May and September.

Nina Smith's dogs have won the Double Double Winners Medal for winning classes on the same day. Can you top this?

---

Clive Foden competed with his first dog in the FCI competitions at age 56, the last time at age 69. Can any 'mature' handlers beat that?

---

New show dates: Adams (April, 3 x May, 2 x June, 2 x July, 3 x August, September and October), Nedlo (July) and RVA (July)

Cassie from Foal Farm has gone to an agility home where she will be starting classes in the new year.

---
We couldn't do Agilitynet without you!
If you have any ideas for the site, we'd love to hear from you.
Email Ellen at Agilitynet with your news, stories, and photos etc.
If you've seen all the new articles, why not use some of your spare time
to read some of the articles and features that you may have missed the first time round.
If you find a broken link, please please let us know. Don't be shy. We won't take offence. We can't fix the problem if we don't know it's there.
Just tell where you've had the problem on an email with the name of the page on it.