In your own time...
To find out what's new on the site, simply click on a link and off you go. All items are arranged in chronological order by colour with the latest at the top of the page.
Okay, off you go or should we say, in your own time...
We update the site with your news and information on a daily basis, when possible.
Here's the past week, more or less, at a glance.
Pic of the Litter
(14 February 2018)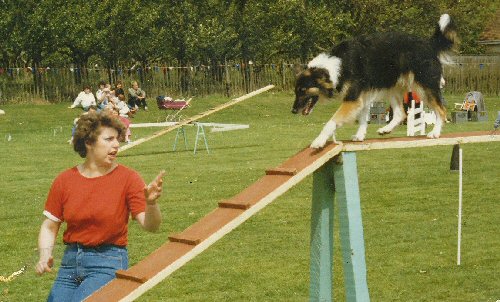 Ah, what fun we had back in the day!
A much younger Yvonne Croxford with Ben, the first in a long line of agility dogs. (Circa 1985)
Photo thanks to: Steve A Croxford
Welcome back from the USA to Lesley Young (formerly Harpley) who has started up her third agility club (fourth if you count FACAS) - this time in Devon.
Welcome to Cassie Bond who has been judging in Devon and Cornwall but would travel nationally if Champ class.

---

Sort out your problems with weaves with the new ebook from top trainer and well known competitor Selena Bray.
There is a group of people associated with agility who never get a mention and are rarely acknowledged.
New schedules: Chaldicott (March), Nottingham (May) Dogs Unleashed (June) and Frittenden (September)
Mani, a black and white, long coated Border Collie who is athletic and fast and looking for a new home.

---

New schedules: Adams (mid-May), Agility Ability (March), Beachside (May), Godmanchester (June), Springers (July) and WBSDS (AUgust)
On 3rd March, there will be measuring sessions at Stamford Vet Centre (Lincs) and Dog Vegas at Solihull RC. (W. Midlands)

---

We're crowdfunding to raise money to pay for the postage on the Agilitynet Winning Out Certificates.
South West Agility Training (SWAT) is sponsoring a new Junior Challenge at a number of South West shows,
The independent Agility Ability show on 17th February has been cancelled but the KC show on 18th February is going ahead as planned,
New show schedules: IADSA (March), Bitz 'n Bobz (2 x March, 2 x April), Paws - Jersey (April), Phase Purple (April), Adams (2 x early May), Otley (June) and Quadpaws (June)

---

Ayrshire has stepped in to take over the weekend of the Prestwick September show which has been cancelled.
New schedules: Castlereagh (April), Platinum (April and May), Stonebridge (May), Agillidogz (2 x June, August and September), Dickson & Browns (July), Empingham (July)

---

New show schedules: Jumo 'n Touch (April), BSDA - Spring at Ramsey (formerly Spring at Shuttleworth) (April), Tunbridge Wells (May) and Axstane (June)
The Kennel Club is offering judges an opportunity to attend an FCI agility judges seminar in November 2018.
Garrick Ovenell from Berkshire recently passed his Kennel Club exams on Agility Course Design and Judging and is looking to start his judging career.

---
We couldn't do Agilitynet without you!
If you have any ideas for the site, we'd love to hear from you.
Email Ellen at Agilitynet with your news, stories, and photos etc.
If you've seen all the new articles, why not use some of your spare time
to read some of the articles and features that you may have missed the first time round.
If you find a broken link, please please let us know. Don't be shy. We won't take offence. We can't fix the problem if we don't know it's there.
Just tell where you've had the problem on an email with the name of the page on it.