Where the best agility dog is a rescue dog...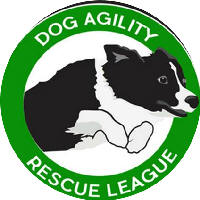 The Dog Agility Rescue League (DARL) is a league specifically for rescued dogs of all heights and grades, some of which were literally hours away from being pts. Their owners have worked through any and all issues they had, trained them in agility, competed throughout the year and are now in the finals are less than a month away. Organiser Nigel Perry reports.
2020
A Message from Nigel Perry
The DARL finals are postponed right now, but we will be having them sometime this year - only where and when, is up in the air just yet. We obviously want everyone safe and well.
I appreciate the support of my members, and couldn't run the league without you. And to remember there are plenty of things we can do with our 4-legged pals, whilst there are no shows.
---
2019
Finals Report
The Dog Agility Rescue League (DARL) has been going for a number of years now and is slowly growing. We now have close to 3,000 members within the League, with around 220 or so actually entering their results after each show onto the league tables. It can be an extremely close thing to win it, so every point counts.
This is my second year in charge of the DARL League, and I am hoping that this years Finals will be the best ever. This year, they will be held at the Adams Easter show on Good Friday, 19th April at Royle Farm, Drakelow, Burton Upon Trent, Staffordshire DE15 9TU.
We have a world renowned judge, Neil Ellis, judging for us this year. I first encountered him at this years IMCA / PAWC Championships. Neil's courses are fantastic, challenging, but certainly doable. I am so proud and honoured that Neil has said yes to judging our finals for us.
At the Finals, we have a single Jumping round, followed by an Agility round. Scores are then added up, and we have a overall winner for each class.
Last year, I made the decision that we would be also having a LHO option for all heights and all grades. This was extremely welcomed as it gives the option for handlers if they run at LHO to run their dog at the same height at our finals, rather than having to jump at a higher height than normal for them.
When sorting out the finalists, I invite the top 50% of each height and grade to the finals and then ask the finalists if they want to run full height or LHO. However with the anysize league, I took it upon myself to change the way this is done just a little. Instead of inviting the top 50%, this year, and each year I am in charge of the league, I have invited all the anysize league. My reasoning behind this decision, is that, this could be their last ever finals. For what ever reason. i.e., health, age etc. And what better way to end their agility career than to be in the finals. We have lowered dog walk, no see saw, and no weaves in this class. They have given everything to us throughout their agility careers, so this is something to say thank you to them all.
Last year a couple of months before the finals, we lost our main sponsor. Thankfully Gary at Finer by Nature graciously agreed to become our main sponsor. We also had sub sponsors where members could sponsor a class, and have their details engraved on the trophies, and also printed onto the rosettes. We have done the same again this year with some 31 classes overall.
Following our annual visit to Crufts, I contacted all of the suppliers in an attempt to ask them to donate some prizes to the winners of the league(s), and / or the finals. Then thinking, I would never get to 31 prizes, I changed it again. So this year, we have some fantastic raffle prizes on offer.
Five tickets will be given to each finalist. For those who could not attend the finals, they will be given raffle tickets also. In addition, we are also selling raffle tickets to finalists at £1.00 pr strip. With all the monies raised going towards Forever Agility.
With the very recent loss of Ann Hennessey, we will also be holding a minutes silence in remembrance of Ann, and all those agility handlers who lost their brave battle against Cancer, followed by a minutes applause.
Leagues within a league
We also have some mini leagues within the main League including:-
The All sorts / Veterans / Golden Oldies league is for dogs thyat cannot jump their normal height due to coming back from injury or who are classed as veterans. All of these dogs will remain in this league for the duration of the year. They can not move between Leagues mid-year, and also transfer points over from one to the other.y
League and mini winners will receive their trophies and rosettes at the end of the day when the results are announced.
If you have a dog who does agility that has been rescued i.e. not bought first hand from a breeder and has come from a rescue centre or dog pound etc. and would like the chance to join in with the DARLleague, check out our Facebook group
We are particularly looking for Large Grade 1-2, Medium grade 1-2, Medium Grade 3, Small Grades 1-2, Small Grade 3, Small Grades 6-7, although all are welcome.
Whatever grade you are at the start of the League year (22nd December), is where you will stay in for the duration of that year - even if you start at Grade 1 and finish at Grade 7. If you are lucky enough to be invited to the finals, you will be in the Grades 1-3 class(es). It is only the following year, you move up to your current grade.