Treat your feet
Reviewed by Lesley Harpley

Description: A low profile, multi-pitch training and competition hockey shoe which can also be used for Agility
Highly supportive, multi-pitch, high-level competition shoe
AdiPRENE heel insert for comfort and shock absorption
AdiPRENE forefoot insert for propulsion and efficiency
Tunnel torsion for mid-foot integrity
Traxion turf multi-pitch hockey-specific outsole for maximum grip in all directions
Injected TPU 3 stripes for mid-foot support
Forefoot hook and loop strap for added support
Best features:- Comfortable, light and supportive, with good grip. Very adjustable, with both Velcro strap and laces which tighten and undo easily. Waterproof – so far!
Could be improved: Sadly, not self cleaning!
Style and design: There is limited choice of style and colour, but they do both 'high profile' and 'low profile' in either black, white or grey trainers, shoes or sandals.
Purchasing: The key thing was availability, via the Agility Warehouse. I had been unable to get a similar show for agility in the high street and was delighted not to have to wait for a trade-stand in 'the Agility Season.' The shoes arrived within two days. Ordering was easy and transparent.
Price: £32 plus £5 delivery charge
Value for Money: Excellent, especially in the sale!
Overall rating: 9/10
Order direct from Agility Warehouse


---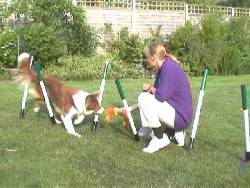 About the Reviewer...
Lesley Harpley started Agility in 1992 with ACTS (Aylesbury) and co-founded own club 'fracas' in 2003, on Herts/Beds/Bucks borders. She is also a member of Aylesbury.
She currently runs two red and white working sheepdogs, Star and Mace.

---
From Penny Cockerill (running Maggie in Medium)
I love my new shoes - they didn't really need breaking in, are extremely light and flexible, are so comfortable I don't rush back to the car to change them between runs... and apparently I am definitely running faster! I'm certainly not aware of my feet when running and the grip is brilliant. I have a fast dog so I thoroughly recommend them to others who need to be quicker! (11/09/06)
From Sue Ellis...
I started doing agility wearing football boots because they gave me the extra grip that some trainers can't give, and I didn't want to slip over and do myself a mischief. They were okay for a while, but I soon started to get pains in my knees after the shows and had to wear knee supports.
When Gus arrived I realised I was going to have to run much faster with him so the footwear had to improve. Otherwise I wouldn't be able to run him at all. Being inexperienced in the art of running - I do strolling and swimming - I chatted to people wearing different kinds of footwear around the shows and decided to try the Adidas because I got positive feedback and they didn't look big and bulky like some shoes.
As it turned out It was a good decision on both counts. No more pains in the knees and Gus and I have just gone Senior. I have had amazing results with Gus this year and I'd like to think that the trainers have contributed to our success. What is it they say 'a job only gets done right if you have the proper tools.' I am going to order another pair just in case I wear these out too quickly as I want to continue with our success!
If you would like to comment on this product or add your name to the Agilitynet list of reviewers,
email your name and details to Ellen Rocco at Agilitynet today.