Designed for the Beijing Olympics
Manufacturer: Adidas
Reviewed by: Bob Sharpe

Description: A lightweight hockey shoe from Adidas.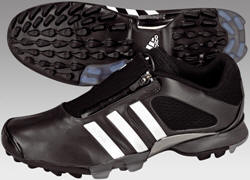 Technical specification
Zippered elastic lace cover provides additional instep support and protection.

External TPU toecap offers additional forefoot protection.

TRAXION® forefoot outriggers and heel provide superior side cut grip and deceleration on wet pitches.

Built on a runner's specific last to provide a superior fit.

Extremely comfortable and the Climalite design will keep your feet comfortable whilst staying dry by drawing perspiration away from the skin.
My experience: My demands are probably greater than the average agility competitor. I am on my feet for long periods most days, training others and occasionally myself. I also suffer from fallen arches which necessitates footwear with support in that area. I like a lightweight shoe and would favour a fashionable looking one. I would also prefer a pair equally efficient in all conditions - a shoe to keep feet dry in the early morning dew and in the more inclement weather we experience whilst allowing the foot to breathe on the occasional hot summer afternoon.
Over the past 18 months I have alternated between wearing a hockey shoe and a fell running shoes for my agility needs. Whilst each have their advantages over the many alternatives, if I am honest, neither quite met my needs but nonetheless have served me well. The hockey shoe immediately offered more support in the needed area. They were more supple than their predecessors, certainly more waterproof and I had no complaints about the grip in all conditions. The only drawback was that on the typical day of a dozen runs and endless treks to and from the van my feet were hot and had swollen somewhat. By the end of the day, the shoes seemed to have increased in weight and it was certainly a relief to remove them.
It was when feeling the effects on my feet of a long days competition that I fell for the supple alternatives offered by fell running footwear. My training partner, never the most extravagant spender on agility clothing, had enthused about them, having purchased some months earlier. My wife also enthused, becoming the best saleswoman the supplier had.
On wearing that shoe for the first time, I was very impressed. They felt like carpet slippers in comparison to my current brand. The grip was good and, at the end of another long day, my feet were still relatively fresh and comfortable. Initially there were no disadvantages other than being unable to even walk a dew covered early morning course without inadvertently washing my feet. However, over the next few months my knees were giving me more trouble particularly on days where I had been standing training for long periods. This was eventually attributed to the lack of support in the ultra-flexible alternative. A return to the hockey shoe did alleviate this problem a little.
When assessing my footwear requirements, I decided that in an ideal world if we could combine the strength support and greater resistance to the elements offered by the Adidas version, with the lightness, flexibility and airiness of the running show we would be close to perfection. An added bonus would be a design that was a little more fashionable, neither the bright blue nor dull orange of the current equipment would make the agility equivalent of the Milan catwalks.
What I liked: Examination of the Adistar Lite shoe revealed a sole with ample grip for all but the wettest ground conditions, but with more flexibility than its predecessor, a rubber-like fabric embracing the vulnerable areas combined with a more breathable fabric on the areas less open to the elements. It met with my needs for keeping my feet dry whilst helping to avoid the swelling caused by lack of air that had been a down side to the predecessors. I closely examined the arch and the bulky plastic support of the current model had been replaced by an internal one, much less conspicuous but no less effective. I was impressed.
To give the shoes a true test, I decided to wear them solidly for a week, both in training and competition. I would also wear them for the rare leisure pursuits, replacing my existing trainers. So from Monday, 2 June to Sunday, 29June, no other footwear was worn.
I was still impressed! My knees were certainly no worse than when wearing the supportive current footwear, and my feet definitely more comfortable which I attributed to the more breathable fabric. On simple walks with my dogs, they were equally as comfortable as my current well-loved trainers.
The final test was a 2-day UKA show at Newbury including an appearance in the Royal Canin Final. In competition, there was no adverse reaction sometimes associated with new footwear. I certainly felt no need of relief from them during the whole day. The grip and support whilst running could not be faulted and I did not fall down in the final which was my one dread after announcing on the commentary sheet that I was modelling them. I wore them from 8.00am Saturday morning and did not take them off until after a late night course building around 10.00pm and similarly Sunday. I removed on return home with no desire to replace them with any other shoe.
What could be improved: If only they produced a dog version and sponsored my Meg, we could have made up the 3/4 of a second in the Final and been even happier.
Style & design: The initial assessment of the Adistar Lite certainly passed the style test - true Adidas black with the trademark 3 white stripes. They were very slim, light and with a zip closing a flap over the lacing, provides a concession to the fashion conscious.
Price: £96.00 + £5.00 delivery (UK) Available Jayne or Andy Widdess at shows or on-line from Agility Warehouse.
Value for money: 10/10 - I have always taken sport seriously and purchased the best equipment I could afford believing that any advantage to be gained must be worth that little extra spend. The Adistar Lite is the most expensive in the range but, when compared with the overall cost of competing, well worth the extravagance.
Overall rating: I must state that these are certainly the most comfortable leisure shoes that I can remember wearing. They offer the strength and support to give confidence in competition but with the comfort of a trainer and a style to meet the most fashion conscious. They have been worn continually for over a week and met every need and I can find no fault.
---
Available on-line from Agility Warehouse


About the Supplier...
Adidas is a major German sports apparel manufacturer and part of the Adidas Group, which consists of Reebok sportswear company, Taylormade golf company and Rockport. Besides sports footwear, the company also produces other products such as bags, shirts and other sports and clothing-related goods. The company is the second largest sportswear manufacturer in the world.
The company's clothing and shoe designs typically feature three parallel stripes, and the same motif is incorporated into Adidas's current official logo. The company revenue for 2006 was listed at €10.084 billion or about US $13.625 billion, and the 2007 figure was listed at €10.299 billion, or about $15.6 billion.
Adidas has a clear mission – 'to be the leading sports brand in the world.' To accomplish this mission, the brand comprises two divisions that reflect two distinct market segments: Sport Performance and Sport Style. Product and marketing initiatives at Adidas primarily focus on five global priorities, which are expected to generate over 80 % of the brand's top-line growth until 2010: running, football, basketball, training and Originals. The Adidas brand attitude 'impossible is nothing' drives all brand communication initiatives and helps strengthen the brand's bond with consumers. With a well-defined and segmented distribution approach and a premium-price strategy, Adidas clearly positions itself as a top-notch brand in all markets.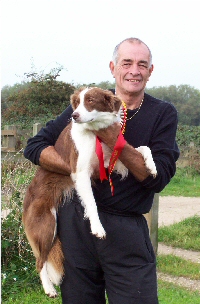 Source: Wikipedia & Adidas themselves!
About the Reviewer...
Bob Sharpe has competed in agility for six years. He runs his rescue dog Meg in G7 and brothers Flynn and Moss in G6 and G4 respectively. An avid follower of Greg Derrett's training methods, he runs The Field of Dreams Agility Training School in North Lincolnshire with Hannah Houldsworth.
He could not do it without the fantastic support from his long suffering wife, Pauline.
If you would like to comment on this product or add your name to the Agilitynet list of reviewers,
email your name and details to Ellen Rocco at Agilitynet today.
First publisher 22 July 2008