Designed by Helen Anderson
Reviewed by
Zeffrienne DíUlivo-Rogers

Description: Agility Course Plans contains approximately 200 exercises and 50 full size courses for use on any occasion and anywhere from small gardens for practice to big rings at club. The book has been designed to be suitable for any style of handling and any level of handler.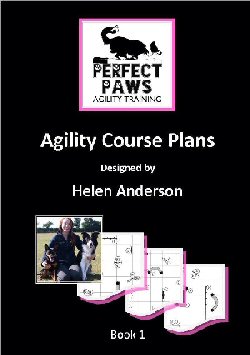 Contents:
Introduction

How to Use This Book

Commands

Level 1 - Young dogs / G1-2

Level 2 - G3-5

Level 3 - G6-7

Space for personal notes after each section
Why did you want to review this book?
I have been doing agility for a while now. Unfortunately I simply do not have the space or money to buy a full set of equipment, but I am lucky to have the occasional use of a full set and I go to class once a week. I often practice at home so I need some exercises that don't require a full set.
I often look up things on YouTube and on the Internet, but thereís not much on there that was of any use so when I heard about this book, I knew it was just what I needed - something that had it all.
What did you like about this book?
I don't have my own dog, so I often get asked by other people to train their dogs. I, therefore, need something that is suitable for any dog regardless of level or ability whether it is a complete beginner or Grade 6/7. I just go to this book and pick an exercise /sequence that I want to work on that day. It goes through the activity in small steps to ensure you can do it no matter how it is put into a course.
This book is easy to use. I like how each activity is broken down from a basic move - a front cross, for example - to more challenging ones. And I like how it isnít just courses so that even when you only have a few pieces of equipment available, you can still practice.
It includes large courses and smaller ones so even if you donít compete you can have some fun in the garden with your dog.
There is a short but sweet introduction on Helen herself which covers her experiences and knowledge of this awesome sport. It is not to long-winded and just lets the reader know a little about her. It then has a couple of pages on how to use the book, commands and equipment, which I feel is really important as she states the importance of keeping it positive and fun whilst being clear with what you say and do. This is especially important for Beginners.
And even though this book is just for dogs, I found it gave me some different ideas for when horse riding and doing agility with my rabbits.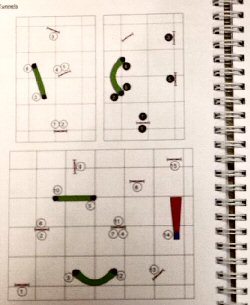 What could be improved?
For Beginners, there could be a little section on spacing. Even though itís on the squared paper on each picture, some people wonít know how far each obstacle should be from each other.
Other than that, itís excellent!
What did you think of the design and quality of production?
The way it is laid out makes everything clear and the colour course layouts are simple to follow. And I like the fact that it wipes clean! Couldnít be better.
Specifications: The book is A5 ring bound. It has 157 pages.
Price: £23. 00 + P&P
Rating: 9/10. This book is just wonderful, very useful and so practical.
Value for money: In my experience, there is nothing else out there like it. You can see a lot of thought went into making this book.
Would you recommend this product to your friends and family?
For anyone thinking of getting this book, I would! It's great thing to have in and great for training session and even class activities. Well done, Helen on a splendid book. Itís definitely come in useful to me. Thank you!
Agility Course Plans is available by email or PM Helen Anderson on FaceBook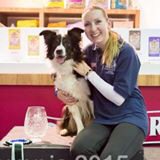 About the author...
Helen Anderson is owner and head instructor at Perfect Paws Agility Training in Norwich. She has won six Crufts titles, qualified for Olympia three times plus numerous British finals. She currently competes with Neo, her Border Collie and her Australian Kelpie Demon who has been Rescue Dog of the Year twice. He was also Agilitynet Rescue Dog of the Year.
She recently chose to leave her full time office job and become a full time agility instructor. Her regular custom base has continued to grow over the past couple of years, and she felt it the right time to take the plunge to do something that she is passionate about and enjoys so much.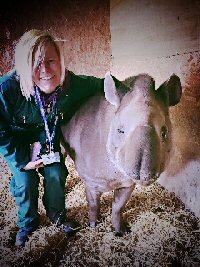 About the reviewer...
Zeffrienne DíUlivo-Rogers is 17 years old and lives in Jersey, Channel Islands.
She loves agility and has been doing it for 4/5 years. As she does not have her own dog yet, she has been fortunate enough that other people have let her run and train their dogs. This has given her a wealth of experience with different breeds and levels of dogs. She has also done many other dog-related sports; a few of these are; flyball, water rescue, carting, scootering and nose work.
Zeffrienne is currently studying animal management and is in the middle of getting her dog training, grooming and behaviourist qualifications.
She loves anything to do with animals and has been dog walking, fostering and training for as long as she can remember. She is all for positive reinforcement and has been attempting a new way of training horses with a clicker, of course! Training dogs and seeing the motivation, devotion and love they can give has made her see the way we treat animals in a new light, and has set her path for the future. She wants to improve the lives of animals around the world and help owners understand the importance of enrichment and correct care.
First published 10 March 2016 March 2014