Rock and roll with MBTs
Manufacturer: MBT®
Reviewed by Liz Catt

Description: Masai Barefoot Technology (MBT®) are revolutionary hi-tech trainers, based on the techniques used by the Masai tribe in Kenya to carry heavy weights for miles. They were developed to cure back and joint problems by recreating natural, uneven walking surfaces through a uniquely curved and layered sole.
Wearing MBTs® can help:-

Muscle toning
Core stability
Weight reduction
Helps reduction of cellulite
Improved posture
Power and speed
Running style
Flexibility
Recovery
Improve circulation
Increase glutt muscle action by 78% when compared with walking at the same pace in regular trainers.
Relief joint stress by up to 27% when compared with regular trainers.
Best features:- Having had back and hip problems for a while with increasing discomfort, I visited a physio with whom I've had treatment many times before. This time as well as treatment and exercises, she recommended a pair of MBTs® to help reduce the symptoms that I experience. She allowed me to try on and walk in a pair that she had already purchased for herself!
As soon as I had put them on, I instantly became taller - not just because they were what is called 'high profile' trainers - but because they make you stand and walk in the correct position. They lengthen your spine, so for the vertically challenged it's a bonus!

You have to be shown how to walk properly in them. Basically it is a heel-to-toe gait. They lift and stretch your spine and overall are very comfortable. It feels like a weight has been lifted from your back and that they do 'what it says on the tin'!
Each pair comes with a video, showing you all about how to walk in them lest you forget.
It was recommended that I let the physio check that I was walking in them correctly. That said I didn't feel that they were that difficult - or different - to walk in. I was told to introduce them gradually, increasing the time I spent wearing them over a period of time.
At the time of writing this review, I'd had mine about three weeks and started wearing them in between runs at shows and then wearing them to walk the dogs. I have now worn them virtually all day at a recent agility show with excellent results - no stiff, aching back, hips or knees. If I needed further proof that I'd made the right decision, after working around the house all day, I then walked the dogs for an hour and a half - almost guaranteed normally to ensure discomfort in the lower back - and experienced no discomfort whatsoever.
Could be improved: I think that they look ordinary black trainers. As I've only tried the 'high profile' trainer I can only comment on them but I find they take a minute or two to adjust to each time you put them on to walk in, and I find that I do catch the sole if I don't pick my feet up properly.
Rough terrain walking might also prove slightly more difficult than an in ordinary trainer because of the rocker shape of the sole as there is no heel to balance back on if climbing, for instance. One needs to be wary of running. After all if you find a pot hole, it's further to fall from these!
Just one word of warning - not to wear them in slippery conditions! I did, I wore them on a walk which got a bit muddy and ended up on my behind!
Style and design: There is limited choice of style and colour, but they do both 'high profile' and 'low profile' in either black, white or grey trainers, shoes or sandals.
Purchasing: As you have to be shown how to walk properly in them, in general MBTs are not available in the usual retail outlets.* You have to buy them from trained stockists. I bought mine from a Pilates instructor. I spent at least an hour with her when I went to collect them. She told me about them, what they are supposed to help you with while she checked out that I was comfortable and walking correctly in them. And lest you forget, there's always the video!
*MBTs are available in select retail outlets including Selfridges, Swetty Betty, Kings Road Sporting Club and Grieves of Glasgow.
Price: They certainly come with a sting in the tail as the price per pair is £129!
Value for Money: The price alone makes you think long and hard before deciding. But what price do you put on your own physical well being?
Overall rating: 10/10 If you find that at the end of a show day, you feel that you don't know where to put yourself, can't get comfortable, that your back is stiff or that your hips ache or your knees ache or that you can't find a comfy position to sit in on the drive home, then it might well be worth considering investing in a pair of MBTs®.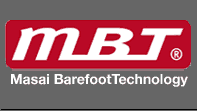 For find your nearest stockist, visit the MBT® web site.
Website : http://www.mbt-uk.com
masai by Fisher Ltd.
Head Office, Unit 3d, Burbage House, 83 Curtain Road, London EC2A 3BS
Tel: 9am - 5pm 020-7684 4633 or 020-7684 5565
Fax: +44 (0) 20 7684 5566
---
About the Reviewer
Liz Catt has been an agility competitor and judge for a number of years.
From Chris...
MBT shoes - Interesting, their description, purpose and pictures look just like the 'Earth shoes' which were popular in the 1970s in the United States. (18/01/05)

If you would like to comment on this product or add your name to the Agilitynet list of reviewers,
email your name and details to Ellen Rocco at Agilitynet today.