A Matter of Life & Death
Coping with disappointment in the ring
When it all goes wrong and fate opens up that yawning chasm between expectation and outcome, failing can feel like the end of the world. The effects on your confidence can be damaging and long-lasting, and for some it can be the final straw which leads them to giving up and moving on to less stressful ways to fill their leisure time. Dipping out of Crufts 2002 gave top handler Chris Smith the opportunity to re-examine her performance and attitude.
A famous football manager once said in his pre-match pep talk: 'Winning is not a matter of life and death... it is far more serious than that.' And sometimes it seems that way!
In the last two or three years I have been on a quest for a strong mental attitude for competition. Gone are those limiting beliefs I once clung to. Now I enter the arena confident and focused, my mind prepped to support me in giving the best performance of which I am capable.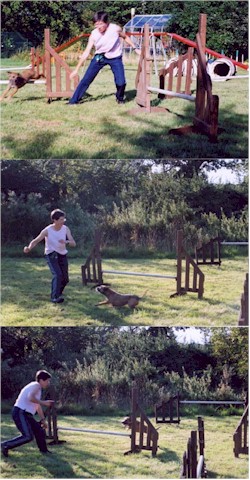 So does this guarantee me success? Sadly not. I may enter the ring mentally prepared to do well, but all too often I exit 40 seconds later with that self-assurance hideously mangled.
That is the time to flip the sports psychology coin. Heads is confidence; tails is resilience. How an athlete copes with disappointments can be the difference between a one-hit-wonder and a champion.
1. Persistence
The most important element of success. The one sure way of avoiding long term success is by giving up. The most successful people in all walks of life are those who have kept going through thick and thin, and generally they will have experienced more failures than anyone else.
2. Make friends with the enemy
It is a great deal more pleasant to see success going to someone you like. Make a point of making friends with your rivals – don't wait for them to come to you – you probably have a great deal more in common with them than most people you meet – agility, dogs, a sporting ambition. In fact, as a general principle in life, make friends. You'll be surprised how many people you end up liking a great deal if you make conversation instead of assumptions.
3. Turn tragedies into targets
Whatever went wrong is feedback – information you can use to modify your future performance. Errors, misjudgments and under-preparation can all be seen as shortfalls in your, or your dog's skills, and can form the springboard for your new training agenda. Be grateful that the course has highlighted a weakness that you need to address. This will also have the effect of switching the focus of your attention from the recent past (tragedy) over which you have no control, onto your future (targets) which is very much within your powers to change.
4. Sub-goals
Fortunately most of us don't have to earn our living from agility. A defeat is not going to affect our salary or professional reputation. So, lighten up - set off with some goals for the day that have nothing to do with winning. Enjoying yourself is a good one, sharing jokes and laughter with fellow competitors, being sympathetic to less experienced competitors, giving your dog just the best time. Set some sub-goals and try to achieve them.
5. Share in the joy of others
It is not in everybody's nature to share in the jubilation of the person who has triumphed and achieved what you had worked and hoped for – certainly counter-intuitive for me! But try it – you may start out a little disingenuous, but eventually you will be surprised at just how sincere will be the joy you can derive from someone else's happiness.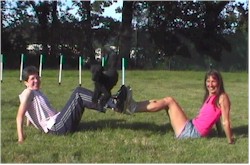 6. Enjoy the battle
Some adore the battle; others only like winning. The trick is to enjoy the battle. Not easy, but work on shifting the emphasis, and the outcome will become less important.
7. You are not alone
It's seductive to believe that you are the only failure, the only one who has missed out on their dream. Get real. At Crufts 2002, where a couple of stupid errors put my goals beyond reach, probably 90% of the agility competitors came away disappointed with the result, but they'll all be trying to get back next year.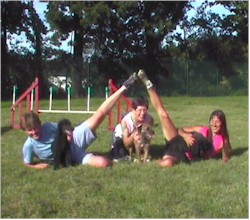 8. A positive spin
Try to draw something positive from the experience. Focus on what you have learnt about yourself, your performance and your dog, or the friends whose company you shared, the joy of flinging some limbs around while half the country loafed in front of the TV, etc. In my own case, losing gives me something to write about!
Bitter disappointment has pushed me to the brink of giving up agility several times. After all, it's the one certain way of ensuring you'll never get it wrong again, or fall short of your expectations. Putting yourself back in the firing line can be tough, but it happens to be the only way you'll find out just how good you can get and just how much you can achieve.
No matter what precious chances have slipped away...
AT SUNRISE EVERY SOUL IS BORN AGAIN"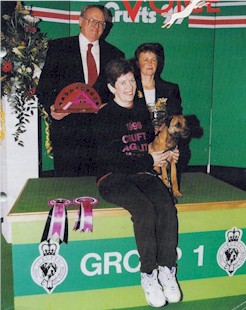 About the Author
Chris Smith has been competing in agility with her Border Terriers since 1994. With her most successful dog, Teasel, she has won the Eukanuba Challenge in 1999 and the Pedigree Mini Agility Stakes at Olympia in 1999 and 2000. She was a member of the 2001 British National Team that went to Porto for the Agility World Championships.
With Teasel came the realisation that owning a talented dog was not in itself a guarantee of success, and this led her to seek out ways of cultivating the inner strength and positive mental attitude necessary to compete and win with consistency.
She is a passionate fan of Border Terriers and has served on the Committee of the East Anglia Border Club for some years. She also judges in agility and enjoys writing on dog related subjects - an ad hoc contributor to Agility Eye and Border Terrier magazines.
Chris is the author of Your Secret Coach, subtitled How to Unlock the Power of Your Mind to Fulfill Your True Potential in Agility (£7.50).
For more information or to order your own copy, contact: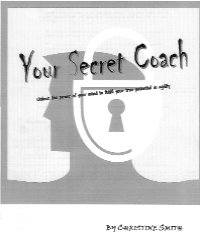 Chris Smith
Dept AN
The Willows, Lynn Road
Saddlebow, King's Lynn
Norfolk PE34 3AT
Fun photos: Peter van Dongen