Competitive agility is fun
Mention your dog (again) or an agility show (again) to your non-doggie friends and their eyes glaze over as they stifle a yawn, Yes, folks, there are people out there who will appreciate your agility sense humour. This page is a place where you can share your sense of humour with like-minded people without fear of retribution or being forced to listen to those big fish stories...again.
So if you see or hear something which will tickle our funny bone, email it to:- Agilitynet. For instance...
---
Agility Fly Past Serendipity

From Richard Partridge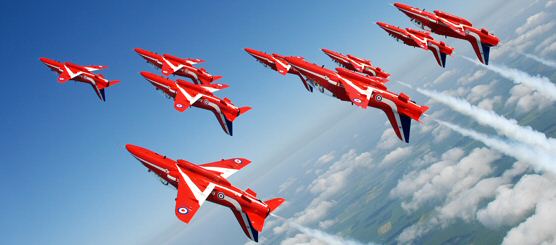 Sir
On Saturday, 11 June I celebrated becoming an old age pensioner. As it happened, I was spending the weekend at Newbury Showground, attending a major Dog Agility Competition Weekend with my wife and our dogs. Since many friends were at the same event we organised a bit of a thrash, my birthday being a pretty good excuse.
As our guests arrived at about 7.00pm, a sound was heard from above which materialised into a very neat formation of bright red aircraft bearing RAF roundels. Amazingly as they came over the boundary to the Showground - or so it seemed - the coloured smoke came on, and it went off as they left. My guests were all truly astonished when I told them that it was arranged purely for their benefit, although some seemed to receive this information with a degree of scepticism!!
I have now looked up the schedule for the Reds on that day and can easily see they were extremely busy, so can you please pass on my special thanks for providing the impromptu display.
I am looking forward to enjoying the full display when I go to the Grand Prix at Silverstone, a pressie from my offspring for my significant birthday. I will give the boys a special wave. You can tell them I will be wearing a straw panama hat so they can recognise me!
Best wishes
Richard Partridge

Richard -
Thank you for your email. I have passed it on to the team.
As you say the team's schedule is a very busy one and we do incorporate requested flypasts into their transits. However if they do see a large public event taking place when they are flying close by, they will perform an impromptu flypast with smokes on if they have them available. This is what occurred on Saturday at Newbury. The team will be very pleased that their efforts did not go unnoticed and were appreciated. I hope you enjoy their full display at the forthcoming Grand Prix.
Kindest regards
June Austin
RAF Events Team

Mr Partridge -
Thank you for your kind email to June Austin at the RAF Events Team. We did see your event from the aircraft and we were worried we had overflown a large horse trial. Iím, therefore, glad that you were pleased to see us, and that it was dogs, not horses! We were lining up for an official flypast at another venue, and happened to have planned a run-in point near your event. Normally we transit in two sections of 5 aircraft, but you saw us all together as we progressed towards the other flypast.
For future reference, you can apply for a flypast for an event such as the dog agility event, using a form that is easily found on the official Red Arrows web site. We canít guarantee getting there, as quite a bit of luck is needed that we will be in your rough area on the date in question, but it's free and it's worth a shot for the sake of filling in the form!
Sincerely,
Graeme Bagnall
Squadron Leader - Red 10
---
Agility Dogs are Smart But...
Discovered on a show schedule which shall remain nameless...
Quote: 'Each dog entered in the Pairs must have completed a signed entry form.'
Unquote: Obedience lessons with a biro begin on Monday!
---
Crop Circles - The Mystery Solved

From Andy Farrington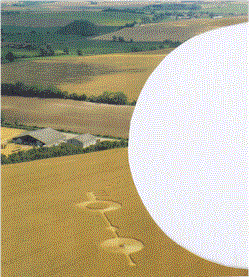 Contrary to popular rumour and myth, crop circles are not caused by bored farmers out of their skulls on home grown waccy baccy or aliens making a real mess of their landing spacecraft skills.
Crop circles are caused by hundreds and hundreds of agility handlers walking around in circles on agility courses up and down the country spending dozens and dozens of hours debating if "advanced handlers should be in or out of intermediate classes" or "what type of fish (dead or alive) is best for training your dog with" ...and it's puzzled people for ages. (24/07/02)
Nonsense...
Crop circles are caused by show secretaries running around in circles and pulling their hair out whilst they try to sort out the people who haven't put their name on their camping form, signed their entry, forgotten their dogs KC number, not signed the cheque, whilst answering the mobile to the people who ring up to find out if their mates have entered, why they haven't got a camping pass, their running orders (forgot to send the 30p), the directions to the show, and if there will be clear round rosettes in mini starters jumping 'cause there wasn't at such and such a show. Arrrrrrgggghhhhhh!
And if anyone says I have too much time on my hands I know a man with a gun!
See you all Friday.
Anni (going demented) Telford (25/07/02)
---
How To Recognise Dog Agility People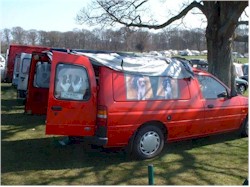 Dog agility people are a special breed, not usually recognised by the KC.
They usually have crates in their living rooms. They keep messy houses, but their kennels are spotless.

They can always find a show catalogue within an arms reach.

And they have kids who know more about the birds and the bees when they are five than most people know at 40.

Dog agility people will drive 100 miles, spend £50 on petrol and £10 on meals to bring home a 25p rosette.

Dog agility people drive vans.

And they can never be reached on weekends, unless you happen to be at the same show.

They have trouble getting to work on time but can be at ringside by 8:00 am.

Dog agility people will give up a £150,000 home to move to a shack on 10 acres so they can have a £150,000 dog kennel.

Dog agility people have children who grow up believing 'Bitch' is just another household word.

Dog agility people do not have gardens.

Dog agility people may pay the mortgage 10 days late BUT never miss a closing date for entries.

Dog agility people would rather be audited by the Inland Revenue than investigated by the KC.

Dog agility people use dog food bags for rubbish and rubbish bins for dog food.

Dog agility people talk on the phone for hours to another dog person in a language known only to dog people.
Dog agility people have parents and family who think they've lost their minds, neighbours who think they're strange and doggy friends who think they're terrific!
* Adapted from an email from Shelley Grey
---
Good News Bad News

F
rom Cindy Brick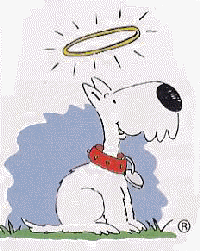 Jane was an agility competitor. As the years progressed , she became more and more of a fanatic. One day it occurred to her that Heaven might not have agility trials. She soon became obsessed with this disturbing possibility. It began to interfere with her everyday life.
As a last resort , she went to a fortune teller. The fortune teller asked her, 'Why have you come?' Jane blurted out, 'Ohh, I just have to know, are there agility trials in Heaven?'
The fortune teller sighed and began to peer into her crystal ball. Finally she said, 'I have good news and bad news.'
Jane could hardly contain herself. She said, 'Oh please tell me, are there agility trials in Heaven?'
The fortune teller nodded and said, 'Yes, there are.'
Jane clapped her hands and began to cry with relief. Then she stopped short and said, 'You said there was bad news, too. What is it?'
The fortune teller shrugged and said, 'You are entered this Saturday!' (16/07/01)
Picture: © Kennel Club Good Citizen Scheme
---

Photo: Ron Rawlingson
If Agility Dogs Were Like Cars...

From Tony Poole
If dogs were like cars, I'd want my next model to...
have a bigger engine
get to top speed in less than 6 seconds
be an automatic
have cruise control
be a stylish and sleek sporty model
be cheap to run
have an anti-slip braking system
be responsive to my every move
Any other suggestions?
---
Overheard in the Ring...
Just thought we'd share an amusing moment with you all from the Cornwall show.
Tony Griffin, who was judging, gave his briefing for intermediate agility. Mainly the usual course time standard rules stuff, but then Tony went on to inform us all that the schedules for the FCI world champs were out and anyone who's dog was vaccinated and microwaved was eligible to enter. Les Wills and I took one look at each other to check we'd heard the same thing and then dissolved. Way to go Tony! Anni Telford
---
Who Says the British Are Obsessed by the Weather?

Submitted by Amanda Pigg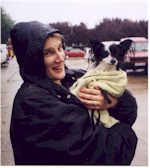 Thank you to Toni Mendham Dawkins for pointing out that, although everyone else may have thought that the weather at Axstane this year was great (just about the hottest day of the year), there certainly was a meteorological feel about the results of the Novice Jumping (Part 2) class.
1st - White LIGHTNING of Valgray with Lisanne Steen
2nd - CLOUDY SKIES with Toni Mendham
3rd - STORME STORM with Sharon Rowe
Well, our weather may be unpredictable, but our agility dogs are not! (29/12/00)
---
Isn't Spellchecker One-derful

From Bill Glover
There's an unfortunate (but amusing) typo in the report on the Pedigree Irish Dog of the Year that's currently up on Agilitynet. In the Judge's report section, it refers to an "extremely fat dog" winning the jumping class. I assume this should be FAST and not fat ??!!
Editor's note: Apologies to Sam McCracken who, in fact, won the Jumping Class to become The Pedigree Irish Dog of the Year 2000.
---
The World Gone Mad

From Karen Smith
Laura Bundy of Newton Abbot was stopped by Devon & Cornwall police when they spotted her pet collie Bramble leaving the park with a stick it had been playing with.
Police told Mrs Bundy she must return the stolen stick!
(04/04/00)
---

An Agility Joke
Q. What do you get when you cross a sheep with an agility dog?
A. A woolley jumper.
Ha
ha
ha...
---
Out of the Mouths of Babes

From Bonnie Norris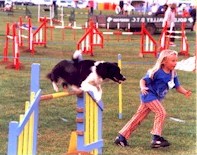 I was explaining to a 11 year old junior today that she needed to drop her shoulder and turn her neck while doing a blind cross NOT rotate her whole upper body. She was trying to run twisted around and found herself tripping over her feet. Once she tried the drop shoulder method, she executed the exercise much more smoothly.
Afterwards with a knit in her brow she said very seriously that she was really glad she was learning Dog Agility because all the boys were chasing her on the playground and she had to look over her shoulder to see if they were 'gaining.' She went on with a big smile to say that learning Dog Agility has made her one of the girls that the boys can just never catch!
'Through the concrete tunnels, down the slides, over the suspended bridges... now I can run the play ground in 3.5 yards per second!'
An added benefit of the sport of Dog Agility I never thought of...