To encourage

Juniors 5-18 years...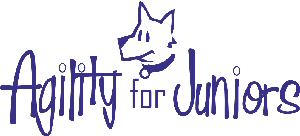 Sponsor a Junior
2013 will be the first year that a GB Team will compete in the Open Junior Agility Championships in Holland on 28-29 September. This is a big opportunity for junior handlers.
Ffion Hughes (16) is looking for as much sponsorship as possible on behalf of the Squad as they have to raise approximately £1000 per handler which in total would be around £10,000. If you are able to help in any way, it would really be appreciated by the whole Squad. If you require more information regarding this, please do not hesitate to contact Ffion via email.
Agility for Juniors' aim is to look at developing how young handlers are preparing themselves for the future and encourage their interest in the sport of dog Agility.
---
Open Junior Agility Championships
I have decided to write and give you all some information regarding the 1s

t

Open Junior Agility Championships (OJAC) which will take place on 25-26 February 2011 in Gloucestershire (UK). Here is a little more about the event.
The event will be run over two days with handlers from all over the world coming together to compete at this world class event designed just for them. OJAC will not be like any usual junior show or event as this weekend has been designed to showcase the brilliant young handlers and their dogs in the sport of dog agility. Teams from Belgium Holland and USA are already signed up.
There will be an opening ceremony where each individual country will be welcomed into the Main arena before the event starts with a special guest opening the event. World-renowned judges have been brought in to kick off the competition and to provide handlers with courses to challenge their ability. It's an opportunity not to be missed. It will provide junior handlers will some great experience for other big events they may be striving to reach, such as Crufts, Olympia and Grand Finals weekend.
Anthony Clarke said, 'I've talked to many parents after setting up the Agility for Junior organisation eight months ago, and it was very clear that parents wanted more high quality events for their children to take part in which is why I have designed this event, just for junior handlers. I sincerely hope parents will support the OJAC because the children can't do it with out you. You can get the official entry forms to enter at the Agility for Juniors web site
Doggy Jumps has kindly agreed to sponsor the event while the Individual Class sponsor will be Genesis Pet food.
More information can been found on www.agilityforjuniors.com
---



Calling All Young Agility Enthusiasts
Agility for Juniors is about providing a service to young people to encourage their agility interest while meeting and making new friends. We welcome young dog fans between 5-18 years. This organisation is to help and develop the future of our sport by offering young handlers the opportunities to train with top handlers and trainers as well as professional advice, talks and lectures to develop their dog training understanding.
Juniors are agilityís future, said founder Anthony Clarke. 'I have developed this organisation to help promote junior handlers in the sport of dog agility and to provide a service to all young handlers, new or old to the sport. Hopefully the junior network will grow in our sport and I would like to help produce and encourage the handlers of our future.'
The idea
Agility for Juniors will be running training events, holiday camps, and Junior shows around the UK at agility shows and independent venues and events for Juniors to attend, there will be opportunities to train with some of the UKíS top agility instructors and handlers. Agility for Junior members will get discounted prices on all events run by Agility For Juniors.
Benefits of joining Agility for Juniors
Benefits
Providing your child with positive dog training

A chance of training with top agility handlers

Specific areas training/talk/demos

Discounted prices on Agility For Junior events

Life skills/talks

Your child meeting new friends

10% Discount private lessons with Anthony Clarke for members

10% Discount private lessons with Anthony Clarke for parents

Free UKA Membership To handlers under 18.
Parent Benefits
Entertainment at shows for your child (Training Sessions)

10% discount private lessons with Anthony Clarke for Parents

Training opportunities

Chance to win a family ticket for the UKA Grand Finals weekend
Cost
∑ £10 for 12 months membership
∑ Cheques to be made payable to Agility for Juniors
Agility For Juniors Point league
Agility for Juniorís will be running an independent points league where juniors are rewarded for the achievements they gain at agility shows. There will be 3 age categories,
5-10 Years (Primary)

11-14 Years (Teen)

15-18 Years (Senior)
When becoming an Agility for Juniors member all handlers will be added to the suitable points table and the tables will be published on the website.
Visit www.agilityforjuniors.com for more Information.