News & results...
The aim of this competition is to encourage new handlers and/or young dogs to become consistent in their performance across Agility and Jumping classes and to be able to produce two good runs in one day, and not simply to reward the winner of a single run.
It is open to all Beginner and Novice dogs which are entered in the Agility and Jumping class on the day. There will be a separate competition for each height and Agility and Jumping class results will be combined. The course time will be Beginner rates of travel and the dog with the least faults and fastest time will be the winner with time used as a tie break.
Change of Competition Name
UK Agility and Tug-E-Nuff would like to announce that in memory of Mat Rouse's dog Riot, who was tragically killed in a car accident, the Performance Challenge will be renamed to 'Riot's Tug-E-Nuff Performance Challenge'.
2013 Results
Heat 8


HADS Open Agility Show




30 August to 1 September 2013
This heat was held on Sunday 1 September and the results are as follows:
Maxi
Mandy Welville-Love with Keeva

Anna Cutts with Ref WCSC CSC
Standard
Kate Howlett with Leia

Kevin Veale with Misty
Midi
Rosie Cavill with Dare

Wendy Botto with Tatti
Toy
Abby Blythe with Dizzy

Kirsty Bentley with Bella
---
Heat 6
UKA Nationals week
27 July to 4 August 2013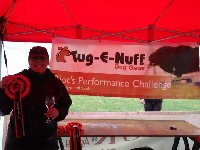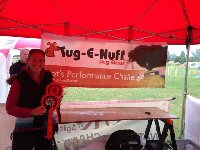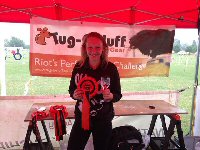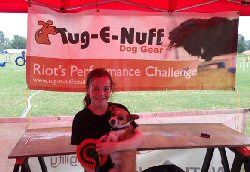 Maxi
Nicki Meakin with Jezebel CSC

Kim Loaring with Buzz
Standard
Kim Loaring with Lyla

Melissa Shearing with Jazz
Midi
Annabelle Stoate with Alfie

Lesley Caines with Parker
Toy
Jo Bird & Remy

Rosie Sawyer with Honey
---
Heat 3
GT Agility Open Show

3 to 5 May 2013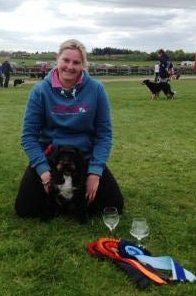 The results of the heats are as follows:-
Maxi
Paul Ford with Zac

Patricia Conibere with Chilli
Standard
Sian Illingworth with Maybe

Lyne Coward with Tic
Midi
Rachel Chisnall with Lottie

Abigail Doxford with Wiggy
Toy
Danielle Ackrill with Marshall

Tina Metherell with Poppy
---
Heat 2

Broadlands Open Agility Show
13 to 14 April 2013
The results of the heats are as follows:-
Maxi
Mandy Cowderoy with Quiz

Debbie Styles with Breeze
Standard
Sally Bradbury with Fly

Melissa Shearing with Jazz
Midi
Amy Lawson with Luna

Charlie Field with BritneyIce
Toy
Nina Bohm with Spikey

Catherine Care with Jake
---
Heat 1

Ajaxs Open Agility Show
15 to 17 March 2013
The results of the heats are as follows:-
Maxi
Kate Howlett with Obi

Steve Hoddinott with Pi
Standard
Gemma Hanekom with Detour

Betty Mayes with Jax
Midi
Samantha Smith with Jenson

Kay Collard with Gaby
Toy
Linda Evans with Dottie

Caroline Pollard with Freda
---
2012 Results
The results of the heats are as follows:-
East Anglian Summer Show
16 September 2012
Maxi
Charlotte Martin with Pink

Trudie Beckwith with Dezle
Standard
Lesley Hillyeard with Jet

Trudie Beckwith with Deeva
Midi
Kelly Lockwood with Tig

Michelle Turrell with Bailey
Toy
Kelly Lockwood with Dodger

Kerry Munnings with Dec
---
H.A.D.S. Agility Show

31 August to 2 September 2012
Maxi
Alexis Kay with PC

Leonora Paul with Raven

Sally Jones with Patience
Standard
Martin Tait with Ella

Anna Turnbull with Freya
Midi
Bev Aris with Barney

Jo Mann with Jenna
Toy
Joanne Burt with Gem

Lester James with Rosie

---
UKA Nationals

28 July to 5 August 2012
Maxi
Ann Button with Choc

Jo Bird with Meg
Standard
Naarah Cuddy with Sassy

Sue Washington with Meg
Midi
Karen Gibbons with Willow,

Mandy Thompson with Buster
Toy
Mary Perks with Buddy

Pam Hancock with Martha
---
Sands Agility Show
16 to 17 June 2012
Maxi
Nicky Nairn with Ebby

Dawn Walters with Diva
Standard
Shirley Fowkes with Molly

Valerie Bamber with Tazz
Midi
Rebecca Edgecombe with Sasha

Becky Collier with Storm
Toy
Jeanette Barton with Scruffy

Beverley Higgins with Woody
---
Quad Paws Week Show

2 to 10 June 2012
Maxi
Lynette Chant with Moo Moo

Paula Davies with Asta
Standard
Hannah Wells with Finn

Karen Brooks with Poppy
Midi
Apryl Parfitt with Breeze

Gill Rhodes with Bertie
Toy
Ruth Grint with Fidgit

Jacqui Watts with Sprout
---
Just Dogs South West Show

2 to 4 June 2012
Maxi
June Stevens with Mazie

Sheila Croft with Bryn
Standard
Zoe Dingle with Ellie

Christine Bennett with Toffee
Midi
Mike Vincent with Oscar

Janet Ulliott with Archie
Toy
Bex Surplice with Twix

Julie Toy with Kizzy
---
GT Agility Show

4 to 6 May 2012
Maxi
Pat Brown with Twist

Marc Wingate-Wynne with Dixie
Standard
Kim Loaring with Lyla

Judith Blake with Bud
Midi
Oliver Tatton with Saskin

Elizabeth Saggers with Ziga
Toy
Bernadette Bay with Zaz

Bernadette bay with Itzy
---
Broadlands Show


14 to 15 April 2012
Maxi
Lesley Olden with Ding

Debbie Styles with Breeze
Standard
Sian Beardsell with Spice

Sally Tancock with Molly
Midi
Derek Potter with Millie

Sarah Dickinson with Izzy
Toy
Linda Evans with Dottie

Elizabeth Couzens with Harry

Julie Docking with Belle (Qualified as 1st already qualified)
---
Newbury Agility Dog Show (NADS)


24 to 25 March 2012
Maxi
Kaye Faiers with Shock

Tunde Bell with Suti
Standard
Shauna Lyons with Fern

Bridget Fletcher with Bee
Midi
Adrienne Johnson with Inky

Jo Angliss with Jack
Toy
Tina Metherell with Poppy

Kaylee Rowsell with Tommy
---
AJAXS Show


16 to 18 March 2012
Maxi
David Alderson with Goose

Anne Sutherland with Sadie
Standard
Susie Josty with Ozzie

Janet Hosking with Jess
Midi
Kerry Murray with Quidditch

Charlie Field with Britney Ice
Toy
Linda Evans with Dottie

Sharon Irwin-Burns with Boo