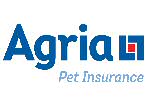 Sponsors of the 2018
Winning Out Certificates

Ding dong merrily on high...

12 Days of Agility Christmas


By Susan Herbert
On the first day of Christmas, in dog agilitee
My dog stopped and had a quick pee.
On the second day of Christmas, she's doing very well
Until she stopped and found a lovely smell.
On the third day of Christmas, we're having a good day
Till she did a back jump and I lost my way.
On the fourth day of Christmas she went into the weaves
And popped back out again, so we were 'E'd
On the fifth day of Christmas disaster came to me
Hamstring injur reee!
Refrain
Four missed weaves,
Three back jumps,
Two sniffy rounds
And my little darling stopped and had a pee!
On the Sixth day of Christmas she thought she'd have a game
And stopped to see the view from the A-Frame
On the Seventh day of Christmas, I forgot the course.
Sound effect of wind and passing tumbleweed...
On the Eight day of Christmas, the tunnel was a breeze,
But she went in the wrong end and I got E'd.
On the ninth day of Christmas, she ate the judge's lunch.
When they're very hungry, they're a grumpy bunch!
On a normal day pre-Christmas in contacts we take pride
On the tenth they seemed to be electrified.
On the Eleventh day of Christmas, would my trusty dog wait for me?
She was at Jump 5 when I was back at 3.

On the Twelfth Day of Christmas, we got a clear! Yippee!
But I'd left her tag on, so it was an E!
Refrain
Twelve handlers failing...
Eleven waits a wanting...
Ten faults for leaping...
Nine judges dancing...
Eight tunnels baffling...
Seven senses swimming...
Six dogs a'viewing...
Hamstring injur reeee!
Four missed weaves...
Three back jumps...
Two sniffy rounds....
And my little darling stopped and had a pee!
Merry Christmas everyone!
---
The Fly-By 12 Days of Christmas
Song...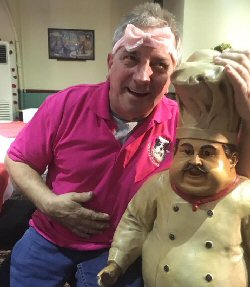 On the 12th day of Christmas my true love sent to me...
---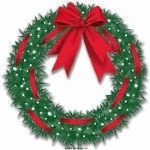 Deck the Halls

Thanks to Patricia and BlueMountain.com
Deck the halls with Chows and Collies
Ruff art arf arf arf arf arf arf arf
Tis the season to chew dollies
Ruff art arf arf arf arf arf arf arf
Don we now canine appearl
Ruff art arf arf arf arf arf arf arf
Roam the streets 'n bark a carol
Ruff art arf arf arf arf arf arf arf

Christmas Cheer?

A guy with a lisp from Sheerness
Said 'I have trouble when training my Bessh,
She obeysh the command,
When I tell her to shtand
But if I tell her to shit - it's a messh!'
Martin Pollard & the cooking brandy

Ding Dong! Merrily on High
(Traditional carol)

Ding dong! merrily on high,
In heav'n the bells are ringing:
Ding dong! verily the sky
Is riv'n with angel singing.
Gloria, Hosanna in excelsis!

E'en so here below, below,
Let steeple bells be swungen,
And "Io, io, io!"
By priest and people sungen.
Gloria, Hosanna in excelsis!

Pray you, dutifully prime
Your matin chime, ye ringers;
May you beautifully rime
Your evetime song, ye singers.
Gloria, Hosanna in excelsis!

Ding Dong! Mary is on High
(Agility version by Jane Tatam)

Ding Dong Mary is on High
Her contacts contemplating
Ding dong! Verily she'll try
To do them without waiting.
Gloria, her handler is persuasive!

E'en so here below, below
The judge marks five be given
And we know, we know, we know
The scrimer's pen is driven
Gloria, her handler is persuasive!

Pray you, will you not decline
To wave all your five fingers
May you re-decide this time
A paw definitely lingers
Gloria, her handler is persuasive!

Listen to the real Ding Dong Merrily On High...
1. Click the red button
2. When prompted, choose 'Open'

(Sung by Knightsong, Georgia, USA, www.knightsong.com)
(You'll need a media player on your PC eg Windows Media Player, RealAudio or WinAmp)







From: Alan Score

Walkin' in a Doggy Wonderland

To be sung to the tune of Walking in a Winter Wonderland, of course.

Ready?

Dog tags ring, are you listenin'?
In the lane, snow is glistenin'.
It's yellow, NOT white - I've been there tonight,
Marking up my winter wonderland.

Smell that tree? That's my fragrance.
It's a sign for wand'ring vagrants;
'Avoid where I pee, it's MY pro-per-ty!
Marked up as my winter wonderland.'

In the meadow dad will build a snowman,
following the classical design.
Then I'll lift my leg and let it go, man,
So all the world will know it's mine-mine-mine!

Straight from me to the fence-post,
flows my natural incense boast;
'Stay off of my TURF, this small piece of earth,
I marked it as my winter wonderland.

'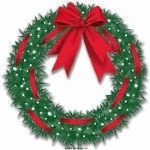 Dog's Night Before Christmas

'Twas the night before Christmas and all through the house
Not a creature was stirring, not even a mouse.
The stockings were hung by the chimney with care
In hopes that St. Nicholas soon would be there.

My dogs were nestled, all snug in 'MY' bed
While visions of chew toys danced in their heads
I in my sweat pants and Dad in his sweater
Had just settled down to read a Border Collie News Letter

When up on the roof there arose such a clatter
I sprang from my chair to see what was the matter
Off to the window I flew in a flash
Tore open the shutter and threw up the sash

The moon on the crest of the new fallen snow
Have a lustre of midday to the objects below
And what to my wondering eyes did appear
But a miniature sleigh and eight tiny reindeer

With a little old driver so lively and quick
I knew in a moment it must be St. Nick
With a sputter of ashes -- a flurry of soot
He slid down the chimney with all of his loot

My dogs stood there so regal and proud
Guarding their home with barks oh so loud
St. Nick showed no fear and called them by name
He knew in his heart they were gentle and tame.

He brought out his list, checking it twice
Well, my beauties, all year you've been very nice
have in my bag toys and much more
Just tell me what you pups really long for"

My dogs talked to each other -- much to my surprise
And turned to Santa with tears in their eyes
"We have chews and balls and ropes to be tugged
We are pampered and coddled and petted and hugged

But for Christmas, dear Santa, we have but one care
That all dogs be loved as much as we are
We want no dog beaten, whipped or chained
No dog abandoned, abused or maimed

We want all dogs, no matter what size
To see love reflected in their master's eyes.'
St. Nick stopped for a moment to gather his wits
'I have nothing to stop humans from being such twits.'

All dogs are so beautiful and are such a treasure
Living only to be loved and give humans pleasure
This lesson I will try to teach
Then maybe your wish will be within my reach"

St. Nick leaned over and kissed each beautiful head
'Now you Border Collies, go off to bed
Think good thoughts and dream good dreams
Of running and jumping and playing in streams.'

St. Nick turned to me, his face wet with tears
'Be proud of your babies, they are such dears.'
In an instant St. Nick disappeared in a poof
And I heard him chuckle as he ran on the roof.

He jumped in his sleigh and to his team gave a whistle
And off he flew like the down on a thistle
And I heard him exclaim as the drove out of sight
'Merry Christmas to all and to all dogs a good life.'