Introducing the equine version of agility...
First there was dog agility, followed by cat, rabbit, chicken, rat and even fish versions. Now there is a new spin off called horse agility. It's a new equestrian sport (obviously) that is growing rapidly in popularity for people who love horses and want to compete at the highest level without having to ride. Like dog agility, it's meant to be fun. Founder Vanessa Bee thought up the idea when she was helping a young horse and his nervous owner.
Vanessa Bee already ran a successful equestrian training business called Positive Horsemanship. She saw that when the handler and her horse were focussed on a simple achievable task they became more confident and, therefore, braver. The question simply came into Vanessa's head: 'I wonder if there is such a sport as Horse Agility?'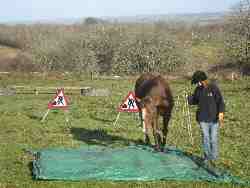 People have been playing with horses over obstacles in spook busting clinics and in Handy Pony classes for years, but Vanessa realised that she had never seen anything that resembled Dog Agility for horses. On her return home, she searched the internet and found nothing.
Vanessa has spent the last 25 years building businesses within the gift and equestrian trade and so the thought of a new business challenge to keep her occupied over the Christmas break was very attractive. She had no idea how successful this idea was to be. At the beginning of January, she launched The Horse Agility club as a website and through Facebook. Within a few months she had recruited over 250 members and 15 HAATs (Horse Agility Accredited Trainers).
'The time is right for a new sport for horse owners and the great thing is anyone can do it, young, old, fit or unfit with any horse, it's different and it's FUN,' says Vanessa.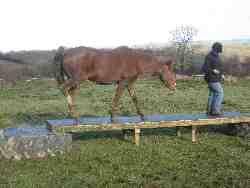 In this fast and exciting sport the horse has to overcome a number of challenging obstacles, sometimes against the clock, being guided by a handler who moves along with him. The speed, drama, tension and excitement of the competition make this a great spectator sport.
Horse Agility tests the horse's physical as well as his emotional fitness and tests the handler's ability as a trainer to keep the horse travelling safely over the course effectively and with style.
The sport is great for people who can't or don't want to ride, disabled people who are unable to ride but can move alongside a horse as it completes the obstacle course, horses that are unable to be ridden for behavioural or physical reasons and ponies that are too small for an adult rider. But it's also good for young horses that aren't ready to be ridden and greatly improves the trustful relationship needed between horse and handler. It gives everyone the chance to compete without having to ride or spend hours preparing their horse for non-ridden showing classes.
In short, Horse Agility offers riding and non-riding horse lovers a completely new way of being involved in a competitive equestrian sport that is active and exciting which has never been available to them before.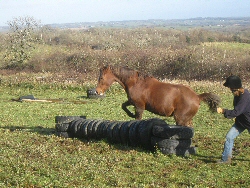 As in dog agility, safety is a very large part of the training for Horse Agility. The skills learnt in training make everyday handling of horses easy for everyone and helps the horse to build a more confident, trusting relationship with his handlers.
Often there seems no option but to ride a horse to keep him physically and emotionally fit, but the horses that are presently in training for Horse Agility Competitions are exhibiting a calm outlook and are more becoming physically able without lunging, long reining or being put onto horse walkers which are often the only choice left to people.
The problem solving required to complete the obstacles keeps the horse's mind working constructively and is a lot of fun for the handlers as they find ways to help the horse understand the request.
Obstacles comprise simple bending poles and crossing tarpaulins to tunnels, seesaws and A–frames just as in dog agility but with bigger obstacles!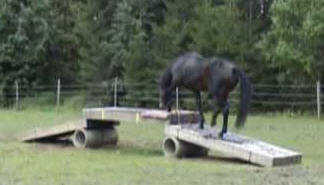 Because of the levels structure of the competitions, there is always a new skill to learn and improve. At the higher levels, horses compete within an arena at liberty without a lead rope. The top level athletes can then move onto Wild Agility in which horse and handler travel at least 5km across country against the clock, completing a number of natural obstacles along the way.
People are finding that the Horse Agility competitions and training days, with the emphasis on having fun, are a great way to meet like-minded people who think the same way about their horse's potential other than as a ridden horse.
All horses and ponies can join in Horse Agility whether they are ridden or not in other competitions, they just need to be in good physical condition.
Everyone can join in - children and adults of all ages and ability, the people do the horse training the horse does most of the energetic bit!
View an amazing horse agility demonstration on-line or the BBC feature on the Devon lady who created horse football.
Further information about trainers and events can be found on www.horseagility.co.uk
About the author...
After many years of study and research on how people and horses learn, Vanessa Bee has developed a unique style of helping people build a positive relationship with their horses. With a degree in Education, a holder of the Monty Roberts Preliminary Certificate and as a developing Progressive Counsellor, she runs courses in Positive Horsemanship throughout the UK and Ireland and is in demand as a consultant and trainer for rescue charities, film companies, riding centres and individuals.
She has featured on many radio and television programmes and is regularly called on to write for newspapers and magazines. She can be contacted by email at mail@positivehorsemanship.com or by telephone on 01409 221166