1942 - 2017

People new to Agility may not have recognised the well dressed, slightly built man with a pencil moustache and a permanent smile on his face often seen at shows across the country. Nor would they have known about his immeasurable contribution to the our sport. His name was John Gilbert, and he was there when Agility was just a sideshow to the main event. He went on to played an important part in the history our sport and did much to influence what we do today.
Steve Croxford, Vice Chairman of the Board of the Kennel Club , tells us a little more about his life and accomplishments.
It is probably true that John Gilbert was the longest standing Agility competitor in the UK and for that matter the world. John Gilbert started dog training in 1967 with a German Shepherd called Heidi. Together they went on to compete in Championship Obedience shows. Throughout the next 10 years John competed regularly in Obedience during which time he became an instructor at the Hemel Hempstead BAGSD.
Obedience competitor Richard Kebble remembers him from the early days, 'When I first started in dog training in the late 70s I sat on an Obedience League Committee representing Hertford. John was the rep from Hemel Hempstead BAGSD. His enthusiasm was infectious, and we spent many a Sunday at club matches having a lot of fun with the dogs, sometimes missing these days.'
It was in 1978 when things started to move very quickly for John. John and his next GSD Becky were amongst the top competitors in the early days of Agility, qualifying for the Olympia finals six times as well as winning dozens of other competitions.
He first qualified his GSD Becky for Olympia in 1979 and was still competing in 2017 with his Bearded Collie, Buffy until his illness took over and he had to give it up.
The early days of agility
John was a founder member of The Agility Club, a non-profit organisation conceived in 1983 by a group of enthusiasts who got together and put 'a pound in a bucket' to start the club for the sole purpose of giving all competitive agility dog handlers a 'voice' in the governing their sport. Along with others, he set about writing the rules that would be the mainstay of the early Agility competitions up to the time the Kennel Club took over the governance of the sport.
Peter Lewis takes up the story, 'My introduction to John was at the first agility competition to stage a competition under the newly activated Kennel Clubs rules. It was 1980 and a sunny day in spring at the Haslemere & District DTC event in Surrey. A group of us lunatics were trying our hand at what most dog training experts thought would never be anything other than a silly game! Oh, what memories!

Waiting to compete, I was suddenly conscious of a person lying on the grass, propped up by his hands behind his back so he could watch the antics in the one and only ring. Soon we were talking and discovered that we seemed to have in common interest which was destined to become a shared passion to make this new game work. At that time, the new rules had no great detail, and there was still much that required development.

That meeting quickly became more than a working relationship and developed into a friendship. Indeed, when I suggested a national club to help push things along, John was the first to join me in the adventure and was quickly followed by Dave Ray and then another 100 people. The rest was history. The Agility Club, as it came to be, was the first to recommend rules for progressive classes - all of which came from John's pen and were eventually adopted by The Kennel Club. Bear in mind that there was no Agility Council in those days, but John had been very thorough in what was adhered to by so many.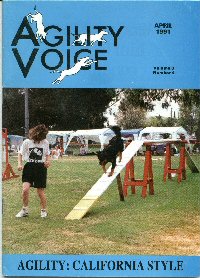 At the beginning, The Agility Club started a bi-monthly newsletter called the Agility Voice. The first issue appeared in February 1984 and the editor at that time was Stan Humphries. The newsletter developed into a more professional magazine until it became the 'must read' for agility enthusiasts in the UK and in other countries. John took over as Editor in November 1984, and his last issue as Editor was in December 2001. John worked hard to ensure the magazine went from strength to strength and the fact the Voice is still widely read is down to his hard work.
The 1980s saw the rapid development of agility across Europe and in the USA, Through The Agility Club and it's judging and Instructor seminars John Gilbert and Peter Lewis were instrumental in introducing Agility enthusiasts from all over the world to Agility. John and Peter Lewis travelled widely throughout Europe promoting this new dog sport, running handling and judging seminars, helping to set up competitions and advising on the basic rules of the sport. Their legacy is apparent in the fact that Agility rules worldwide are pretty similar even after all these years. There is a long list of countries that owe the introduction to this fast and exciting sport to John and Peter.
Although Peter Meanwell and John Varley can be credited with creating the concept of Agility and starting the fire, it was John and Peter that kept the fire going and saw that it burned brightly.
Always someone keen to share their experiences John and Peter Lewis wrote and published what was probably the very first 'how to' Agility manual and, in 1994, the book Teaching Agility was published.
An enthusiastic and skilled Agility instructor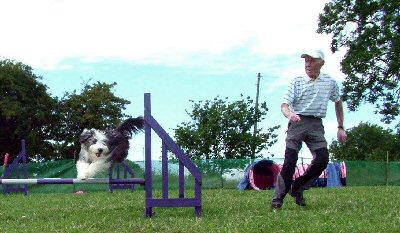 John started his club Faldo Agility in Bedfordshire in 1992. Having his foundations laid in competitive Obedience meant that over the years many a well behaved as well as well trained dog emerged from his stable.
His real concerns with dog training today was that the focus seems to be all about getting dogs into competition as quickly as possible without any consideration for making sure the fundamentals were in place first. The fact that 'you can go down any country lane in England today and find a set of Agility equipment' was not necessarily, in John's opinion, a good thing.
Serving the Kennel Club
In 1993 John became a member of the Kennel Club where he served on a number of committees and working parties. He represented the South East area on the Agility Liaison Council for many years and became an active and valued member of the Activities Committee.
Dave Ray recalls that John's contribution was outstanding, both in the meetings and to him personally. John excelled in wording rules and proofreading them. He was able to see through rules and pick up where they could be misinterpreted by accident or intention. This continued when John joined the Activities Committee which was the next level up. His contribution to the sport was 1st class. For John, membership of committees was not about self-promotion. It was about improvement of his hobby of agility, in fact that was John's outlook in all his voluntary work in Agility.'
When Dave Ray took over as Manager of the Olympia Agility Stakes in 1990 for Pedigree Petfoods, he knew who he wanted as his right-hand man. It was John Gilbert. Without him, the radical changes that were necessary at Olympia over the following years could not have been made. The bonus was that, along with John, came his partner Jackie Brett whose input and diplomacy was very welcome. She was also a key member of the team. It was a sad day when John decided to retire from Olympia.'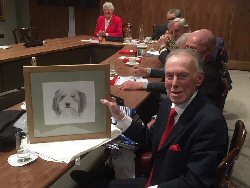 Always volunteering
He was the Chief Agility Steward at Crufts from the time it moved from Earls Court to the NEC. At the time, he was the designated Ring Party Manager, but his role extended well beyond that as he organised the competitors, the ring party and presentations. As always, he was very efficient and made sure everything went to plan and to time.
His great skill was in keeping the Crufts Committee on side while, at the same time, keeping Agility competitors and Flyball teams in check and didn't do anything to upset the running of what then was still mainly a breed show. At the time. Agility and Flyball were very much side shows to the main event. The fact that these events are now a fundamental part of the 'Biggest Dog Show on Earth' is a testament to his diplomacy and man management skills.
Again, never one to turn down an opportunity to help the sport develop, John also stewarded at the newly introduced Discover Dogs event, running the activity events with his now legendary expertise and efficiency. Discover Dogs is another flagship Kennel Club event that is only what it is now through John's support and guidance.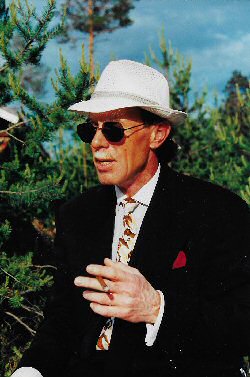 John was always happy to help new people to the sport and was keen to pass on his knowledge and experience to others. This passion extended to helping out with the Kennel Club's international teams and when they were looking for a volunteer to manage the newly formed European Open Agility squad John was an obvious candidate for the role. In 2008 John led Agility Team GB to Germany the first time the UK had sent an official team to this event.
Judging expertise
Along with all his other attributes, John was skilled at judging and course design. His extensive knowledge of dogs and many years teaching agility meant he had an understanding about the 'dog's line' long before the term was invented. John had the knack of setting out a seemingly 'easy' course containing handling traps that weren't apparent from a simple course walk. Most handlers only ever underestimated John's skill at course design once and then paid much more attention to them after that!
He was an advocate of the mantra 'good judges should dress like they have some authority' and he was renowned for being the best-dressed person at the show. His judging skills, course design and dress sense demanded respect and he got it and as a result John judged all of the major events in the UK, Crufts twice and at Olympia 3 times. He also judged and coached in 22 countries throughout his career.
John's ability to see the bigger picture and to innovate helped the development of another now popular canine activity. In 1990, John came up with the idea of asking Mary Ray to come to his club and to do a demonstration one evening. John knew a good dog trainer when he saw one and he knew Mary was an exceptional one. Mary was quite nervous about it but felt a bit better when John came up with the idea of 'An Audience with Mary Ray', John would ask some questions and then Mary would demonstrate some moves with her dogs that were put to music. So popular was this demonstration that it became obvious the pair were on to something special. The eventual outcome is now history with Heelwork to Music being one of the most popular canine events held at Crufts every year.
It is probably true that John was the longest standing Agility competitor in the UK and for that matter the world. He first qualified his GSD Becky for Olympia in 1979 and was still competing in 2017 with his Bearded Collie, Buffy until his illness took over and he had to give it up.
Without a doubt John has made an outstanding contribution to the world of dogs and to the development of Agility as a worldwide phenomenon in particular. His legacy is that Agility competitors everywhere can share in this fantastic sport, which is going to be much poorer with him being gone.
John Gilbert died 13 November 2017.
About the author...
Steve Croxford lives in Leicestershire but was born in Surrey and arrived in Leicestershire via Kent and Warwickshire. He has owned Border Collies and competed in agility with since the late 80s.
Steve has been a member of the Kennel Club since 1998 and was elected to the Board in May 2005. In May 2015, he was elected to the position of Vice Chairman of the Board. He has served on the Agility Liaison Council, the Activities Committee and the Disciplinary Committee, which he also chaired for a short time. He ranks the setting up of the Activities Health & Welfare Group as one of his major achievements.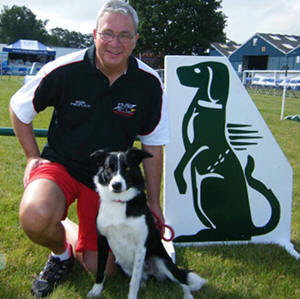 He was the team manager of the Kennel Club's international agility team, Team GB between 2001 and 2011. He also coached the American Kennel Club international team at the 2013 FCI World Championships in Johannesburg, South Africa as an assistant to the Team Leader.
Steve is a Kennel Club Accredited Instructor (KCAI) at the specialist level for Agility and was the first to achieve this award. He has been a regular competitor in agility for over 25 years and has been a professional agility trainer since leaving banking in 2003, although he did have a short spell washing and delivering hire cars in Coventry in between! Steve is a partner in the on-line instructor training and coaching organisation Agility1st which aims to improve the standard of agility instructing and coaching throughout the UK.
He is a Championship Agility judge, and he has judged all of the Kennel Club's prestige agility events. He has also judged at the FCI European Open Agility competition, the first judge from the UK having been invited to do so.
In his business career. he began working for the international arm of a major UK bank in 1974 and finished this part of his career in 2003 after 28 years service. During his time working in banking, he gained experience of people management, business operations, product management and marketing and managed large projects across the group both in the UK and across continental Europe. He also worked on a number of cross banking industry projects and with the Bank of England as part of a senior management team.
Steve is married to Yvonne and they recently celebrated their 30th anniversary.
First published 5 December 2017