An Agilitynet rescue page success story...
The best dogs are not necessarily those that set the agility world on fire. They are the ones who make everybody smile. Just ask Helen Jones, who saw a post on the Agilitynet Rescue page about a bright, active pup looking for a home. Since she picked up Merlin, there has been a lot of blood, sweat and tears, but what an interesting journey she's had with this handsome joker. Following in the pawprints of his canine idol, Lou Cadman's Paddy, here is Merlin's version...
Hello, my name is Merlin.
Five years ago my mam was surfing the internet when she should have been working and she came across me on the Rescue Me page of Agilitynet. Bright, active pup, it said. I was such a cutie, don't you think?
Anyway, Mam whacked off an email to Dogs Trust Bridgend, not really thinking she had a chance. She was told several people were coming to look at me the next day, but they asked if she could pop down, too. Mam was very excited but then her car broke, and she had to send a frantic email to all her friends, asking if they could help. Luckily for me - but possibly unluckily for Mam - the lovely Sarah drove her and Bonnie and Mae to meet me.
And so I went to live with Mam and Bonnie and Mae.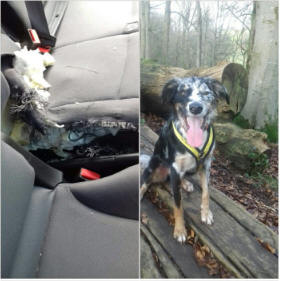 The rest is history - a bit like most of Mam's slippers, pockets and her new van seat.
Be careful what you wish for
Mam thought she was getting a nice, destined to become an obedient, hard working collie, but she got more a lot more than she bargained for. She made me take a DNA test which, by the way, I passed with flying colours. They said I was 25% Greyhound, 12.5% Border Collie, 12.5% Australian Koolie (whatever that is) and 50% other breed groups including Terrier, Herding, Hound and Middle Eastern and African. No wonder I am so clever!
To be honest, I have absolutely no interest in herding but I can run run like a gazelle and am a good guard dog. Did I say that I have the ears and tails of a Saluki?
Mam says that I would be on the spectrum if I was human. Her sister thinks I suffer from FOMO. Wonder if that is a new kind of fish chew?
They didn't know what had hit them
I learnt to be an escape artist from a very young age - no crate can contain me. I can even open the door to the motorhome to go and find Mam. She said it was quite funny up until the time I managed to open the kitchen door and switch the cooker hob on and nearly gassed us all.
Of course, there was the time when I managed to eat all the cat's blood pressure tablets. The vet said how did Mam know it was me and not the other dogs. She just shrugged her shoulders and raised her eyebrows. Anyway, they made me sick and sure enough the evidence was there.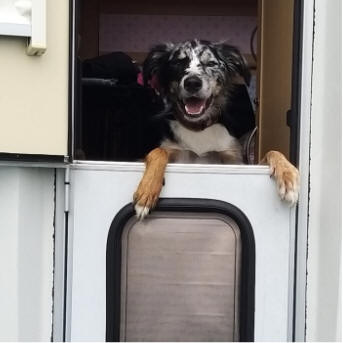 Another time Mam asked her dear old, late dad to look after me for a couple of hours and she got a phone call from him saying I had escaped. I'd opened two doors and jumped over a 6ft garden gate. Of course, I knew where I was going. I'd made my way back to Mam's house. All the while, she had been having an anxiety attack as Grampy's house backs onto the fields with sheep. I wasn't interested in them. I'd just wanted to be home to my mam.
Over the years, I've only done a little bit of agility because Mam had got quite keen with her rescue, Little Mae, who had made it to G5 and had wins towards G6. But then Covid hit and Mam made the hard decision to retire Mae so she was left to compete with me.
As this is a family friendly page, I'm not allowed to say what she calls me, but they are on doors to open them. She loves me really. Once I got a Judge's Special in an Anysize just because the judge loved me, too.
Overall, I'm a happy boy. Unfortunately, however, Mam's had a couple of very sad years when she lost both her own mam and dad to horrible illnesses. Luckily for her, I was there to give her lots of cwtches and cuddles. She said it didn't matter if we wouldn't set the agility world on fire as long as people could see me wagging my tail and having lots of fun in the ring.
On occasion, she's been told by the other agility people who didn't get me that they had a lucky escape. Not sure why?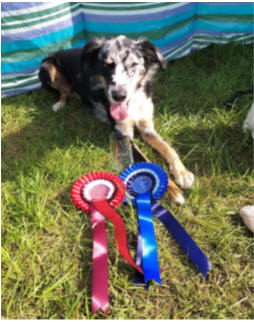 Mam thought it was time to write about me as I surprised her by getting two rosettes for clear rounds at UKA Easter on the weekend.
Love from Merlin's Celtic Magic
Mam's endnote
Please don't let Merlin ever put off anyone from rehoming via the Rescue page of Agilitynet. He may not be an agility champ but this ADHD pup certainly has taught me many things and changed my world for the better.
Thanks for reading.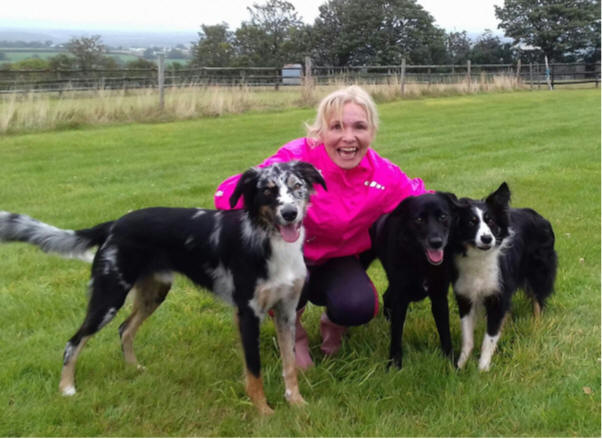 About the author...
Helen Jones started agility with Mae back in 2013. They got to G5 plus two wins in G6.
She and Merlin are on this ride together. Having fun is their aim. She is not even thinking about win outs because she thinks it would be bad for her relationship with him.
Agility is just a small part of her life. Merlin has brought the smile back to her after losing both her parents in a short space of time. They go into the ring with a smile and want to make the judge smile, and then they leave the ring with a smile.
First published 4th May 2022