He has my heart - totally
Mandy Colbourne kind of fell into agility by accident in 2017 when she asked about some mini agility jumps she saw in a friend's field. Thinking of her rescue Border Collie Pip, she commented that maybe they should take up Agility. It was a tongue in cheek remark that was about to change her life. Mandy explains how one man's failed sheepdog became another one's agility star.
Pip was born in December 2016 on a friend's smallholding out of her lovely bitch Dusk and by the awesome Meirion Owen's dog, Moss. I was desperate to have another Border Collie as Tash was getting older and a bit stiff and less fit. She was great with the sheep, but always did it 'her way' which was fine. Having said that, my sheep are the friendliest bunch and, on the whole, will come running when I shout and rattle a bucket, so another working sheep dog wasn't really needed. I just love Border Collies.
Anyway, I digress. My friend Veronica had a list as long as your arm for new homes for the puppies, mine amongst them. I wanted another bitch. I'd had bitches my entire life and I wanted another. I had even decided on a name for her. Come February Veronica was wanting to get them weaned as she was up to her eyeballs in two very young children, a smallholding and family commitments, so was rather anxious to get them to their forever homes. After a huge amount of sole searching and thinking with my head rather than my heart (for once), I decided that with the Welsh weather, lambing coming up, kidding coming up and all the usual winter farm chores to do, I couldn't possibly care properly or housetrain a puppy at that time and so had to back out.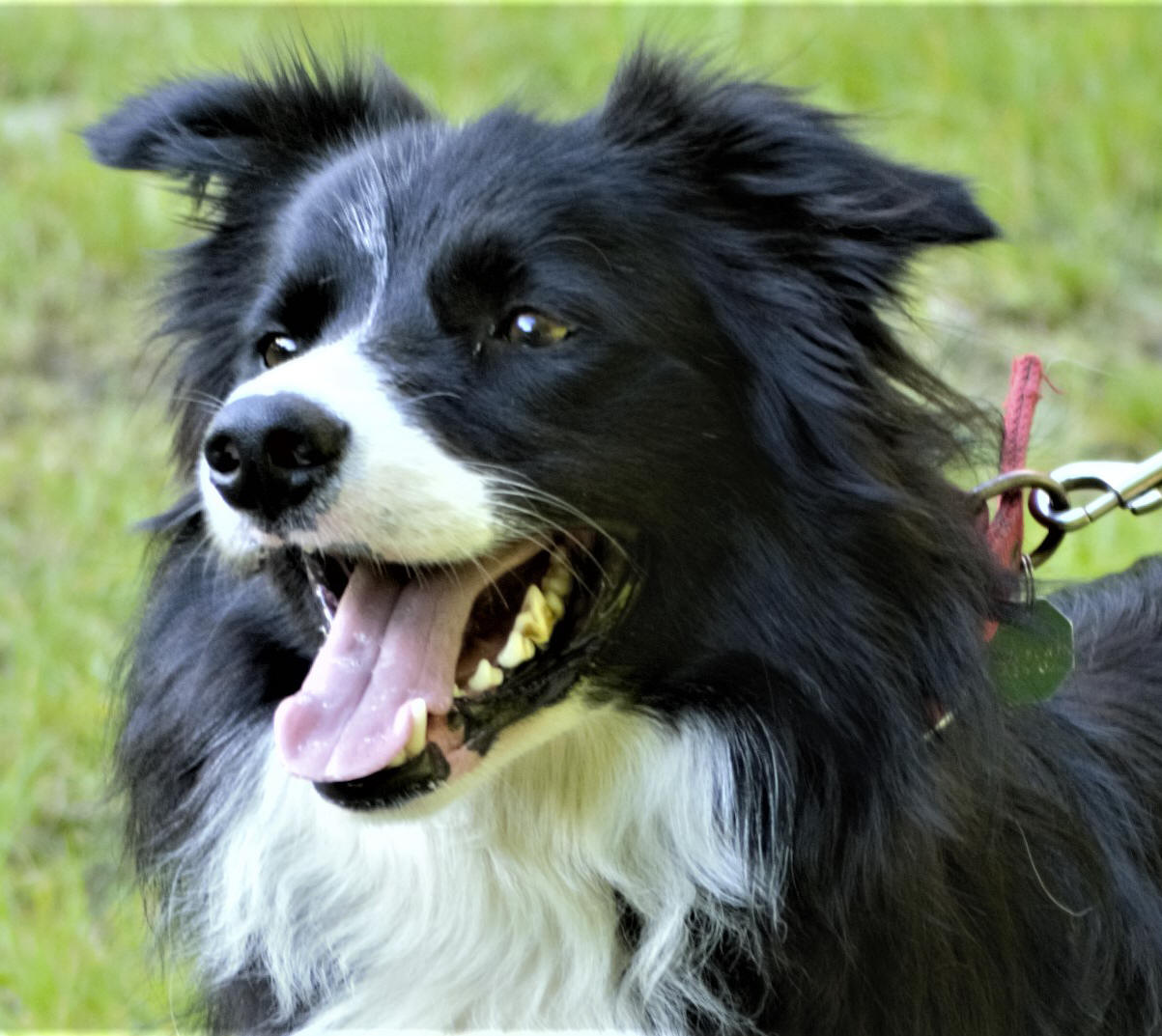 Spring came and went and then summer much the same. Then suddenly in September, I was at the breakfast table sipping my coffee when up popped an advert on Facebook from Veronica for a nine month old Border Collie dog urgently needing a home.
Was it Karma?
I messaged Veronica straight away and asked if I was supposed to have one of her pups after all? She told me the family that took him as a future working sheep dog but found him impossible to train. He 'kept splitting the flock' and they didn't want him anymore. Bearing in mind that he was only nine months old, I said I was definitely interested and didn't need him for the sheep anyway. She was delighted at the prospect of me taking him on, but I had to be sure and I had to convince my hubby Derek that a third dog was exactly what we needed! I asked Veronica to give me 24 hours.
Later that day Veronica phoned me and said she had massive amounts of interest in him and wondered if I'd made a decision as she'd really like me to have him if possible. There was one other person interested whom she felt would be a good home if I couldn't take him.
I said, 'Give me 10 minutes.'
I turned the PC to Derek and showed him the photos of Pip and said 'You see this dog. Well, it's one of V.'s pups. He has been returned as apparently he's a useless sheepdog! If it doesn't work out, there is another home that she thinks will be fine.'
Derek looked at the photos and didn't say anything for what seemed like hours though it was probably only seconds and replied, 'If he comes here, he's never going to leave, is he. So yes.'
I flew to the phone and told V. the good news. She said she'd bring him out the following afternoon.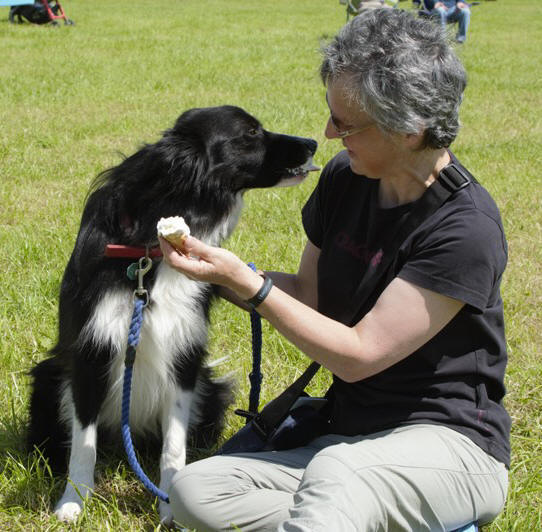 Wow, another dog
The following day after all the morning chores were done on the farm, I rushed around looking for something suitable to use as a bed as well as a spare bowl etc etc. Then I paced the floor until he arrived. She had him in the back of her estate car and we could see this very handsome, happy, smiling face looking at us out of the back window. V. opened the door and he practically leapt into Derek's arms.
We took him in the garden and introduced him to the other two who basically ignored him and Pip trotted around sniffing at everything and seemed very happy. Later in the day, I took him across the lane with me when I went over to do the chooks and goats etc. He got pretty excited about the goats but ignored the chooks. It took a bit of encouraging to get him to come indoors. He sat across the driveway outside the workshop door and didn't want to come to me, so I went over to take him by the collar and lead him in. He immediately dropped to the ground and rolled over and very gently took my wrist in his mouth. I truly believe he had been shaken and was terrified I was going to do the same, but there was no way he was going to hurt me. We settled him indoors and he slept on a blanket that V. had brought with him.
In a nutshell
It was pretty clear he'd been badly handled and was frightened of certain noises - like the chickens clucking - and of certain types of handling. However, we did our utmost to make him feel safe and secure over the next few months and he rewarded us with his trust.
One of the other problems we had was getting him in the back of the car. He really didn't want to go. We wondered if he thought he was going to be taken to yet another home. If we tried to pick him up, he would drop down and roll over onto his back in a submissive way and, if we reached out to him, he would once again, very gently, just take your wrist in his mouth. The trainer saw this and said to be firm, ignore what he's doing and just pick him up which is what Derek although we were ever so slightly worried it might send Pip over the edge. Once in the car he would curl up in the corner and be fine. It took a few goes, but he quite quickly learned that when he went into the car, he would coming home again. If only I could read his mind. If only he could talk.
We also took him to a local gun dogs training workshop to get some help with recall and lead work etc.
Over the top
In early spring when the goats started kidding, I decided that I couldn't take Pip with me as I didn't want to stress the goats. This, Pip thought, was not part of the plan, so he scrambled between the bars of the five bar wooden gate to follow me. I put him back, and he did it again straight away, so I took his lead and tied him to the gate where he could still see me. He laid down and watched.
Later Derek put a filler bar in to block the gap on the gate. The next time, Pip climbed the rails and scrambled through the gap a bit higher up. So Derek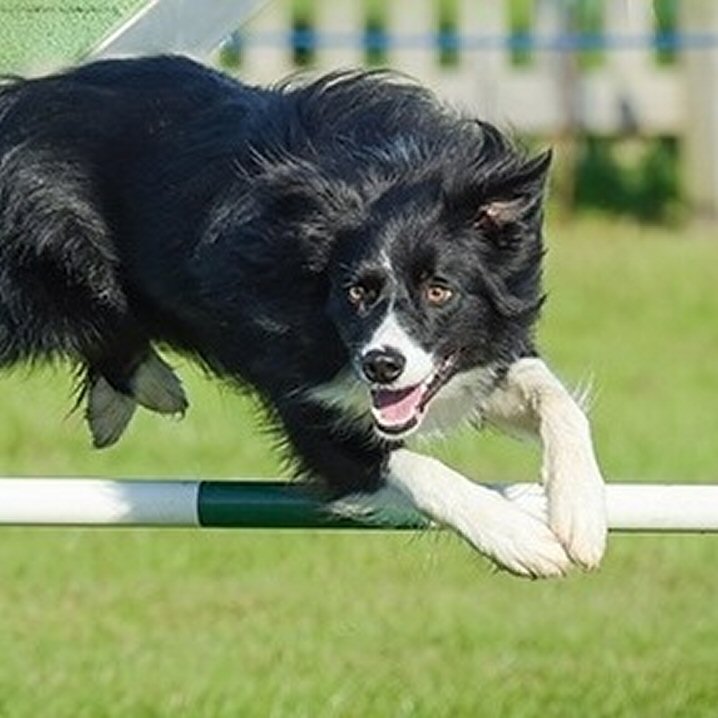 blocked the gaps further up the gate. When he realised that he couldn't scramble through, he jumped the garden wall instead and still came across. Next, we put up several sheep hurdles to barricade the wall. Guess what? Yep, he jumped the hurdles, then the wall and still came across.
This was when I said those life changing words 'perhaps we should do Dog Agility with him.'
In the end, we had to put him on a long chain to stop him keep following me and he was quite happy. I'd let him off as soon as I was back in the garden. He soon learned and, after a while, I tested him and he stayed put. Result.
A few weeks later I had to go over to a farming friend to pick up some lambs I'd bought from her. In one of here fields, I noticed some very tiny 'show jumps' and asked her what they were for.
She said, 'Oh, I do dog agility with my Manchester Terriers, and they're practice jumps.'
My ears pricked up and I told her it had crossed my mind to try Dog Agility with my Border Collies who were both in the back of the car.
She said, 'Oh Border Collies are great for Agility. There's a club just outside Carmarthen where I train. I'll give you the details.'
That first lesson was a game changer
So, as soon as I got back at home I looked them up on the internet and sent Sue Alway of Welshspell a message. She told me there would be a beginners class starting early June, so I put my name down. Gulp.
Having been into horses and competitions for most of my life and laterly, showing sheep at the local county shows, this was just brilliant. I still remember that very first row of three jumps. Sue held him and I stood the other side of the three jumps, called him and he ran round them and up to me. We tried again this time two jumps. Same thing. Down to one jump and he jumped it. By the end of our shared lesson, however, he'd twigged the game and that as they say, was how it all started.
We had weekly lessons and, after three months, I said to Sue, 'when can we do our first competition?'
She looked at me and said, 'Mandy, most people wait a year, but we do have a club show in September.'
Sadly we lost our old Collie X Lab during the summer of 2017 and so it was just Pip and Tash who, for the most part, ignored him as her one and only goal in life was working sheep. On Boxing Day 2018, we very suddenly and tragically lost Tash. On 3rd January 2019, we collected Tig from the same breeder we'd bought Tash from 13 years before. Pip and Tig bonded almost immediately, and they are the best of friends although Pip will always show who's boss when required. Tig has also started agility and makes her debut next year.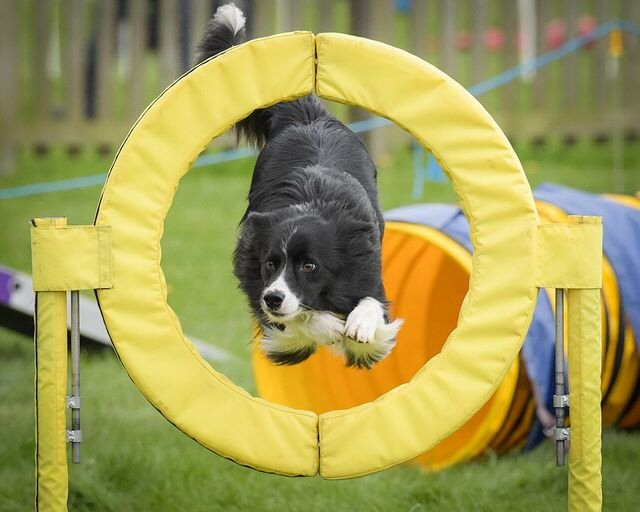 I always was competitive!
After a few one day events during 2018, Pip and I decided it was time to leap into 'proper' agility and so off we went to Shrewsbury in May 2019, complete with caravan. We arrived not knowing quite what to do or where to go or any of the routine that becomes the norm, but we did have the best lucky coincidence ever. We arrived just ahead of Jane Penninck who was also at her first event with her wonderful little dog Kizzi and we bumbled around together working out where and how to set up.
This is one event I'll never ever forget. Jane took me under her wing - she'd competed at Agility 20 year before - and supported Pip and me the entire weekend. She boosted my confidence at every single turn. She even became 'Pip' during walking courses to make sure I remembered to 'connect' and shouted out 'where am I going,' exactly as Pip would have done if he could speak.
We won our Agility class and we were all ecstatic. To top off the weekend, we were in the G1-3 Combined Agility and Pip went like a dream. I said my goodbyes to Jane and said 'we're off now as we certainly won't come anywhere in this class.' She said she'd keep me posted. En route home she messaged me every time someone ran. To cut it short, the final message was to say 'You've WON!'
It still brings tears to my eyes remembering the joy of that moment and how absolutely fantastic Pip had been that first weekend and, to top it all, we made a friend for life and so did Pip. Pip was brilliant despite my efforts to thwart our efforts by forgetting courses and doing all sorts of wrong things and we finally finished the year in Grade 3 with a further win under our belts towards Grade 4. For a throwaway, useless sheepdog, Pip was - and still is - the absolute star to me.
By the way, I still get the most incredible support from Jane even though she is in the Midlands. If I have a problems, I message her and she comes back with all sorts of advice as well as links to helpful training videos etc.
Sometimes I have brain fade and still find it difficult to remember courses, but Pip has got me out of trouble so many times. It's like he's running me rather than the other way around. That first proper year of shows in 2019 we had a fabulous fun time and I was so looking forward to 2020, but hey ho, we all know what happened then.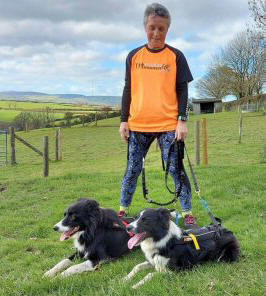 I realised that agility really meant you needed to be a little fit for running and at 5ft' 2in with short legs I was struggling. A friend suggested I take up the Couch to 5K challenge which I did. After the first couple of weeks I was loving running but the utter joy of running came when I started to take Pip with me. I discovered Cani-X.
At the present time, I believe that I have the best of every world. Pip, my dream dog, absolutely loves coming running especially when we get to compete at Trail Running up over the beautiful Welsh mountains and hills. To top it off, Tig has started to come with us now that she is old enough. The three of us regularly run together just for the love of it. I am even able to combine it with checking the sheep a couple of miles away.
What does the future hold for my amazing Pip?
Who knows, but we have all our fingers and paws crossed that 2021 will be a little better than 2020 and that we can continue our learning experience and work towards that Grade 4. Never did I think we'd be doing what we are doing - and I owe it all to Pip.
Pip is the most amazing, wonderful, kind, loving dog ever. He still has issues and is a worrier, but he has overcome so much over the past four years. He simply adores people - all people despite those terrible times in his early days. I can't imagine life without him. He has taught me so much and we're all looking forward to carrying on where we left off - having fun, making lots and lots of new and wonderful agility friends and enjoying each others company.
I adore my little Border Collie Tig, but Pip has that extra special place my heart.

About the author...
Mandy Colbourne lives on a smallholding in Carmarthenshire near to the Preseli Hills on the Carmarthenshire / Pembrokeshire border where she keeps a flock of around 50 sheep specifically for their wool and also breeds Berkshire pigs and Anglo Nubian goats. The horses are now retired and live a life of spoilt luxury.

Her little band of sheep provide all the wool for her single farm, named sheep, limited edition, specialty, unique yarns. Wool With Provenance has customers, followers and fans worldwide.

She and her husband also provide self catering holiday accommodation in the beautiful Welsh country side. For more information or to book, go to Glyn Elwyn

Feedback

Jane Pennick...
Wow Mandy. This is absolutely amazing! So pleased for you and so very proud too. What a super story - a gorgeous dog and his amazing loving owner. What a great life you have together and enormous love for each other, too. Thank you so much. You definitely have made a friend for life and we couldnít be more proud or honoured. We love who you are, how you write things, how caring and devoted you are to all your animals, friends and family, your enthusiasm, zest for life and everything about you from the first minute we met you on that very special weekend of 04/05 May 2019 in Shrewsbury. Canít wait to see you my special friend. Bring on 2021. (17th December 2020)

First published 10th December 2020