What people are saying about Agilitynet...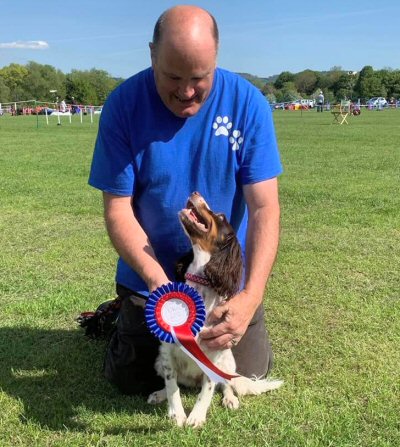 Hatti saying to Mark Lowe. 'Look Dad. I did it. I got a clear round.'
Photo: Craig Preedy
If you have any comments about Agilitynet, good or bad, email them to Agilitynet today.
We organise three winter fun shows a year and really appreciate being listed on Agilitynet.
Karen Griffiths - Epynt Dog Agility
Thank you for running the Flea Market. It is so useful.
Rosemary Tappin
Well done, Ellen. Agilitynet got me into using fb.
Les Briars
Keep up the good work.
Stefanie Dawson
Happy birthday. You do a great job.
Christine Starling
Happy anniversary to all involved and thank you for all the hard work you do/
Lynda Stangle
All those years ago. Well done and thank you.
Brenda Johnston
Big anniversary. Good wishes from a very proud Agility Auntie. It was my pleasure to be part of Agilitynet.
Mary Ann Nester
A simple thank you.
Claire Murray
Thank you for all you do for the agility sport. You are a force to be reckoned with and I take my hat off to you for your dedication to both this wonderful sport and your dogs.
Nicki Hyland
Thank you very much for all the hard work you have done with the various updates to our schedule.
David Bull - Wilton Dog Club
I really love Agilitynet for listing all the shows in one place - it's so helpful, especially as a newbie.
Kristina Dunnng.
Thank you for the mention (of our show) on the website. I was super excited!
Karen Parker
Just to let you know that our trophy and rosette arrived today. Whoop whoop! You've no idea of how much this means. I am chuffed. Thank you so much.
Heather Watts
Just wanted to thank you for the lovely trophy and rosette for this years Senior League. SAL keeps us oldies going throughout the year.
Trish Piggin
Thank you for everything you've done.
Jackie Gardner
I had a lovely surprise on Saturday when a huge 3rd place rosette for the Ruby Small category arrived in the post for my dog Myrtle (Mistress Myrtle Screams.) I thought only 1st and 2nd places were recognised so to receive our 3rd place really made my day.
Heather Skelton
Thank you for organising the Senior Agility League and for the lovely rosette that arrived for Mac today. Looking forward to seeing how we can do this year.
Margaret White
We really appreciate all your hard work.
Pauline Robb
Thanks for all your hard work compiling the New Years Honours List.
Nicola Vince