Where agility is the bees knees
In 1994 Alan Shrimpton and his family arrived in Auckland from Australia. They had no home - just a truck load of baby things and dog gear. He is currently the Zone One Representative and he sits on the NZ Kennel Club Dog Training Committee. Agilitynet has invited him to share his experience at New Zealand's largest obedience and agility jamboree.
Every year we hold an National Dog Obedience Assembly (NDOA). It's the largest Obedience and Agility Show at the one venue in New Zealand. The name is a hangover from the days when there was no such thing as Agility. This year, however, is the last time it will known by this name because, in future, it will be called the National Dog Training Assembly (NDTA).
The Show was held over our long Labour Day weekend on 24 - 26th October. Dave and Mary Ray from the UK were there. From what they said, the UK doesn't have anything quite like it - a three day National devoted purely to Obedience (indoors) and Agility (outdoors). To win here is the 'bees knees'. People come from all parts of the country for the social occasion and to catch up with old friends. Many take it extremely serious. Some will take great pride in how many "D's" (Disqualified) they get. I think you call it the "Big E" as in Elimated.
Standard Classes Explained
First a word about how Agility in New Zealand is organised. The country is split into five geographic areas called Zones. We differ from the UK in that we have only four Standard classes of Agility - Starters, Novice, Intermediate and Seniors. There is also an AD Trial which consists of 12 set courses. One course is drawn from a hat on the day, and any dogs going clear will go towards a handler's AD Title. This is just a qualifying round rather than the Standard win to get out.
Each dog is able to enter any two of these classes, excluding the AD, in their entire Agility carrier. The title 'Starters' refers purely to the dog, so an experienced handler can enter it again with their next dog. Starters has no contact gear. Now a dog can enter Starters and Novice.
Novice has all the contact equipment, but the courses are much the same as Starters. Once you have two wins from either of these, or your AD title, you can then no longer enter Starters classes. You can, however, enter Novice and Intermediate. Once you win three Novices or Intermediates, or have two wins and your ADX title, then you can no longer enter Novice. You can only enter Intermediate and Seniors.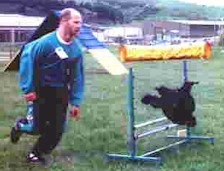 Meanwhile Back at the NDOA
Friday night is Registration. You can pick up your numbers and enjoy a light meal with a bottle of beer or wine. On Saturday night after Day 1 of the competition, there is a social evening when each Zone has to do a skit. This year the theme was 'It Ain't Half Hot Mum'. Sunday night was another evening of socialising. On the last day Monday, we hold the Teams Event which is the final thing for the weekend. Each zone furnishes a team of Agility and Obedience competitors.
This year we had 11 classes of Agility including two Starters (123 entries), three Novices (153 entries), two Intermediate (105 entries), three Seniors (59 entries) and one AD. On top of that, there was one Novelty at the end called Gamblers. This is the same as the Gamblers you get in the USA. You do sequences of the course, and if you make an error, the other dog has to continue from that obstacle.
Obedience classes were run over the Saturday and the Sunday at the same venue. This year the classes were big enough to split in the Obedience sector. There were also Working Trial Tests including CD (Companion Dog), UD (Utility Dog) and WD (Working Dog). No TDs were on offer this year due to lack of space. As this letter is supposed to be about Agility Down Under, I won't go any further into the Obedience.
The Grand Finale
Monday was the Teams Event as I mentioned earlier. This is how it works. Each Zone enters one dog in each class. Monday morning started with the 'parade in' with the team members and their mascots, which are some pretty funny people in animal suits attacking each other. The mascots are a Cat, Frog, Dog, Panther and Penguin. Next the previous year's winners of The Cup (Obedience) and The Shield (Agility) return their trophies and the show begins.
The first class was the Special Beginners. Each Zone's Beginner did their stuff. They are placed from 1st -5th (being only five Zones). Then the Novice dogs ran, followed by Test 'A' dogs. We then had a break from the Obedience and went to the Agility (hooray).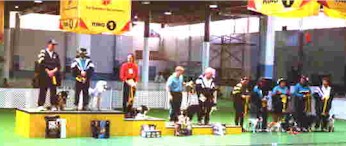 The Starter dogs went first, placed again from 1st - 5th. First place gets five points, second place gets four points and so on. Next came the Novice dogs, followed by the Intermediate and lastly, the Seniors. At the end of the day, the points for each Zone were added together to get the Shield winner. That's me picking up second place at the prize giving with my wife's Standard Poodle Riot.
With the Agility over, we went to the Obedience, finishing with Test B and lastly Test C. During all the action there is cheering, razzing and comradeship. A jolly good day had by all! Of course, you get what you put in. If you go to have fun, you do.
Anyway that's enough from Down Under NZ for now. Hope you enjoyed my NDOA as much as I did. This year the NDTA will be held in Invercargil South on the South Island. Our tickets are in the post!
---
About the author...
Alan Shrimpton is an Aussie living in New Zealand. He is a member of North Shore Dog Training Club in Auckland and does obedience and breed showing as well as agility. His breed is poodle. This year his Standard Poodle, Summer, was Top Dog in his Zone. By the way, his dog Indi picked up 2nd and 6th places at the NDOA while Riot got a 2nd and a 10th place.
If you would like to know more, you can email him on loverslane.poodles@aka.electrics.co.nz or you can visit him at Loverslane Poodles