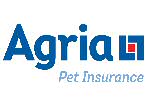 Sponsors of the 2018
Winning Out Certificates

Desert dogs
Dog agility is a very new sport in Namibia. It is growing slowly but surely. As of yet, there is no governing body for dog agility and all competitions and events are organised by the one club in the country which offers dog agility. Carel van Wyk, a member of the Windhoek Dog Club, tells us more about training and competing in this dusty African country where sunglasses, hats and strong sunscreen are mandatory and agility is still a voyage of discovery!

Currently there are only three registered dog clubs in Namibia, specifically the Windhoek Dog Club, German Schaferhund Verein and Hochland Dog Club. All three clubs are located in the capital city Windhoek. In some of the other towns there are informal clubs, but with no real structured organisation and events.

In general, all dog activities in Namibia have been and still are largely restricted to breed shows and obedience. As a lot of dog handlers/owners have non-pedigreed/registered and rescue dogs, they were automatically excluded from breed shows.

As obedience is not a very exciting event for dogs and handlers, some of the members of Windhoek Dog Club started to look at alternative doggie events where handlers and dogs both can participate as a team, and that was start of agility about four years ago.

As agility had already started a few years before in our southern neighbour, South Africa, most of our information originally were obtained from them, but these days we surf the web for training tips, course planning and updated agility information.

We have no Namibian qualified agility judges and all judging is done by South African judges, registered with KUSA (Kennel Union of South Africa). We also have no formally trained instructors, but newcomers like us look to the 'old hands' with approximately four years of experience for guidance.

All equipment is self made as we do not have stores selling agility equipment. In fact, we only have one or two shops selling a very limited range of doggie related items. Agility and other doggie stuff can be ordered from South Africa.

Windhoek Dog Club
We currently have about nine handlers with around 24 dogs who actively participate in agility in Namibia. Only four of the handlers run registered dogs, specifically German Shepherds, Jack Russells and Golden Retrievers. The rest are rescues and non-registered dogs. We only have six Border Collies in agility. On average, every handler runs three dogs in an agility event.

Namibia is a large and sparsely populated country on Africa's south-west coast. It is slightly more than half the size of Alaska and much of the country is occupied by desert. Its capital city is Windhoek (German: Windhuk).

It's climate is typical of semi-desert terrain, hot days and cool nights. With 300 days of sunshine on average per year, Namibia is truly a sunny place.

Since independence from South Africa in 1990, the country has enjoyed more than a decade of stability under its founding president Sam Nujoma.

Namibia's economy is based primarily of mining and manufacturing but it does attract tourists who come to experience the different climates and natural geographical landscapes such as the great eastern desert and plains.

To find out more, read all Peter van Dongen's Namibian Trek for charity
We have four agility competitions a year, which only last for a day at the most. They always form part of an Obedience Competition or breed show.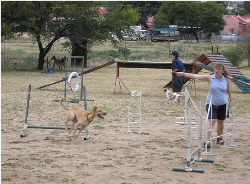 We train three days week of which one day is course training, doing a whole course, while the other two days are reserved for specific item training, jumps, tunnel, seesaw, etc. Every Saturday afternoon after the training, coffee, cake and cool drinks are sold at the clubhouse.
Despite the fact that we train on a dusty course, the occurrence of utter chaotic moments due to major breakdowns in dog/handler communication, distractions in the form of the local wildlife - no dog can resist a ground squirrel - scorching temperatures in summer, etc. we and our dogs cannot get enough.
Our agility dogs and handlers are invited increasingly to do 'shows' at equestrian events, agricultural shows, community fairs, etc., and make use of every opportunity to promote agility and the fact that is a hugely enjoyable fun filled sport.
There has not been much media coverage, but I've heard about Peter van Dongen's trek across the Namib Desert for the Blue Cross. Namibia is a small country and news travels fast especially in the canine community.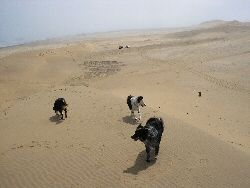 About the author...
Carel van Wyk is member of Windhoek Dog Club, the only club that practises dog agility in Namibia. The club is located in Avis, Windhoek. Windhoek Dog Club is oldest surviving of only three dog clubs in Namibia.
Carel admits to being addicted to Border Collies. For the last ten years, he's only had rescue collies. They also have rescues from Border Collie Rescue Gauteng (BCR) in South Africa. When the Namibian Police decided not to use any Border Collies anymore, he and Carin adopted all the 'retired' collies - some were already 10 years old - and cared for them until they died of old age. They always have some oldies. At present Wuschka is 17 years old and Misty is 10 years old. The rest Mokki (3), Juno (3), Maxine (3) and Choco( 2) are energetic youngsters.
Only three (Juno, Mokki and Choco) like agility, however. They've only been doing agility for fun for about a year now and are still waiting for that elusive first clear round. The only rosettes they have are the K9 Good Citizen rosettes.
In addition to agility, he has started doing dog sledding and the dogs love it. He have a five dog team. As Border Collies love to run and excel at everything they do, they do well at sledding. Carel made his own cart and harnesses himself, using info from the web. Juno is lead dog as she is the fastest and Alpha dog.
Carel travels and camps a lot for his work and his dogs always accompany him. They are experienced travellers and have seen more of Namibia than most Namibians. They are family members and are treated as such. He says that he cannot imagine a home without Border Collies.