Continuing tributes...
What better tribute to a great agility dog or enthusiastic handler who for whatever reason are no longer competing than naming a special class or trophy after them. But how many people know the stories behind the name on the show schedule? This page is dedicated to those memorable dogs and people who gave their all for agility.
If your club is putting on a special class at your next show, let us know the details and maybe a little history. It will make it come alive for competitors. Send us an email and maybe a photo.
Gilly Mini Starters Jumping at Watford.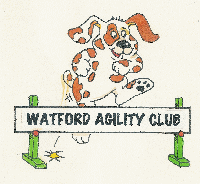 Following the sad loss of Gillian Southorn-Rumble, the Watford committee decided they wanted to remember publicly a popular, very loyal, longstanding member of the club and decided to name a class in their forthcoming show in memory of her.
Gilly was an active member of Watford and even when she was unable to train and run Rags [Ragamuffin Wagtail] she still popped down to the club and attended AGMs, regularly voicing her opinions and suggestions on how the club should be run. We all valued greatly her opinions and membership, and she is sadly missed.
It is hoped that future committees will continue naming this class in her memory so that it remains in Watford's schedule for many years to come.
---
Motlie Midi Tournament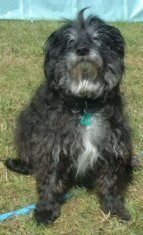 Once again, Beacon Agility Show (9 May 2004) will be running the Motlie Midi Tournament. It offers eight places in the form of 'spotty' rosettes and a big round trophy for the winner. Points from set Midi classes at the show are counted up to decide the winning dogs.
This tournament originated when Rosemary Elliott's first little agility dog, Motlie, retired at the age of twelve. Motlie came to her as a very abused rescue dog which had been kicked to pieces by a couple who were high on drugs.
Motlie became her soul mate and teacher. Any successes she's had - and she says, perhaps will have in agility in the future - are down to him and the training skills she learnt because of him.
For quite a few years they battled against the fast Standard dogs until one day at a show in Hampshire Motlie won out of Starters in 27 seconds. Being that he was only 17 inches tall with no real engine, it was nothing short of a miracle.
Luckily for us, the Midi classes became popular and fitted Motlie's size perfectly. He quickly became a familiar face on the Midi scene and brought home more than his fair share of red ribbons. When retirement came, sponsorship of a Midi tournament allowed us both to give something back to the Midi competitors, as there is still little out there for them. Perhaps in time Midi's will have prestigious qualifiers and finals like the standard and mini dogs. Motlie died just before his eighteenth birthday, the tournament is a fitting memorial to a courageous and loyal little dog.
Rosemary Elliott said, 'Thank you to Beacon Club for continuing the tournament.'