Training & competing in the 'Winning Zone'
By Angelica Steinker M. Ed.
Reviewed by Nick Chettle
Description: This book covers the mental approach to agility training and to competition. It aims to help you understand the team dynamics between you and your dog. It suggest ways to change your mental approach toward training your dog and toward competition so that you can consistently recreate peak performances in the ring (the winning zone).
Contents include:-
Getting into 'The Zone'
Goal setting
Confidence
Thought power
Focus
Visualise
Relax
No pressure
Energising
Overlearning
Competition
Walking the course & course memorisation
Top competitor biographies
Sources & recommended reading
Best Features: It suggests that you pay attention to what you are communicating to you dog. "Psychologists say that 80% of what we communicate is unspoken. You think, "she is going to miss the weave pole entrance!" Immediately your muscles begin to tighten. You clench your jaw and make a stress face. The dog sees this, and reads that this is not how mom usually looks. Now the dog is distracted and is also getting tense. The dog sees the first weave pole, but it is too late. She has missed the entrance." There are a great number of similar examples.
It suggests that if you have negative thoughts you must find a way to get rid of them and replace them with positive ones. The book may help people doing competitions on a regular basis to re-evaluate the way they approach competitions and training in order to get the best out of their partnership with the dog.
The mental approaches the book suggests are very similar to those that athletes use to achieve peak performances.
Worst Features: The book has sections in it for the reader to complete. For example, setting goals for your self. Most people do this, but this book asks you to commit them to paper. Whilst this may be useful to some people, I don't think many will actually complete these boxes, and if they do, I don't expect many people will have the self-discipline to change their approach to training or competition.
I know everything in the book is relevant, but it reminded me of all the courses that I have been sent on from work - how to achieve better results, how to communicate better etc.
Overall Rating: I think that most agility handlers will find that the book takes the sport too seriously, but I think that most clubs and trainers should read it and continue to dip into on an occasional basis. Most of the contents of the book are relevant, but for most impact, handlers need to be taught and trained in the concepts over time, not landed with the whole book at one time. I'd rate it 7/10.
Price: £20.00
Value for Money: Maybe more than most handlers would want to pay, but in my opinion it's a book to share or be available through your club.
---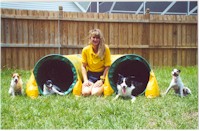 About the Author
Angelica Steinker M.Ed owns and operates a full-time dog training business called Courteous Canine Inc. which provides pet obedience and agility instruction.
She is an AKC agility judges and competes with her dogs in AKC, NADAC and USDAA. An avid clicker trainer, she loves the challenge and process of shaping a behaviour. She has presented her Zone material in Vermont at Camp Gone to the Dogs.
Angelica has a Masters degree in Counselling & Development from George Mason University in Fairfax, Virginia. She has worked in mental health, consulting and executive coaching.
She is married and lives near Tampa, Florida with her three Jack Russell Terriers and a Border Collie.
For an example of Angelica's style and ideas about positive agility training, see Can Dogs Read Our Minds? featured in the Agilitynet Magazine.
Angela can be contacted on angelica@courteouscanine.com or visit her web site http://www.courteouscanine.com
---
About The Reviewer
Nick Chettle started to train his first agility dog Katy in 1989, a rescued, highly strung, long-haired lurcher-cross. She died aged two, a bit just before her first competition.
Then a new rescue dog and a new start with Holsey, a Doberman cross. During her long agility career, she won hundreds of rosettes. In 1994 they qualified for the Pedigree Chum Classic Finals at Dogs-in-Need. In 1998 (probably their best year), they qualified for the ABC finals and took seven second places in agility rounds, which isn't bad for a dog that always had dodgy contacts!
Nick now has a new young dog, a Border Collie, but because of his commitment to training other people at home and abroad, he says that he doesn't give his own dog the attention he should. He became an approved Agility Club Instructor in 1996 and an Approved Judge a year later. He and his wife Gill started an Agility centre in the heart of Devon with self-catering cottages where dogs are welcome. They currently train on four nights of the week and run many weekend courses throughout the year. Both carry out training for several clubs in the UK, Switzerland and Germany.
---
What other people are saying...
I am DEFINITELY looking forward to my very own copy of this exciting new book! I was able to take a sneak peak during the editing process and was enthralled with it!
I'm one of those agility competitors that STILL get nervous when I'm preparing for a run, but using techniques from Angelica's book, I can focus, visualize and really gear myself up for a fun run! AND, I've seen a definite difference in my handling after learning how to channel my adrenaline.
This is but one aspect of Angelica's book...for more tidbits, you'll have to buy your own copy!
Lori Lewis
Well after several years of work, it's finally finished -- Angelica Steinker's Agility Success book, which we (the publishers) think will become the agility world's equivalent of Jane Savoie's That Winning Feeling. It's about training the mental skills and attitude necessary for doing your personal best in agility and advancing toward your own agility goals (whether that's going to the World Championships or getting a novice leg). The book contains the results of interviews with 15 top agility competitors.
Monica Percival (Clean Run)