Everyone needs a holiday!
Presented by: Andy Nickless & Gillian Watson
Reviewed by: Diana Lowe

Description: A unique insight into the character of agility's most popular dog breed, showing sheepdogs relaxing together in ways the average pet owner never sees.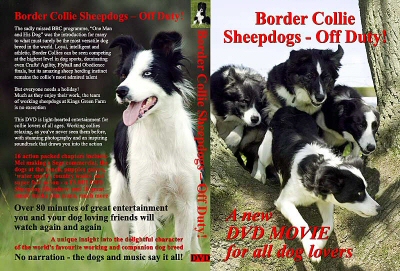 16 action packed chapters include:-
Making a Sega commercial
The dogs at the beach
Puppies galore
Water sports
Country walks
Sheepdog slide show
18 music tracks
Best Features: Winter has arrived, the days are short and the nights long, so time for us and our dogs to settle down and chill.
This lovely movie provides more than an hour of pure pleasure and entertainment that you should never tire of. There is no narration – the dogs and music speak for themselves as the 20 sheepdog stars play in the woods and fields, go swimming, dig for England, spend a day by the sea, nurse puppies and, for one of them, recuperate from a leg injury.
This is definitely not a training video/DVD. These hard working dogs – you catch a glimpse of their working lives with the sheep at the start of the movie – really know how to enjoy themselves when off duty. It is a real privilege to drop into the lives of these dogs and just watch them having fun.
Could be better: There was nothing I disliked about the video and, in my view, nothing to improve.
One warning though - it will give ideas to your own dogs!
Production: There is no narrative (no voice over) but the music was obviously very carefully chosen to match the visuals. Quality of filming and production are excellent. Packing is good – photo of dogs give a taste of content. Available as either a video or DVD. Length: 80 minutes
Overall Rating: 10/10. It's just nice to have something that is pure enjoyment.
Price: £16.79 including UK post and packing. Package was delivered within a couple of days.
Value for Money: I think it is good value for money and I would definitely recommend it to anyone who loves collies. It would make a great Christmas present – if you can bear to part with it. Or do what I did and order several copies so there is one for me.
---
About the Producer
Andy Nickless is a professional photographer and videographer. He and his partner Gillian Watson are collie sheep dog trainers, based near Worcester in the rural county of Worcestershire England (UK). They offer ISDS registered border collie sheepdogs (and occasionally puppies) for sale with good prospects of making excellent working animals - for sheepdog trials, farm work, herding, agility and obedience competition.
As well as making their own DVD and video, some of Andy and Gill's dogs and puppies have recently featured in TV programmes such as Channel 5's The Farm, BBC's Inside Out and Sega Football Manager advertising videos.
About The Reviewer
Diana Lowe trains with Pachesham Agility and currently runs her dog Storm in Novice and Intermediate. He is a tri colour WDS who is capable of great moments of sheer brilliance interspersed with longer moments of total stupidity – frequently on the same course.
The latest arrival, Mainline Hope, now 16 weeks, is a Border Collie bred in Yorkshire by Barbara Sykes. His parents, grandparents, aunties and uncles all live at Mainline and work sheep for Barbara's Corporate Collie and Sheepdog Experience days. Hope shows all the sensible qualities of his family – the ones that Storm lacks - and, unlike Storm, he isn't frightened of fireworks or indeed anything else.
Diana works as the events manager for a major charity with particular responsibility for an Annual Lecture and the British Environment and Media Awards.
---

If you would like to comment on this product or add your name to the Agilitynet list of reviewers,
email your name and details to Ellen Rocco at Agilitynet today.