Motivational bungee dog toys...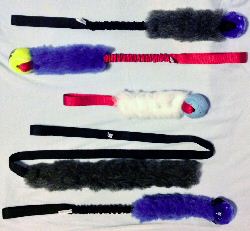 Description: Chaser-Toys makes a range of custom-made motivational bungee and non-bungee toys.
Specifications:-
All tug toys are handmade

Only high quality materials used

Strong and durable

Machine-washable

Fur products are made of s faux fur

Hygienic, non-irritant and non-allergenic

Nylon webbing is a gentle on your hands and your dogs mouths

Selection of colours
What was your experience with this product?
I have purchased several toys from Chaser Toys and have been very happy with the overall product and service that I have received.
I have two dogs within my household that aren't keen on tugging. However, since swapping their toy to the Bungee Fur Tugger, I have noticed huge differences in their want to play and tug. Their favourite is the Bungee fur tugger with Kong Squeezz ball on the end.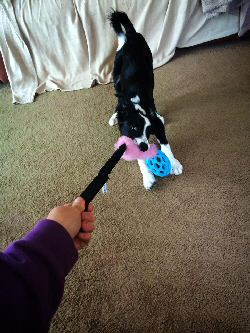 What did you like about this product?
Chaser has a wide variety of toys to choose from which are all custom-made to order.
Not only is there a great selection of toys to choose from but also a great range of colours available for both the Faux Fur and nylon handles.
On top of that you can also choose what strength bungee you would like which, I feel, is an excellent idea.
What could be improved?
The only thing I thought could have be improved is the strength of the bungee, but now Chaser Toys offers two strength of bungee, so that's no longer a problem.
Please comment on any instructions that come with this product.
The toys come with the usual instructions - just normal safety advice like supervise dogs when using toys etc.
What did you think of the design and quality of production?
The quality of the product is excellent, and most importantly the Faux Fur does not shred like most other tug toys I have used.
The Chaser-Toys i have get used regularly and still look as good as new ... well, after being cleaned and washed. The quality of the toy isn't any different from the day i received it.
Price: Varying from £8.75 - £17.50
Rating: 9/10 because overall they are excellent toys.
Value for Money: Chaser Toy products are extremely good value for money.
Would you recommend this product to your friends and family?
Yes, I would highly recommend these toys to anyone who is looking for a well-made, high quality, motivational toy.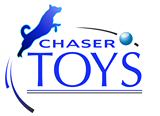 For more information or to order, go to http://www.chaser-toys.co.uk
---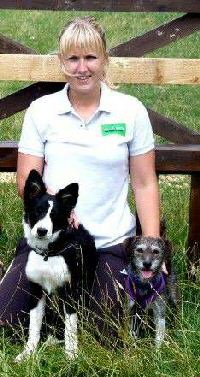 About the Reviewer...
Stacey Irwin-Burns lives in Peacehaven with her family and eight dogs. She have been competing in agility for about five years, and currently competes with her three Jack Russell Xs in G7. She has recently started to compete with her young Border Collie.
In 2013 she set up her business Stacey's K9 Services and she now teach agility full-time which she absolutely loves!
---

If you would like to comment on this product or add your name to the Agilitynet list of reviewers,
email your name and details to Ellen Rocco at Agilitynet today.
First publisher 25 February 2015