Build your dog's confidence...

Description: The DK9 Training Ladder is a simple yet versatile training aid designed to be used to improve the co-ordination and balance of dogs. It comprises a set of four 'Cavaletti' jumps, a term borrowed from the 'horsey world' They are made of poles connected to holders on wooden X bars. Rotation of the crosspieces alters the height of the poles.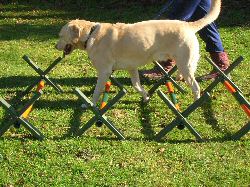 Specifications:-
Made from pressure treated timber
High impact PVCu
Zinc plated nuts and bolts
Each jump height is 5 inches (125mm) 7 inches (175mm) and 9 inches (225mm)
Pole length is 39 inches (1metre)
Cross sections come in dark green stain with a choice of poles colours
What was your experience with this product?
I used this equipment to help my dogs improve their foot placement and proprioception. The term Proprioception refers to sensory information telling us about our own movement or body position, so that we do not have to look to see where our body parts are to know where they are and what they are doing. It provides perception that helps integrate touch and movement sensations. For example, it allows us to walk in complete darkness or touch-type.
It is an important sense to develop for agility dogs and, although the physiological mechanism may sound complicated, the exercise itself is quite simple! The poles provide a 'foot placement puzzle' which we ask the dog to walk slowly through. This works on the principle that the dog has to lift each foot up separately to step over each pole. Walking slowly builds more muscle strength and co-ordination than if the dog simply trots over the poles. In a trot, the legs swing in diagonal pairs, which is easier than lifting each foot up individually. So, as is often the case, it's not what you do, it's the way that you do it!
The DK9 training ladder is easily adjusted and provides many varied patterns, so is perfect for this purpose. The poles can be placed at different heights, distances and angles, providing loads of variations to enhance and develop your dog's balance, core strength, co-ordination and dexterity. For more information on balance and co-ordination I have previously written an article for agilitynet, which can be found on Agilitynet.
What did you like about this product?
The idea behind the DK9 ladder, the build of the product, and the users' instructions are all excellent. It is a nice little set of kit which is transportable, and flexible in uses. You can take it down to the park or use it in your back garden or even your living room!
I like the look and the quality of the Cavaletti, and the flexibility of patterns that can be created.
What could be improved?
Users should be aware that it is of solid construction and, therefore, need to be thoughtful and careful in how it is used. Just like using 'real' ladders, the poles are firmly fixed and will not be displaced if the dog hits them and, therefore, every care should be taken that the dog is never allowed to rush.
Please comment on any instructions that come with this product.
The instructions that come with the Training Ladder are very helpful and clear with colour photographs. They say clearly and in bold that 'a calm controlled approach must be maintained when training,' and I would like to underline this and add that, when it comes to balance and co-ordination, slower is better!
What did you think of the design and quality of production?
Excellent. It is a quality product - a well made, flexible and versatile training aid. The Cavaletti look really nice. I even like the green and orange colour!
Price: £88.50 + delivery and VAT. Available from Agility Warehouse
Value for Money: When compared with single jumps which cost in the range of £50-£75, these four well-made Cavaletti seem to be quite reasonable!
10/10 - I cannot fault the product in any way
Available from Agility Warehouse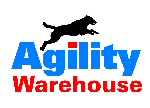 ---
About the Reviewer...
Hannah Banks discovered agility around 1998, and has loved the partnership it builds between dog and handler ever since. She developed a great interest in researching co-ordination, balance and core muscle strength after her little Kaydee started having physical difficulties in 2007/8, and now she firmly believes it is a vital part of foundation and fitness training.
Hannah currently compete with two dogs in agility - Zazzy (G7) is a red tri BC girl who is four years old and Deece (G5) is a two year old black & white collie X. He is an eighth bearded collie.
Her day job is scientific research carried out at the Royal Botanic Gardens Kew, where she studies pollen structure, development and evolution.
---

If you would like to comment on this product or add your name to the Agilitynet list of reviewers,
email your name and details to Ellen Rocco at Agilitynet today.
First publisher July 2011