Build your dog's confidence...

Description The Wobble Board is a training aid which promotes balance and co-ordination. In agility it is commonly used to get beginning agility dogs used to being on something that moves under their feet. It is also to reduce joint injuries or during rehabilitation therapy.
Specifications:-
Approximate size 2 x 3ft using exterior grade ply board
Finished with a slip resistant resin
Fitted underneath with a cup where ball could be inserted to raise the board off the ground and move about as the dog steps on
4 rubber stops - one at each corner - to reduce noise when used on hard floors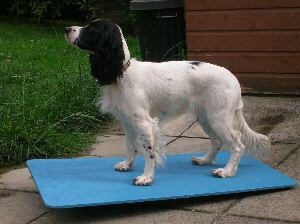 What was your experience with this product?
I purchased the Wobble Board to add an element of interest and fun into my training lessons in both my obedience and the agility groups. I am also using it as a target board for beginner handlers to encourage them to time their commands appropriately and to give puppy/young dog handlers an introductory lesson on contact training. There were a few dogs who were very cautious and suspicious of the board initially. One tennis ball mad terrier learnt it was quicker to poke her nose under the board and push it off to get at the ball!
What did you like about this product?
I tried the Wobble Board out on many different dogs of all ages and sizes including puppies. Most were very quick to learn to step on/off and stop on the board.
I like the fact that the ball cup is designed so that the height of the board off the ground can be increased or decreased by simply using a different size ball.
As a busy trainer, I found the Board easy to transport. It fit easily into my vehicle and is usable indoors and out.
What could be improved?
With quick moving dogs, it is possible for the ball underneath to become detached from the cup and it might need to be reset.
Please comment on any instructions that come with this product.
There are no written instructions included, only verbal advice from maker so it can be a matter of trial and error by customer with own dog. Best seek knowledge from the internet before using it and then use your own knowledge/imagination to make up exercises etc.
What did you think of the design and quality of production?
I think the designer has listened to his customers, and tried to anticipate their requirements with a well thought out design. He also will adapt his template to individual requirements. The quality of the Wobble Board is the same as any contact surface.
Price: £35.00 (excl VAT) + delivery
Value for Money: Yes. Even if you could obtain the same quality materials for less, you have to take into account time and labour. I feel it is good value.
Overall rating: 9/10 – You can use it to start your next agility dog off on learning contacts, but I bought it because it brings an element of FUN to classes.
Available from DK9 trade stands at shows or online at http://www.dk9ltd.co.uk/agility/
---
About the Reviewer...
Angela Lucas has been involved in dog training for at least 25 years, ever since she took her first rehomed dog to obedience lessons. She now owns three collies, all trained in agility.
Her first competitive agility dog was a GSD. She added a Miniature Poodle to her agility family just as the new Mediums came in. Used to jumping 2ft 6inches, he thought the lower jump height was a waste of time! Then she obtained her first Border Collie called Bosworth (Touchango Supanova). Together they made Seniors in agility, UD in working Trials and are halfway through Novice in Obedience. They competed at a special 'Superdog' event at Brentwood with Boz, and travelled from Aberdeen to Jersey seeking new agility experiences. Angela is probably best known for her agility handling style. Having been a severe asthmatic all her life, she teaches distance agility to all her dogs, handling as if they were right next to her.
Angela started instructing at clubs and was one of the first people to take a KC judging test.
Now, she is self-employed and mixes dog training and professional cleaning for work. She started running her own classes at Angela's Canine Academy in general obedience and agility five years ago in the Eastbourne area. She has also helped to set up agility clubs in the past and is a founder member of MAADH (Mixed Ability Agility Dogs and Handlers). This is a support for agility competitors from this country to enter the Mixed Breed and Disabled Handlers International Agility competition. They run agility events in the southeast.
Angela has recently become involved in promoting the new obedience style called Rally, and will be holding the first Rally trial in Sussex in August 2011.
---

If you would like to comment on this product or add your name to the Agilitynet list of reviewers,
email your name and details to Ellen Rocco at Agilitynet today.
First publisher July 2011