Leave muddy paws outdoors...

Description: The Enki Pooch Disposable Dog Towel is a multi-use, super absorbent dying cloth which is re-usable and completely bio-degradable.
About this review:


Where better to test out these towels than Scotland? We asked for reviewers on the Dogs Agility in Scotland FB page and so many excellent responses that we decided to do a joint review so you can get a range of replies. Meet our hardy reviewers: Ann Burnip, Mel Duncan, Fiona MacLeod and Lisa Davidson.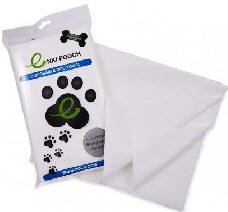 Specifications:
A multiple use disposable towel

M

ade from natural unbleached plant fibres

C

an be reused and recycled

Compostable. 100% bidegradabl
H

ygienic and safe for pets and people

Absorbs 85% water from a dog's coat

Removes wet mud and dirt quickly

Cost effective. Save time and money

Eliminate

washing and drying mucky towels

Soft and comfortable for your dog

l

W

aterproof, re-sealable packaging

Keep in car for soggy emergencies
Why did you volunteer to do this review?
Ann: I have a black lab called Kia. She loves the water anywhere anytime but an ordinary towel left in the car quite often smells, if you forget it. It sounded like a great product to keep in the car for a quick wipe down when it's raining and to use at home after a walk. Kia loves her agility so would be ideal for those wet shows and training days, too.

Fiona: I have four dogs including three Collies who all love trips to the beach, swimming in rivers and running around in the rain so we go through a lot of towels especially living in Scotland with all the rain here! I am always looking for tips and products to make life better for my dogs and for me as an owner!

Mel: I live on a farm and have five dogs - four large and one small - which, as you can imagine, that can be very wet and muddy at times.

Lisa: I only have one big dog but also have a baby so anything that makes drying him without using up all my doggie towels in our wet Scottish summer I thought would be amazing. We do lots of beach and Loch walks as well as agility so there would be no shortage of opportunities to put the towels to the test!
What was your experience with this product?
Lisa: What surprised me when I received the Enki Pooch towels was how generously sized the three towels included are.

Ann: I used one towel after a swim and a wet walk. We were both soaking when we came in. I roughly dried her and it took so much water off her. She was only damp when I was finished.

Lisa: They are especially useful on wet days when you're travelling and don't want to have mucky towels stinking up the car.

Fiona: We keep a basket full of towels at the back door that need regular washing - and also I often forget to make sure we have towels when out, so I though this might be ideal to keep in the car. The Enki Pooch towels took up less space, absorbed more water and were very convenient to keep in the glove compartment.

Ann: I even washed mine, and it was fine.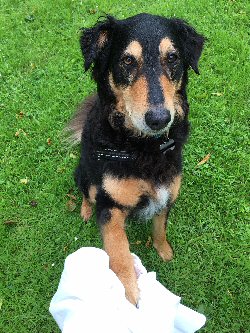 What did you like about this product?
Ann: Easy to use, worked very well. I have been able to use the same one twice again with the same effect.

Lisa: Super handy product. The towel is much stronger and absorbent than I had anticipated. You could definitely reuse it several times.

Fiona: The towels look slim and flimsy but didnít rip or tear, even after drying four dogs. They are particularly good for getting into the nooks and crannies of paws and making sure they are really dry.

Mel: I thought they were a reasonable size and didn't take up much space as in a pack.

Lisa: Pooch towels can be recycled. They are excellent for the environment

Ann: Less wet dog smell was definitely a bonus.

Mel: I think this product is an excellent idea, but for me, being on a farm and having multi-dogs, it's not something I could use on a daily basis. It is , however, something I would keep in my truck for emergencies or even on holiday
What could be improved?
Mel: Although the towels are very absorbent and can be wrung gout, I found that with two long-coated dogs and three short-coated ones that I couldn't get then dry enough so I had to use normal terry cloth towels to finish them off.

Lisa: These are a great product but the size of the towels did make them a little unwieldy for paw drying at times however, that's probably because we normally use small conventional towels.

Fiona: Perhaps they could come in a large size as well.

Lisa: Even having a large dog, I must admit to using scissors to cut one of the towels in half to make it even easier to fold up and pop in a coat pocket before taking the dog out on a rainy day to visit friends. This didn't impact on the performance on the material or how dry the dog was.

Ann: Just for me, maybe a nice smell.
Please comment on any instructions and/or packaging that come with this product.
Ann, Fiona, Mel & Lisa: Agreed. Yes, they were clear and easy to understand. Nicely presented.
What did you think of the design and quality of production?
Mel: Excellent

Fiona: Design is a good size and the towel is much stronger and moreabsorbent than I had anticipated. You could definitely reuse one towel several times.

Lisa: Good design, durable and couldn't fault the performance of them.

Ann: The towel size (60cm x 100cm) is great considering how small it can fold up to.
Price: £4.99 + VAT per pack of three towels with free delivery. Discounts available on box quantities and wholesale.
Ratings
Ann: 8/10 I really liked it. It was quite wet and had to hunt round for dry bit to keep going. But it really did the job.

Lisa: 9/10. I wasn't sure whether this would be a useful product when there are so many easy ways to dry the dog conventionally, but I found these to be extremely useful for taking to training, on walks or shoving in the bottom of the buggy when going to meet friends. #

Mel: 10/10. Excellent product

Fiona: 10/10 - it's a great idea - one of those things you wonder why no one has thought of before!
Value for Money
Ann: I think it is value for money. I wasnít sure if it would stand up to rough drying and it did. I have reused the same one and it worked well.

Lisa: Great value for money.

Mel: If I only had one or two dogs and lived more urban then I would consider it more practical for daily use.
Would you recommend it to family and friends?
Lisa: It's definitely a product I'd use again and recommend.

Fiona: Definitely. They are perfect for sticking in the glove compartment of your car or if you are on holiday without access to a washing machine. Now you donít have to take a huge pile of dog towels on holiday.

Ann: Yes, I would recommend it to family and friends - and not just for use with dogs.

Mel: I would tell people about them as it is always good to recommend new products that are good for pooches and the environment. I like them!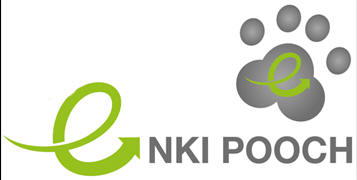 Buy now at www.enkipooch.com or ring tel. 01246 293 293018
About the Reviewers...
Ann Burnip:
Ann has had five dogs in my life. All have been trained in obedience and agility. She enjoys looking at the behaviour side of dog training and seeing new developments. Her latest has her Gold KC Good Citizens award.
She enjoys her agility outdoors which can be difficult given Scottish weather. Ann has have taken classes as a trainer and a judge at our local club.
Fiona MacLeod
Fiona is a former journalist (Scotsman) who now works in PR and is passionate about rescue dogs.
She's owned rescued Border Collies for 24 years now and currently has four dogs - one beagle and three collies who do agility. Most weekends in the summer we are at agility dog shows, camping at shows further away. They regularly go on trips to rivers and the beach and like to go on holidays together.
Lisa Davidson
Lisa works in PR.
Mel Duncan
Mel lives in rural Scotland on a farm. She has four Border Collies and a small JRT X Chihuahua - three of which are rescues.
She's had dogs since 1990 and has been competing since the early 90s. She currently runs a small agility training school.
First published 20 September 2017

If you would like to comment on this product or add your name to the Agilitynet list of reviewers,
email your name and details to Ellen Rocco at Agilitynet today.