Anxious dog? Persistant barker?
Reviewed by Martin & Hazel Tait

Description: The Calming Face Wrap™ works on the same principle as the Anxiety Wrap, providing an alternative, holistic approach to behaviour modification through the application of light, maintained pressure around the head and mouth of the dog.
Description:
Lightweight elasticated fabric

Fastens behind head with an easy clip release

Wide range of adjustment

Available in four different sizes according to weight of dog

Step-by-step instructions

Can help to reduce excessive barking, digging or scratching

Makes animals feel more calm and secure

Safe and effective

From the makers of the Anxiety Wrap
Best Features: We used the wrap on two of our dogs. One barks through stress or anxiety, while the other barks through frustration and excitement. The irony being that although the wrap is designed to help soothe, it worked better on the excitable dog rather than the stressed out one.
We think this was because we could anticipate and prepare for the excitable dog to start barking. Generally we could reach her quickly to follow though on the instructions for the using the Wrap. The other dog generally stresses and barks when we are not present. Thus by the time you had get to him to apply the Wrap, he was calm and quiet because you were there. It's a catch 22 situation.

Face Wrap™


Traditional muzzle

You do need to be very organised if you use this wrap or, like a clicker, have several around you should your dog start to bark unexpectedly. You need to be able to quieten your dog and/or apply the wrap.

I can see this Face Wrap™ being used for helping calm or quieten a dog that stresses on lead, or on the agility circuit as those of us with dogs that tend to be noisy in the queue will be able to focus on the dog and maintain the consistent approach.

Does not look intimidating or invasive whilst being worn unlike the more traditional anti-bark muzzle shown below.

Could be improved: Dog can remove this quite easily and because of the way in which it is meant to be used is only suitable in certain environments and/or situations. The introduction period is or can be very long and depending on the stress level of your dog this is can take too long before being able to start the actual training of encouraging the dog not to bark.
This product trains the owner as much as the dog as it gives the owner a consistent approach to follow every time the dog starts to bark.
Format: How much wear and tear the Face Wrap™ can take is a concern. Ours is starting to show signs of decay and fraying after a short period.
Instructions on use: The instructions were good.
They were easy to understand and
follow although we thought the theory tends to over simplify what is actually required.
Price: £7.99. The price is comparable to other products on the market. Be aware that you may require more than one!
Overall Rating: 7/10 This is a good product for the right circumstances, but it is not an instant or guaranteed cure for anti-social barking!
Value for Money: Fair. With this product you need to be aware that the Face Wrap™ does not stop the barking. It is the association with wearing the Face Wrap™ that prevents the barking this is easy to do if you have a dog that barks with you but, if your dog barks through stress due to separation, the association between wrap and barking is harder to maintain.
Available from


---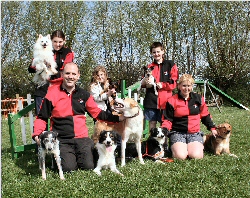 About the Reviewer
Martin and Hazel Tait been involved in agility since 1995. They've run Dervish Agility since 1999 and have been teaching since 1996. They have three competing dogs each, two currently in Grade 5 and three in Grade 7. Hazel's youngster will be the first of their dogs to be a Grade 3. Out of the household of nine dogs, eight came from either rescue or were re-homed to us.
They firmly believe that agility is for all breeds, not just collies, and their three children are all training there own 'small' dogs.
First publisher 16 May 07