A complete handling system
to achieve your dog's maximum potential
Produced by

Greg Derrett & Darcy Wilson


Reviewed by Elizabeth Morgan
Sponsored by Premier Show Jumps
Description: The follow up to Greg Derrett's first video Agility Foundation Training, this is a new and comprehensive video which covers all the essential handling skills to gain a fast consistent dog and to achieve your dogs maximum potential.
Contents include:-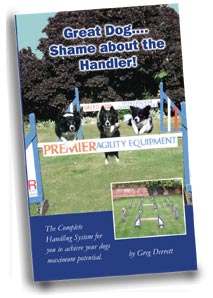 Explanation of Complete handling system

Clear and precise rules making remember the system easy

All handling manoeuvres explained and demonstrated

Exercises to improve all handling manoeuvres

Training drills to improve the dogs speed and turning

Slow motion shots to show precise training

Split screen comparisons of handling manoeuvres

Booklet containing all exercises
Best Features: Greg takes the time to explain each handling manoeuvre thoroughly, and he demonstrates each exercise with his three dogs showing you how each dog is different and how to adjust your handling for each one.
He starting off with simple exercises to get you used to handling and gradually getting more difficult so it is easy to run through each one and have a practice. Then as you get used to it, you can move on to the next exercise when you feel ready.
It shows how a dog can go wrong because of handler error, this was what helped me most. I realised how many times Cas had knocked a pole, and how most of the time it was down to me.
Handling moves are demonstrated with exercises, while he explains:-
Could be improved: There werenít any bad points about the video, but if I were to comment, I think it might be enhanced by using some handlers who hadnít done the manoeuvres before and following their progress.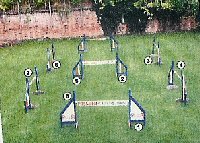 Production: Very good. The courses were displayed on screen in diagram form for you to take a good look at before Greg demonstrated them. The dogs were filmed from different angles while doing the exercises and also viewed aerially which showed exactly where the dog and handler were.
The Video/DVD has been produced in both PAL (UK and Europe) and NTSC format (USA.)
Overall Rating: 10/10. I really enjoyed this video and it has really been helpful for Cas and me. Now I know where I have been going wrong and can improve on it. I was impressed with how I handled her at the end of it as there are a couple of exercises which incorporate all the different manoeuvres and it felt so easy doing it, before I would have struggled with it.
Price: Available in video or DVD format, both at £29.95.
Value for money: I would recommend it to people who arenít confident about their handling or have a dog that has slow or loose turns. It is value for money and itís nice to see the DVD version isnít any more expensive than the video. Put it on your Christmas list!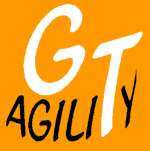 Available for purchase online for despatch anywhere.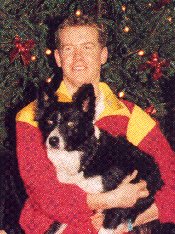 About the presenter...
Greg Derrett runs GT Agility and offers private Tuition and Group lessons in Dog Agility Training as well as animal behaviour consultations. As one of the Top agility instructors Greg conducts seminars worldwide covering all levels of handling and training in competition dog agility.
He is based in the Worcestershire Gloucestershire area in the UK.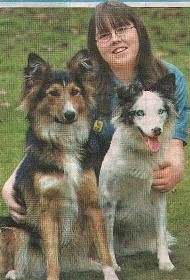 About the reviewer...
Gina Graham (18) lives in South Staffs. She trains occasionally with Shrewsbury DTC and writes a monthly page for juniors in the Agility Voice.
Gina started agility in 2001 with Dizzy, her steady rescued crossbreed, who was retired in summer 2003 due to back problems.
Cascade, her rescue WSD, started in 2002 and won her out of Elementary and Starters in the same year. They came second in the Agility Club Starters Final along the way and also second in Junior Over 12 with the Agility Club.
This year Cas has had several seconds and thirds in Novice, qualifying Gina for Adams Derby Final and Grand National Final. They also qualified for YKC Agility Dog of The Year 2004.
Gina's new dog is a Sheltie called Ember who recently joined the family and will be taking her into the wonderful world of Minis/Midis in January 2005! http://ginauk84.tripod.com/
From Sharon Johnson, speaking from experience...
Just a small warning to all who have the second Greg Darrett tape. If you leave it in the VCR for a couple of days, you may be surprised to find that Greg 'has left the building' and now you have any programs that may have been set to record weekly or daily. The tape is not locked to prevent recording over it. So take time to fix the tape so it won't accept recording. (13/10/03)