Light up your life
Reviewed by: Debbie Broadhurst

Description: The Grrrip Lite™ holds one or more dog leads, giving a comfortable grip and incorporates a torch light for walking one or more dogs day or night. It is also brilliant to use as a light to show the way for campers, caravaners, around the home or garden or at agility shows.
Features

Ergonomic grip
Built in long-lasting LED torch
Weatherproof construction
Can be used with more than one lead
Batteries included
Gives more comfort and control while walking the dog.

Best features: Overall. this is a brilliant idea. It is easy to hold and feels secure. The torch is ideal for finding what your best friend has just emptied out. It is easy to be able to walk two or three dogs at a time, leaving your other hand free.
I feel a must for the caravan for the last walk at night at dog shows. It's also ideal for training venues if you have a dark walk from car park to training ground. It does not give full vision but it certainly helps.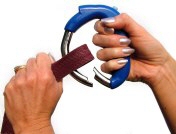 Could be improved: Connecting the lead is easier done without dog being connected. The release area could be longer, although this may have a knock on effect on the strength.
Although the torch is very handy, it does not replace a full blown torch. Sometimes can be turned on when you are re-adjusting your grip as the switch is quite sensitive.
Directions how to use etc. (as relevant): The instructions on how to use the Grrip Lite™ are self-explanatory. It arrived with good, easy packaging which could be recycled - just card and plastic which can be posted through letter box
Price: £9.95 + P&P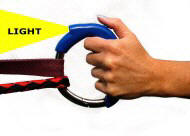 Value for money: Good value for money
Overall rating: 8/10. will not suit everybody.
Available from Agility Warehouse

---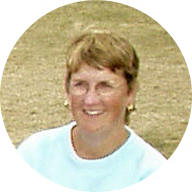 About the Reviewer...
Debbie Broadhurst has been involved in Agility for a couple of years. Ha ha, ha. At the moment she has one competing dog and one youngster in training.
Debbie trains at Faldo Agility and instruct at Watford Agility Club.
Another point of view from John Leslie...
I think it's very well made and really useful for poo pickups etc Whoever remembers to take a torch with them to dog training? It feels sturdy and is comfortable even when the dogs want to make a closer acquaintance with a squirrel. It has survived several hard knocks and drops so far, and the battery life looks okay... so far as well.
Only negative is that the handle does seem to want to reverse direction so you sometimes end up with the handle upside down and the light pointing back behind you. But that's easily put right.
And blue lights are so cool. Ask any boy racer on Green Lanes.
---

If you would like to comment on this product or add your name to the Agilitynet list of reviewers,
email your name and details to Ellen Rocco at Agilitynet today.