The Sorcerer & her apprentice
Produced by Club HTM
Reviewed by Ron Rawlingson

Description: A video about training your dog for heelwork to music Mary Ray's way. She demonstrates her innovative methods of training the various moves and gives an insight the special relationship she has with her dogs. Featuring her latest Crufts show-stopping routine The Sorcerer and Her Apprentice.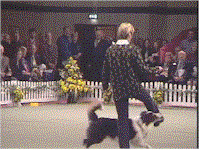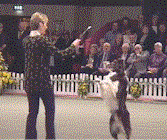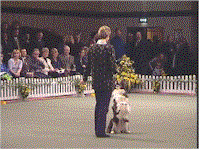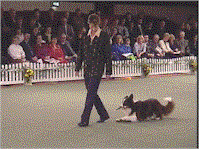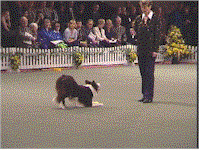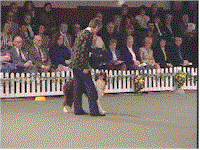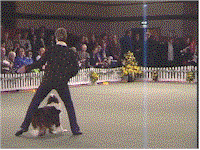 Features include:-
An interview with Peter Lewis and Mary Ray

The routine The Sorcerers Apprentice

An introduction to Mary's canine family

A step by step instruction on training your dog for heelwork to music

A brief insight into clicker training

A final look at the routine
Best Features: All movements used in heelwork to music are broken down into separate training exercises. Tuition is down to earth and easy to follow. Mary demonstrates a unique understanding of the canine mind.

Worst Features: None

Packaging: Video case with a picture of Mary and a very proud, happy looking Quincy at the beginning of the routine.

Value for Money:

At £25-00 this was an expensive video. However, training classes would cost much much more, and you can follow this program at your own pace.

Comments:

At last after years of almost Masonic secrecy about how exactly you train a dog to do heelwork to music, the secret is out. This video has already been well played. However, when following Mary's instructions on training aids I must point out that one should never use sausage if you have more than one dog in the room as you may loose a finger!

Price:

Price £26.45 (incl. p & p) Delivery to Europe, send a sterling cheque for £28.45. Rest of the world, send sterling cheque for £30.45 (VHS only).

Specification:

Format VHS

Play Time: 91 minute

Overall rating:

10/10

To order a copy, send order to:


Club HTM
Department AN
244 Parkfield Road, Newbold on Avon, Rugby, Warwickshire CV21 1EY
Cheques payable to Club HTM,
Clearly print your name and address.
Be sure to include your post code and telephone number

Also available from
---
About Mary Ray
Mary Ray' dog training career began in 1978 when she joined Rugby DTC. Within a very short time her natural empathy with dogs and her tremendous ability were recognised by the Club and, before the end of the 1980s she became head trainer of that club.
Her agility career started in 1980, just after the birth of agility in the UK. She established herself immediately as one of the top handlers in the sport. She has either won or been in the finals of every major sponsored British agility competition. This included winning the prestigious Pedigree Agility Stakes with her Border Collie Pepperland Hot Chocolate. She holds the record for qualifying the most dogs on the most occasions for this prestigious Final in the last twenty years.
She has also been a member of the Rugby DTC Agility Team, which has competed at the Crufts Team Agility finals on many occasions and a member of the winning team one year. She has also been a member of the Rugby DTC Crufts Flyball team, competing in the Finals at the Crufts Dog Show.
Although there are conflicting stories about where heelwork to music started, Mary was the first person to put together a public performance in 1990. She did this again in 1992 and, thereafter has done a demonstration every year at Crufts. For the last three years, Mary has been centre stage in the Main Ring at Crufts on Best in Show night with her routines including Riverdance (1997), Switched on Classics (1998), Boogie Shoes and Night Fever.
Mary has judged all Obedience classes from pre-beginners to class C as well as Agility at the Crufts Dog Show. She is still Head Trainer at Rugby DTC, Championship Obedience Show Secretary for the club, a member of the Kennel Club Obedience Liaison Council and an Associate Member of the Kennel Club.
Mary has been married to her husband, Dave, for 20 years.!They live in Rugby, in the centre of the UK. Their present family consists of nine dogs (no children): five Border Collies, a Tervueren, a Lurcher, a Papillon and a Shetland Sheepdog.
---
If you would like to comment on this product or add your name to the Agilitynet list of reviewers,
email your name and details to Ellen Rocco at Agilitynet today.