For any dog that loves to play ball...

Description: iFetch is an interactive, on-demand, automatic ball launcher that provides fun for dogs and owners together. It throws a ball a variable distance when it is placed in the funnel by the dog or person.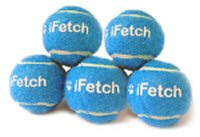 More about iFetch:-
Automatically launches a ball up to 30 feet across the yard.
Won 2nd best in the new products category at the 2014 Global Pet Expo out of 3,000 products
Includes batteries that will last more than 30 hours (approx. 2 months of light use)
Supplied with three special iFetch balls which are 1 1/2 (400mm) in diameter
Owner supervision is recommended.
6 months manufacturer's guarantee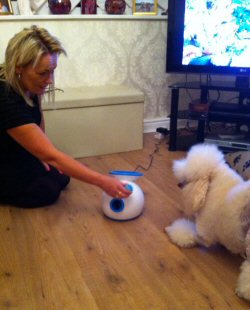 What was your experience with this product?
I was asked to review this iFetch by my trainer who knew that I had two Miniature Poodles who are always eager to play. One competes in agility (Alfie) while the other poodle (Poppy) prefers to play with toys. She never seemed to enjoy agility much and eventually I gave up trying to persuade her around the course.
Both dogs had lots of fun with the iFetch toy. They got very excited and enjoyed the game. On occasions, they played football with the balls, flicking them with their paws and bark with excitement. Alfie and Poppy learned this game very quickly as it i snot difficult.
What did you like about this product?
I like the size of the of the machine and mini tennis balls were the perfect size for them to pick up.
The fact that it has three balls enables both dogs to play at the same time. The whirring noise of the machine is great as it excites them. They quickly realised that the balls start to shoot out of the machine when it whirrs. They then start barking with excitement and get ready, in a crouched position, to race after the balls. They didn't always bring the ball back as they enjoyed playing with them too much!
It is a good product to have indoors as it is easily stored and an excellent playtime game to keep the dogs amused when the weather is bad and the dark evenings are here.
The machine is portable and can be used anywhere in the house, including the bottom of the stairs, pointing upwards. They would race to get the balls and, on the way back, would practice their contacts and wait position. I also used it in the garden, aiming it to shoot the balls out and over the jumps to encourage Alfie to run on.
What could be improved?
More balls please, maybe another three.
Neither Alfie or Poppy ever learned to drop the ball back into the hole so maybe they could be improved.
This product is not suitable for larger dogs as could pose a risk of choking, but I understand that a larger model called iFetch Too is due out in september.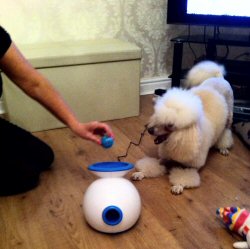 Please comment on any instructions that come with this product.
The instructions are easy to follow and the machine easy to use.
What did you think of the design and quality of production?
Overall I liked the design and the machine is sturdy and solid.
Price: £99
Rating: 8 / 10
Value for Money: Although I really liked the product, I think it is slightly overpriced. Having said that, the dogs never tire of the game and I get the machine out quite a bit to play with them which is more than can be said about some other toys.
Would you recommend this product to your friends and family?
Yes, I would definitely recommend this product.

For more information or to order, go to http://www.goifetch.co.uk
---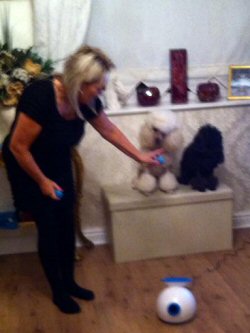 About the Reviewer...
Julie Tait started agility to help Alfie bond with her as he is a rescue. In the beginning he was very shy, nervous and lacking in confidence. They have a lot of fun together and now he is enjoying life. And they are both hooked on agility.
Julie and Poodles live in Waltham Cross.
---

If you would like to comment on this product or add your name to the Agilitynet list of reviewers,
email your name and details to Ellen Rocco at Agilitynet today.
First published 11 May 2015