Through Canine Massage

Presented by Julia Robertson at the Galen Therapy Centre
Reviewed by Lisa Le Signe
Published by GHC Productions
Description: Your Dog's Health Through Canine Massage is a DVD which demonstrates why and how massage promotes good health and performance and how it helps to reduce injury within the canine athlete.
MENU

Anatomy & physiology
Dogs in Action
Preparing the dog athlete
Performing an effective massage

Best Features: Okay, so you would be right in thinking that I may be considerably biased reviewing this film because not only has it been the brain child of my good friend Julia Robertson from Galen Therapy, but myself and some 'doggie ' friends (human and canine) have starring roles! But consider this, perhaps we would not have given our time effort and energy to such a project if we did not wholeheartedly support the ethos behind the video.

I have already reaped the benefits of massage personally and in the agility ring with my Billy (Noble Billy Ottaman) whom many of you know as the 'Zorro dog' or the dog with the go faster stripe. We were runners up at Crufts this year in the Eukanuba Circular Knock Out. The techniques that I have learned from Galen Therapy made a significant difference to Billy's performance of five almost consecutive runs - not bad for an eight year old dog. I also keep my young dog Chi (Obay Truly Focused) supple and finely tuned with appropriate pre and post event massage, which has obviously done him no harm since he has been picked to be reserve on the GB team for the world championships this year, at the age of two.
Anyway, on to the video. There is no other video like this on the market. There are four chapters each containing comprehensive information on why we should consider massaging our canine companions. Firstly we perhaps want to enhance our dog's life, improve their performance in any chosen discipline of doggie activity, or simply to strengthen the bond between us and our canine partners. The video then goes on to explain some of the aspects of anatomy and physiology that are pertinent to massage.
The next section contains shots of dogs performing a variety of physical activities. In this section the anatomy and physiology already covered is applied to the dog in action to illustrate how each muscle works and how this activity impacts on certain joints. The ability to slow each frame on the DVD, along with the slow motion filming techniques enable the viewer to take time and clearly understand the information shown.
In the final section massage techniques are shown and there is a step by step guide to effective massage which allows the viewer to put into practice the techniques shown as soon as they have finished watching!
This DVD is informative, interesting and above all enables us to understand and empowers us to implement a programme of massage that is of great benefit to our dogs.
Could be improved: It would be being picky to point out any aspects of the film that needed improving. It is a lot to sit through in one go so I recommend watching each chapter on its own to enable complete absorption .
Design & format: This is a professionally produced video with some great shot of dogs participating in all kinds of activities. Each section is illustrated with superb graphics showing specific bones and muscles which are simply explained so that the viewer may understand where to locate and palpate the muscles for massaging. Running time: Approx. 57 minutes
Overall Rating: 10/10 top draw, gold star etc. The video is very professionally put together, well thought out, informative, make a great Christmas present for ALL dog owners now just those who do agility because it hold the key of making our dogs lives better
Price: £19.50 + 2£2,25 (P&P)
Value for money: This video is great value for money. It is a very useful tool for any owner who wants to increase their dogs fitness, enhance athletic performance, and strengthen that very special bond any dog owner has with their companion. Would make a great present – especially with Christmas coming!
Available for purchase online for despatch from.


About the producer...
Julia Robertson is the principal at Galen Therapy Centre and is a qualified Canine and Equine Sports and remedial massage therapist, working independently upon Veterinary referral, and within a busy veterinary practice as their consultant physical therapist. She has always worked with animals both as a Veterinary Nurse and, for most of her life as an active working partner on a large dairy farm.
She was aware from many years ago that there seemed to be a gap in the health care of animals, after her Labrador puppy lost mobility in his neck and was recommended to be put down! She actively sought a horse osteopath who explained that it was probably a soft tissue injury and recommended massage. That was ten years ago and Huffo still lives! Her greatest inspiration was her Newfoundland Panda who died 18 months ago (aged 15) enjoying a full, active and healthy muscular life. Panda features on the trade mark.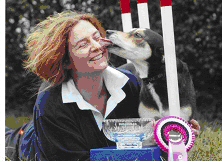 About the reviewer...
Lisa Le Signe started agility seven years ago in South Wales with her whippet/collie lurcher (large) at Elementary level, but it was her second dog Noble Billy Ottaman (small) who won her out of Starters in May 2003. Now she has a dog in each height category and have reached the dizzy heights of Advanced with her Obay sheltie Chi.
Agility is purely a hobby for Lisa and time out from her job as a Health Visitor.